NHL Best Bets: Rangers vs. Hurricanes Game 1 Updated Odds, Picks and Predictions (Saturday, August 1)
Credit:
Jared Silber, NHLI via Getty Images. Pictured: Sebastian Aho
New York Rangers vs. Carolina Hurricanes Game 1 Odds
Looking for Game 2? We've got you covered here.
---
---
Odds as of Friday afternoon and via BetMGM. Get an INSTANT $500 deposit match at BetMGM today or see more offers and reviews for the best online sportsbooks.
---
The Stanley Cup qualifying round gets underway with a doozy of a game between the sixth-seeded Carolina Hurricanes and the 11th-seeded New York Rangers in Toronto on Saturday afternoon.
Stylistically, this is a matchup between two offenses that create scoring chances in droves but they go about their business differently.
The Rangers are at their best in transition thanks to lethal puck-movers like Artemi Panarin and Mika Zibanejad, while the Hurricanes play a high-pressure forechecking game that forces defenses into mistakes.
The Rangers swept the Hurricanes during the regular season and there will people who point to that as a reason to back New York, but I'd advise you to ignore that and chalk it up to random noise.
I also won't really be putting much stock into the goaltending matchup. On paper the Rangers have the edge in the blue paint, but goalies are already impossible to project so who knows how they will play after a mid-season hiatus.
New York Rangers
I'm not going to put any weight into where a team's form was heading into the hiatus, but the Rangers and Hurricanes are interesting because they basically had parallel up-and-down stretches.
The Rangers were the worst defensive team in the NHL over the first half of the season and if it wasn't for their star-studded offense and good goaltenders (all three of 'em), we'd be talking about one of the worst teams in the NHL.
New York's defense did improve over the season, going from terrible to below average after New Year's Day. Even so, it'll be important for the Rangers to score three or four goals a game because their defense grades out as one of the worst units in the tournament.
According to The Point Hockey, no team in the league allowed more chances off the rush than the Blueshirts in 2019/20 and they finished second-to-last in inner-slot shots against per game as well as expected goals against per game.
| 5-on-5 Stats | Prior to Jan 1 (39 GP) | After Jan. 1 (31 GP) |
| --- | --- | --- |
| Goals For Per Game | 2.82 | 2.62 |
| Goals Against Per Game | 2.8 | 2.37 |
| Expected Goals For Per Game | 2.43 | 2.49 |
| Expected Goals Against Per Game | 2.91 | 2.53 |
Expected goals (also known as xG) is a predictive statistic that gives an indication of whether results are based on sustainable factors like a steady creation of scoring chances, or whether it is down to aspects such as shooting luck or outstanding goaltending.
Simply put, an expected goals rate (xGF%) above 50% is considered good because it means a team is creating the majority of the scoring chances. Anything below 50% is usually a sign that a team is struggling to control play.
xG numbers cited from Evolving Hockey.
---
There are very few teams in the NHL that can go chance-for-chance with the Rangers, so I'd expect New York to try and goad Carolina into playing high-event hockey. If the Blueshirts can turn these games into shootouts, they stand a good chance to pull the upset. If they are played more like half-court basketball, the Rangers could be sent packing without making so much as a peep.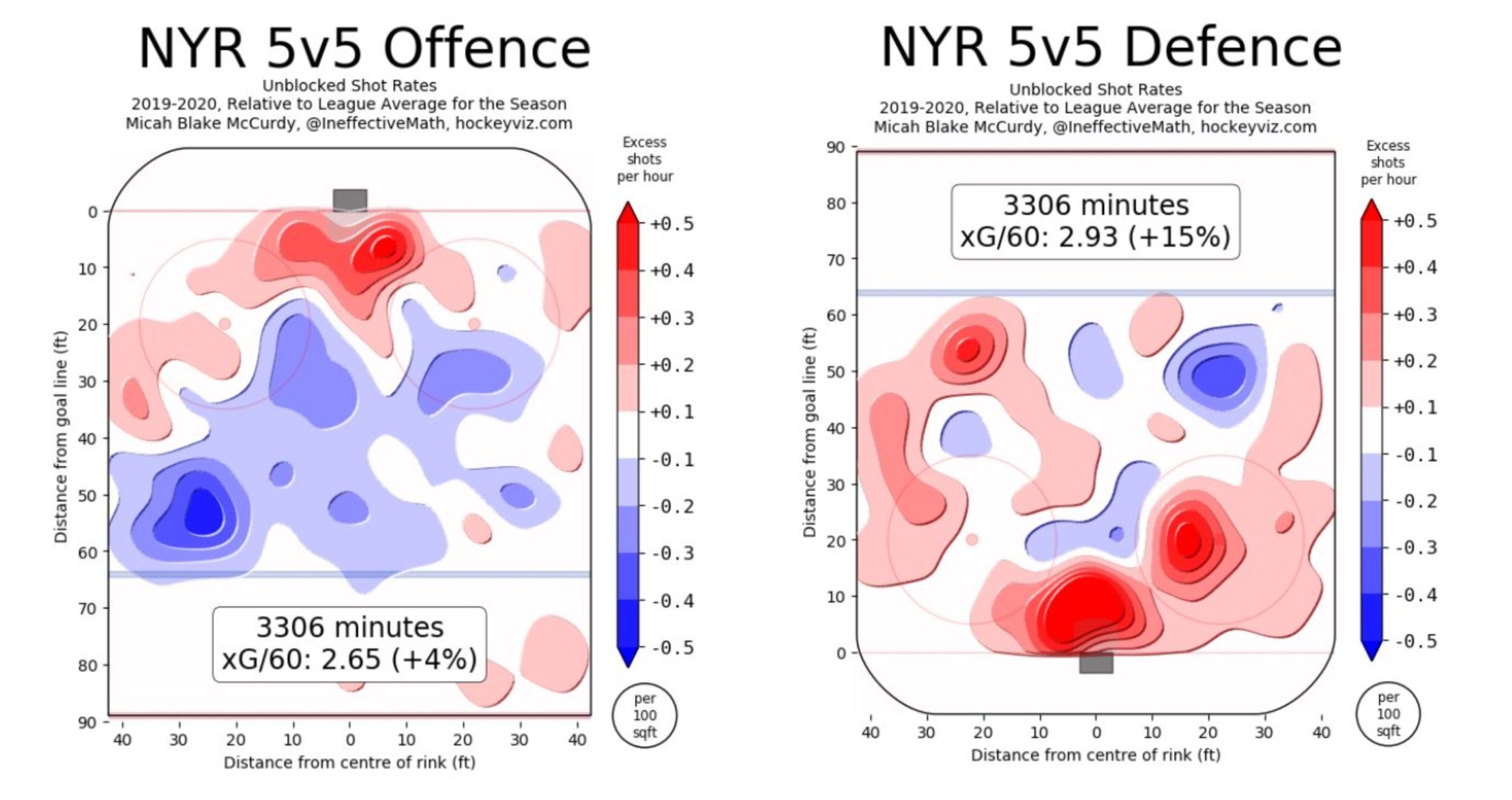 Even though they beat the Hurricanes each time they played in the regular season, this isn't a great matchup for the Rangers, stylistically. Outside of Adam Fox and Anthony DeAngelo, New York's defense has trouble moving the puck and that is a big issue against Carolina's high-press forecheck. Mistakes will be made and whoever is in goal for New York will be tasked with bailing his defense out.
The question isn't whether or not the Rangers will score, but whether or not they will score enough to cover their much maligned defense.
Carolina Hurricanes
It was a tale of two seasons for the Carolina Hurricanes and the line of demarcation was Jan. 16, the day when No. 1 defenseman Dougie Hamilton broke his fibula.
With Hamilton, the Hurricanes were one of the best 5-on-5 teams in the NHL. Without him, they were largely pedestrian and downright bad defensively:
| Stat | With Hamilton (47 games) | Without Hamilton (21 games) |
| --- | --- | --- |
| xGF/60 | 2.79 | 2.68 |
| xGA/60 | 2.43 | 2.68 |
| xGF% | 53.4% | 50% |
| GF/60 | 2.46 | 3.02 |
| GA/60 | 2.34 | 2.95 |
| GF% | 51.2% | 50.6% |
Unfortunately for the Canes, Hamilton has been ruled out for Game 1 and his absence absolutely changes things. Not only is he a tremendous driver of possession, but he also plays a ton of tough minutes and would be tasked with going up against Hart Trophy nominee Artemi Panarin and his partner in crime, Mika Zibanejad. That workload will now have to be divvied up between Joel Edmundson and Sami Vatanen, neither of whom would be considered a top-pair defenseman. 
Carolina's offense operates in a different way from the Rangers, but the Canes are not all that far behind in terms of firepower. Andrei Svechnikov, Sebastian Aho and Teuvo Teravainen give them a fantastic top line and they are backed up by plenty of supporting-role players like Jordan Staal, Justin Williams and Nino Niederreiter.
Neither team should be left wanting for scoring opportunities in this series.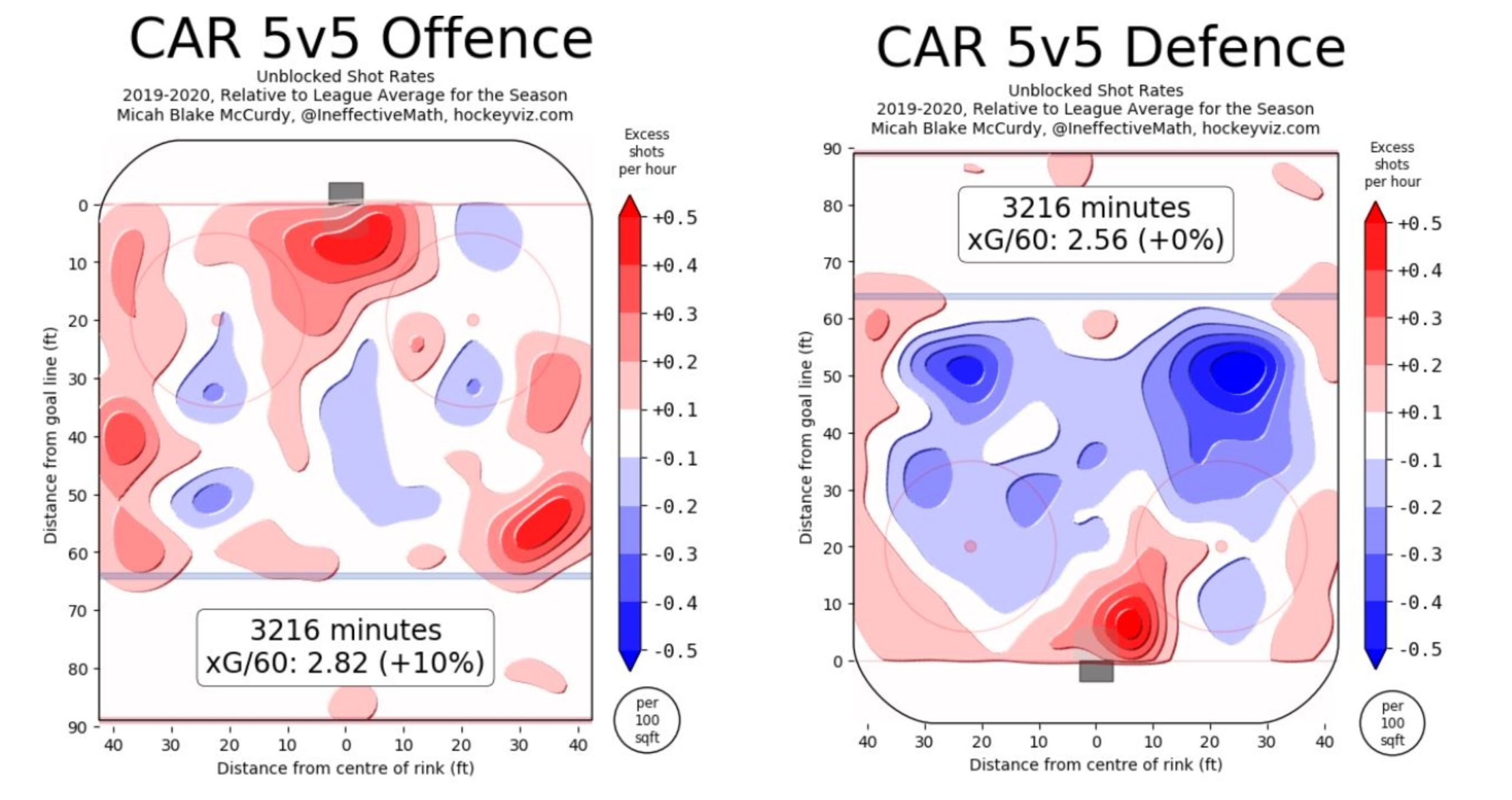 The Canes' score-by-committee approach should ease any worries about their star players coming out of the gates slowly after the four-month break, which is something the Rangers can't say. New York's top six is also formidable but its roster drops off precipitously after the top, while Carolina can roll four lines.
Carolina's best path to success is forcing the Rangers into mistakes with its forecheck, but the Canes do have enough scoring punch to hang with the Rangers if things go off the rails. They'll want to avoid that, though.
Betting Analysis
The betting market is a bit undecided on this matchup and I'm not all that surprised. The Hurricanes are the better team but are likely to be without their best player. The Rangers were red hot before the break and have better goaltending, but they are a mistake-happy team that can give up five goals on a moment's notice.
It may sound weird because I thought the Hurricanes made a great Stanley Cup bet before the Hamilton uncertainty, but I'm really not interested in paying anything above -125 on the Hurricanes to win this game or series.
That's because a single game or even a best-of-5 series in the NHL is a glorified coin flip, so it's hard to stomach paying 30 cents for a team in their first game back. I think the Hurricanes have enough talent to win out over a two-month tournament, but there's too much variance in these small samples to pay a premium on any team.
That said, it looks like the market is coming down on Carolina. DraftKings is the outlier in the market, hanging the Rangers at +115, while most other sportsbooks have New York at +105 (bet365) or +110 (FanDuel, PointsBet). I'd like the Rangers at +120 to play them, but with the way things look at the moment (Friday at 1 p.m. ET), I don't think that number is coming.
So, it looks like for this game I'll wait to see if I can grab a -120 on Carolina, but if that doesn't come I'll still take -125. I don't think that number has that much value but because it's the first game back and I don't have the self-control to sit out the first meaningful NHL game in 10 weeks, I'll bite.
How would you rate this article?