NHL Odds & Betting Picks: Rangers vs. Blackhawks, Wild vs. Canucks & More (Wednesday, Feb. 19)
Credit:
Bruce Kluckhohn/NHLI via Getty Images.
Updated odds for tonight's Rangers vs. Blackhawks have Chicago listed as a -130 favorite.
Both teams have struggled defensively this season, but have survived on good offensive play and goaltending.
Below you'll find betting picks for that matchup as well as a couple others around the NHL Wednesday.
The NHL Trade Deadline isn't until Monday, but there were a flurry of moves over the past few days as teams are trying to set themselves up for the final stretch.
Four NHL regulars have moved since Sunday and one more (Alec Martinez) is expected to move today:
Andy Greene (New Jersey Devils to New York Islanders)
Tyler Toffoli (Los Angeles Kings to Vancouver Canucks)
Brenden Dillon (San Jose Sharks to Washington Capitals)
Marco Scandella (Montreal Canadiens to St. Louis Blues)
Toffoli is the only forward on this list and I'd argue the only potential needle-mover who has been traded since Jason Zucker was sent from Minnesota to Pittsburgh. The other four players fill needs for their respective teams, but they aren't the type of trades that get a fanbase buzzing.
That being said, it is often those under-the-radar deadline moves (see Michal Kempny in 2018) that push good teams over the edge. Whether or not this spat of deals makes Monday's deadline more of a dud than usual remains to be seen, but for now let's focus on Wednesday's action.
New York Rangers at Chicago Blackhawks
Rangers odds: +115
Blackhawks odds: -135
Over/Under: 6
Time: 8 p.m. ET
TV: NBCSN
---
Odds as of Wednesday and via FanDuel. In New Jersey? Get up to a $500 risk-free bet at FanDuel today or see more offers and reviews for the best online sportsbooks in NJ.
---
The New York Rangers are in an interesting spot. The Blueshirts are almost certainly not going to make the playoffs — they are eight points out of the last wild-card spot — but the Rangers have been good enough to remain somewhat relevant this season, buoyed by a four-game winning streak prior to Sunday's loss to the Bruins.
New York is likely to trade a player or two — winger Chris Kreider is considered the prize of this season's trade deadline — but at the same time, the team has played well enough that keeping the band together is not out of the question.
The Chicago Blackhawks are in a similar spot. The Hawks are eight points outside of a playoff spot and could accelerate their rebuild by trading away pending free agents like Robin Lehner and Erik Gustafsson, or they could keep them to try and stay within shouting distance of the pack.
These teams have similarities on the ice, too.
For most of the season the Blackhawks and Rangers have been the league's two worst defensive teams, but have been saved by talented offenses and great goaltending. Just take a look at the numbers:
Expected goals rate: Chicago 47.3%; New York 47.1%
Expected goals for per 60: Chicago 2.46; New York 2.44
Expected goals against per 60: Chicago 2.74; New York 2.73
Goal share: Chicago 50.2%; New York 49.8%
Goals for per 60: Chicago 2.57; New York 2.63
Goals against per 60: Chicago 2.54; New York 2.66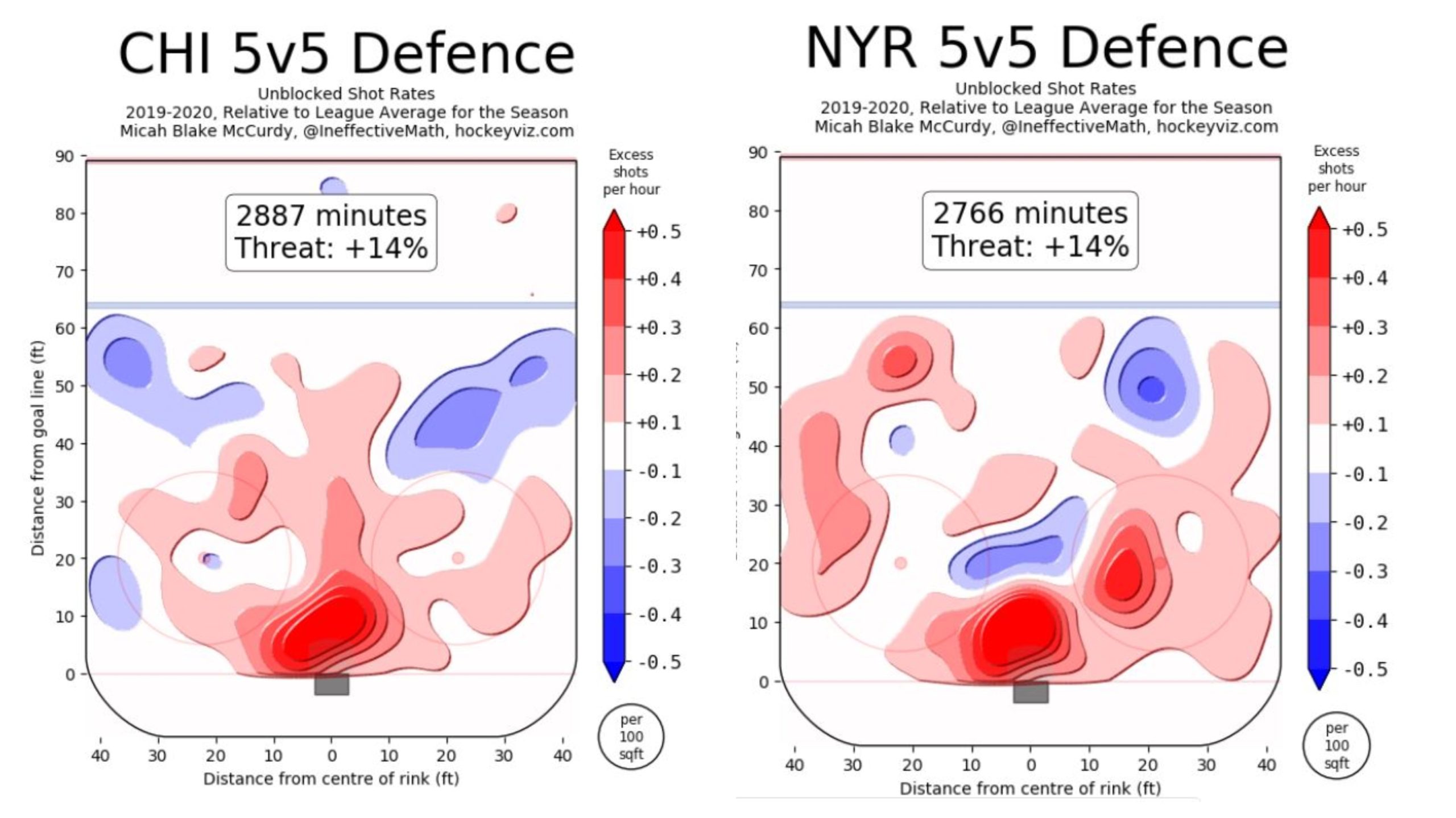 As you can tell by the numbers, there really isn't that much that separates these two teams and the odds bear that out. The listed price implies that the Blackhawks win this game 55.3% of the time, and those aren't too far off. But I would make the Rangers a slight favorite on neutral ice and, when you adjust for home-ice advantage (4.9%), the market is suggesting the opposite.
That being said, I'm waiting to see if a +120 pops as the Blackhawks took the early money and I'm hoping they continue to attract traffic at the window.
---
[Bet this game now at FanDuel and get $5 for every goal your team scores.]
---
Around the League
The Minnesota Wild (+110) are interesting to me against the Vancouver Canucks (-130). Minnesota has better 5-on-5 numbers and is one of the best defensive teams in the league, but the Wild don't compare to Vancouver in terms of scoring-talent and goaltending. If this number hits +115, I'll play the Wild.
The New York Islanders (+145) are staring a four-game losing streak in the face against the Colorado Avalanche (-170), but the Avs are dealing with a couple of key injuries. Nazem Kadri and Mikko Rantanen are both out, which really dents Colorado's top six. The Islanders thrive when they grind teams into rock fights, so I like taking shots on them at these odds. I'd play the Isles down to +140.
How would you rate this article?