NHL Daily Betting Odds & Picks (Monday, May 17): Best Bets for Bruins vs. Capitals, Hurricanes vs. Predators & Avalanche vs. Blues
Credit:
Tim Nwachukwu/Getty Images. Pictured: Craig Anderson
The 2021 Stanley Cup Playoffs are off to quite the start. The first three games went to overtime and were won by the underdog. The first two games featured surprising performances from back-up goaltenders in winning efforts. The third game ended 1-0 and saw the goaltenders combine for 71 saves on 72 shots. And the fourth game was one of the wildest hockey games you'll ever see as the Lightning edged out the Panthers, 5-4, on a last-gasp winner from Brayden Point.
What kind of drama are we in store for on Monday night? Let's find out together. Here are our best bets for:
Boston Bruins (-129) at Washington Capitals (+110), 7:30 p.m. ET
Nashville Predators (+155) at Carolina Hurricanes (-182), 8 p.m. ET
St. Louis Blues (+220) at Colorado Avalanche (-265), 10 p.m. ET
Michael Leboff: Boston Bruins (-129) vs. Washington Capitals
Puck Drop: 7:30 p.m. ET
The Stanley Cup Playoffs are a time for fairytales and right now the best story in the tournament is Craig Anderson. The soon-to-be-40-year-old goaltender signed with the Capitals in the winter the be their No. 3 goalie after Henrik Lundqvist — who was signed to be the No. 2 behind Ilya Samsonov — was sidelined with a heart condition. Anderson's role was simple: Provide some veteran guidance and insurance behind the young goaltending tandem of Samsonov and Vitek Vanecek.
Hockey has a way of finding players like Anderson in big moments and that is exactly what happened in Game 1 on Saturday. With Samsonov in Covid protocol, Vanecek was tapped to start but was hurt in the first period. Enter Anderson and grab the Kleenex.
Anderson would go on to stop 21 of 22 shots for the Capitals, stymieing a Bruins offense that had been rolling over the last month of the season. Over their final 17 games, the Bruins averaged 3.38 goals, 3.14 even-strength goals and 2.62 expected goals per hour. Logic would have suggested that the Bruins would be able to scratch out a win against Anderson and the Caps, but The Hockey Gods intervened, as they often do at this time of year.
---
Expected goals (also known as xG) is a predictive statistic that gives an indication of whether results are based on sustainable factors like a steady creation of scoring chances, or whether it is down to aspects such as shooting luck or outstanding goaltending.
Simply put, an expected goals rate (xGF%) above 50% is considered good because it means a team is creating the majority of the scoring chances. Anything below 50% is usually a sign that a team is struggling to control play.
xG numbers and advanced stats cited from Evolving Hockey, MoneyPuck and Natural Stat Trick.
---
And The Hockey Gods (and Anderson) do deserve a lot of credit for Washington's win as Boston won the expected goals battle 2.14 to 1.55 at 5-on-5 and 2.39 to 1.61 at all strengths. It's not fair to say the Capitals were lucky to win — they were forced to play their No. 3 goaltender for most of the game, after all — but it is fair to say they were chasing the puck for the most part. That type of effort will likely catch up to the Capitals, especially since Anderson has been labeled as the "likely starter" by head coach Peter Laviolette.
As bettors we are often forced to wear the black hat. To bet against the story. That is the case for me on Monday as I see value on Boston against Anderson and the Capitals up to -140.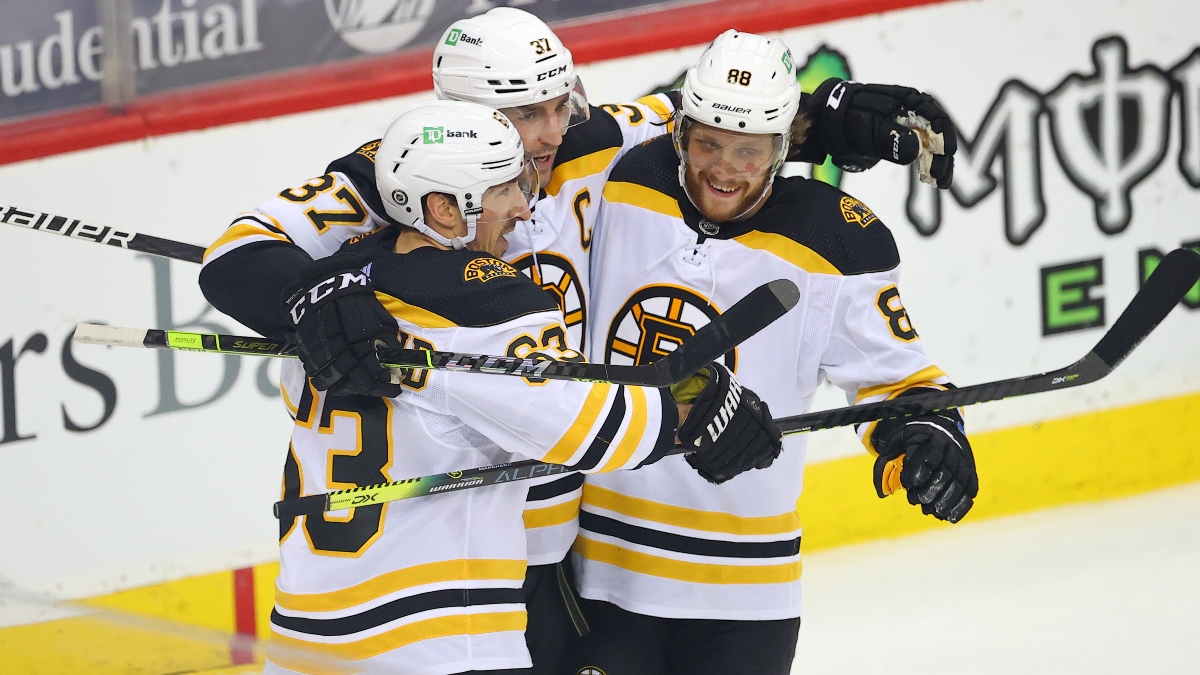 Nicholas Martin: Bruins-Capitals Over 5.5 Goals (+120)
Puck Drop: 7:30 p.m. ET
Based on the relatively tight-checking nature of Game 1, arguing for a play on the Over here might seem somewhat illogical, but I believe that there is some sound reasoning to believe that Game 2 between Boston and Washington will be a high-scoring affair.
First and foremost, I like the price at +120. That is a great number for any Capitals game to go over 5.5 goals, whether in the playoffs or not.
Washington did a terrific job of limiting Boston to mainly low-quality chances in Game 1, which allowed Craig Anderson to ease his way into the contest and stop 21 of 22 shots. I don't think it's all that likely that Washington will be able to keep the Bruins' offense that quiet again on Monday night. In particular, I'd expect a big game from Boston's "Perfection Line" featuring Brad Marchand, Patrice Bergeron and David Pastrnak.
As Leboff noted above, Anderson's play in Game 1 was an excellent story, but it is unlikely to be replicated. Anderson has displayed poor rebound control and inadequate lateral movement in recent years, and has been slotted as the Caps third-stringer for a reason, especially considering coach Peter Laviolette's favorable treatment of established veteran players.
On the other end, Tuukka Rask looked a bit out of sync, specifically on two shots that beat him clean but hit the post from Lars Eller and Justin Schultz. Rask ended up allowing three goals on 1.85 expected goals, so a bounce-back will be needed from the Finn if the B's want to draw even.
Despite the physical nature of Game 1, the Caps only drew one penalty. Even by playoff officiating standards that is also unlikely to be repeated. A few more looks for Washington's deadly power play should help this total stay in reach.
The Capitals goaltending situation leaves them in a tough spot against one of the league's best teams. On the other end, Washington's high-powered offense showed some encouraging signs in Game 1 and should be able to create more chances in the second contest.
All of these reasons lead me to backing the Over 5.5 on Monday night.
Pete Truszkowski: Carolina Hurricanes -1.5 Games vs. Nashville Predators & Predators Under 2.5 Goals in Game 1
Puck Drop: 8 p.m. ET
There is a clear difference between these two teams. Carolina was the better team all season long and its resume stacks up favorably to Nashville in almost every facet. Therefore, it's no surprise to see the Hurricanes as rather prohibitive favorites to win both Game 1 and the series.
These teams played eight times during the regular season, with Carolina winning the first six of those contests. The last two games occurred late in the regular season with the Hurricanes not having much to play for. Of note, in the first six games of the season series, Nashville scored just nine goals.
I believe this will continue to be an issue for the Predators in this series. Carolina spends a lot of time in the offensive zone against everybody they play, and I don't expect the Predators to be able to change that. Additionally, I think Carolina's lineup is better from top to bottom. If special teams become a factor, Carolina will have an advantage there as well.
Defensively, there's not much separating these teams. Carolina's expected goals against per hour at 5-on-5 sits at 2.19, while Nashville's mark is a smidge higher at 2.25. Nashville actually did a better job of limiting high-danger chances, as they gave up 0.37 less high-danger chances per 60 minutes than the Canes.
While these teams might be similar in their own ends, Carolina packs a much harder punch offensively. Carolina ranks fourth with an average of 2.56 expected goals per hour. Nashville was in the bottom third of the league with a 2.22 mark according to MoneyPuck. The Canes also led the league with an average of 12.1 high-danger scoring chances per hour, while Nashville ranked 14th.
Nashville ranked in the bottom third of the league when it comes to goals per game and outside of Filip Forsberg, there's not much there that will frighten you offensively. Rather than lay -182 on the moneyline in Game 1, I'd look towards the Predators team total. You can find Nashville to score under 2.5 goals at -145 on PointsBet.
Additionally, I think the Hurricanes should win this series rather comfortably. In order to avoid laying -250 on them to win the series, I'd look towards the series spread line. Carolina to win by -1.5 games currently sits at -130. I'd be surprised if Carolina needed seven games to get by the Predators in this showdown.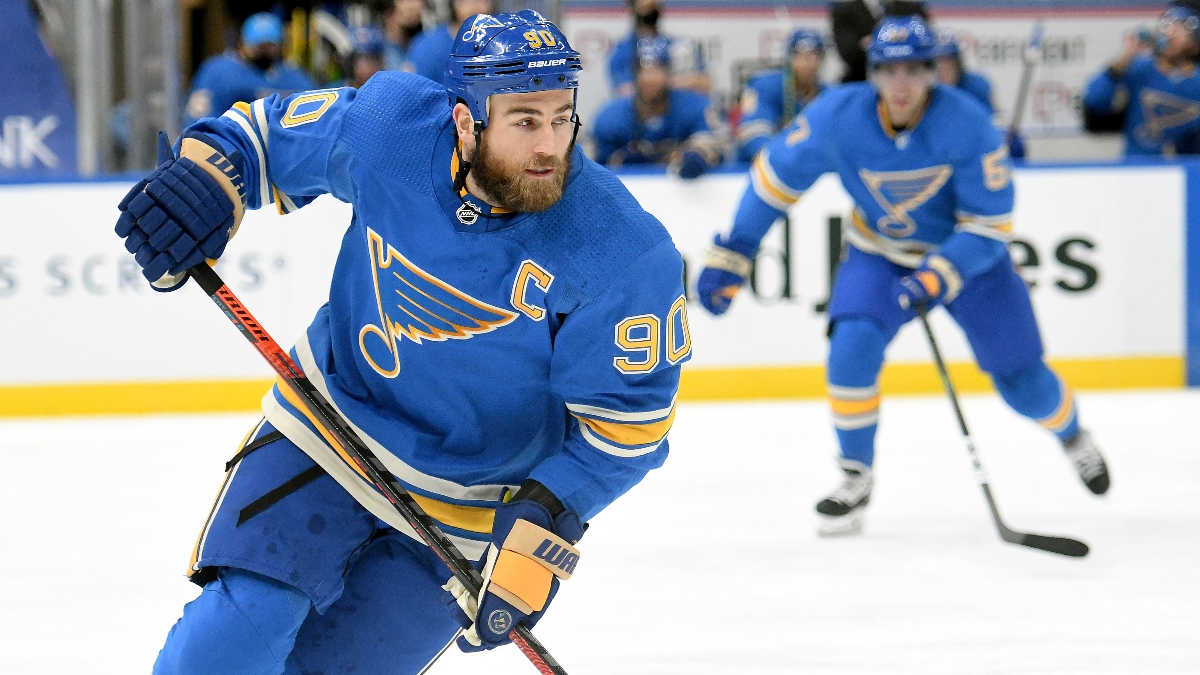 Matt Russell: Colorado Avalanche to win in regulation (-150) vs. St. Louis Blues & Avs -1.5 Games (-200) vs. Blues
My "Let's Do That Hockey" model, as heard on "THE WINDOW: Sports Betting Podcast," grades the Blues as 7% below-average during 5-on-5 play, while the Avalanche are 19.5% above-average in the West Division. The reasons behind these ratings are spelled out below:
| Stat | Blues | Avalanche |
| --- | --- | --- |
| High-Danger Chances For 5v5 | 370 | 517 |
| High-Danger Chances Against 5v5 | 473 | 363 |
| High-Danger Conversion Rate 5v5 | 15.6% | 12.7% |
| High-Danger Goals 5v5 | 58 | 66 |
| Expected Goals Share 5v5 | 46.09% | 59.6% |
| Power Play % | 23.2% | 22.7% |
| Penalty Kill % | 77.8% | 83.1% |
| Starting Goaltender GSAA/60 min. | .059 | .364 |
The model's ratings for the two teams translate to the Avalanche winning any given game at an average of 76% percent of the time. That translates to a true moneyline of -318 a game at a neutral site. With a small adjustment for home-ice advantage, that number only goes up.
With the Avalanche favored in this game at -250, there's actually a little value left on them, likely due to the brand name element that the Blues bring to the table.
That price is still a lot to lay for some, so as an alternative you can play this a couple of different ways. The long way is betting the Avalanche to win the series in six or fewer games via the -1.5 game series line at -200, which gives you a little wiggle room should the Blues pull off a surprise in Game 1
The shorter way to play this game is to take the Avs to win in regulation at a more palatable -150 price on PointsBet.
How would you rate this article?