NHL Odds & Picks: 5 Ways To Bet Saturday's Games, Including Rangers-Devils & Maple Leafs-Canucks
Credit:
Curtis Comeau/Icon Sportswire via Getty Images. Pictured: Toronto Maple Leafs standout William Nylander.
Four hockey analysts. Five different picks.
Check out who our experts are backing in Saturday's NHL action across North America below.
NHL bettors have a very busy Saturday ahead of them. There are 10 games on the schedule, including a bunch of back-to-backs, and there are more than a few rivalry games on deck.
All that put together gives  us one of the more intriguing slates we've seen this season.
What's more is the action commences early, beginning at 1 p.m. ET, and doesn't let up until deep into the night with two 10 p.m. ET puck drops.
Here are our favorite bets for Saturday's jam-packed NHL slate:
Michael Leboff: New York Rangers (-118) vs. New Jersey Devils
Puck Drop: 1 p.m. ET
After a middling start the New York Rangers have found a little groove over the past fortnight. The Blueshirts have won five of seven and are above 50% in goal share and expected goal rate at 5-on-5.
What's more encouraging is that this nifty little run came with Artemi Panarin, one of the best players in the world, on the sidelines.
After a strong start the New Jersey Devils have hit a bit of a rough patch over the past fortnight. The Devils have dropped seven of their last eight games and are below 50% in goal share and expected goal rate at 5-on-5.
New Jersey's hot start was driven by exceptional goaltending and once their save percentage came back down to earth so did the Devils.
Despite their recent run of form I think there are still a lot of problems with the Rangers and am not bullish on them getting back into the mix in the East. They are not deep, their defense is a patchwork of promising young players with bad veterans and their No. 1 goaltender got hurt.
That said, I believe they are a couple of rungs on the ladder above the scuffling Devils. This number is certainly playable on the Rangers, but I wouldn't go north of -125.
Pete Truszkowski: Buffalo Sabres Under 1.5 Goals (+170)
Puck Drop: 1 p.m. ET
The New York Islanders are doing New York Islanders things. Head coach Barry Trotz preaches a commitment to defensive hockey and under his tutelage, the Islanders have become one of the league's stingiest teams.
New York is giving up just 2.22 goals per game, the third-best mark in hockey. At even strength, the Isles are giving up just 1.86 goals against per hour, also the third-best mark in the league.
The underlying metrics say this is no fluke, as the Islanders have the third-best expected goals against in hockey and are second-best in terms of limiting high-danger chances. Over their past two games, New York has given up just four high-danger chances. Total.
Trotz's system has a history of making goalies look good, but the duo of Semyon Varlamov and Ilya Sorokin have done their part. Varlamov has posted a +3.63 Goals Saved Above Expectation (GSAx) through 17 games while Sorokin boasts a +2.4 GSAx mark through six starts in his rookie campaign.
---
Expected goals (also known as xG) is a predictive statistic that gives an indication of whether results are based on sustainable factors like a steady creation of scoring chances, or whether it is down to aspects such as shooting luck or outstanding goaltending.
Simply put, an expected goals rate (xGF%) above 50% is considered good because it means a team is creating the majority of the scoring chances. Anything below 50% is usually a sign that a team is struggling to control play.
xG numbers cited from Evolving Hockey.
---
The Isles have shutout their opponents five times already this season and have held them to just one goal three other times. This is a team that can suffocate and frustrate you like no other.
That brings us to the Buffalo Sabres. Despite frequent investments in their offense, Buffalo ranks 29th in the league in goals per game. When you consider the Sabres have the third-best powerplay in the league, it becomes almost unbelievable.
Buffalo ranks dead last in the league in goals per hour at 5-on-5, scoring just 1.36 goals. The second-worst team is the Dallas Stars, who are scoring 1.79 goals per 60 minutes. In terms of expected goals scored, Buffalo ranks fourth from the bottom in the standings.
The Islanders have defeated the Sabres four times already this season, holding Buffalo to no more than five high-danger scoring chances in three of those contests.  In the game they mustered more than five high-danger scoring chances, the Sabres were shutout by Sorokin.
Outside of Sam Reinhart and Victor Olofsson, most of Buffalo's big names have disappointed. Jack Eichel and Taylor Hall have just two goals each. Eric Staal has just eight points. Jeff Skinner and Kyle Okposo are yet to find the net.
The Islanders are one of the league's best defensive teams and the Sabres' offense has been basically nonexistent, so I like the value on Buffalo scoring under 1.5 goals in this game.
Normally, team totals are set at 2.5, but by going even lower than that, we find generous odds at +170. If the Islanders stay out of the penalty box, we have a good chance of cashing here.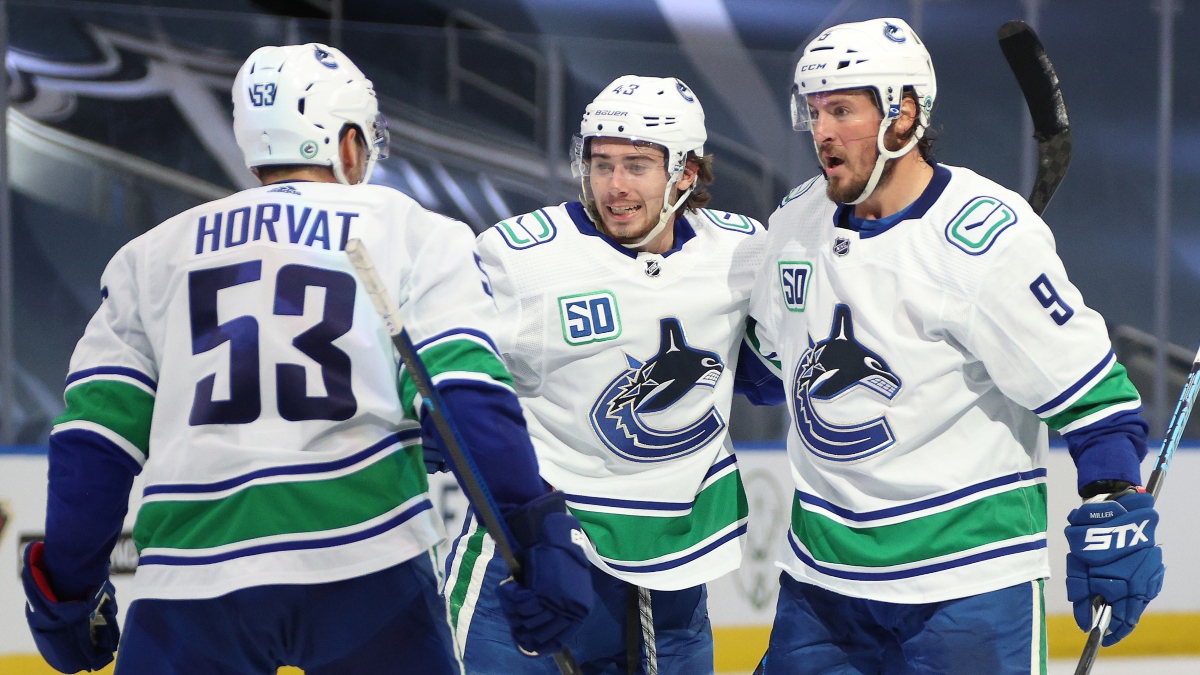 Matt Russell: Toronto Maple Leafs (-175) vs. Vancouver Canucks
Puck Drop: 7 p.m. ET
In this space in our collective "Best Bets" column on Thursday, I wrote about the terrible schedule spot the Leafs were facing moving from Edmonton to Vancouver in the span of 24 hours, to play the Canucks who were sitting there waiting for them.
It didn't seem to bother them in the first period as they were able to take the play to the Canucks in the first period, and keep the game tied at 1, after an early Canucks' goal.
Perhaps tired legs caught up to Toronto as it wasn't able to muster much in the way of a third-period push after getting down 2-1. No one could have blamed them for phoning one in, but that's hardly what happened in their 3-1 loss.
A couple of lineup shifts that are going to benefit Toronto. Their goaltending situation is bound to improve as Frederik Andersen is likely back between the pipes, while there's a chance the Canucks downgrade to Braden Holtby as they're prone to do every second game.
Also, while the Leafs' star sniper Auston Matthews is back after a pair of games off and should be ready to lift off again, Elias Pettersson, the Canucks' star sniper, is questionable for Saturday with an upper-body injury.
The Canucks struggled on their trip to Toronto a couple weeks back getting swept over the course of three games, with the first two games not being particularly close. So there's no reason to think that the Leafs couldn't put together a really good performance after the loss.
That's what the Leafs have been doing all season, taking the Expected Goal Share and the High-Danger Chance Share at even strength at a 59% rate.
On the flip side, in the games after their 6 wins against teams not named 'the Ottawa Senators', the Canucks have won the Expected Goal Share just once. They lost that game to Winnipeg.
The situation here favours the Leafs, given that all the potential variables point in their direction from a lineup standpoint. Add on the tendencies of each team after a win for the Canucks and the loss for the Leafs, then we're veering closer to making the Leafs a viable bet even at the high price that would normally dissuade a bet.
---
Jeremy Pond: Winnipeg Jets (+195) To Win in Regulation vs. Montreal Canadiens
Puck Drop: 7 p.m. ET
When are oddsmakers going to stop backing Montreal as the favorite in its games? That's a serious question, because I'd really love to know the answer.
Fortunately for us, their affinity for the money-bleeding Canadiens continues entering this latest showdown with Winnipeg at Centre Bell. These sides met Thursday, with … wait for it … the underdog Jets pulling out a 4-3 overtime win over the hapless Canadiens.
Montreal, which fired Claude Julien and replaced him with interim head coach Dominque Ducharme, has been awful as of late. The Canadiens are winless in eight of their last 10 games, continuing their downward slide in the competitive Scotia Division.
In contrast, Winnipeg is playing its best hockey of the season. The Jets, who have won six of their last seven, have been brilliant on the road as well en route to a 4-1 record in their last five affairs away from Bell MTS Place.
Winnipeg has been so good that it has skyrocketed into second place in the division, sitting seven points behind powerful Toronto.
When it comes to the advanced metrics, Montreal has the advantage over Winnipeg on paper. However, as I mentioned earlier in the week, the numbers are cumulative and don't tell the current tale.
Looking at the Fenwick statistics, the Canadiens boast a 46.65 FF/60 and 36.31 FA/60, generating a +10.34 differential. In contrast, the Jets maintain a solid 38.09 FF/60 and 42.75 FA/60, resulting in a lackluster -4.66 differential.
As for the xGF/xGA comparison through 60 minutes, Montreal sits on 2.46 xGF/60 compared to 1.85 xGA/60, generating a +0.61 differential. As for Winnipeg, the outfit has on 2.22 xGF/60 and 2.53 xGA/60 for a -0.31 differential.
Bottom line, I continue to find value on anyone not favored against Montreal. And the fact Winnipeg is playing so much better than its host has me giddy I'm getting close to 2/1 odds on this central Canadian outfit.
That said, I am backing the Jets to earn their fourth win of the season in as many tries against the Canadiens and do it in regulation as well.
---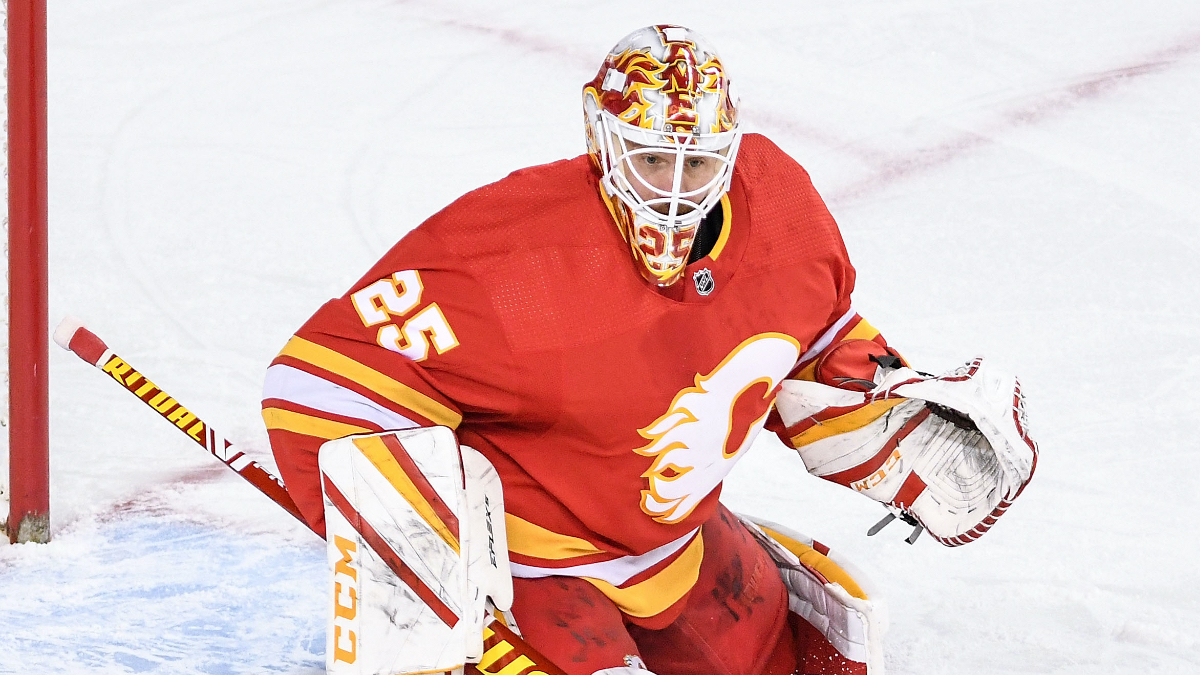 Michael Leboff: Calgary Flames (+115) vs. Edmonton Oilers
Puck Drop: 10 p.m. ET
The Calgary Flames became the second team in the NHL to make a coaching change this season. Darryl Sutter is back behind the bench for the Flames, who sit fifth in the North Division with 24 points and .500 points percentage. Sutter's first game will come against the Edmonton Oilers, one of the teams that Calgary is chasing.
A quick look at how these teams compare at 5-on-5 shows that the Oilers have created more offense, but the Flames are better defensively and have a pretty sizable goaltending edge, so long as Jacob Markstrom is in net.
| 5-on-5 Stat | Calgary Flames | Edmonton Oilers |
| --- | --- | --- |
| Goals for per 60 | 2.38 | 2.47 |
| Goals against per 60 | 2.32 | 2.73 |
| Goal Differential per 60 | +0.06 | -0.26 |
| xG for per 60 | 2.32 | 2.49 |
| xG against per 60 | 2.27 | 2.55 |
| xG Diffierential per 60 | +0.05 | -0.06 |
Because of the talent they have, the Oilers don't need to dominate at 5-on-5 to have success. Connor McDavid and Leon Draisaitl can wreck a game in the blink of an eye, but if you can contain them the Oilers are quite beatable.
Edmonton's high-risk, high-reward style puts a ton of pressure on McDavid, Draisaitl and the goaltender, and while the two forwards answer the bell more often than not, the goaltending is a little suspect.
Mike Smith has been great for Edmonton this season, but he's 38 years old and posted a -14.59 GSAx over the last two seasons. Smith is always capable of stealing a game or getting hot for stretch (and driving me up a wall), but I am not confident that he will be able to keep this level of play up for much longer.
Edmonton's other option in goal, Mikko Koskinen, has struggled to a -5.97 GSAx in 16 games this season so he's not exactly trustworthy, either.
Calgary has more depth, plays better defense and should have the goaltending edge in this game. Thus, I think the Flames have value at this number as long as Markstrom is in goal.
How would you rate this article?