NHL Betting Odds & Picks (Thursday, April 8): Best Bets for Canadiens vs. Jets, Lightning vs. Blue Jackets & More
Credit:
Jonathan Kozub/NHLI via Getty Images. Pictured: Connor Hellebuyck
It's a busy day of NHL action as 10 games line the evening's slate.
See which games are staff is targeting as the NHL trade deadline looms closer.
The first big deal of the trade deadline frenzy took place on Wednesday night when the New York Islanders acquired Kyle Palmieri and Travis Zajac from the New Jersey Devils for a first-round pick and a few low-level prospects. With just five days between now and the April 12 deadline, you can expect some other big moves.
But that's for another time. For now, hockey bettors have an 10-game slate to work with on Thursday night. Here are our favorite bets:
Michael Leboff: New Jersey Devils (-129) vs. Buffalo Sabres
Puck Drop: 7 p.m. ET
Don't look now but the Buffalo Sabres have won three of four and have not lost a game by more than one goal in two weeks. Those are modest successes but when you just tied the record for longest losing streak in NHL history the silver linings are not going to glisten.
With their 18-game hoodoo behind them, the Sabres are playing a better brand of hockey and are coming off a win against the Devils on Tuesday night. Prior to that, the Sabres earned a two-game split with the New York Rangers where both contests went to overtime. The Rangers dominated the Sabres in the first game, but Buffalo was much better in the second tilt, winning the expected goals battle, 2.36 to 2.17 at 5-on-5.
That's an encouraging sign for the Sabres as they have struggled to a -0.42 expected goal differential per 60 minutes at 5-on-5 this season, but that win over the Rangers seems like an outlier as Buffalo's expected goal differential per 60 over the past six games has actually deteriorated to -0.82. The Sabres are still the Sabres, they are just getting better goaltending and pucks are actually going in the net.
---
Expected goals (also known as xG) is a predictive statistic that gives an indication of whether results are based on sustainable factors like a steady creation of scoring chances, or whether it is down to aspects such as shooting luck or outstanding goaltending.
Simply put, an expected goals rate (xGF%) above 50% is considered good because it means a team is creating the majority of the scoring chances. Anything below 50% is usually a sign that a team is struggling to control play.
xG numbers cited from Evolving Hockey.
---
The Devils may have just deleted a couple of key players from their lineup, but they've been playing a pretty decent brand of hockey lately. New Jersey boasts a 52.4% expected goals rate in its last six games, and their season-long xG rate of 49.6% is respectable when you consider the quality of competition in the East Division.
Betting on the Devils, who have lost four on the spin, are coming off a loss to the last-place Sabres and just traded away two important players, may not sound fun, but it's a good opportunity to buy low. I like New Jersey at -135 or better.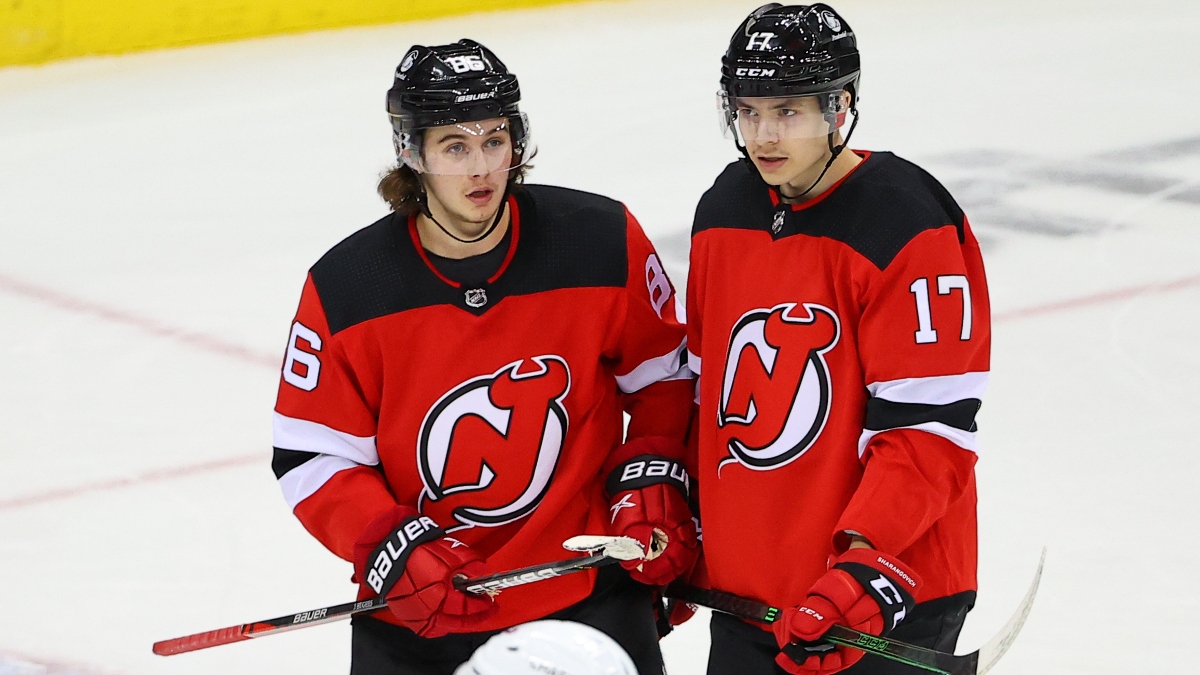 Mike Ianniello: Devils (-129) vs. Sabres
The New Jersey Devils have dropped four games in a row, including a 5-3 loss to the Sabres on Tuesday.
With the looming NHL trade deadline, the Sabres will continue to scratch pending UFA and former MVP Taylor Hall as they look for a trade partner, in addition to Jack Eichel still being out with an injury.
The Devils have certainly struggled this year, especially recently (3-5-2 in last 10) but Buffalo is a different type of bad. The Sabres 24 points is the lowest in the NHL, six less than the next best team. They are 30th in the NHL in goals per game and 29th in goals allowed per game. New Jersey has a 49.46 GF% at 5-on-5 this year compared to a 45.25% for Buffalo.
In a battle of two of the basement dwellers of the East Division on Tuesday night, these two teams combined for exactly ZERO High-Danger Scoring Chances. Despite losing by two goals, the Devils outshot the Sabres 30-18 and had an xG advantage of 2.57-1.45 at 5-on-5.
New Jersey's top line of Jack Hughes, Janne Koukkanen and Yegor Sharangovich skated to a 76.9 xGF% against the Sabres on Tuesday but were unable to cash in on their solid play.
Hughes has had an up-and-down sophomore season but the 2019 first overall selection has played much better than his numbers indicate. In his last 10 games, Hughes has generated 11 High-Danger Scoring Chances and has a 3.14 xG despite having zero goals and just one secondary assist to show for it. I expect Hughes to get rewarded for his play soon.
The Devils opened at -159 against the Sabres just two days ago and are sitting at -118 at the time of this writing (would play down to -135), so we are getting New Jersey at a discounted price today.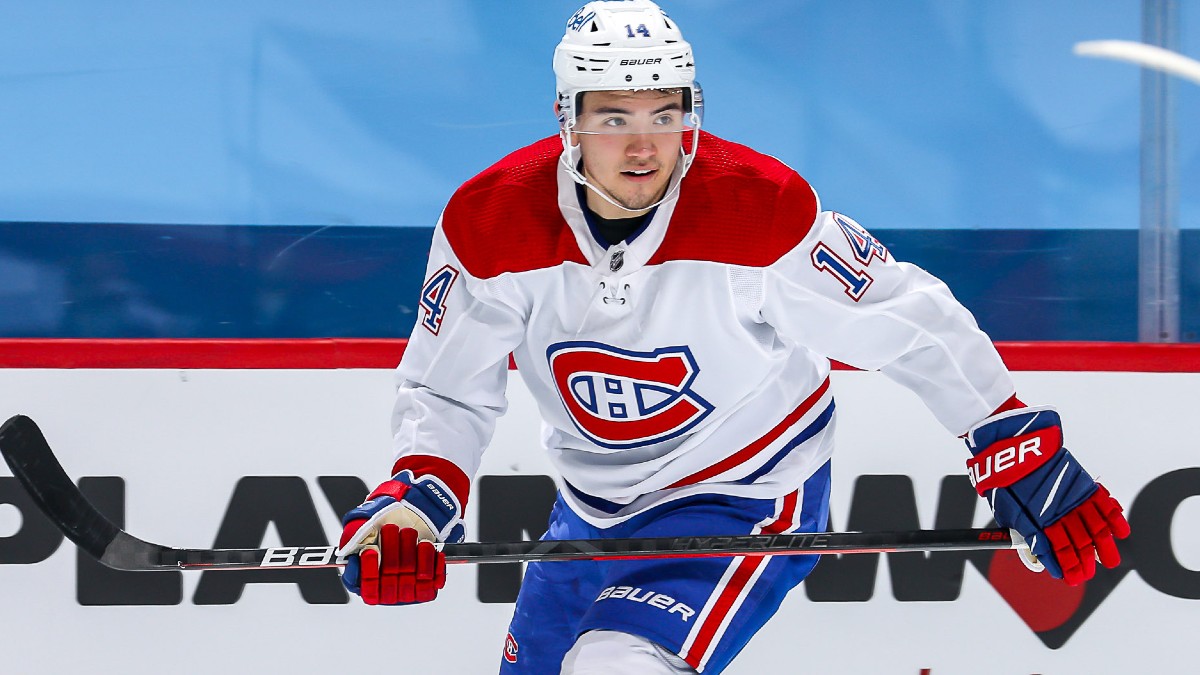 Pete Truszkowski: Winnipeg Jets (+128) vs. Montreal Canadiens
Puck Drop: 7 p.m. ET
This is not an attack on the value of analytics in the sport of hockey, I swear. With that being said, I like the Winnipeg Jets over the Montreal Canadiens as underdogs on Thursday night.
The story between these two teams could not be more different.
The Jets rank 30th in the league in terms of expected goal rate, besting just the Chicago Blackhawks. They rank 31st in high-danger chance (HDC) percentage and bottom-10 in shot attempt share. Their defense is particularly putrid, as they rank 30th in expected goals against per hour at 5-on-5 and dead last in HDC against.
Despite this, Winnipeg has a 23-13-3 record and has an outside chance of chasing down the Toronto Maple Leafs atop the division.
Contrarily, the Montreal Canadiens are analytical darlings. They rank second in expected goal rate, high-danger chance percentage and shot attempt share. Despite this, Montreal has lost 18 of their 35 games. NHL accounting makes their record look good with a mark of 17-9-9, but when it comes to betting, we don't get points for an overtime loss.
With such a discrepancy in the underlying numbers, we're left to wonder why these two teams are performing so differently. The two main ways to over perform your metrics is through high-end talent and goaltending. When you look into those factors, Winnipeg comes out with a clear advantage.
Even with Blake Wheeler expected to miss a considerable amount of time, Winnipeg has plenty of firepower in their top six with Mark Scheifele, Nikolaj Ehlers, Kyle Conner and Pierre-Luc Dubois. Their third line is also amongst the best in the league. Winnipeg might not generate as many chances as their opponents, but they take advantage of the opportunities they get. Their high danger shooting percentage is the best in the league, converting over 22% of their HDC into goals.
On the other end, Montreal will be without one of their best forwards in Brendan Gallagher. Montreal has some solid players like Tyler Toffoli, Tomas Tatar and Nick Suzuki, but the Habs don't have the game-changing talent Winnipeg does.
Additionally, with Jake Allen starting Wednesday's game for Montreal, we will likely see Carey Price in net for the Habs on Thursday. Despite his reputation, that hasn't been a good thing for Montreal this season. Price has posted a GSAx of -7.32 through 23 appearances and is barely stopping 90% of the shots he's faced. On the other side, Connor Hellebuyck grades out as the third-best goalie when it comes to GSAx with a mark of +11.8.
It might not make sense when looking at the underlying numbers, but Montreal has consistently underperformed their metrics for years now while the opposite is true for the Jets. Additionally, Montreal is playing the second half of a back-to-back while Winnipeg will be rested. For this reason, I like the Jets as a solid underdog on Thursday night.
Matt Russell: Jets (+128) vs. Canadiens
Puck Drop: 7 p.m. ET
In the hockey metrics universe we try to use the numbers to boil down what happens on the ice into a result of a mathematical formula. This game comes down to one simple trend stemming from this unusual condensed season that's given us a definite, almost easy, conclusion. When one team plays in one city on one night, and has to play the next night in a different city against a team that's been waiting for them, well that team is screwed.
If I was to pour in a bunch of on-ice metrics, and even-strength result percentages, it would tell you why there's value on the home team Habs. However, none of those numbers account for the fact that the Canadiens just played last night in Toronto and now travel home to find a rested Jets team that's lying in wait. This situation is hitting above 90% for the rested team this season. That simple fact and a plus-money price on the Jets? What else do you need to know.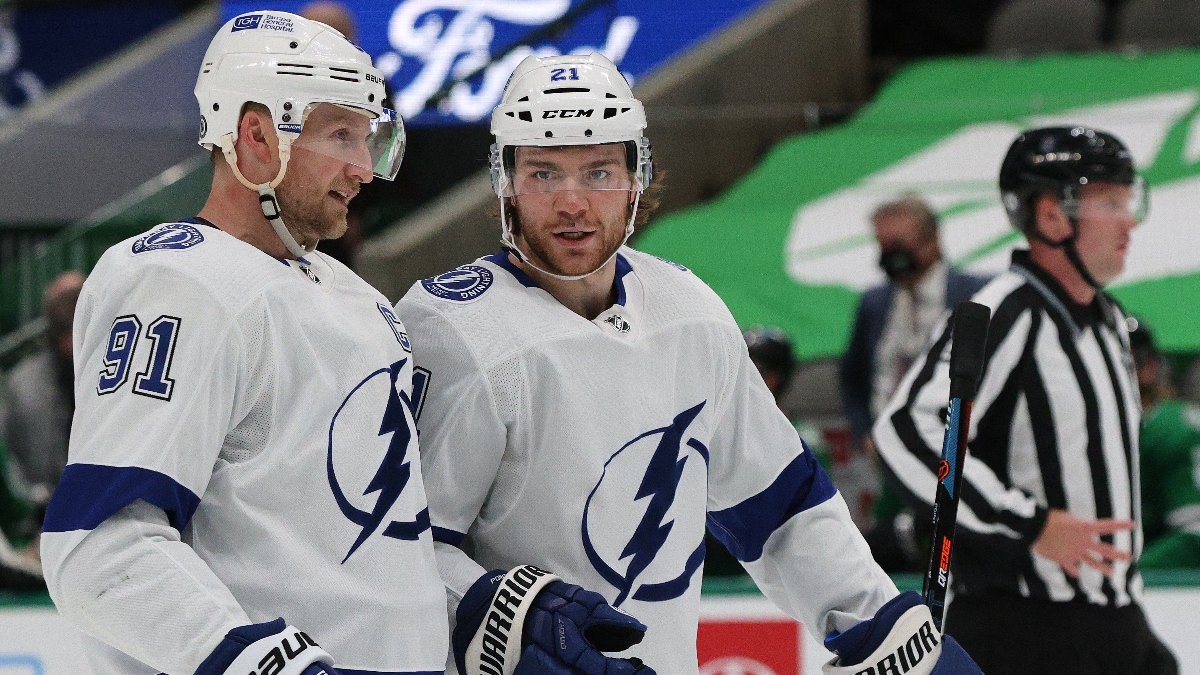 Nicholas Martin: Tampa Bay Lightning (-130) To Win in Regulation vs. Columbus Blue Jackets
Puck Drop: 7 p.m. ET
The Columbus Blue Jackets might look like a good price at +170 given that they lead the Lightning in the season series and just beat the Tampa 4-2 on Tuesday. Despite the loss, Tampa Bay still won the expected goals battle, 2.63 to 2.13, on Tuesday night and was unfortunate to end up on the wrong end of the scoreboard.
Columbus still ranks dead last with an xG rate of 44.76% on the year. I firmly believe that this Lightning roster is still far more talented than almost any team in the NHL and that we will see them ramp their game up as we inch closer to the playoffs.
Tampa has now dropped to third in the division behind Florida and Carolina, and come in after back-to-back losses to Detroit and Columbus. This is a spot where we should see an elite, proud group find some urgency in a regular season that probably feels pretty disinteresting.
John Tortorella's Columbus group will certainly make you work for your chances, but I just feel that this Lightning side is in a completely different tier in terms of talent, and we can expect them to produce a better effort than we have seen of late.
Assuming Andrei Vasilevskiy starts, I think that taking the Lightning to get a regulation win at -130 is certainly worthy of a bet.
How would you rate this article?
This site contains commercial content. We may be compensated for the links provided on this page. The content on this page is for informational purposes only. Action Network makes no representation or warranty as to the accuracy of the information given or the outcome of any game or event.