NHL Daily Odds & Picks (Wednesday, May 26): Our Best Bets for Penguins vs. Islanders, Panthers vs. Lightning & Golden Knights vs. Wild
Credit:
Douglas P. DeFelice/Getty Images.
Every game from now until the rest of Round 1 is an elimination game, starting with three contests on Wednesday night:
Pittsburgh Penguins (-105) at New York Islanders (-108), 6:30 p.m. ET
Florida Panthers (+133) at Tampa Bay Lightning (-157), 8 p.m. ET
Vegas Golden Knights (-130) at Minnesota Wild (+110), 9 p.m. ET
Will we see more eliminations tonight? Or will we start to see some Game 7's get booked for later in the week? Check out our favorite bets below.
---
Pete Truszkowski: New York Islanders (-108) vs. Pittsburgh Penguins
Puck Drop: 6:30 p.m. ET
Ilya Sorokin may be a wanted man by the Pittsburgh Police Department after the grand larceny he committed in Game 5 on Monday night.
Entering this series, we all figured the New York Islanders would have the edge in between the pipes. While that has been the case, it isn't featuring the actor many expected.
Semyon Varlamov started 35 of the Isles' 56 games this season and performed at a borderline-Vezina Trophy level. Varlamov posted a .929 save percentage and led the NHL with seven shutouts. However, the Russian was not ready for Game 1 due to injury. In stepped Sorokin, who was very solid in the Isles' opening victory.
Varlamov was deemed healthy enough to start Game 2 and unsurprisingly Barry Trotz went with his veteran No. 1 goaltender. Varlamov let in a weak goal early in Game 2 and then was beaten five times in Game 3. The Isles lost both contests.
Trotz turned back to Sorokin for Game 4 and the rookie has been stupendous. Sorokin has stopped 77 of 80 shots over the past two games. Sorokin has a +2.1 Goals Saved Above Expected (GSAx) in the series and was particularly heroic in Game 5, keeping the Isles in a game that saw the Penguins take 50 shots, create 14 high-danger chances and earn a 65% expected goal rate.
---
Expected goals (also known as xG) is a predictive statistic that gives an indication of whether results are based on sustainable factors like a steady creation of scoring chances, or whether it is down to aspects such as shooting luck or outstanding goaltending.
Simply put, an expected goals rate (xGF%) above 50% is considered good because it means a team is creating the majority of the scoring chances. Anything below 50% is usually a sign that a team is struggling to control play.
xG numbers and advanced stats cited from Evolving Hockey, MoneyPuck and Natural Stat Trick.
---
It's been a different story in the other crease as Tristan Jarry has allowed at least three goals in four of the five games this series. He has looked shaky through most of the first four games and currently boasts the worst GSAx amongst all goalies this postseason. However, the conclusion of Game 5 is what's most fresh on the mind, as Jarry basically handed the Isles the win after his puck handling turnover sprung Josh Bailey alone in the slot.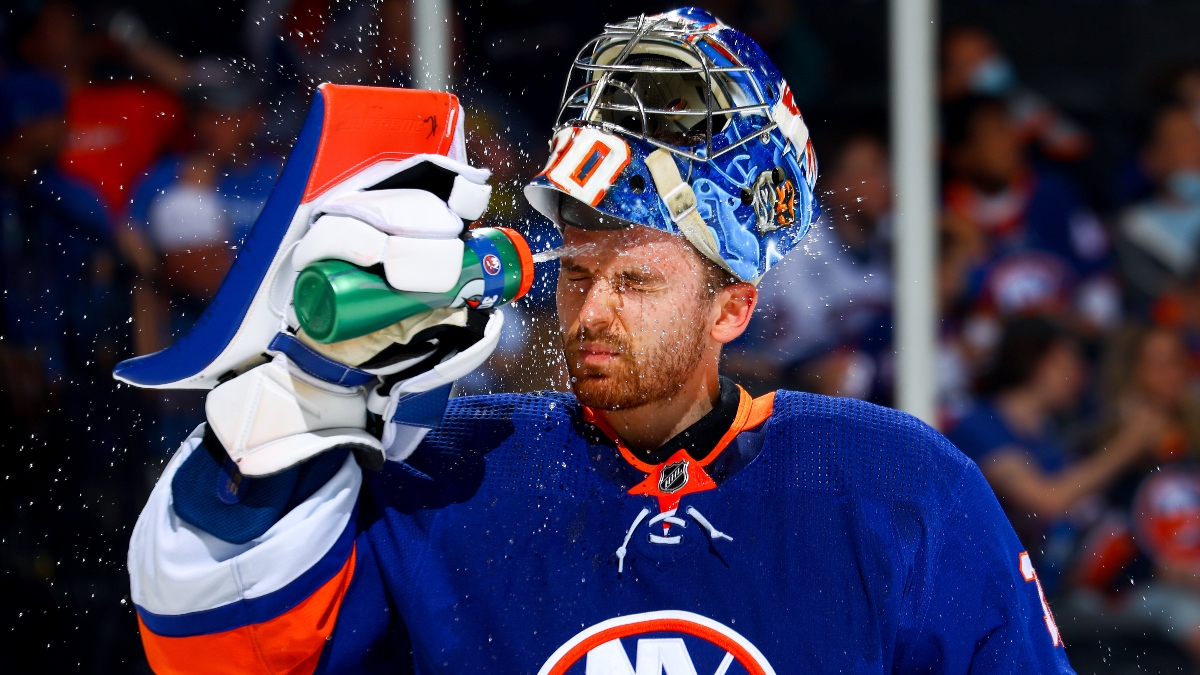 One of the hardest parts of betting playoff hockey is the ability to quantify the intangibles. While those with analytical minds would like to pretend things such as confidence, momentum and motivation have minimal impacts, I believe that's naïve. In this series, all these intangibles favor New York.
The Isles have won back-to-back games to turn a 2-1 series deficit into a 3-2 series lead. They just went on the road and stole a pivotal Game 5. They're going up against a young goaltender who has been visibly shaky all series long and now he has to deal with the fact he just single-handedly cost his team a chance to win in the last game.
Additionally, the Isles now head home to play in front of a crowd that was again recently increased in terms of capacity. It's already one of the loudest and more intimidating buildings in the league, and it now has the added juice of being the final postseason at the historic Nassau Coliseum.
You can argue the Penguins have been the better team in this series and that they are more deserving of having the series lead than the Isles. By saying that, you're neglecting the importance of goaltending which is a dangerous game to play. Pittsburgh has been better in terms of generating offense and playing with the puck, but the goaltending mismatch easily makes up that gap.
The Isles' two best games in this series have been their two games at the Coliseum. With the arena expanding its capacity again up to over 65%, it won't be an easy night for Jarry and the Penguins (Leboff will definitely make his presence felt). I'd look for the Isles to take advantage of this opportunity and close out Pittsburgh on home ice at this pick'em price.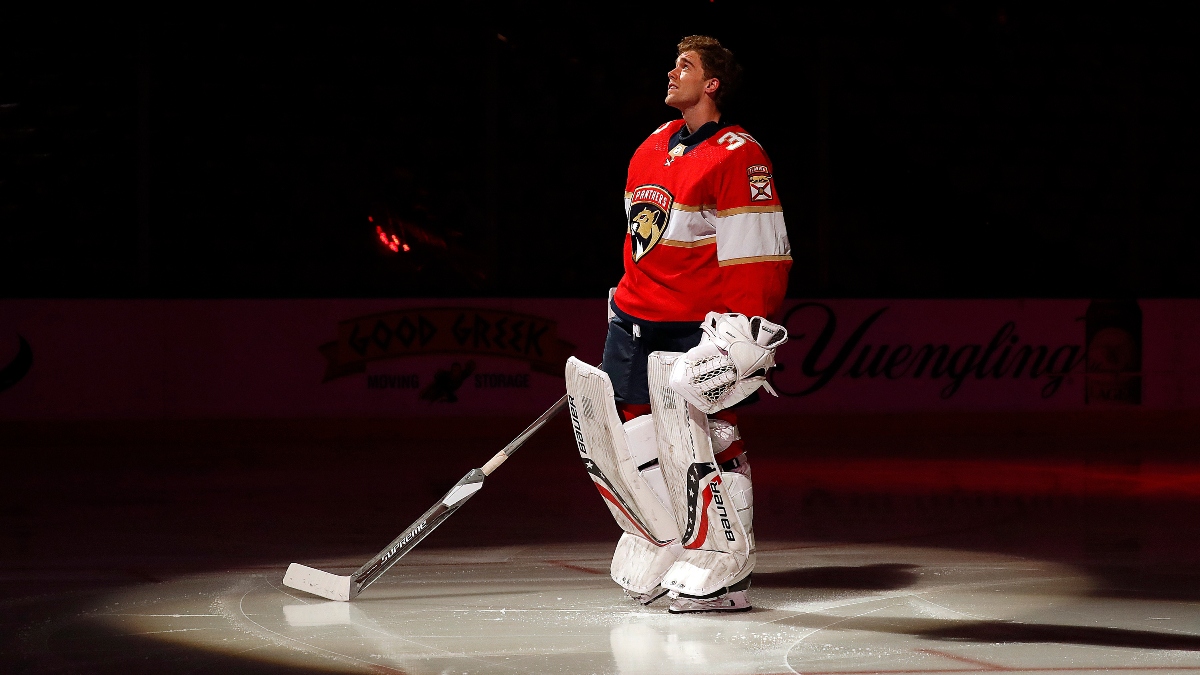 Mike Ianniello: Florida Panthers (+133) vs. Tampa Bay Lightning
Puck Drop: 8 p.m. ET
The Battle of Florida has been the highest scoring series of the first round, averaging 7.4 goals per game, and also the most physical, combining for 38.8 penalty minutes per game through the first five contests.
Panthers head coach Joel Quenneville showed why he is a three-time Stanley Cup Champion with his courageous move in Game 5 to turn to rookie goaltender Spencer Knight after Sergei Bobrovsky and Chris Driedger looked shaky.
Knight, who turned 20 last month, became the youngest goaltender in NHL history to make his playoffs debut in an elimination game. After allowing an early goal, Knight stopped the next 36 shots he faced to lead Florida to the win.
The Connecticut native gained national attention when he helped the United States win a gold medal at the 2021 World Junior Championships against Canada. After finishing his career at Boston College, where he was named Hockey East Player of the Year, Knight joined the Panthers and made his NHL debut on April 20. He finished the regular season 4-0 with a .919 save percentage and 2.32 goals against average.
Despite being down 3-2 in the series, it has actually been Florida who has largely outplayed the Lightning. Florida has played the first five games to a 58.8% expected goals rate and 60.8% high-danger chance rate in all situations, and a 55% xG rate and 55.1% high-danger chance rate at 5-on-5. Florida has won the xG battle in all five games this series.
The Tampa Bay stars get more of the spotlight, but Florida's top forwards have dominated in terms of On-Ice Expected Goals. Patrick Hornqvist (84.2%), Jonathan Huberdeau (76.5%), Carter Verhaeghe (74.9%), Aleksander Barkov (73.7%) and Sam Bennett (72%) have all skated to over 70%, while  Huberdeau leads all players in the postseason with 10 points
Any morons – like myself – who thought Nikita Kucherov would be rusty after missing the entire season were quickly proven wrong, as he came out with two goals in Game 1 and leads Tampa Bay with nine points this series and a 69.3 xGF%.
Despite losing the xG battle, the strength for Tampa Bays has been its power play. Clicking at 41.2%, the Lightning lead the playoffs with seven power play goals in 17 chances. Kucherov and Hedman lead all players with six power-play points this postseason.
Andrei Vasilevskiy has been one of the best goalies in the league all season and has been the difference in this series to give Tampa Bay the advantage. While he hasn't been dominant like we saw at times in the regular season, he was much better than Bobrovsky and Driedger. Vasilevskiy is second among all goaltenders in the playoffs with a +5.6 GSAx compared to the Panthers first two starters combining for -6.8 GSAx. Knight was able to outplay Vasilevskiy in Game 5, but will the rookie netminder be able to keep that up for two more games?
Prior to the start of the first round, I bet the Florida Panthers to win this series at +125. They were the better team during the regular season, and the return of Kucherov to Tampa Bay made this matchup a coin flip at worst for the Panthers.
Through the first five games, the Panthers have outplayed the Lightning to a 58.8 xGF% and have been the better team, despite trailing 3-2 in the series. The advantage for Tampa Bay has been in net.
Quenneville's decision to start Knight in goal for Game 5 tilted the balance back in Florida's favor and they came away with the victory. I know it might be a little nerve-wracking to back a rookie goaltender against the defending Stanley Cup Champions, but I think this game is still a coin flip.
Knight has shined on the big stage before, dominating the World Juniors Championships, and shutting out Team Canada in the Gold Medal game. Any doubts the kid could handle this moment disappeared after Game 5, and especially following his post-game interview. "I just was trying to have fun and it's still hockey right," Knight said. "I'm on this ice every single day, it's just a different setting."
This price should be much closer to even money so I will gladly back the Panthers to force a Game 7 at +140 and would play them all the way down to +110.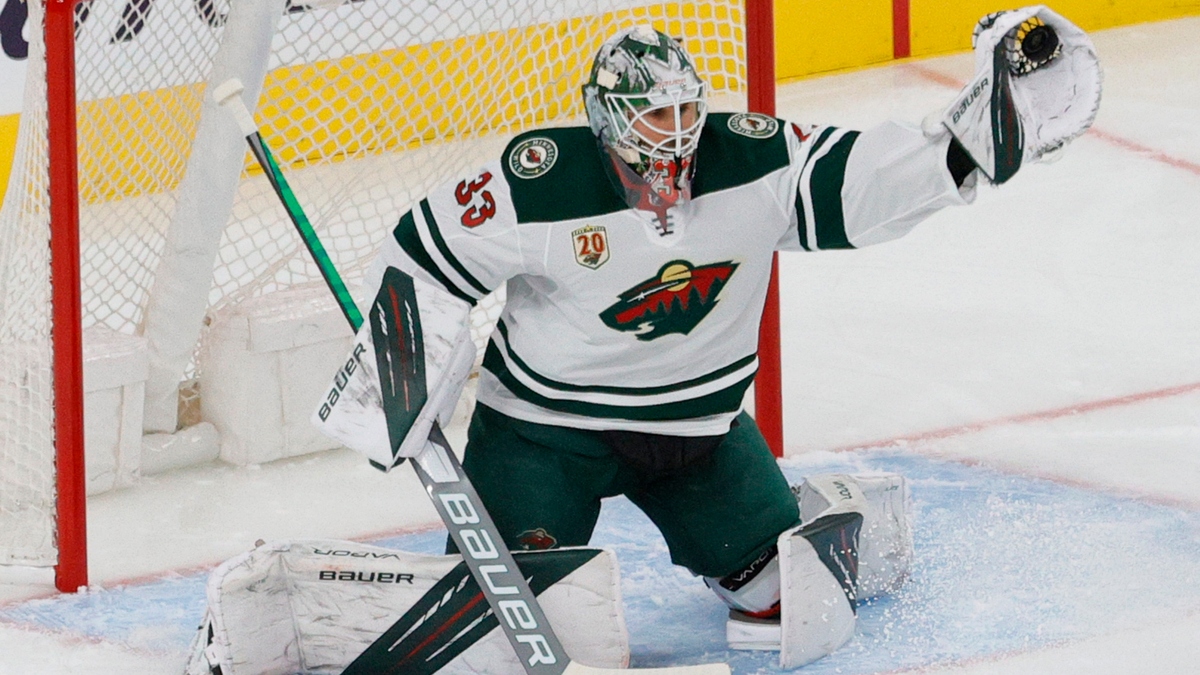 Michael Leboff: Vegas Golden Knights (-130) vs. Minnesota Wild
Puck Drop: 9 p.m. ET
In some respects the Minnesota Wild are unlucky to be down 3-2 in their Round 1 best-of-7 series against the Vegas Golden Knights. In other ways, the Wild are quite fortunate that they are not doing exit interviews and planning their season-end golf outing.
Through the first four games of the series the Wild did a good job of executing their game-plan. Minnesota excels at executing a defensive system to keep games predictable and, in turn, level the playing field against opposition with more scoring talent.
Nobody would argue that the Knights have the deeper, more prolific team in this contest, but Minnesota's defense is stingy enough to wipe out that advantage by keeping Vegas to the outside and limiting their high-danger scoring chances. No team in the NHL allowed fewer high-danger scoring chances at 5-on-5 than the Wild this season, and only three allowed fewer expected goals per 60 compared to Dean Evason's crew.
Through four games in this series, it looked like the Wild were generally sticking to their script. The Wild had a 7.47 to 6.95 edge in 5-on-5 expected goals and were +11 in terms of high-danger scoring chances at even strength. Minnesota was only allowing 1.74 xG and seven high-danger chances per game.
Unfortunately, the Hockey Gods did not side with Minnesota through the first four contests. Not only did the Wild end up on the wrong side of a couple of pivotal (and 50/50) video reviews, but they also ran into a buzzsaw in the form of Marc-Andre Fleury. It seemed like no matter how many good scoring opportunities the Wild created, Fleury would have the answer.
The tale of the series flipped in Game 5, as the Knights dominated play but lost, 4-2. Vegas held a +38 edge in 5-on-5 shot attempts, won the expected goals battle, 2.6 to 1.47 at even strength and had a 12-5 edge in high-danger chances. Hockey is a weird sport, though, and Fleury ended up having a dud, allowing three goals on 13 shots.
That sets the stage for Game 6 at the Xcel Energy Center, which had been a house of horrors for the Knights up until Game 3.
I am very interested to see where this number goes. The Wild have been a betting-darling all season and seemingly always attract money when they are underdogs.
Here's where these lines closed for Minnesota's two previous home games (via DraftKings):
Game 3: Vegas -114, Minnesota -103
Game 4: Vegas -122, Minnesota +106
Even though Vegas looked terrific in Game 5, I'd expect money to come in on the Wild and push the price on Game 6 closer to where it closed for Games 3 and 4. I'd love to get Vegas at -125 or better, but I still think there's a shred of value on the Knights at -130.
While Minnesota is excellent at turning games into coin flips, I think Vegas' edge in between the pipes is wide enough to make the Knights viable as a short road favorite. Fleury may be coming off his worst game of the series, but he was talismanic in the regular season and has carried that form over to the postseason with a .944 save percentage and a +4.53 Goals Saved Above Expectation (GSAx) in five games.
The Wild have treated bettors very well all season, but I'm happy to back Vegas if this number comes down as I expect it will.
How would you rate this article?
This site contains commercial content. We may be compensated for the links provided on this page. The content on this page is for informational purposes only. Action Network makes no representation or warranty as to the accuracy of the information given or the outcome of any game or event.