NHL Betting Picks: Our Best Bets for Sunday, January 24, Including Oilers-Jets & More
Credit:
Richard A. Whittaker/Icon Sportswire via Getty Images. Pictured: Connor Hellebuyck.
The NFL may be the story on Sunday, but don't forget there's an 11-game NHL slate that gets underway at 12:30 p.m. ET (before the football!) to help you diversify your portfolio. And always remember, the money you win on Red Wings vs. Blackhawks is just as green as the scratch you win on the Conference Championships.
Here are our favorite bets for Sunday's 11-game NHL slate:
Michael Leboff: Red Wings (+112) over Blackhawks
Puck Drop: 12:30 p.m. ET
After a historically bad performance in 2019/20, the Detroit Red Wings look like a reinvigorated bunch in 2021. Detroit is still one of the worst teams in the NHL, but there's no question that this version of the Red Wings is much better than the one we saw a year ago.
Outside of a big upgrade in goal, Detroit also brought in some solid depth players to help round out the middle of the roster. Vladislav Namestnikov, Bobby Ryan, Jon Merrill and Troy Stecher are not game-changers, but they are all capable in the right role and give the Wings NHL-caliber players in places where they didn't have them in 2019/20.
Those kind of modest improvements for bad teams may not land on the radar of Big Hockey Media or with casual fans, but bettors should take note because it can help you beat the rest of the market to a team "on the rise."
It's only been five games but so far the biggest improvement for the Wings has been on defense. Last season, Detroit allowed 2.98 goals and 2.6 xG per 60 minutes at 5-on-5. So far in 2021 those numbers have tumbled to 2.02 and 2.21, respectively.
To the naked eye, the improvement comes from the Wings being able to move the puck better. Stecher and Merrill aren't top-pair rearguards, but they both can make a breakout pass to relieve pressure. That is something the Wings had oodles of trouble with last season.
I think the Chicago Blackhawks will finish in last place in the Central Division. While that isn't that bold of a prediction as it will almost certainly come down to the Red Wings and Hawks, it is relevant for this matchup because I think that Detroit is slightly better than Chicago's current roster.
Chicago's identity is pretty well known. The Blackhawks have some terrific offensive talent headlined by Patrick Kane, Alex DeBrincat, Dylan Strome and Dominik Kubalik, but their defense is shambolic. Chicago finished last in the NHL in expected goals allowed in 2019/20 but their goals allowed was middle of the road thanks to stellar goaltending from Robin Lehner and Corey Crawford.
Neither Lehner nor Crawford are in the Windy City anymore and the Blackhawks didn't bring in any proven goalies to shore up the position. Instead, Chicago is rolling with Malcolm Subban, Collin Delia and Kevin Lankinen.
Lankinen earned the win over Detroit on Friday, so I'm assuming that Jeremy Colliton will go back to him on Sunday, but no matter who gets the nod the Red Wings will have a decided edge in the blue paint.
On paper, these two teams are pretty close with Chicago having the edge in scoring talent, while Detroit projects to have the stronger goaltender and a slightly better team defense.
In a situation like this, I'll always lean towards the underdog, even on the road. I just have no interest laying juice with the worst defense in the NHL playing in front of an unproven goaltender.
The Red Wings may not be the Lightning, but they have some talented offensive players like Dylan Larkin, Anthony Mantha, Tyler Bertuzzi and Bobby Ryan. It may not be a roster that strikes fear into most teams, but the Red Wings should have plenty of opportunities against the Hawks and I'm betting that Jonathan Bernier (or Thomas Greiss) will make the requisite saves for the Wings to win this game.
One thing to keep an eye on for this tilt is that it could do a pretty big handle, all things considered. The NHL isn't a huge betting sport, but its Championship Sunday so folks will have their gambling shoes on and a 12:30 p.m. ET start should attract some action from people who normally wouldn't wager on the NHL, especially a game featuring two of the league's worst teams.
Casual bettors usually lean toward the favorite and Detroit's reputation is still sullied from last season, so I would guess that if this line does move, it would be towards Chicago.
Even so, I think this game is pretty close to 50/50, so I'll take the underdog and would play the Wings down to +107.
Sam Hitchcock: Golden Knights To Win in Regulation (-109)
Puck Drop: 4 p.m. ET
Raise your hand if you imagined the Arizona Coyotes would look like the better team through three of four games against the Vegas Golden Knights in their regular-season mini-series. Me neither.
The surprises began with Arizona stifling Vegas' high-powered offense at 5-on-5. Last season, the Golden Knights' cavalry led the NHL with 2.72 expected goals per 60 minutes. In their three games against Arizona, they have registered a 2.13.
After barely winning two home games that were pocked with lassitude, the Golden Knights were felled 5-2 in Arizona on Friday. It was Vegas' first loss of the season.
As impressive as Arizona has looked, I am willing to bite my nails and tender a 60-minute line recommendation on DraftKings for the Golden Knights at -109. After three straight games where the more talented, deeper team got outplayed by its plucky-but-flawed adversary, I think the Golden Knights will be fastidious with the details on Sunday afternoon and clean up a litany of errors.
If you are only looking at the box scores, you would think that Vegas defenseman Shea Theodore has been unstoppable in this series. Three goals and two assists in a trio of games are eye-popping numbers. Theodore has been explosive offensively, a lodestar for his stymied forwards. But my goodness, he has struggled mightily defensively.
---
Expected goals (also known as xG) is a predictive statistic that gives an indication of whether results are based on sustainable factors like a steady creation of scoring chances, or whether it is down to aspects such as shooting luck or outstanding goaltending.
Simply put, an expected goals rate (xGF%) above 50% is considered good because it means a team is creating the majority of the scoring chances. Anything below 50% is usually a sign that a team is struggling to control play.
xG numbers cited from Evolving Hockey.
---
Against Arizona, Theodore has a 42.97 expected goals percentage. It gets worse. Vegas has a rate of 37.18 shots against per hour when Theodore is on the ice, which is brutal. Vegas coach Peter DeBoer may want to consider sheltering Theodore, which means matching him up against the Coyotes' bottom-six forwards, albeit that is more difficult with Arizona having the last change.
The Coyotes' top-six forwards torched Theodore on Friday night, with the coup de grâce goal coming when both Theodore and Alec Martinez completely missed Conor Garland zooming down the weak side.
Even though it lost the first two games, on Monday and Wednesday, Arizona effectively neutralized Vegas' neutral-zone ambitions. On stretch passes, the Coyotes' defensemen were able to step up and choke off the Golden Knights' transition offense. On Friday, the Golden Knights found more traction on their long passes, which sprung some opportunities off the rush. And yet, Vegas lost on Friday because of wayward defensive coverage and poor puck management. The antidote for both of these maladies is more offensive zone time through the forecheck.
Even if Vegas doesn't get immediate gratification off the forecheck, like they did on the Reilly Smith goal last Monday, accentuating the forecheck catalyzes other propitious things for the Golden Knights. It allows Vegas to have more faceoff plays, from which it has derived several goal opportunities, and also feature their defensemen as dangerous scoring creators from the blue line.
The Golden Knights will win on Sunday if they slow the game down and keep the puck below Arizona's circles. Even if it means embracing a Fabian strategy, the Golden Knights can force the Coyotes to chase them around the offensive zone, impairing Arizona's counterattack and avoiding time trying to exit their own zone. It's a less risky way of playing, but after three games, it is evident that a track meet still isn't advisable.
The big story for Arizona is goaltender Darcy Kuemper. With Antti Raanta still injured and unavailable for Sunday, do the Coyotes dare start Kuemper for a fourth game in a row this week — or do they give the nod to third-string goaltender Adin Hill?
In the three games against Vegas, Kuemper has proffered a -0.35 Goals Saved Above Expected. Considering he had the second best GSAx at 8.71 last season, he hasn't been quite as sharp as Arizona would hope. Vegas has managed to challenge Kuemper by getting a lot of traffic in front of him. If the Coyotes can box out and keep the area around the crease tidy, they can win a low-scoring game simply by Kuemper buoying them.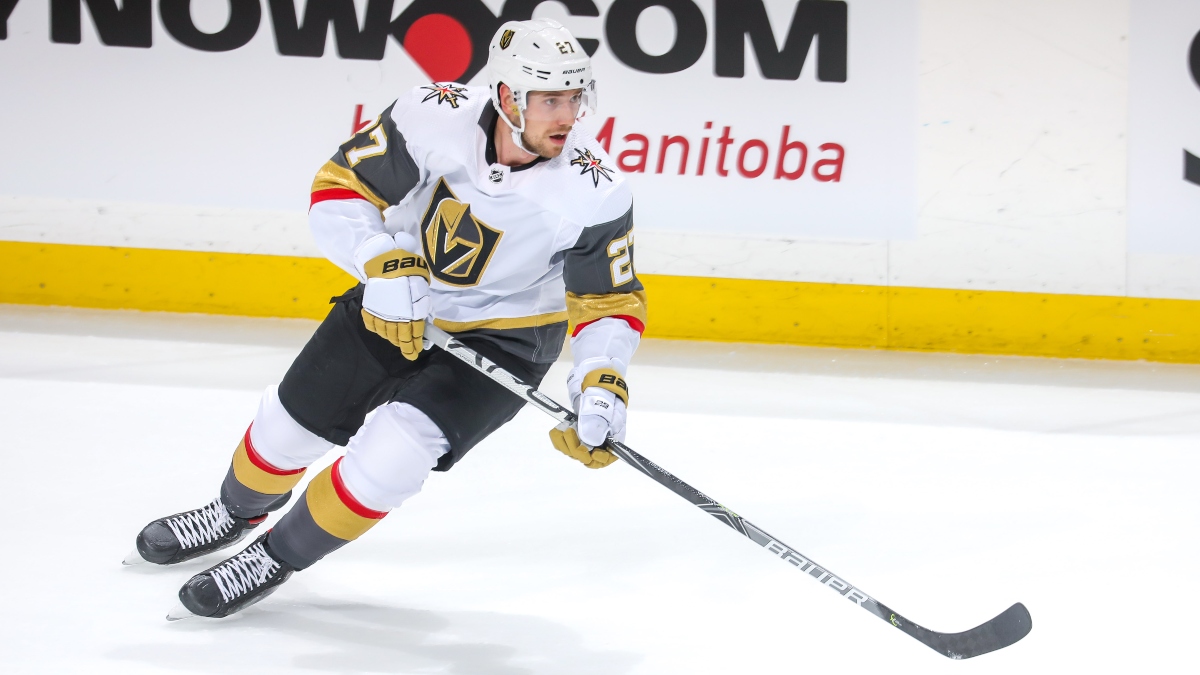 As speedy and dynamic as Arizona has looked, there is a terrifying possibility that the Garland-Nick Schmaltz duo has a flat effort and the offense sputters. Considering the Coyotes have been receiving zero scoring from their defensemen, could they survive a muted effort from Garland and Schmaltz?
In the first three games of this matchup, the Garland and Schmaltz line has been a wellspring of offense, tallying 15 shots at 5-on-5. The only game when it did not lead the team in 5-on-5 shots was Friday's, when the Clayton Keller line eked out six. Still, the Garland line accounted for two of the three 5-on-5 goals.
So, what if Deboer tries to match the Max Pacioretty line against them? Pacioretty is arguably the Golden Knights' best forward, and in this series, he has a 54.52 expected goals percentage. But he has rarely seen time against Garland and Schmaltz. The Golden Knights are without the last change and one line has been wreaking havoc on them. Deboer needs to have a strategy to mitigate the impact of the Coyotes' forwards. Having them chase the puck in their own end seems like a logical answer.
If the Coyotes submit another competitive performance, they immediately become a team worth watching because we will have a four-game sample size of them going toe-to-toe with one of the league's premier teams and more than standing their ground. Considering the moneyline for them in this game is +155, they are evidently undervalued. When they play weaker teams in their division, they may excel.
However, Vegas has not played a complete game against the Coyotes yet. In the third contest, they finally got burned for their lackluster play. Coming off a loss, they will have plenty of mojo, and I am compelled to pick the team with more elite skill and roster talent.
If the Golden Knights slow the pace down and grind at the Coyotes' defensive corps, they could pull out a multi-goal win. For that reason, I implore bettors to take the 60-minute line for Vegas at -109 on DraftKings.
Pete Truszkowski: Rangers vs. Penguins Over 6.5 (-115)
It's been a weird start to 2021 for the Penguins. After losing their first two games, the Pens have won three on the spin but they've needed extra time for each victory.
Pittsburgh's goaltenders, Tristan Jarry and Casey DeSmith, have struggled out of the gates and that could be a big issue as the team traded two-time Stanley Cup winning goalie Matt Murray in the offseason and didn't bring in a proven goalie to serve as a fallback option.
Jarry was expected to get the lion's share of the work in goal but he hasn't started well, posting a -4.88 Goals Saved Above Expectation (GSAx) in three games. Unfortunately DeSmith hasn't been much better with a -2.09 GSAx in his three appearances. Both Jarry and DeSmith have had spells of success in their brief careers, but the pressure is on.
Pittsburgh's defense, which was among the NHL's best in 2019/20, has not helped as the Penguins rank 30th in 5-on-5 goals against, 23rd in expected goals against and 24th in high-danger chances allowed at 5-on-5.
The Rangers have the offensive firepower to take advantage of Pittsburgh's defensive issues. New York ranks fifth in the NHL in expected goals for per 60 minutes at 5-on-5 this season and on an individual level there are few teams that can trot out a lineup with this kind of scoring talent.
As good as the Rangers are going forward, they have some serious flaws on defense. Only the Blackhawks surrendered more expected goals in 2019/20 and while they've improved that mark in the early part of 2021, the Rangers still rank in the bottom-10.
I think these teams will be forced to outscore their defensive issues and that could lead to a back-and-forth affair like we saw on Friday night.
Jeremy Pond: Oilers vs. Jets Under 6.5 (-113)
We close out the week's busy slate with a North Division showdown between surging Winnipeg and inconsistent Edmonton at Bell MTS Place.
The Jets enter this contest fresh off a come-from-behind, 6-3 victory over Ottawa on Saturday on home ice. Andrew Copp scored twice and goaltender Connor Hellebuyck did the rest for Winnipeg, stopping 18 shots in the team's third consecutive win.
On the other side, the Oilers have lost three of their last four games and look to rebound from Friday's 4-2 defeat at the hands of host Toronto. Edmonton is stuck on four points, putting it six behind league-leading Montreal in the division standings.
When it comes to advanced metrics, Winnipeg holds a distinct, overall edge in comparison to the Vancouver's figures in the primary Fenwick statistics.
The Jets sit on 32.04 FF/60 compared to 34.79 FA/60 for a -2.55 differential, which is kind of surprising since you'd think they'd be better given their fast start. In contrast, the Oilers have struggled their way to a 37.52 FF/60 and 42.45 FA/60 for a -4.93 differential.
As for the xGF/xGA battle through 60 minutes, Winnipeg comes in with a 1.93 xGF/60 to 2.25 xGA/60 for a -0.32 differential. And while Edmonton has the better offensive stat (2.32 xGF/60), it's well back of its foe at 2.48 xGA/60 in the category. That xGA/60 also happens to be one of the worst in the league.
So, if you combine the xGA/60 for both clubs, the simple math adds up to 4.73 xGA/60, which is close to two goals less than the total for this intriguing affair.
That said, I am backing the game to stay under the number in this contest. Hellebuyck and the Winnipeg defense have been solid in their stellar start, and will look to carry the momentum from Saturday's win into this tilt.
Add in the fact the total has finished at six goals or less in Edmonton's last four games, and you have to like your chances of hitting this play.
How would you rate this article?