71% of US Tennis Players Think They Could Win Against Pros
Credit:
Featured image for Tennis Pros vs. Amateurs
Have you ever dreamed of beating the likes of Novak Djokovic and Jessica Pegula at the US Open, out-serving Ben Shelton or Nick Kyrgios, while thousands of spectators scream your name? We asked more than 2,400 American tennis players if they think they have what it takes. 
We conducted a survey on American tennis players, and the numbers are wild. The survey offers a glimpse into the confidence, surprising sacrifices, and delusional optimism that runs within the American tennis community. With the survey results in hand, we caught up with former Wimbledon winner Frederik Løchte Nielsen to get his take on the findings and the 2012 winner didn't hold back. 
Let's dive into the world of American tennis; from their belief in taking on a professional tennis player to the lengths they'd go to secure a starting place at a Grand Slam.
The Daring Dreamers
Amongst the American tennis player community, one of the surprising revelations is that 71% of all American tennis players believe they have what it takes to win a game against a professional in a best-of-three-set tennis match. 
This, perhaps delusional, confidence is a testament to the high self-belief within American amateur athletes. Regardless of age, gender, or experience, they dare to dream big, envisioning themselves triumphing over their sporting idols.
Frederik Løchte Nielsen didn't give much for this optimism, stating that the American tennis players don't know what it takes to win:
"That's madness. I think it's because they might have a hard time relating to what it takes."
"Let me turn it around and say that, of course, it's difficult to win 6-0 and 6-0 if the opponent can play tennis, but if the opponent is an 'average Joe', they wouldn't even get the ball in play."
"They might have never seen a video of a pro player playing against an amateur, but that's like saying you can play in the Premier League just because you've played a little soccer."
Unveiling Gender and Age Differences. 
When considering the confidence between the genders, it's interesting to note that among female tennis players, confidence is the highest. A staggering 72% of female tennis players firmly believe they would win one or more games against a professional player in a best-of-three-set match. 
Maybe unsurprisingly, it's the young guns of American tennis, players aged 18 to 24, who have the highest levels of optimism. 82% of these young players are convinced they could secure a game against a professional.In contrast, respondents above the age of 55 adopt a more grounded approach. Only 47% of seasoned players in this category believe they could snag one game or more from a professional player.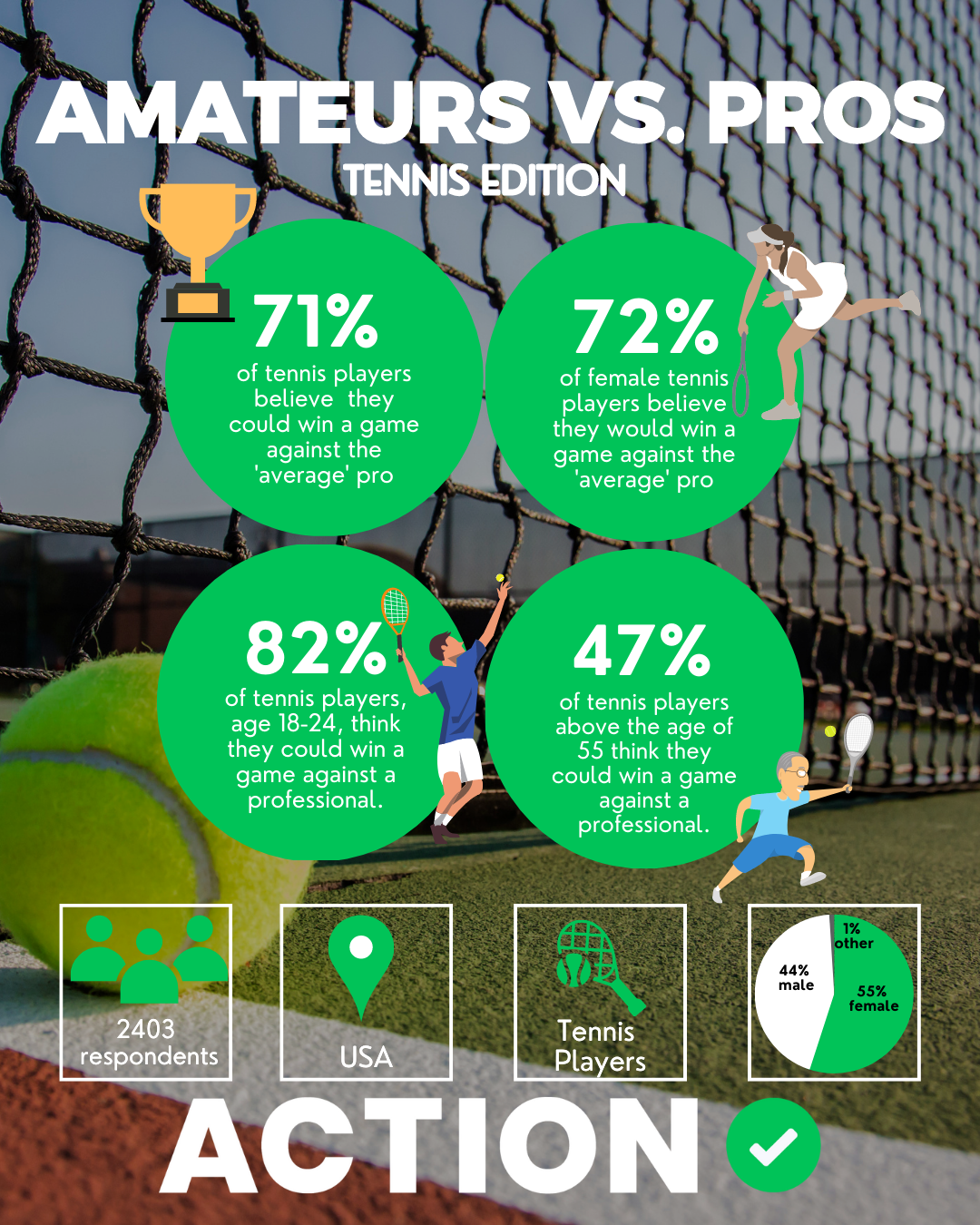 The Serve Conundrum
One aspect of a tennis player's arsenal that can make all the difference is their serve. Among the top male players, their first serve boasts an average speed of 117mph, with the second serve not far behind at an impressive 96mph. Comparatively, the leading female players display an average first serve speed of 99mph, while their second serve maintains a respectable 84mph, according to toomanyrackets.com. 
It's not clear if American amateurs are actually aware of these speeds, or just even more deranged than we could have possibly imagined. A remarkable 52% of American tennis players hold the belief that their own serve matches or surpasses the speed of the average professional player. Among this confident, or perhaps unrealistic group, a whopping 14% claim that their serve outpaces that of the professionals. This insight could indicate an unrealistic widespread belief in the power of their own serves, which might be one of the reasons why the players think they could take away a game against a professional. 
The former Wimblendow champion claimed that ignorance is the reason for this, claiming that tennis perhaps is the most challenging sport in the world:
"They simply don't understand. It's ignorance."
"It's quite insane, really. It's like half of them believing they can kick a ball as hard as Cristiano Ronaldo."
"Tennis is perhaps the most challenging sport in the world. Maybe they've hitten the ball around a bit with a pro player and think they can keep up."
"But in a match, they wouldn't even get the chance to get the ball in."
The Grand Slam Sacrifice
For every tennis player, the biggest stage is of course a Grand Slam tournament. The survey explored the lengths to which players would go to secure a starting place in one of these events. 12% of American amateur players said they would sacrifice their marriage for such an opportunity. One in five American tennis players would hand over their life savings for a shot at glory on the biggest stage. While this may seem shocking, it shows the passion that drives these athletes to pursue their hypothetical dreams relentlessly.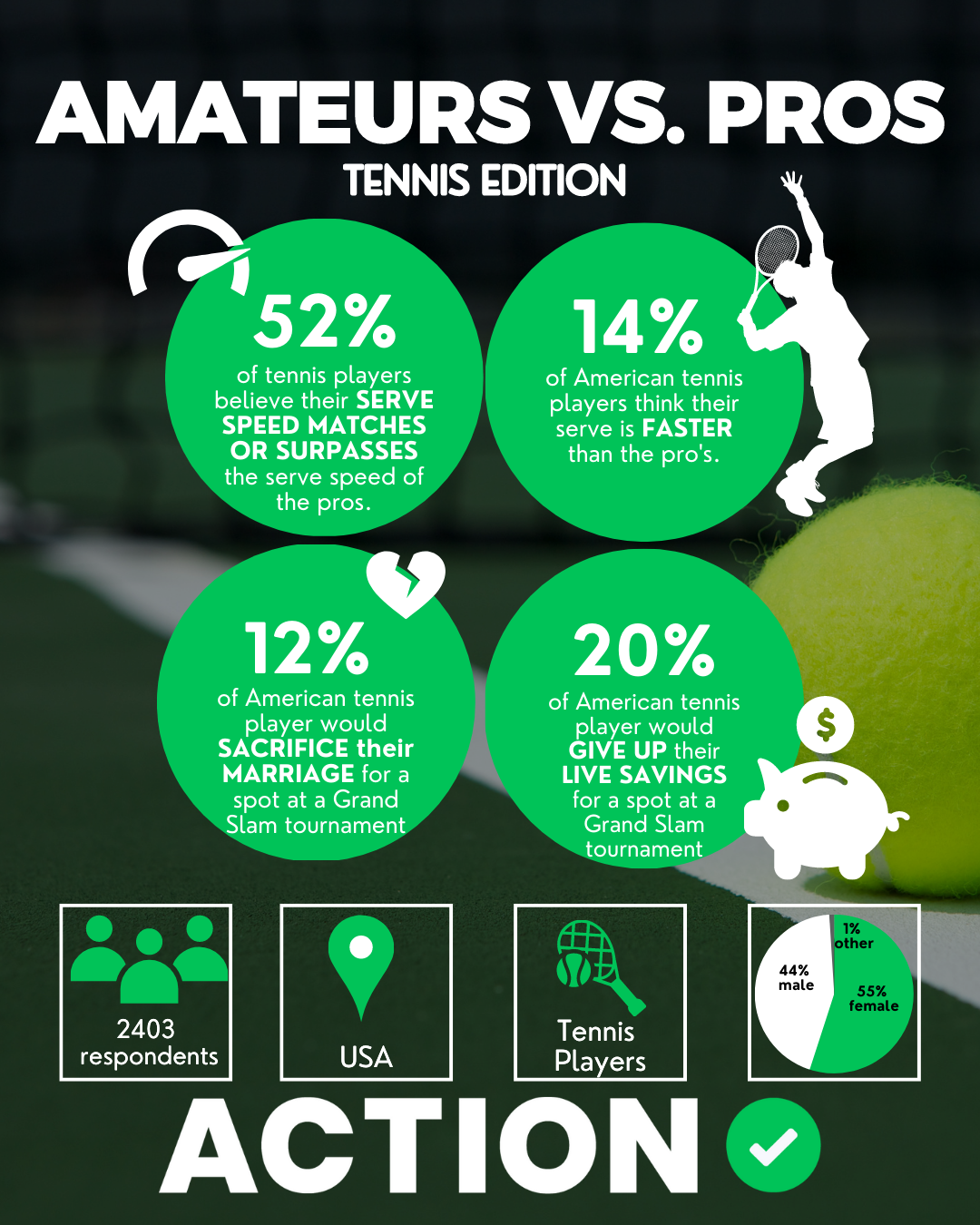 Methodology
The research was carried out by Research Without Barriers and was conducted between 9th June 2023 and 13th June 2023. The sample comprises 2,403 tennis players across the United States of America. All research conducted adheres to the Market Research Society (MRS) code of conduct (2023) & ESOMAR. RWB is registered with the Information Commissioner's Office and complies with the DPA (2018). The raw data can be found here.
How would you rate this article?
This site contains commercial content. We may be compensated for the links provided on this page. The content on this page is for informational purposes only. Action Network makes no representation or warranty as to the accuracy of the information given or the outcome of any game or event.