Golf Expert Picks: Our Staff's Favorite Bets for The Genesis Open
Credit:
Allan Henry, USA Today Sports. Pictured: Hideki Matsuyama
The PGA Tour heads to Los Angeles, Calif. this weekend for the 2019 Genesis Open. Dustin Johnson (+800) is the betting favorite with Justin Thomas (+1200), Jon Rahm (+1400), Rory McIlroy (+1400) and Bryson DeChambeau (+1400) rounding out the top five.
Both Tiger Woods and Phil Mickelson are playing in the event and listed at 20-1 along with defending champion Bubba Watson.
Our golf experts aren't particularly interested in any of the favorites, but they are high on one golfer in particular. Here are our favorite bets for this weekend's PGA action:
Cameron Smith to finish in the Top-20 (+125)
I need to make an admission: I've been getting too cutesy with this pick every week.
Instead of finding a near-sure thing, I've been trying to find a bet that pays 5/1 or so and has some inherent value. It's worked a few times, but more often than not, my "favorite" bet hasn't paid off.
I need to stop being so greedy.
Look, there ain't nothing wrong with cashing an even-money wager once in a while. This week's bet pays a little better than even-money, so let's get after it.
Smith is a guy I've been targeting for his last few starts, just because he's so consistent. He's finished 22nd or better in 10 of his last 12 worldwide starts and was T-6 at Riviera last year, a course which should suit his vaunted wedge game.
If you really want to get after it, you can take Smith for a top-five (+750) or top-10 (+315), but I'm done being greedy.
Well, for this week, at least.
Hideki Matsuyama to finish in the Top 20 (+120)
I like Hideki as much as anyone on this course. Tee to green, he's as good as anyone on Tour and he's starting to get back into form with a couple top 15 finishes in his last two starts. He's finished inside the top 20 in two of his four starts so I'll take the plus money.
Hideki Matsuyama over Adam Scott (-115)

This bet seems like a no-brainer if you're high on Hideki since he trounces Scott in both long-term and recent form in most metrics.
Over the past 75 weeks:
Adj Rd Score: 68.8 vs. 69.3
Scrambling rate: 60.3% vs. 53.6%
Bogeys per tournament: 8.3 vs. 9.8
Birdies per tournament: 14.6 vs. 13.7
Adjusted strokes on par 4s: -0.8 vs. +1.4
Over the past six weeks:
Adj Rd Score: 67.9 vs. 69.9
Greens in Regulation: 76.4% vs. 62%
Scrambling rate: 74.4% vs. 61.2%
Birdies per tournament: 18.3 vs. 12.3
Adjusted strokes on par 4s: -3.0 vs. +1.0
It could be a long tournament for Scott if he's continually missing greens and fails to save par, which seems plausible given his weak scrambling rates in both the long and short term.
Hideki Matsuyama over Jordan Spieth (-115)
We have been very bullish on Matsuyama for the 2019 season. Matsuyama's 2018 season was disappointing because of a wrist injury. Now that Matsuyama is healthy his elite ball striking is back. At FantasyLabs, Matsuyama has a recent GIR of 76.4% and his recent average driving distance is 312.4 yards off the tee. Spieth has a recent GIR of 65% and has a driving accuracy of under 50% in that same time horizon. Spieth is struggling with his ball striking and Matsuyama is trending in a big way.
Hideki Matsuyama over Jordan Spieth (-115)
I'll continue to fade Spieth, who remains in poor form given his standards. Greens will be hard to hit at Riviera, and I don't trust Spieth at all in that regard. Among the top-15 to 20 players, nearly all of them have hit between 73-78% of greens recently. Spieth? He's down at 65.3%. Further, he's been spraying the ball off the tee, putting himself in very tough positions to get birdies and pace the field.
On the other hand, Hideki is trending up: He hasn't missed a cut since last July, and he's been in the top 20 in eight of his last 10 tournaments. His game – he nails greens and is an exquisite scrambler if he doesn't – sets up really well for this course.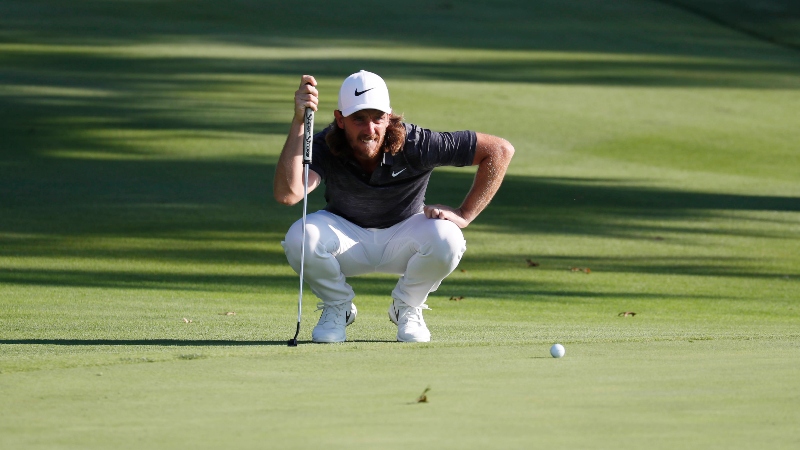 Tommy Fleetwood to finish in the Top 20
One of the the world's best drivers of the ball heads to a course where driving distance and accuracy is king. Fleetwood played a PGA event last week for the first time since October of last year and should have knocked off some rust. If he plays anywhere near like he played at the Ryder Cup when he was burying the US Team, he will be a factor on Sunday this week. Load up on the Fleetwood express and thank me later.
Bryson DeChambeau over John Rahm (+115)
Although Rahm is favored, DeChambeau is one of the top ball-strikers at the event.
Rahm is great: There's nothing to dislike about him. He's finished in the top 10 in each of his four events this year.
But the FantasyLabs PGA Models point to DeChambeau.
Like Rahm, DeChambeau has also been a top-10 finisher in his four 2019 tournaments, and he has the superior long-term numbers in a variety of metrics.
Adjusted round score: 68.3 vs. 68.4
Driving accuracy: 62.0% vs. 60.1%
Scrambling: 59.2% vs. 57.3%
Putts per round: 29.0 vs. 29.2
Field strength: 93.5% vs. 92.2%
And DeChambeau also has the superior recent form (67.2 adjusted round score vs. 67.4).
Rahm might have the better course fit thanks to his long-term length off the tee (307.5 yards vs. 303.5), but it's hard to say that his driving distance provides enough of an edge to make him a clear favorite over DeChambeau.
Given how evenly Rahm and DeChambeau are matched, I'll easily take the golfer with better long-term form at plus odds.
I'd bet DeChambeau down to +105.