Last-Minute Odds & Ends for U.S. Open: The Buzz to Know from Pebble Beach
Credit:
Rob Schumacher-USA TODAY Sports. Pictured: Jordan Spieth
How's the U.S. Open weather looking? Does Justin Thomas, coming off a wrist injury, sound confident? Should you expect a hole-in-one? Who are good down-the-board guys to make the cut?
Jason Sobel covers it all -- and much more -- from Pebble Beach.
PEBBLE BEACH, Calif. — I've already written a fairly decent amount of preview content from here at the 119th U.S. Open this week (you can find all of it on our handy cheat sheet). And while I still stand by ranking Jordan Spieth at No. 1 in my rundown of the entire field — and poor Noah Norton at No. 156 — things can change a bit in a matter of a few days.
That's not to say I've reversed field on any opinions, only that specific pictures start becoming clearer after watching a few practice rounds and speaking with competitors.
So consider this a little Wednesday clean-up project, pulling some weeds and moving some loose branches out of the way before the proverbial storm hits.
---
If you think of my aforementioned 1-156 ranking as a fluid list, where players can move up and down like the top 25 in an NCAA poll, then I'd like to move Kevin Kisner out of my "others receiving votes" category and into the top 20.
The course suits him perfectly, a notion that I believed would be offset by his dislike for poa annua greens, but I'm now thinking the former will heavily outweigh the latter. Even if he doesn't hole a ton of putts, I think Kisner's ball-striking will be good enough to keep him in the mix.
---
Scottie Scheffler is another guy I'd like a mulligan on. Peeling back the curtain, when I make my ranking, I sort players into groups, then slot them into places. The last thing I do is put the number next to their names. I thought I'd wind up having the Web.com Tour star higher than 57th. In any case, I could see him pushing for a top-20 result this week.
---
One of my favorite props for the week: Betting "yes" for a hole-in-one can be had from -135 to -150 at most books. On Tuesday alone, there were at least two aces (that I know of) on the short seventh hole (Kevin O'Connell and Julian Etulain).
Hell, if you can get a hole-in-one prop for specific holes, I'd bet for one No. 7 at even-money. Think about it: The world's best players will have about 460 attempts with a short wedge over four rounds. Somebody's gonna jar it.
---
Bubba Watson has missed the cut in four of his last five U.S. Open starts. He's +130 to miss the cut. You do the math.
---
It's always difficult to parse the language of players in press conferences, trying to separate the truly confident from those with a case of faux confidence. Justin Thomas always talks a good game, but he's honest to a fault.
Though he maintained his recent wrist injury is a "non-issue," JT also didn't exactly sound like he's primed for title contention just yet. "My game right now, it's pretty good. It's obviously not exactly where I'd like it to be. … I feel like I'm in a pretty good spot for this week and have a couple more days to get the game where I'd like it to be come Thursday morning." He's good enough to win anyplace, anytime, but that doesn't quite sound like a player who really believes in himself this week.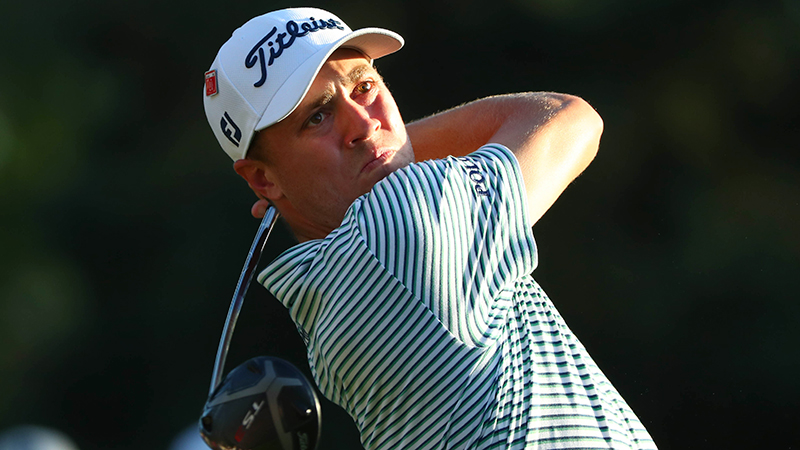 ---
Here's another one, from Jason Day, on his decision to start working with caddie Steve Williams this week and whether that can lead to a second major championship: "I know that it's going to take some time. If it happens this week, great. But I'm not fully expecting it. I'm going in thinking this is a good week to get started." Again, those don't sound like the words of a player who thinks this is going to be his week.
---
After two of the most spectacular weather days imaginable, the temperature dropped here Wednesday and is expected to remain cooler during the tournament rounds. The U.S. Open already brings out the tough guys, but playing in cool weather, with the wind whipping a bit and a marine layer of fog hovering, that should really help the players who have some mettle, the ones who get better when the conditions get tougher.
---
Two guys who stand out for me: Shane Lowry and Jim Furyk. Gritty dudes. I'm liking each of them more and more for a top-five or top-10 bet.
---
You won't get great odds for any high-level player to make the cut, but if you dig deep enough there are guys who have some value to simply reach the weekend. Here's four: Rob Oppenheim, Collin Morikawa, Nate Lashley and Sam Horsfield.
---
Like I wrote above, Spieth is still my guy. The following is probably nothing, since I haven't seen it reported anywhere, even 24 hours after the fact — the old "where there's no smoke, there's no fire" theory — but not long after his Tuesday press conference, during which he made no mention of any injury, Spieth was shown on Golf Channel hitting balls on the practice range in shorts with a black wrap covering his left ankle.
I wasn't able to make it over to the range to ask him about it and, like I said, nothing else has been written, but maybe it's something to watch. By the way, on Wednesday… he was wearing pants.
Just got an update on the brace that Jordan Spieth is wearing on his left ankle. It stems from a 2014 injury. Bothers him a few times each year, but he is mostly wearing it for precautionary measures. Doesn't sound like too much of an issue.

— Jason Sobel (@JasonSobelTAN) June 12, 2019
How would you rate this article?