PLAYERS Championship 2020 Betting Picks: Our Staff's Best Outright Bets, Matchups, Sleepers at TPC Sawgrass
Credit:
Ben Jared/PGA TOUR via Getty Images. Pictured: Billy Horschel
Need last-minute picks for the 2020 PLAYERS Championship at TPC Sawgrass? Our staff gives out their favorite outright winners, matchup bets and props, including top 20's and finishing scores.
We're betting a few mid-tier outrights, plus some short underdogs in matchup bets.
The 2020 PLAYERS Championship begins on Thursday, March 12 at TPC Sawgrass in Ponte Vedra Beach, Fla.
Rory McIlroy is the clear betting favorite and at +650 ($10 bet would $65). McIlroy is the only player in this loaded field with single-digit odds. Jon Rahm is the second choice at +1300 with Justin Thomas right behind him at +1400. There are no other golfers listed shorter than +2000 and there are certainly some superstars at much bigger prices than usual, Brooks Koepka (+3900) and Justin Rose (+7000), to name a couple.
Check out our favorite sleepers, prop bets and matchups for the 2020 PLAYERS Championship:
2020 PLAYERS Championship Best Bets
---
[PLAYERS Championship Promo! Bet $5 and Win $150 if Rory makes a single birdie this week]
---
Sleepers
Josh Perry
Max Homa +18000 ($10 bet would win $1,800)
Homa took some flack this weekend after a stray flop shot went careening into a camera tower. But that shot aside, his form has been excellent for a couple months now.
Homa's made 16 of his last 17 cuts and finished inside the top-25 in his last five starts. Recent form tends to be the best indicator for success at The PLAYERS and Homa's game is certainly where it needs to be to continue his strong play.
[Bet now at FanDuel. NJ, PA, IN and WV only.]
Jason Sobel
Brandt Snedeker +17000
Fresh off a T-5 at this tournament last year — his best career finish here — Sneds has played some solid golf in recent months and might've "figured out" TPC Sawgrass, to an extent.
He spoke last year about being more patient, eliminating the mistakes and letting the birdies happen, and while that sounds like a popular strategy that could work any week, it clearly helped him last year.
[Bet now at FanDuel. NJ, PA, IN and WV only.]
Reid Fowler
Cameron Champ +27500; Top 10 +2000
Champ missed his last two cuts this season, but is still gaining strokes Tee-to-Green in five of his last six tournaments and prefers this putting surface ranking 12th in SG: P over his last 50 rounds on fast Bermuda greens.
He's been gaining a ton of birdies-or-better over the field and gaining strokes on Par-5s ranking inside the top-20 in both categories; he's just gotta stay away from the big numbers, which he's been having issues with this season.
[Bet now at DraftKings. NJ, PA, IN and WV only.]
Justin Bailey
Billy Horschel +9500
I backed Horschel last week at +6600, but I'll bite again at even deeper odds. He's one of the better golfers in the field, sporting a 69.2 Long-Term Adjusted Round Score (LT Adj Rd Score) — which is the 20th-best mark in the field. His finish last week was nothing to write home about, but nearly every guy struggled at Bay Hill.
Horschel is in decent form as he's gained strokes on approach in four-straight tournaments, including two ninth-place finishes in that span. At odds this long, I'm willing to back him and his strong LT Adj Rd Score.
[Bet now at FanDuel. NJ, PA, IN and WV only.]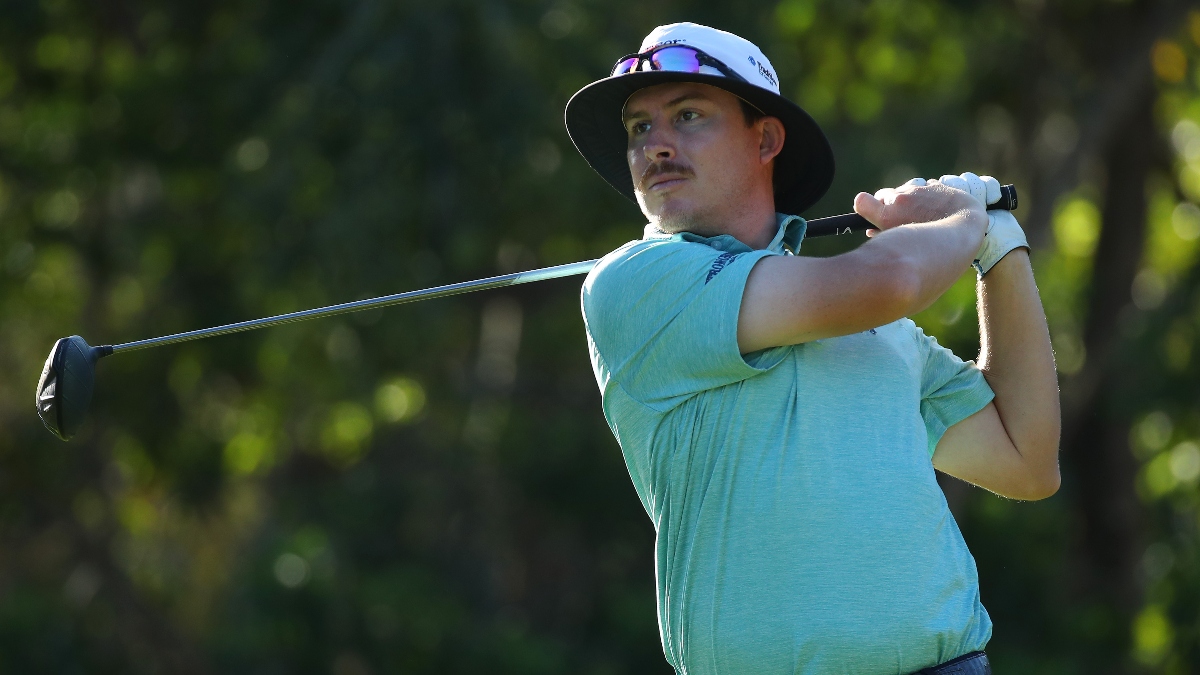 Adon7x
Joel Dahmen +12500; Top-20 +400
Even with back-to-back top-5 finishes in his last two starts (Bay Hill and Riviera), the man in the bucket hat is still a relative unknown to the general public.
Dahmen has finished inside the top-14 in four of his five starts in 2020 (not including his withdrawal due to illness at the Waste Management). and he returns to Sawgrass where he finished 12th in his PLAYERS debut last year despite missing four cuts in a row prior to headed to Ponte Vedra Beach.
One of the most reliable fairway-finders on tour, Dahmen gained seven strokes with his approach play last week in difficult, windy conditions.
That tells us that his ball-striking is in good shape ahead of one of the premier ball-strikers' courses on the PGA TOUR.
A favorite of the First-Round Leader betting community, Dahmen is known for his fast starts on Thursdays and I would look to back him in that market as well.
[Bet now at DraftKings. NJ, PA, IN and WV only.]
Bryan Mears
Scottie Scheffler +9500; Top-20 +340
Our own Jason Sobel has written a lot about Scheffler this year, and for good reason. The 23-year-old was one of the best college golfers in the nation during his time at Texas, and he's shown some tantalizing flashes in his first PGA TOUR season.
In the model that I built for TPC Sawgrass this week, Scheffler is admittedly lower (not by much though) than other guys in this range like Daniel Berger, Byeong-Hun An, Billy Horschel and Shane Lowry. But that's only for one big reason: Scheffler has yet to show consistency.
If you're loading up guys for a DFS cash game, the guys mentioned above might be superior options. But if you want to take a shot on a guy with as much upside as anyone in the field based on talent, Scheffler has that in spades.
To wit: Some of the most predictive metrics I've found for TPC Sawgrass historically include par-4 and par-5 scoring. Scheffler is in the top-five in the field in both metrics in his admittedly short career. The problem is his inconsistency: He's dead last in par-3 scoring, he's missed 20% of his cuts and the putter has been very hit or miss.
That's all fine, but with a longshot, I'm looking for some upside – not consistency. Scheffler is more likely than, say, Byeong Hun-An, to flame out and miss the cut, but he's also more likely, in my opinion, to win this darn thing.
I always don't mind betting on talent, and Scheffler is a good candidate to take a leap at some point. Why not The PLAYERS?
[Bet now at FanDuel. NJ, PA, IN and WV only.]
---
More PLAYERS Championship Betting Coverage
---
Favorite Props
Josh Perry
Adam Scott to Finish Top-20 (+150)
Adam Scott is the model of consistency at TPC Sawgrass. He's finished inside the top-20 in four straight years and six of his last eight overall.
Scott's been a little off with the irons since his win earlier this year, but I'll look past that considering he missed the cut at the Honda last year while losing strokes on the approach and still finished 12th here.
Scott is the one guy who seems to be immune to the fluctuating results that trouble most golfers at TPC Sawgrass.
Jason Sobel
Winning Score under 274.5 (+100)
Jeff Sherman, the VP of Risk Management at SuperBookUSA told me Tuesday that this number has already moved from 275.5 to 274.5 nearly 48 hours before the opening tee shot.
Credit this movement to favorable weather conditions — it'll be warm and dry throughout all four tournament rounds, with only a breath of wind. Three of the last four editions of this event have seen the winner reach 14-under and for those who believe it plays tougher in March than May, four of the last six March editions saw a number at the top this low.
I'm with the sharps on this one and think at least one player could get to 16-under or so.
Prop available at Westgate SuperBook
Reid Fowler
Under 17.5 Balls in the Water on Hole 17 in Round 1 (-150)
You have to lay some juice on this, but Round 1 should have the easier pin position of the opening two days and with little to no wind in the forecast, golfers should be able to find the green with relative ease.
Having said that, the weather could change at a moments notice making it tougher, but since 2003 the average number of balls to find the drink on 17 is just under 12 and last year, the average water balls per round was just over 11 (45 total).
Guys can't win the tournament on Thursday, but they can definitely play themselves out of it by hitting multiple balls in the water like Tiger Woods in Round 2 last year. As long as we don't get multiple guys going full, 'Tin Cup,' we should be good.
[Bet now at DraftKings. NJ, PA, IN and WV only.]
Justin Bailey
Collin Morikawa to Finish Top-20 (+250)
I've already bet Morikawa outright at +5000 when lines were posted, so betting him at these odds to finish in the top-20 seems like an ideal spot to target him.
Morikawa does have his flaws around the greens and with his putter, but his irons are so elite that I'm always willing to look past it. He led the API in Strokes Gained: Approach last week, and he leads the field in approach over his last 50 rounds.
This course sets up perfectly for Morikawa, who also ranks inside the top-seven in both average adjusted strokes on par 4s and 5s over the last 75 weeks.
[Bet now at DraftKings. NJ, PA, IN and WV only.]
Adon S.
Branden Grace to Make the Cut (+100)
Believe it or not, Grace has never missed the cut at The PLAYERS in six starts. That's an impressive feat at TPC Sawgrass.
After falling off the radar with his game last year, Grace got back in the win column early in 2020 by winning the South African Open. His only win on the PGA TOUR was at the RBC Heritage, which also takes place on a popular Pete Dye design.
The PLAYERS moved back to March last year and we saw a softer, more lush version of Sawgrass for that event due to overseed. Grace finished second and ninth, respectively, in his last two visits to TPC Scottsdale, another course which is forced to overseed because of its early spot on the TOUR calendar.
I'll take the even-money odds on Grace to make his seventh cut on the spin at TPC Sawgrass.
[Bet now at DraftKings. NJ, PA, IN and WV only.]
[PLAYERS Championship Promo! Bet $5 and Win $150 if Rory makes a single birdie this week]
Favorite Matchup
Note: Golf matchups are assigned moneyline odds. If Rory McIlroy is listed as a -130 favorite to beat Tiger Woods, that means you'd need to bet $13 to win $10 on McIlroy. If Woods is listed at +110 in that same matchup, a $10 bet would net $11. For more information on how to bet on golf, click here.
Josh Perry
Keegan Bradley (-115) over Charles Howell III
TPC Sawgrass should highlight the strengths of Bradley's game, keeping the ball in play off the tee and hitting a lot of greens. I'll back him as a small favorite over Howell, who has finished outside the top-50 in each of his last four starts.
Bradley has finished ahead of Howell in five of the eight years they've played this event with one tie thrown in there.
Matchup available at Westgate SuperBook
Jason Sobel
Tony Finau (-104) over Paul Casey 
It's coming for Finau. I know we've said that soooo many times over the past few years, but at some point, his talent level is going to prove itself and he's going to start winning.
As for this week, I like him to contend, but I'll just take a win in this matchup, as Casey has seriously struggled here over the years. The latter hasn't finished better than T-10 at this event, and that was way back in 2004 when he made his first start. Finau already has three finishes of sixth-or-better this year and I think he's ready to add another to that list.
[Bet now at FanDuel. NJ, PA, IN and WV only.]
Adon7x
Adam Hadwin (-120) to beat Cameron Smith
If this matchup would have been available the last two weeks, I would have been on the side of Cam Smith since I could rely on him to grind out a result in windy conditions.
However, all reports out of TPC Sawgrass this week indicate the course is playing soft and we will finally get some relief from the wind, so the winning score will likely be back in the double-digits.
Hadwin has had success on the PGA West Stadium Course, which features the same overseeded grass and is another Pete Dye track and is basically a replica version of his more famous Sawgrass design.
Matchup available at Westgate SuperBook
Reid Fowler
Paul Casey (+110) to beat Collin Morikawa
There's no denying how well Morikawa is playing, but chasing Casey at plus money on a Pete Dye design is a nice spot to exploit. Casey ranks second in SG: Tee-to-Green over his last six tournaments on Dye courses.
Morikawa has been elite with his irons ranking second in SG: Approach dating back to August of last season, but Casey isn't too far behind ranking fifth over the same timeframe. Morikawa ranks second in eagles gained on TOUR coming into this tournament, but is having issues with his short game.
Casey has suffered much of the same fate with the flat stick, but get him on fast, Bermuda greens and he becomes much better ranking 17th in SG: Putting over his last 50 rounds while Morikawa is experiencing TPC Sawgrass for the first time as a pro.
[Bet now at DraftKings. NJ, PA, IN and WV only.]
Bryan Mears
Max Homa (-110) over Corey Conners
We'll go down the board a little for this week; I'm feeling spicy after last week's win in our initial GolfBet favorite bets piece. Thank you, Ian Poulter.
Homa is probably known by the casual fan more for his Twitter game, but his on-course play has been pretty darn good of late, too. He finished in the top-25 in last week's API, and prior to that had been inside the top-15 in four straight PGA events. He's really excelled in all areas of the course, which is a must at TPC Sawgrass, which will test every part of a golfer's game.
Conners, meanwhile, just can't get the short game going. He's missed three of his past four cuts, including two straight at the API and Honda Classic. The accuracy has been fine, but he's been just absolutely miserable pitching and putting. Like, really bad: He has the worst recent (past five tournaments) putting average in the entire field.
I generally subscribe to the idea that putting can be the most random part of golf, but sometimes, when you don't have it, you just don't have it. Conners clearly doesn't have it right now, and I'm hesitant that Sawgrass is the place to find your game.
How would you rate this article?