Sobel's Tournament of Champions Betting Preview: Dustin Johnson the Man To Beat at Kapalua
Credit:
Andy Altenburger, Getty Images. Pictured: Dustin Johnson
Golf fans around the world will celebrate the PGA Tour's return this week, as we'll have the opportunity to witness some of the game's best players framed against scenes of breaching whales and bombastic rainbows and brilliant sunsets.
But there's another reason for celebration, of course: We can finally get a little action again.
This week's Sentry Tournament of Champions is the first of 38 upcoming events in the restart of the 2019-20 calendar, with 34 winners from last season competing at Kapalua's luscious Plantation Course.
Some tournaments are all about the big names. Others are all about the big names who decided not to play.
And so, the early news this week might be less about Justin Thomas, Jon Rahm, Dustin Johnson and Xander Schauffele competing and more about the guys who decided to start the year with a DNS.
That's right – C.T. Pan has pulled out of the event due to illness.
Oh, and a few other guys named Tiger Woods, Brooks Koepka, Rory McIlroy, Phil Mickelson, Francesco Molinari, Justin Rose and Shane Lowry.
Not that I'm one to be imparting advice to PGA Tour pros – especially those with a win under their belts already – but having covered this event on seven or eight previous occasions, I've told more than a few first-timers the secret to success at this tourney.
It's really not even that much of a secret: With a short field that guarantees four rounds and a paycheck to every competitor, some will use this week as more of a vacation than business trip, bringing extended family members and playing golf only in between beach trips and luaus.
---
Check out FanDuel, where Action Network users get a risk-free bet up to $500.
---
Any player who treats this one more like the John Deere Classic than the TOC, focusing on his game and eschewing the luxuries of the island, should be able to bank a hefty chunk of change based on desire alone.
Of course, the trick is trying to identify these players.
Let's give it a shot, as I break down my favorite plays in the annual opener.
Outright Winner
One player to win the tournament.
Dustin Johnson (+1000)
When he missed the recent Hero World Challenge due to recovery from knee surgery, there might've been some trepidation about selecting DJ for impending events. A week later, though, he showed up at the Presidents Cup and, while he hardly played like a world-beater, he finished a respectable 2-2-0 for the week, including a rope-a-dope singles victory over Haotong Li.
Now it's business as usual, as he'll return to Kapalua with top-10s in each of his last seven starts here, including a pair of titles. This course often plays into the hands of long hitters who have competed here before, all of which fits DJ's profile. With "only" the fourth-lowest odds on the board, I like his chances.
Other OADers
Potential selections for one-and-done options.
Nate Lashley (+15000)
Shameless self-promotion: In case you missed it, I've written my annual strategy and advice column for OAD players this week – and there are two different ways to play this event.
From the column: "With only 34 players in the field, it's a chance to use a big gun against limited competition, or … with a guaranteed payday, it's a chance to use one of the less attractive winners from last year and know you'll get something out of him."
If you choose to go the latter route, I like using Lashley, who's played well on the West Coast (and beyond) in the past, and should return a six-figure payout by at least finishing in the top half of this field.
Top-Five
One player to finish top-five.
Cameron Champ (+500 for top-five)
Hey, another shameless self-promotion: As part of our 2020 golf preview coverage, I also wrote about which players I like to make "The Leap" this year – and Champ's name is firmly entrenched on this list.
I feel like he's ready to narrow the distance between his floor and ceiling, potentially making a run at this year's U.S. Ryder Cup team. On a course built for bombers, Champ should feel comfortable in these new surroundings. And unlike many of his fellow competitors, I can see him having a little more motivation this week to prove his game can hang with the big boys.
Top-10
One player to finish top-10.
Dylan Frittelli (+275 for top-10)
Another player featured in "The Leap" column, I believe Frittelli is on the verge of flying up the world ranking. It all starts this week, as the South African's ability to play in breezy conditions should be useful in the Kona winds. He's not a flashy type of player, but consistency could be enough to beat a bunch of guys on an extended vacation.
At nearly 3-to-1 to finish in the top 30% of the field, I love these odds.
DFS Free Bingo Square
A safe plug-and-play option for DFS.
Gary Woodland (DK $9,300)
If you want to understand how Woodland has improved during the middle years of his career, just look at his TOC results as the epitome of that improvement.
He played this event in 2012 and '14, finishing 24th and T-13, respectively. Last year, he returned for the first time in a half-decade and finished solo second. Sticking with the big hitter theme – and the knowledge that Woodland is only a few weeks removed from competing in the Presidents Cup – it's tough to see him playing poorly this week.
DFS 'Dog
A lower-priced option for DFS.
Sebastian Munoz (DK $7,100)
There are enough value names on the bottom of the DFS board – after all, everyone here has already won a PGA Tour event – that many will glance past Munoz's name to a more accomplished one.
Give the guy some credit, though: In seven starts during the fall part of this season, he finished in the top-seven on three occasions, including a victory at the Sanderson Farms Championship. Let others go with Kevin Na or Keith Mitchell at around the same price; Munoz should come as a low-owned option.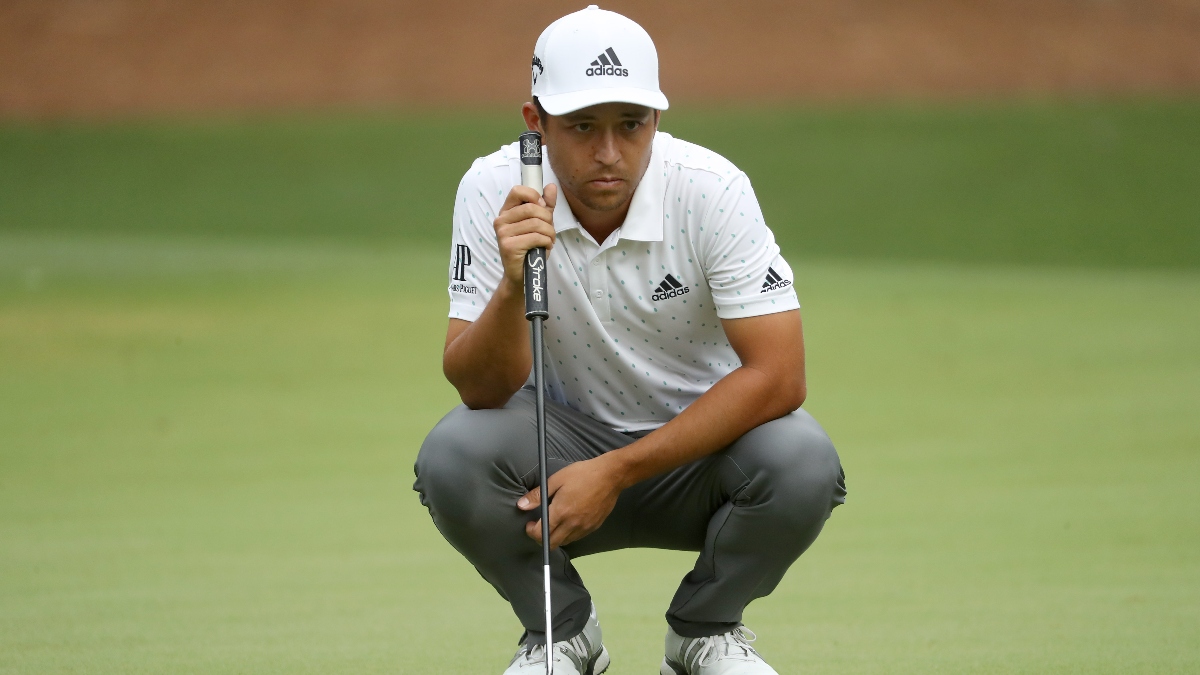 First-Round Leader
One player to post the low score Thursday.
Xander Schauffele (+1000 for FRL)
The player in this week's field with the lowest opening-round scoring average during the 2019-20 season so far is none other than the defending champion, who's posted totals of 68-66 in two events. That's a stark departure from this tourney last year, when he opened with a 72, but closed with a number 10 shots better to win.
My guess is we'll see the guy on Thursday who finished with those good vibes more than we'll see the one who got off to that slow start.
Matchup Man
One player who should beat comparable players.
Sung Kang
More specifically, I like Kang in the underdog role to win his matchup against Lanto Griffin at even-money. In his final three starts of last year, Kang posted finishes of 29-26-17, while Griffin chased his first career victory with results of 18-76-MC. There aren't too many H2H numbers I love this week, but this one is among the best of 'em.
The Big Fade
One top player to avoid at this tournament.
Max Homa (+15000)
Talk about a recency bias: Homa spent the short offseason elevating himself to the position of King of #GolfTwitter, based largely around his hilarious clapbacks when roasting swing videos.
A small subsection of gamblers might look at Homa this week and think: I really like this guy, I want to root for him and in a short field, I'm going to take my chances on him. I appreciate that idea, but you might want to save it for a later date. Since winning the Wells Fargo Championship last May, he hasn't finished inside the top-25 in a single PGA Tour event.
Even though a T-5 result at the Dunlop Phoenix on the Japan Tour in his final start of last year should offer a little confidence booster, right now he's more valuable on your Twitter feed than your betting card.
How would you rate this article?