2021 Northern Trust Bets, Picks, Odds, Preview: Outrights, Sleepers, Props & Matchups for FedExCup Playoffs Opener
Credit:
Getty Images. Pictured: Webb Simpson (top left), Scottie Scheffler (top right), Sergio Garcia (bottom left) and Bryson DeChambeau.
Our team of golf analysts have their eyes on the Northern Trust this weekend in New Jersey.
The FedExCup Playoffs opener has assembled one of the best fields golf has ever seen, which provides value all over the board for bettors.
Their best bets are laid out below, from outright picks to the best matchups.
The FedExCup Playoffs are finally here, and the opening event brings us one of the best fields ever.
The 124 players (Louis Oosthuizen has taken the week off) assembled at Liberty National Golf Club in New Jersey for the 2021 Northern Trust all have their eyes on the same prize: The FedEx Cup.
Our team of golf analysts have their eyes on bets across the board this week, and here they are:
Outrights
Daniel Berger (+3300)
Jason Sobel: Based on recent history at playoff events, I wouldn't look too deep past the upper tier for a viable outright this week, but Berger is intriguing at this number.
Not only has Berger been trending in the right direction, with three finishes of eighth or better in his last four starts, he played very well at this venue during the 2017 Presidents Cup, one of just three American players to win his Sunday afternoon singles match.
With plenty of reasons to be motivated this week, I think one of the season's standout players is primed for a big result.
Webb Simpson (+3500)
Chris Murphy: Last week was set up to be Webb Simpson week and while he didn't win, he really didn't disappoint either since he missed out on the six-way playoff by just one shot. It didn't help that he started the event with a double bogey, immediately putting himself behind the eight ball. He climbed back into the mix and if not for a balky putter on Sunday, Simpson may have been in position to steal the win.
It's been a strange year for Simpson, and I think there was likely more to his neck injury that had him withdraw from the Wells Fargo Championship and only play majors until WGC St. Jude, then his team led on. I am encouraged by the play he has shown over the past five rounds that saw him with a final-round 64 in Memphis and his overall week in Greensboro.
Simpson has the all-around game that I am looking for this week at the Northern Trust, especially when his irons are clicking. He is starting to show those signs and has historically bounced back strong when he has a tough week with the putter. It's an added bonus that he has played all three versions of this event at Liberty National, with no finish worse than T18.
He's my gut play of the week as a guy who may be a bit of a surprise in contention to win the first playoff event.

Brooks Koepka (+2500)
Matt Vincenzi: Brooks Koepka let a lot of people down at WGC St. Jude, and this week's odds are indicative of that. He was the betting favorite on some odds boards that week, but this week he has slipped all the way to seventh.
This is an overreaction. Despite the poor performance at TPC Southwind, Koepka is playing some good golf overall. Outliers happen in golf and coming into the WGC, Brooks had finished in the top six in four of his past five starts.
Koepka has played some of the best golf of his career in the Northeast. With wins at Bethpage Black and Shinnecock Hills, the 31-year-old has shown he has a knack for playing his best golf in the New York area.
Patrick Cantlay (+3300)
Josh Perry: Cantlay was 12th here two years ago and should be a good fit. He's been playing solid outside of a missed cut at The Open. The ball striking has been really good for about three months now and the short game has been pretty spotty which has kept him out of contention some weeks.
But Cantlay gained just over 4.5 strokes putting here in 2019. If he can find that comfort level again, he could be near the top of the leaderboard.
Scottie Scheffler (+3300)
Landon Sillinsky: Scheffler is going to break through for his first PGA TOUR victory very soon, and it feels inevitable that it will be in a big-time event and not some filler.
Dating back to the start of this year in all the elite field events which include the Majors, WGC events and The Memorial, Scheffler has gone: 14th, T-8, T-7, third, T-8, T-18, second, fifth.
Scheffler turns it on when the game's elite gather, and that trend should continue this week. He ranks seventh in this loaded field in total strokes gained over his past 16 rounds and is getting major respect from sports books it appears.
Do not sleep on this Texan, his time is coming.
Collin Morikawa (+2000)
Bryan Berryman: I rarely look to the top of the board when betting outrights since I prefer the value that the middle range tends to provide on a weekly basis. But watching the course flyover for Liberty National this week, one player kept coming to mind when thinking about course fit: Collin Morikawa.
What stood out to me was the difficult test this course presents for players off the tee. Water hazards and strategically placed bunkers are plentiful, which make the landing areas in these fairways extremely small. Success this week will largely depend on precision off the tee and into greens, and no player fits that mold better than Morikawa.
He ranks first in good drives, 14th in fairways hit, and third in strokes-gained approach over the last 50 rounds in this field. As a course that is geared towards all around ball strikers, performing well in these stat categories will be the key to winning this tournament.
Morikawa is known as one of the best ball strikers in the world and sets up perfectly to win this event.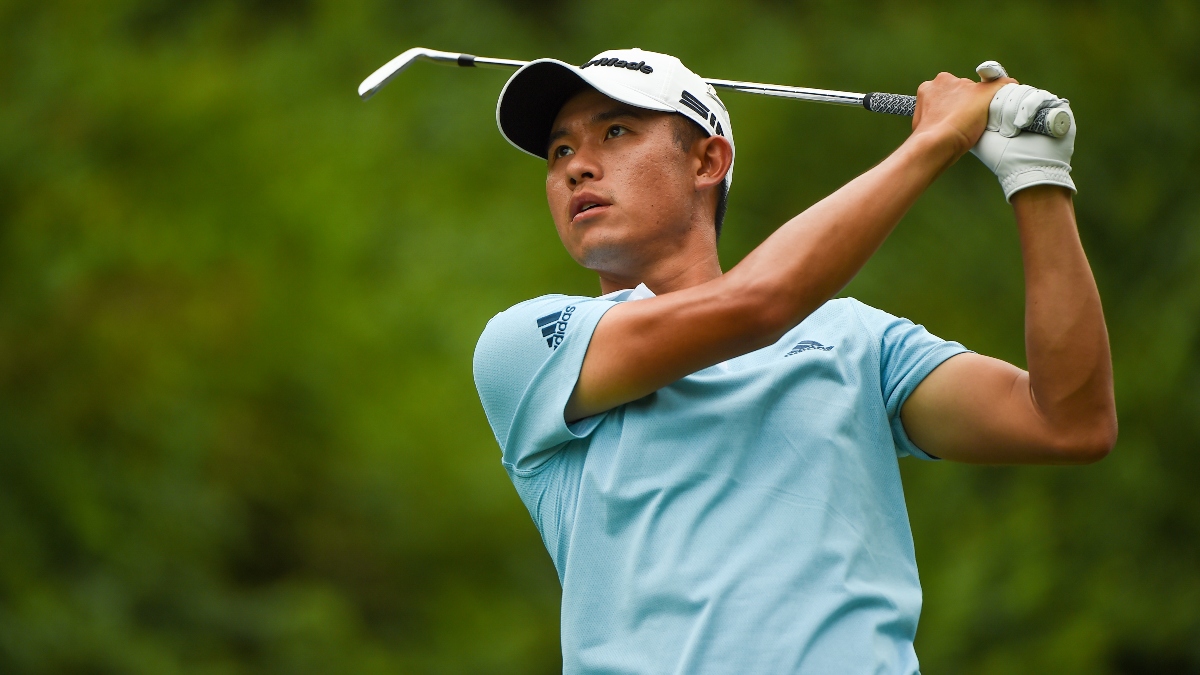 Sleepers
Jhonattan Vegas (+15000)
Jason Sobel: I've written this many times before and mentioned it just as many on our weekly podcast (which is now called "Links & Locks" and you should definitely download it and subscribe to it and give myself and Justin Ray a bazillion-star rating): If you watched every player take swings on the range and chip in the practice area and roll a few putts without being able to see their faces, you'd pick Vegas as a top-20-type of guy every time.
He's got all the tools we look for in a breakout candidate — and despite three career wins, perhaps now he is indeed breaking out. Vegas has finishes of 16th or better in six of his last eight starts.
I like him in all formats this week, but the top-20 play seems like it fits best.
Aaron Wise (+30000)
Chris Murphy: If we are going to go deep for a long shot, why not go really deep?
Aaron Wise has the talent to compete in this type of field. It's just hard to predict when his game will show up, especially on and around the greens. He pulled out the broomstick putter last week at the Wyndham and it was better for him across the week.
Wise gained 2.9 strokes on the greens. Even though a closer look shows it started hot and faded as the week went on, I'll mark that as progress.
He is a player that can be elite with his ball striking and when I can get that level of play at a long number like we have this week, it certainly is worth a sprinkle. He's more likely to be a solid bet at a good number for a top-20 kind of finish, but it won't cost much to get in on him just in case everything comes together this week.
Sergio Garcia (+9000)
Matt Vincenzi: Elite ball strikers have had some success at Liberty National, as evidenced by Adam Scott's win here back in 2013. Garcia's fairways and greens style of play should play very well this week, and it will come down to what he can do with the putter. The Spaniard has unsurprisingly been atrocious on the greens in his past two starts and there is always the chance that will
continue.
With that being said, his odds have taken a huge hit this week, and I believe he has a better chance to putt to field average this week than 90-1 odds would indicate. When betting long shots, we are betting on a golfer's ceiling and hoping everything clicks that week.
Sergio's ceiling is higher than any other player in this price range.
Jason Kokrak (+8000)
Landon Sillinsky: Kokrak has seen Liberty National two times in his career, finishing T-12 and T-9. We're getting a solid discount on him after he missed the cut this past week at the Wyndham, but it was likely he was just using that as a tuneup for the playoffs.
Kokrak's long term rolling numbers still check out, as he ranks 23rd in this field in SG: Ball-Striking and 25th in SG: Putting.
He's shown the mettle and resolve to close out events this year, as he's one of only six golfers to win multiple times on TOUR in 2021, joining Bryson DeChambeau, Stewart Cink, Harri English, Patrick Cantlay and Collin Morikawa.
If a book is going to hang an 80/1 number in my face on Kokrak at a course where he's had success, it's wheels up.
Tyrrell Hatton +6000
Bryan Berryman: It's been an up-and-down 2021 season for Hatton. After his runner-up finish at the Palmetto in June, he followed it up with two straight missed cuts at the U.S. Open and Open Championship.
The inconsistency in his performances has caused this number to drift out to where it currently sits. The stats show that he is a prolific ball striker, ranking 14th in strokes gained approach and 21st in strokes gained off the tee over the last 50 rounds.
Hatton's last win came at the Arnold Palmer invitational, which places a similar premium on driving accuracy and approach shots into the green. Coming off a 17th-place finish at St. Jude, where he gained 2.6 strokes on approach, I believe it's a great buy-low spot on the Englishman.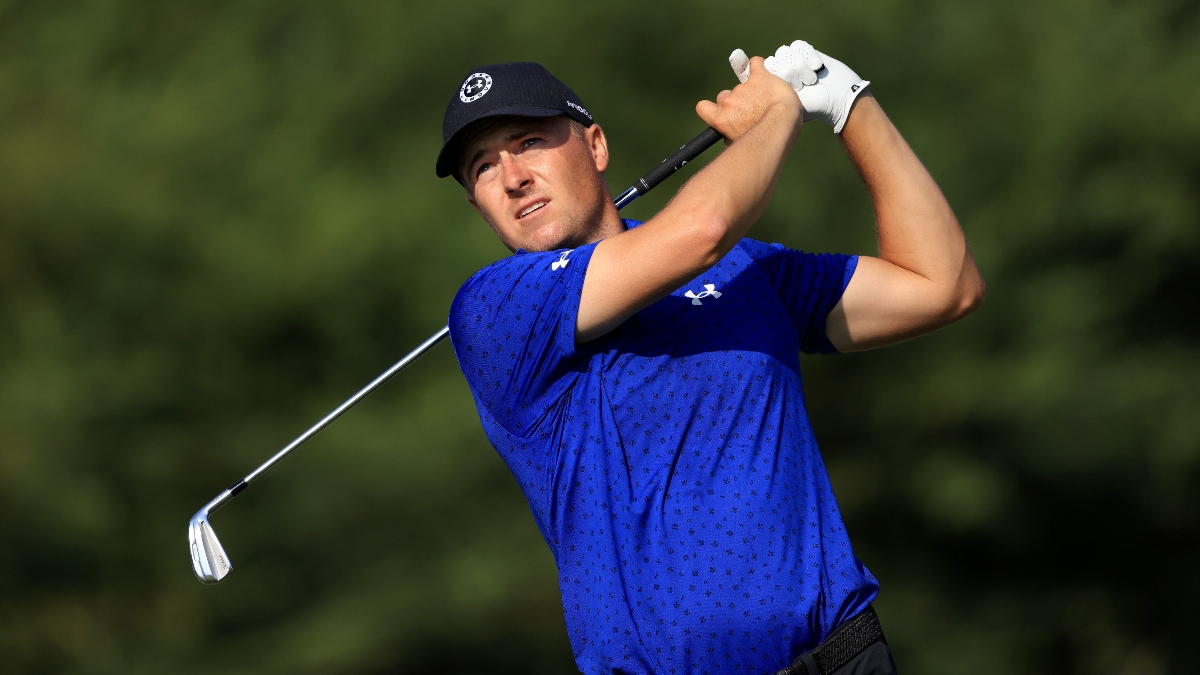 Props
Jordan Spieth Top 5 (+360)
Jason Sobel: Full disclosure: I demurred back and forth between Spieth and Berger for my favorite outright this week. Just because I gave the nod to the latter doesn't mean I like the former much less, as he's certainly trending up, as well.
Many of Spieth's strokes-gained numbers are comparable to some of his prior multiple-win seasons and even though he's risen from the proverbial ashes this year, a one-victory conclusion feels a bit underwhelming. He's cashed top-fives in five of his last dozen starts, so this number feels like it offers some value this week.
Rory McIlroy Top 5 (+490)
Chris Murphy: My favorite player at the top of the board is Rory McIlroy, both personally and for his form. He has shown flashes of the superstar we once knew at times this season, and I believe he will put it all together sometime over the next few weeks.
McIlroy is trending in the right direction across every metric you want to see, but he has simply had just one or two poor errors that have eliminated him from lifting another trophy since his win at the Wells Fargo.
I'll play it conservative here, but this is a bet I feel really strongly about. McIlroy is every bit of a top-five player this week and we get solid odds because of the strength of this field. I'm in on Rory, possibly across all markets by the time they tee off this week, but certainly on this top-five.
Bryson DeChambeau Top 5 (+600)
Matt Vincenzi: Sometimes in golf the narrative is so strong that it starts to blur what is actually happening on the golf course, and I believe that is what's happening regarding DeChambeau.
With two horrific Sunday performances at the U.S. Open and FedEx-St. Jude, the prisoner of the moment reaction is that he can't close out a golf tournament.
In reality, the truth is just the opposite. DeChambeau is one of the best closers in the sport. With eight wins since July of 2017, the enigmatic superstar is one of the most prolific winners currently on TOUR.
Similar to Koepka, Bryson also has a fantastic track record in the Northeast. He has wins at Ridgewood CC (Paramus, New Jersey), TPC Boston (Norton, Mass.) and Winged Foot Golf Club (Mamaroneck, New York).
I expect DeChambeau to contend this week and remind his critics that he is still one of the best golfers on the planet.
Adam Scott Top 10 (+360)
Landon Sillinsky: We faded Scott last week, and that did not work out for us.
It seems like he has figured out his ball-striking woes. The Aussie gained over 2.1 strokes on approach in three of his four rounds at the Wyndham. He should have won the event, but he absolutely misread a four-foot birdie putt that would've clinched it in that wild six-man playoff.
Scott has played Liberty National all three times the TOUR has been here dating back to 2009, which includes a win in 2013 when this event was called The Barclays. He followed that up in 2019 with a T-5 and it's clear he likes this track quite a bit.
Scott can easily contend this week and is a fine bet at 40/1, but I like getting my exposure here in the top-10 market at a solid price.
Matchups
Patrick Reed (+135) over Patrick Cantlay
Jason Sobel: On a course that rewards consistency with long- and mid-irons and where scrambling around the greens is essential, it should come as little surprise that Reed has thrived here, including his victory just two years ago.
I love the plus-money number here against Cantlay, who isn't a player I often target in East Coast events. I would've thought this matchup would be priced closer to even — and even then, I'd lean Reed.

Rory McIlroy (-140) over Tyrrell Hatton
Matt Vincenzi: McIlroy's game is rounding into form at the right time, as he is averaging +7.5 strokes from tee to green in his past five measured starts.
When things are going right for McIlroy, his driver is the best in the game. He gained 5.9 strokes off the tee at St. Jude, which was the most he has gained since October 2020.
On the other hand, Hatton has been disappointing this season, failing to miss the cut in three of the four majors, as well as at THE PLAYERS. In events with big-boy fields, Hatton has been a consistent no-show.
Joaquin Niemann (-125) over Russell Henley
Landon Sillinsky: There's a distinct possibility Henley is on a massive letdown this week after folding like a cheap suit on Sunday at the Wyndham Championship. He was the first-, second- and third-round leader before completely melting down in the final round, which culminated with a missed a three-foot par putt on the 72nd hole that would've added his name to the six-man playoff.
Niemann has been playing some great golf of late, as he's coming off a quiet T-10 at the Olympics and an even quieter T-17 at WGC St. Jude. He should keep the ball in the fairway this week and is a much better putter on bentgrass, something Henley cannot claim.
This line should not be a pick'em, so give me the Chilean here.
How would you rate this article?
This site contains commercial content. We may be compensated for the links provided on this page. The content on this page is for informational purposes only. Action Network makes no representation or warranty as to the accuracy of the information given or the outcome of any game or event.