2021 TOUR Championship Bets, Picks, Odds, Preview: Outrights, Props & Matchups for FedExCup Playoffs Finale
Credit:
Getty Images. Pictured: Jon Rahm (left) and Justin Thomas.
And then there was one.
We will see a 2020-21 PGA TOUR champion crowned this week at East Lake Golf Club in Georgia, and there's no shortage of drama entering the tournament. Patrick Cantlay leads the way at 10-under par, with Tony Finau (8-under) and Bryson DeChambeau (7-under) not far behind.
With $15 million going to the winner, there will be no shortage of motivation at the top of the leaderboard. That means odds are shorter at the top, which means picking a winner could be more possible this week than most.
Let's break down our staff's best bets, which have been organized accordingly based on books this week. Be sure when placing your wagers that you're selecting the right option between the staggered strokes being applied or them not.
Outrights (with staggered strokes applied)
Jon Rahm (+350)
Jason Sobel: I've written and talked about this point for the past few weeks, but entering these FedExCup playoffs, Rahm owned a different strategy than most of his peers.
The mindset of most top players from the outset of this three-event series has essentially echoed this sentiment: I'm going to try and play my best every round and we'll see where I wind up at the end. There's obviously nothing wrong with that plan. It's admirable.
Rahm, however, coming off more than a month in between competitive rounds prior to the Northern Trust, has outwardly voiced the marathon-not-a-sprint narrative throughout the past few weeks. He's made it known that his endgame is winning the FedExCup, despite his aforementioned consternation over the format.
Don't get me wrong: I'm not suggesting that he didn't also want to win the first two events; after all, there's no better way to set yourself up to win the whole thing than to win the first two. But I also feel like he's been lying in wait just a little bit, saving some fuel in the tank for when he needs it the most.
That should pay off this week.
Tony Finau (+700)
Chris Murphy: Finau had me believing that he could do big things in consecutive weeks after a solid opening round last week at the BMW Championship. He stumbled over the next two days to fall out of contention, before bouncing back in a big way with a closing round 9-under 63.
There is no question that Finau is playing some great golf, and he has the monkey off his back having finally captured that elusive second win two weeks ago at Liberty National. His last two weeks have positioned him in the second spot, joining Patrick Cantlay in the final pairing on Thursday and giving him a great chance to contend throughout the weekend.
Finau is being disrespected a bit as he lines up in the fourth position on the odds board, but I will happily take that boosted number heading into East Lake.
Harris English (+4000)
Matt Vincenzi: English fits the mold of golfers who have had success at East Lake to perfection.
The course isn't extremely long so distance isn't an absolute requirement. However, finding the fairway and getting in position to hit plenty of greens in regulation will be one of the most important factors at the TOUR Championship. English ranks sixth in the field in Good Drives: Gained, which factors in when a golfer narrowly misses the fairway and still hits the green in regulation. One of the strengths of English's game is keeping the ball in play off the tee.
A constant theme we have seen at the TOUR Championship is players who ultimately win the event have had very successful overall seasons, and English has had one of the best seasons of his career. With two wins (Sentry TOC and Travelers Championship) and four additional top five finishes this season, there are few on TOUR who can say they had as successful of a season as the former Georgia Bulldog. English comes into the week ranking fourth in Strokes Gained: Total in his past 24 rounds.
One of the biggest challenges of East Lake is managing the very fast Bermudagrass greens, and this is an area where the 32 year old thrives. English ranks second in the field in his past 24 rounds in Strokes Gained: Putting on lightning Bermuda.
It may be instinctive to gravitate towards some of the bigger name golfers this week to claim the TOUR championship trophy, but in the past we have seen golfers similar to English who are in great form (Ex: Billy Horschel 2014) excel at East Lake. Harris has the ability to control the golf ball from tee to green and catch a hot putter on Bermuda greens. That combination could be the recipe to propel him to a victory at the TOUR Championship.
Jon Rahm (+360)
Rob Bolton: I'm not touching the board offering prices without starting strokes contributing because the golfers aren't looking at leaderboards and targeting scores that aren't influenced by the measurement to reward position upon arrival. What's more, they don't care who takes the fewest strokes, even if it translates into the FedExCup title.
Meanwhile, I still can't take my eyes off Rahm who starts at 6-under. He's been atop my Power Rankings at PGATOUR.com for all three events of the FedExCup Playoffs, and deservedly so. A couple of stumbles here and there have thwarted victories, but that's the way the ball bounces in golf.
That he's still chasing a win in this season's series and needs to perform well to prevail is even more reason to buy into his focus.
Rahm or bust is a fine way to conclude the super season.
Sam Burns (+4000)
Landon Silinsky: Anytime we have a course with Bermuda greens, Burns needs to be in consideration. He is starting at 4-under par but has longer odds than some of his peers below him, which is a clear sign of disrespect considering he ranks fourth on TOUR in birdie or better percentage, trailing only Rahm, DeChambeau and Cameron Smith.
Burns comes in with some good form, posting a T-8 last week at the BMW and a T-2 at the WGC St. Jude a couple weeks back. Burns ranks fourth in this field in Strokes Gained: Total over his past 36 rounds.
Despite starting six strokes behind Patrick Cantlay he can make that deficit up in one round with the way he scores. I like taking a shot on him at this number.
---
» Return to the table of contents «
---
Outrights (72-hole score, no staggered strokes)
Jon Rahm (+700)
Jason Sobel: How much do I like Rahm this week? I'll not only take him with a lead over all but three other players, I'll take him from an equal starting line, as well.
In 16 career rounds at East Lake, he's posted 11 under-par scores — and five of those have been 67 or better, meaning he's at least 3-under on this course in more than 30% of his rounds so far.
As if that's not enough, he's a more mature and complete player right now than he was in the past and he seems more focused on winning this entire thing.
Justin Thomas (+1400)
Chris Murphy: I love Thomas this week especially in a format where he can go really low, and may not truly have the Sunday pressure to win.
He has had a mostly down season outside of his win at THE PLAYERS, and this is his last chance for one more top finish to close it out. His fourth-place at the Northern Trust was a beginning sign that things might be heading in the right direction, and he closed out well with a low round on Sunday last week.
I am going to buy into some of that volatility in a format that will encourage him to be aggressive on a course where he has five Top 7 finishes in the last five years.
Scottie Scheffler (+2500)
Josh Perry: Scheffler was fifth in Strokes Gained: Approach last week at the BMW Championship, and he was also second here to Schauffele last year. Scheffler enters the week at 1-under, so he's a full nine shots behind Cantlay to start.
I expect Scheffler to be aggressive from the start on a course where he should be a good fit for. I think he's worth a shot.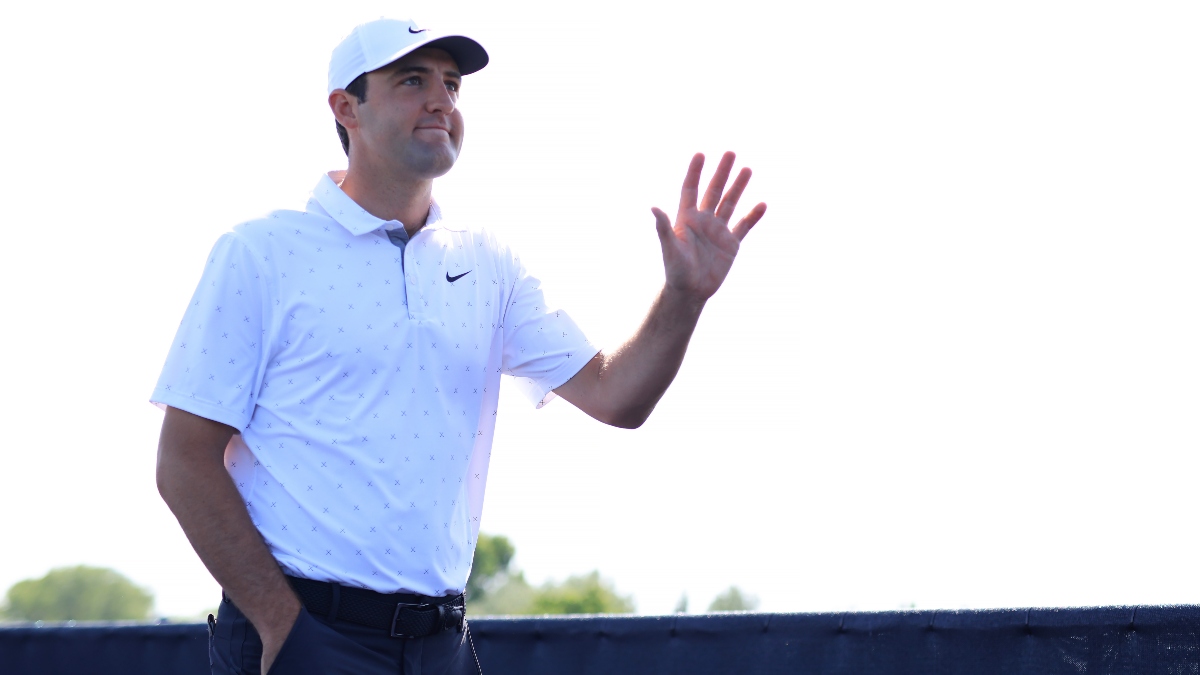 Sungjae Im (+3000)
Matt Vincenzi: The recent statistics for Sungjae Im are just far too impressive to ignore this week. After a long stretch of inconsistent form this season, the South Korean has finally put together a string of tournaments where he looks like the golfer who won at PGA National in 2020.
Im has gotten progressively better in each of his past three starts, most recently with a third-place finish last week at the BMW Championship. Even more importantly, he did so by gaining +6.9 strokes from tee-to-green in those three events which is his best three tournament stretch since March.
In addition to being in excellent form, Sungjae is also a dream fit for East Lake. Im thrives on shorter courses with Bermuda greens and East Lake fits the bill. The 23-year-old ranks third in the field in his past 24 rounds on Strokes Gained: Putting on lightning greens and is a superb putter overall on Bermuda.
Winning the TOUR Championship would be a tall task but when Sungjae gets hot, he usually stays hot in stretches. That means low overall score for the week feels like a great bet.
Justin Thomas (+1400)
Landon Silinsky: Outside of Xander Schauffele and Rory McIlroy, there's no one in this field that likes East Lake more than JT. He's made five career TOUR Championship starts, finishing T-6, 2nd, T-7, T-3 and T-2.
Last week at the BMW he was up to his usual tricks, striking the ball as pure as ever while his flat stick simply refused to cooperate.
This week we're back on a familiar track and Thomas seems to be rounding into form at just the right time.  With no staggered strokes there's nice value on him at 14/1. He ranks fourth in this field in Strokes Gained: Ball-Striking over his past 16 rounds, so basically if he putts anything close to neutral, he could run away with this event.
Daniel Berger (+2700)
Justin Bailey: Without starting strokes, why not target someone who leads this field in Data Golf's True Strokes Gained: Approach over the last 20 and 50 rounds?
Berger has struggled the last few weeks, but that's largely due to his putting as he's lost strokes on the greens in each of his last two tournaments. That said, in the long term, Berger is at least an average putter, gaining +0.30 strokes putting over the last 12 months.
I'll target the hot irons and hope the putting comes around. I'd bet this down to +2200.
---
» Return to the table of contents «
---
Props (with staggered strokes applied)
Sam Burns Top 5 (+600)
Jason Sobel: Three of the upcoming U.S. Ryder Cup captain's picks are absolute locks (Tony Finau, Xander Schauffele and Jordan Spieth). I think the other two are pretty set (Harris English and Daniel Berger).
Then there's that final selection just waiting for a player to reach out and grab it, much like Ryan Moore five years ago.
There's an excellent chance Burns can be that player.
He's got everything a captain would theoretically want: He's already won this season; he doesn't seem to shy away from big moments; and he owns no outstanding beefs with fellow team members. And there's one other thing: Coming off results of 8th-21st-2nd in his last three starts, one more strong finish would give him the requisite momentum apparently required to be named to the squad.
All of that should be plenty of motivation for a guy who tends to play his best golf in the Southeast and should be able to climb both boards this week.
Scottie Scheffler Top 5 (+300)
Chris Murphy: There seem to be some really good opportunities this week, especially with props if you can shop through the books and make sure you understand the scenario. The one that jumped out to me was this top-10 finish for Scheffler.
Scheffler will start the week three shots from the top 10, which is not much when you consider the 72 holes he has to make it up. Scheffler has been one of the best players on TOUR this season in strong fields, and I expect he will continue that this week. He was able to finish 5th from a low starting position in 2020 and has an affinity for East Lake dating back to his days as a Texas Longhorn.
I'll take a decent number on Scheffler to finish in the top third of this field, and taking it on BetMGM gives me the added bonus of all ties paid in full.
Jordan Spieth Top 5 (+360)
Rob Bolton: Gotta love the top-20 lines at FanDuel for Rahm and Cantlay. Each is -20,000. Perhaps someday, someone will explain why they're even offered. Seems that the more compelling wager would be to invest in either not finishing inside the top 20 in a 30-man field with no cut and Starting Strokes contributing.
That hilarity aside, I can't help but wonder if me positioning Spieth at No. 10 in the power rankings may have influenced the attractive top-five prop. The same bet at DraftKings is +250 at last check.
Spieth still starts in a five-way T-6 at 4-under. He prevailed at East Lake in 2015 and has been performing like the player to which we've been accustomed for most of 2021. It's why he opened these playoffs as the No. 2.
I noted in my aforementioned power rankings that in the first two editions of Starting Strokes, which was introduced in 2019, 12 of the combined 21 golfers who recorded a top-10 at the TOUR Championship started outside the top 10. So, in full disclosure, that's what I had targeted, but it ain't gonna get better than the attention that Chris gives Scheffler above, so I didn't want to cloud that space. Do it.
What I didn't note in the Power Rankings was that of the combined 10 who recorded top-fives since 2019, three started their respective editions seeded 14th or worse. So, my endorsement of Spieth by no means is a stretch.

---
» Return to the table of contents «
---
Props (without staggered strokes applied)
Scottie Scheffler Top 5 (+300)
Jason Sobel: Based on 72-hole overall scoring, Scheffler finished with the second-lowest score in the field last year, behind only Xander Schauffele.
I've been leaning on Scheffler to finally win his first PGA TOUR event, but it hasn't happened yet – and it won't happen this week, either, with him starting in 25th. I do think that should lead to some aggressive golf, though, and at this time of the summer, with so many guys exhausted from a long year, I tend to favor youth over experience and wouldn't be surprised to see him replicate his performance of a year ago.
Matchups
Rory McIlroy (-160) over Brooks Koepka
Matt Vincenzi: McIlroy is one of the course horses for East Lake. With two wins and numerous additional high finishes, there are few (if any) who can say they've had as much success at the course as Rory.
The 2019 FedEx Cup winner comes into the week in very good form after an impressive fourth-place finish at the BMW Championship. McIlroy gained 4.7 strokes off the tee, which was second in the field only trailing Bryson DeChambeau. The driver has really come around for the Northern Irishmen, which is typically the telltale sign that his game is rounding into peak form.
Alternatively, I question Koepka's motivation this week if he can't make a dent in the lead early. With no finish better than 22nd in the FedEx Cup playoffs this season and a slim chance of getting into contention this week, it wouldn't be a surprise if Brooks was looking forward to the end of the season.
Sam Burns (+115) over Cameron Smith
Rob Bolton: Of the five matchups at FanDuel that pit golfers opening with the same value of score in relation to par, the only one that captured my attention was Hovland (-102) over Morikawa, but I prefer the one I selected, anyway.
I'm fading Smith and endorsing Burns in a vacuum, so I love that Burns increases the take with this one. He starts just one stroke back of the Aussie, who hasn't been as impressive since concluding regulation of the Northern Trust. A T34 at the BMW Championship is not considered recovering from the penalty off the tee that cost him victory the week prior.
Burns is a debutant at East Lake, but he's been motoring through the playoffs with a T21 and solo eighth. Zero recent scar tissue, too.
Kevin Na (+170) over Brooks Koepka
Landon Silinsky: Both guys will be starting at 2-under par, but it's quite possible Koepka does not bring his A-game with him being so far behind the leaders. I am sure, however, that Na will be trying to finish as high as possible to secure a nice paycheck.
Na was really good on approach last week, gaining in that department in each of his final three rounds. If Koepka does in fact mail it in early this week, Na could beat him going away and this is a really strong price to get on one of the hottest players on TOUR.
---
» Return to the table of contents «
---
How would you rate this article?