2019 Genesis Open Betting Guide: Which Players Can Get Up and Down at Riviera?
Credit:
Brad Penner, USA Today Sports. Pictured: Sergio Garcia
Dustin Johnson is the betting favorite to win the 2019 Genesis Open at Riviera Golf Course.
Riviera is a tough course and players that are able to scramble well tend to succeed here.
Joshua Perry thinks there's value with a few golfers between 30-1 and 50-1 this weekend.
Last week, we were close at Pebble Beach, but nothing really came together in the end.
Paul Casey was unable to close out Phil Mickelson after entering the final round with a three-shot lead. Brandon Harkins worked his way into a top 20 before letting it slip on the back nine Sunday and my favorite bet was a small loser as Branden Grace tied Ernie Els, resulting in a dead heat at -135.
At least Casey provided a decent hedge opportunity, going off as low as -170 before the final round, so hopefully a few of you found a way to lock in a profit.
The weather also caused problems for three days and that resulted in a Monday finish, just another reason to remember to keep the exposure smaller than normal for that particular event.
Fortunately, we're out of what I consider the toughest four-week stretch on the PGA Tour from a handicapping perspective. There were two pro-ams, three tournaments playing on multiple courses, and the one tournament that had a normal set up was played in front of 200,000 people in Phoenix.
Things get back to normal this weekend with The Genesis Open, a more traditional event at Riviera Golf Course in Los Angeles, Calif.
In a similar fashion to Pebble Beach, this has been mainly a stars or scrubs type of event.
Bubba Watson has won three of the last six, Dustin Johnson has a win here along with a couple runner-up finishes and the Pebble Beach champ Mickelson has won here twice. But we also get longshots out of nowhere like James Hahn and John Merrick.
There's also some correlation to Augusta as eight of the past 16 winners also claimed a green jacket during their career.
We see this pattern at courses where Tiger Woods has had a lot of success, but what makes this event unique is that Tiger never won here.
The Course
We stay in California this week, heading to Riviera Country Club in Los Angeles. Riviera checks in at 7,340 yards for a par 71 and it ranks as one of the toughest tests from tee to green on tour.
Year in and year out, it has some of the hardest fairways and greens to hit. After a lot of rain, the reports are the course will be softer than normal at least early in the tournament. So the fairways will likely be a little easier to find and lead to better scoring than we've seen in the past.
Since players often struggle to find the fairways and greens, I put more of an emphasis on scrambling at Riviera than I would during a normal tournament.
On easier courses I don't really factor it in, because if guys are having to scramble a bunch, then they aren't creating enough birdie looks to win anyway. But on this course, the winner may need to find a way to get up and down five or six times per round.
The Field
This will be right in line with Torrey Pines for the strongest field we've seen in this early part of 2019. Dustin Johnson is a clear favorite here at +900 with Rory McIlroy and Justin Thomas next in line at +1200. Bryson DeChambeau, Jon Rahm and Tiger Woods are all in that +1400 to +1800 range.
We also have a solid group of players in the +2000s as well with Phil Mickelson looking for a third title here along with defending champ Bubba Watson, Xander Schauffele, Tony Finau, Patrick Cantlay and Jordan Spieth.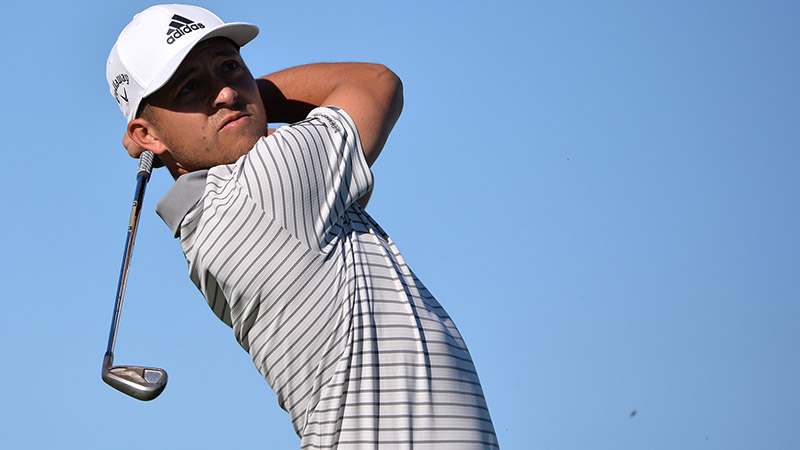 The Favorites
I usually don't dip down into this range and this week won't be an exception, but two players really stood out to me. Justin Thomas and Jon Rahm have both been in excellent form and will likely find a win soon. They're to the two guys I'm most scared of ruining my card this week.
I'd want Thomas to hit at least +1500 and Rahm to reach the +2000s before I actually jump in though.
Neither have a real track record here at Riviera, so that's the only reason we'd see a dip in their odds. But I find it hard to believe hit the number I'm looking for.
The Mid-Tier
With such a strong field at the top of the board, some interesting names have fallen by the wayside a bit so I'll start my card with three players in this range.
First up is Hideki Matsuyama at +3300. Matsuyama's odds have been all over the place early the season. He started at +6600 at Torrey Pines before crashing to +1200 in Phoenix.
Things appear to have stabilized a bit and he's found the some middle ground here. The form is good coming in, finishing in the top 15 in both events. He's also finished in the top 25 in three of his four starts here.
Next will be Cameron Smith at +4600. I think Smith is trending towards a victory and I'm not alone.
I've been waiting for the number to slide back a bit and we finally got that here. Smith is a strong putter on poa annua greens and is one of the best scramblers on tour. His weakness has been the tee ball, but with everyone here missing fairways, he might not be at as much of disadvantage.
Sergio Garcia rounds out my card at +5500. Last time we saw Sergio, he was freaking out in a bunker and getting DQ'd for damaging greens in Saudi Arabia. That appears to effected his number here. That kind of reaction probably led people to believe he's not playing that well, but he's really in great form overseas.
The Ryder Cup appeared to spark the Spaniard. He's been in the top 10 in seven straight events prior to the DQ. He's had some past success at Riviera and has a green jacket, so that all bodes well for Sergio.
Longshots
I'm steering clear of the real longshots this week. Nothing popped up too much to draw me in so I invested more in the placing bets for my mid-tier picks instead.
Merrick and Hahn have won here in recent years at over 100/1 but both of those wins came out of nowhere. I'll never steer anyone off a pick in this range they like, but I'm not backing anyone this time around.
My Card for the 2019 Genesis Open
Hideki Matsuyama +3300/+550 Top 5 ( 1 unit each)
Cameron Smith +4600/+650 top 5 (.72/.8 units)
Sergio Garcia +5500/+1000 Top 5 (.6 units each)
Total Stake: 4.72 units
Season: +0.7375