Sobel: Expect to See These U.S. Ryder Cup Pairings
Credit:
Credit: Kyle Terada-USA TODAY Sports. Pictured: Rickie Fowler and Justin Thomas
U.S. Ryder Cup captain Jim Furyk selected three of his four wild-card selections on Tuesday: Tiger Woods, Phil Mickelson and Bryson DeChambeau.
Tony Finau is the favorite to be the fourth selection for the American team.
Woods and DeChambeau have been planning on playing together before they were even selected, so expect that to happen when the event tees off (Sept. 28-30 in Paris, France).
NEWTOWN SQUARE, Pa. — I've written previously that I believe Tiger Woods and Phil Mickelson will avenge their fateful pairing at the 2004 Ryder Cup by getting the band back together for one final reunion tour in Paris later this month.
Now that they're both officially on the team, it becomes one step closer to reality.
On Tuesday afternoon, United States captain Jim Furyk named Woods, Mickelson and back-to-back FedEx Cup playoff event winner Bryson DeChambeau to the roster, which is now one final wild-card selection from being completed next week.
The picture regarding which players might play together as partners is similarly clearing up.
Just as Furyk's captain's picks were a slam dunk compared with European skipper Thomas Bjorn's continuing headache, his pairings should also be much easier to figure out.
All of which helps to explain the U.S. team's -120 odds three weeks before the start of the Ryder Cup, locking in the Red, White and Blue as the favorite, despite a losing streak on European soil that dates back a quarter-century.
Perhaps the biggest question is whether Furyk goes form over function, or nature over nurture for his tandems. What does this mean?
Well, the captain can take the traditional route of pairing like-minded players in foursomes (with the advantage of each guy playing from familiar situations) and opposite types in fourballs (aggressive players with conservative ones, so as to push for birdies without both players ever out of the hole).
Or he can simply go the route often preferred by Fred Couples when captaining the Presidents Cup team: If players like each other and want to play together, he'll make it happen.
My gut feeling is that Furyk will offer up a combination of the two strategies.
The latter will enable us that aforementioned Tiger-Phil pairing. As I've written before, if Tiger wants it and Phil wants it, do we really think Furyk is going to disallow it? Of course not.
But I also think that could be a one-and-done thing.
For the most part, the six proposed pairings below for the U.S. squad are fairly sensible — and while some might fit the foursomes or fourballs format better, they all tend to fit together like pieces of a puzzle.
Jordan Spieth/Patrick Reed
Here's your first no-brainer. This pairing played four matches together at Hazeltine, compiling a 2-1-1 record.
While Spieth might enjoy playing with a guy such as Justin Thomas or even Mickelson, he understands that he and Reed have a good thing going. Don't expect Furyk to be the one to break it up.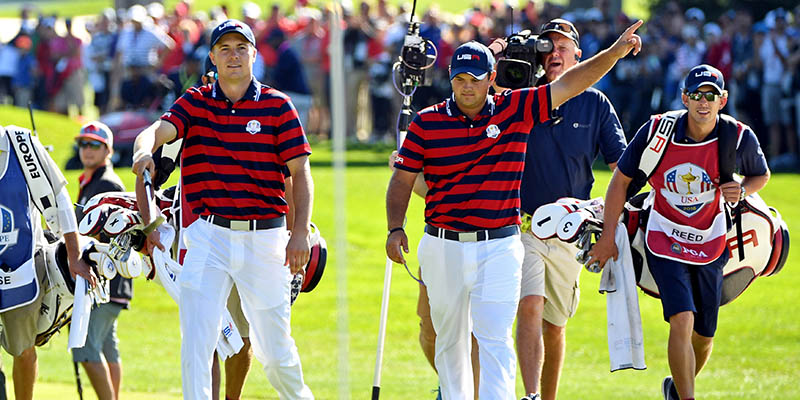 Justin Thomas/Rickie Fowler
It's hard to believe that JT is a rookie on this team, considering he's accomplished so much in the two years since the last Ryder Cup.
Granted, the Presidents Cup might not be the same caliber of competition – or expectations – but these two owned a 2-0-1 record together at Liberty National last year.
This one isn't as much of a slam dunk as Spieth/Reed — it wouldn't be a complete shock to see Thomas get a chance with Woods, and Fowler team with Mickelson — but it's still very likely to take place.
Dustin Johnson/Brooks Koepka
They're good friends, they play similar styles of golf, they own like-minded attitudes and mindsets toward the game.
There's some sense that Koepka might have to take over the alpha-dog role to DJ's laid-back demeanor, but that might be overthinking things too much.
Instead, consider this: They're two of the best players in the world and both make a ton of birdies. Put 'em together and good things are bound to happen.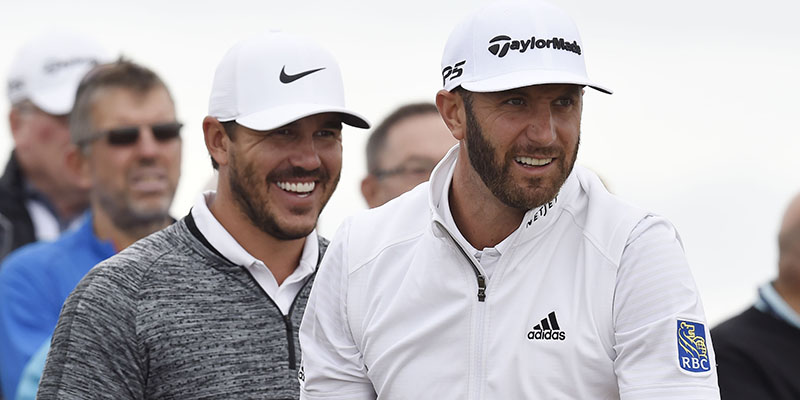 Bubba Watson/Webb Simpson
That's right, my fellow Americans: Here's the team you love to hate. They were paired together four years ago, setting the wrong tone at Gleneagles by losing 5 and 4 in the opening match on Friday morning.
Even so, on a team of likable characters, they each probably receive too much criticism, simply because of the process of elimination. Simpson, in particular, is a much-improved player from four years ago.
His steady brand of golf should allow the big-hitting Watson to play aggressively in fourballs.
Tiger Woods/Bryson DeChambeau
In perhaps the worst-kept secret in golf, these two were planning on a partnership before even being officially named to the team.
Tiger might get a session with Phil, but he'll also play with Bryson, whose current title of "hottest golfer on the planet" should offer a nice vibe to the proceedings.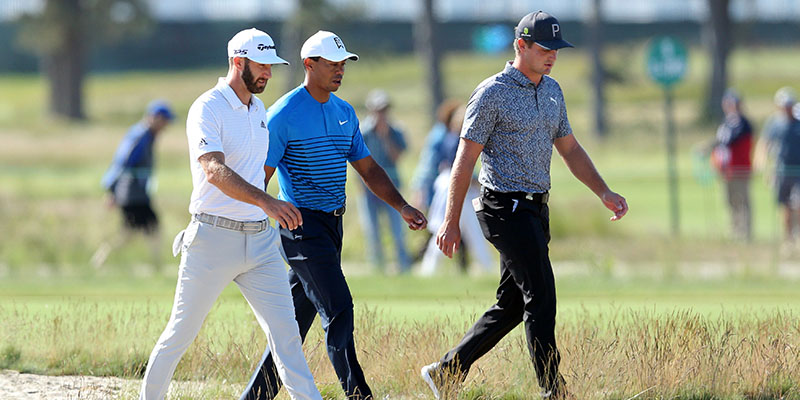 Phil Mickelson/Tony Finau
The truth is, this might be the lone twosome that doesn't appear like a natural pairing, but it does make some sense.
Mickelson has often chosen a rookie to take under his wing in team competitions — from Anthony Kim to Keegan Bradley to Kevin Kisner — and Finau would fit that bill yet again.
For a guy such as Finau who might be a little nervous at the start, the veteran left-hander should serve as a calming presence alongside him.
How would you rate this article?