Zerillo's 2020 MLB Win Totals and Futures: Should You Fade the Red Sox?
Credit:
Paul Rutherford, USA Today Sports. Pictured: Mookie Betts
Note: This article has been updated on Jan 6, 2020, to include both updated  2020 projections and additional wagers after both FanDuel and William Hill released Win Totals. Listed win totals, and listed divisional odds reflect the best odds currently available at FanDuel (NJ), PointsBet (NJ), or William Hill (NJ)
Without question, my single favorite betting market is MLB win totals – something which, in the past, typically opens after the conclusion of the Super Bowl.
So when I learned that PointsBet put out 2020 MLB win totals and divisional futures earlier this week, two months ahead of schedule, it threw a giant wrench into my offseason plan.
I spent much of Wednesday in a flow state — failing to eat or acknowledge the needs of my dog while I combined data for ten consecutive hours — first projecting runs scored and against for each of the 30 teams, then converting those totals into win projections, divisional odds, and World Series odds.
On Thursday, I boarded the PATH train from 23rd street in Manhattan to Hoboken terminal in New Jersey, paying the $2.75 fare (read: vig) for the right to be in a location — just a couple of miles west of New York —  where I could legally enter bets. 
An efficient bettor who knows precisely what they're looking for can get right in and right out of New Jersey — locking in their bets from the train platform, below ground, to save their return fare.
---
Looking to bet MLB season win totals? Check out PointsBet, where Action Network users can access an exclusive promotion to get a 200% deposit match (deposit $50, bet with $150). No strings attached. No rollover required.
---
Living a life of leisure, I temporarily departed from the terminal while seeking out a bar or coffee shop (any will do), to do some line shopping.
Here's what I bet in Hoboken, New Jersey — the most comprehensive mobile sportsbook for New York customers:
NL East
Heading into 2019, I had the top four teams in the NL East all projected between 83.5 and 88.5 wins, so not much has changed within this extremely competitive division.
I have the top four teams in the NL East all projected within four wins of one another this season – and I don't see actionable value on any win totals or divisional odds here.
NL Central
The Cubs under was probably my favorite win total play in 2019– and their Over/Under for 2020 year opened at the same number as their closing total last year.
I have more trepidation about the number this season because the Brewers and Pirates are trending towards a full rebuild — leaving extra wins on the table for the other teams in this division — but Chicago may trade Kris Bryant, retains the oldest starting rotation in MLB (with zero-depth), and their bullpen remains a glaring weakness.
As I said last year, "I'll gladly play the under on a total that I consider to be set one win below the ceiling for a team."
In terms of divisional bets, I'll take the slight value on the Reds at +350, which implies a 22.2% win probability – a 2.3% edge compared to my projection (24.5%, +310).
They should continue to add to their roster,  as they did with Mike Moustakas, and have made some great additions behind the scenes – bringing in Driveline Baseball founder Kyle Boddy for their pitching department and adding Alan Zinter from the Giants as their hitting coach.
Jan 6 Update: William Hill opened the Reds at +500 to win the NL Central, which implies a 16.7% win probability, and I added a 1.5 unit play on Cincinnati at an expected 7.7% edge.
Adding Shogo Akiyama could prove to be a significant upgrade for their outfield; the Japanese import profiles as an Adam Eaton type at the MLB level.
Also, note that the Cubs total is as low as 86.5 at William Hill – so under 88.5  at PointsBet continues to look extremely actionable.
NL West
The Arizona Diamondbacks are the only win total play in this division and another repeat customer from last year.
Arizona was a popular public fade target last offseason after trading Paul Goldshmidt, and they also dealt Zack Greinke in season – but this organization managed to reload rather than rebuild and won 85 games – surpassing their total by 9.5 wins.
Their secret to overachieving? Defensive excellence, finishing just behind the Oakland Athletics as the No. 2 team in defensive rating, per FanGraphs.
As I noted before last year, good defensive teams tend to surpass their win totals – and the Diamondbacks are a solid bet to beat their number again this season.
Although I only see an advantage of 2.5 wins against their listed total, the wins market is over-inflated by 31 wins overall – more than one per team; so I have a lower threshold for betting overs than I do for unders.
Jan 6 Update: William Hill opened the Dodgers win total at 100, and I was able to grab a share of their under before it was bet down.
I'm significantly lower on the Giants than the rest of the market, and I grabbed a share of their under as they move out of the Bruce Bochy era.
I also added another unit on the Diamondbacks over, albeit at a higher number than my initial play. Arizona finished with 88 expected wins last season and free-agent addition Kole Calhoun fits right into their run prevention identity.
AL East
The Yankees opened around even money to win the AL East — and by the time that I finished projecting the league, their divisional odds dropped to -200.
The Rays should be terrific thanks to their depth, but I'm concerned about the arm injuries suffered by Blake Snell and Tyler Glasnow in the middle of last season. If those injuries popup again, Tampa Bay could fail to hit 90 wins.
The Red Sox are my favorite under bet this year, and I had the opportunity to fade them uniquely via Pointsbet.
Not only did I bet the under on their fixed odds total at 93.5, but I also pointsbet their under at 92, meaning that I would win 1x my wager if they finish with 91 wins, 2x if they finish with 90 wins, and so on.
If the Red Sox finish with 93 wins, I will lose 1x my wager; 2x if they finish with 94 wins, and so on.
I projected the Red Sox at 85 wins — and if they finish with exactly that number, I'll win 7x my initial wager.
With new general manager Chaim Bloom at the helm, Boston is cutting costs at the expense of the on-field product — leading to Mookie Betts, David Price, Jackie Bradley Jr., and others being shopped.
Chris Sale struggled through much of 2019 before being shut down in August with an elbow injury — and I'm incredibly skeptical that he'll either (1) improve or (2) make it through all of 2020, after displaying such a significant velocity decline: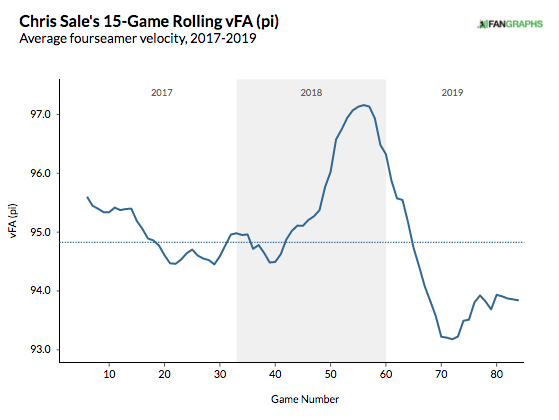 And Boston's rotation has very little depth, especially after Rick Porcello signed with the Mets, which could present a significant problem if and when Sale misses time.
From a pointsbetting perspective, Boston is the perfect team to fade – because I think that there's a better chance that they finish .500 than surpass their win total – leaving significant upside with a little downside that you will lose multiples of your initial bet.
AL Central
If you read my other futures piece, you would know that I jumped on the White Sox early — and I'm happy to add to my portfolio on this team by adding both an over play and divisional future bet.
Although I see significant value on the Twins under, I didn't bet as much on that line as you might expect – because it felt like I was continuing to double down on Chicago; but I did make a small play there.
Now to see if someone will offer me odds that the White Sox finish with more wins than the Cubs this season…
Jan 6 Update
Delightfully, William Hill opened the White Sox at +500 (implied 16.7%) to win the AL Central, shortly before they signed both Dallas Keuchel and Edwin Encarnacion.
I added a 2.5 unit play on Chicago at the open, at an anticipated 16% edge, and the number has now been bet down to +300.
AL West
Anthony Rendon signed with the Angels on Wednesday night shortly after I made these projections – and their listed win total immediately climbed by three wins.
After the news, I adjusted the Angels upwards by one win – so the general reaction to the signing appears to be overblown.
Rendon is an excellent player, to be sure – but the Angels pitching is woeful – and a flyball pitcher like Dylan Bundy doesn't necessarily fit with a potentially elite defensive infield containing Rendon, Andrelton Simmons, and David Fletcher.
Instead, the A's are the team I'm eyeing to win this division as their young core finally comes together in 2020 – with a talented group of position players combining with the A's young arms, including Jesus Luzardo, A.J. Puk, Sean Manaea, and Frankie Montas.
Oakland's projected 2020 rotation is significantly better than what they trotted out last season – though its still a tall task to overcome the Astros multiple All-Stars and bevy of talented prospects.
Jan 6 Update
I added two units on the Athletics at +400 (implied 20%) at William Hill, a 13.3% edge compared to my projection of +200 (implied 33.3%).
I also played the under on the Rangers win total, as they are still clearly the fourth-best team in this division.
Texas needs to add either Josh Donaldson or Nolan Arenado to their 2020 roster to justify a listed total within a couple of ticks of a .500 record.
2020 World Series Odds
Below, you will find my fair odds projection, compared to the listed odds at PointsBet, on each team to win the 2020 World Series.
Here  are the four teams that offer World Series betting value:
I added a half unit on the Cincinnati Reds to win the World Series, because I think they will continue to be active throughout the offseason, and believe that their odds will close nearer to +3000 than +5000 by opening day.
2020 MLB Futures (so far)
MLB Win Totals
Arizona Diamondbacks, Over 80.5 Wins (1 unit); Over 82 Wins (1 Unit)
Boston Red Sox, Under 93.5 Wins (5 units)
Boston Red Sox, Under 92 Wins (PointsBet at 0.33U per win)
Chicago Cubs, Under 88.5 Wins (2 units)
Chicago White Sox, Over 81.5 Wins (2 units)
Los Angeles Dodgers, Under 100 Wins (1 Unit)
Minnesota Twins, Under 90.5 Wins (1 unit)
San Francisco Giants, Under 72.5 Wins (1 Unit)
Texas Rangers, Under 79.5 Wins (1 Unit)
Divisional Futures
AL Central: Chicago White Sox (+375, 1 Unit); (+500, 2.5 Units)
AL West: Oakland Athletics (+350, 1  Unit); (+400, 2 Units)
NL Central: Cincinnati Reds (+350, 1 Unit); (+500, 1.5 Units)
HR Title
Nelson Cruz (+8000, 0.5 Units)
Franmil Reyes (+10000, 0.5 Units)
Miguel Sano (+10000, 0.5 Units)
Giancarlo Stanton (+2000, 0.5 Units)
Pitching Wins Leader
Shane Bieber (+5000, 0.5 Units)
Clayton Kershaw (+6000, 0.5 Units)
World Series Futures
Chicago White Sox (+7500, 1 Unit)
Chicago White Sox (+6000, 0.5 Units)
Cincinnati Reds (+5000, 0.5 Units)
How would you rate this article?