2022 Fantasy Baseball Rankings and Draft Strategy: Corbin Burnes, Gerrit Cole Headline Starting Pitcher Tiers
Credit:
Justin Casterline/Getty Images. Pictured: Corbin Burnes
Major League Baseball is fast approaching, and soon we will be feeling that warm spring sunshine that means the start of baseball.
Today, we move into starting pitchers. Everyone loves an excellent 101-mph fastball or even a sword on a nasty slider that takes a batter to his knees.
This year, starting pitching is as deep as ever. We see more than 30 pitchers falling in the top-100 of average draft position (ADP). So let's get into the tiers:
---
Other Fantasy Baseball Tiered Rankings:
Catchers
First Base
Second Base
Third Base
Shortstop
Outfield
---
Tier 1
1. Corbin Burnes, Milwaukee Brewers
2. Gerrit Cole, New York Yankees
These two genuinely do not have faults. They are both excellent pitchers who see their average position fall within the first 10 picks in your typical raft. If you would like to draft a sure and steady rock to your team, you should go for it. It is a little too rich for a position with injuries popping up out of the blue constantly. I prefer to lock in as many elite bats early as possible. 
It is hard to overlook how dang good Corbin Burnes was last season. His 1.63 FIP (min 150 innings) was the lowest we have seen in a season since Pedro Martinez in 1999, while his K/9 of 12.61 is the seventh-highest since 1980. In 2021 he had four(!) different pitchers with an SwStrk% greater than 15%.
He also has a cutter that sits at 95 mph and can touch 99 that pairs with a curveball that hitters had a .069 average against. His arsenal is absurd, and while he may not give you the 200+ innings like some starters, his value in 170 innings is just as significant. 
Gerrit Cole is safer than Burnes, and he has been a mainstay at the top of the fantasy pitchers list for years now. He has thrown over 200 innings five times since 2015. Also, he plays on a good Yankees team which should provide you wins. He has had a K-rate greater than 30% in four consecutive years. Therefore, the Yankees ace is a safe bet if you want to lock into a first-round starter. 
Tier 2
3. Max Scherzer, New York Mets
4. Brandon Woodruff, Milwaukee Brewers
5. Jacob deGrom, New York Mets
6. Walker Buehler, Los Angeles Dodgers
7. Aaron Nola, Philadelphia Phillies
8. Zack Wheeler, Philadelphia Phillies
9. Shane Bieber, Cleveland Guardians
In the second tier of pitchers, we start venturing into the late second to late third price for pitchers. I still feel like this is a little rich for my blood. However, if they fall until the fourth, I am thinking about taking my shot on them. 
First, I have to talk about everyone's favorite elbow, which belongs to Jacob deGrom. When deGrom came into the league in 2014, his fastball sat around 94 mph. Since then, he has steadily increased his fastball until it sat at a ridiculous 99.2 mph, which he pairs with a slider that has an SwStrk% of 34%.
He allowed a whopping 14 runs in 92 innings last season. But the reason he is in the second tier of pitchers is the injury worry. He was shut down last season due to forearm tightness, and the Mets don't exactly have a strong history of managing pitching injuries wisely.
If you want to risk that he can throw 150+ innings or even 200 innings, he will be the most valuable pitcher in the league. Nevertheless, his 20 ADP is too rich for my blood. 
Walker Buehler may have just produced the quietest 5.5 fWAR seasons you'll see. Maybe it is because he didn't have that sexy 30% K-rate like all the other pitchers in these tiers. Still, the right-hander pitches for the Dodgers, which is a cheat code for wins. He is built like a workhorse, and he should easily produce over 190 innings with excellent ratios. All pitchers can be risky, but I feel like you are doing your best to minimize that risk with Buehler.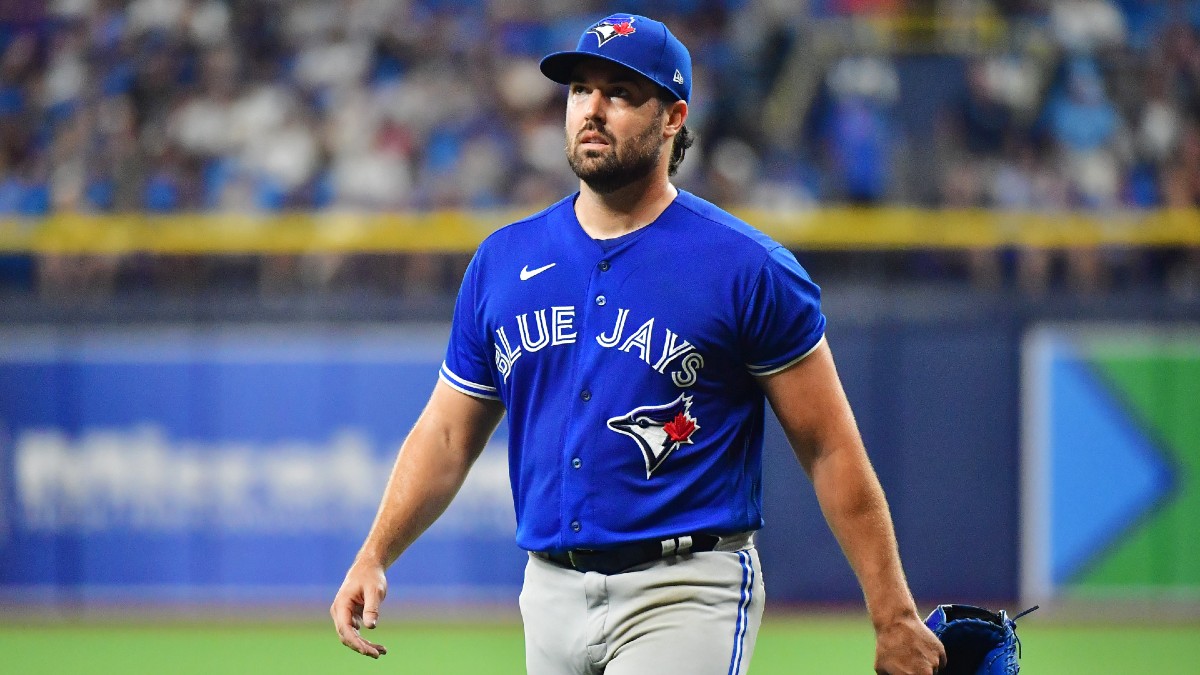 Tier 3
 10. Freddy Peralta, Milwaukee Brewers
11. Sandy Alcantara, Miami Marlins
12. Robbie Ray, Seattle Mariners
13. Julio Urias, Los Angeles Dodgers
This tier is where I am getting more interested in taking the shots on starters, especially the slightly cheaper options in Alcantara (39 ADP) and Peralta ( 56 ADP). They put together career years in 2021 and can look to build on their spectacular season while not costing your arm and/or leg. 
Robbie Ray is someone I have been a vocal proponent about in the past. His name carries extreme opinions across the fantasy baseball landscape. But who doesn't love big sweeping sliders that hitters have a career average of .198 against? The significant concerns with Ray is that he gives up a lot of quality contact and too many home runs. 
Last season, Ray changed his approach, resulting in his zone-percentage rise from 36.2% to 43.8% (MLB average – 42.1%). Batters had a swing percentage nearly 10% more than they had in 2020, and it was all because Ray focused on throwing strikes than making the perfect pitch. He was no longer wiggling around the edges of the strike zone.
The newly acquired Mariners pitcher has always generated strikeouts, which won't change. I think we can see a low 3 ERA pitcher with tons of strikeouts at a cheap price of 42 ADP.
Tier 4
14. Kevin Gausman, Toronto Blue Jays
15. Lucas Giolitio, Chicago White Sox
16. Joe Musgrove, San Diego Padres
17. Logan Webb, San Francisco Giants
18. Lance Lynn, Chicago White Sox
19. Jose Berrios, Toronto Blue Jays
Ideally, I would like to leave the draft with one starter from the third tier, but I am comfortable taking my first pitcher in tier-4. 
The guy I'm most enamored with in this tier is new Blue Jay Kevin Gausman. Since he decided to sign in Toronto, he has seen his ADP slowly drop due to the gauntlet that will be the AL East this season. There is just so much to love still with Gausman, however. Last season, he had an excellent K-rate at 29.3% and a 6.5% BB-rate while holding batters to a .208 average. His WHIP has hovered around the 1.05 mark the last two seasons. 
Gausman has mainly turned into a two-pitch pitcher in the last two seasons. He offers a four-seam fastball which sits 94.6 mph and a nasty splitter which he threw 35.3% last year. He will mix in a slider and changeup about 10% of the time.
His splitter is what makes his bacon, with near Ohtani levels of success with the pitch. Hitters managed just a .133 AVG and a .175 wOBA versus it last year, and it carried a 24 SwStrk rate. His stuff is fun, and he plays on a good team that should rack up wins. What is there not to like about Gausman and his 57.2 ADP?
Joe Musgrove has been everyone's favorite sleeper for years, but he finally showed why last year after moving from Pittsburgh to sunny San Diego. He produced a dazzling 3.18 ERA while striking out 27.8% of batters and carrying a 1.08 WHIP.
If you have noticed a pattern yet, I like good pitchers on good teams, and Musgrove fits that mold. His curveball and slider are both exceptional. They carry batting averages under .200 and wOBAs under .230. He just needs to take the next step with his fastball control to become a top-of-the-line fantasy starter.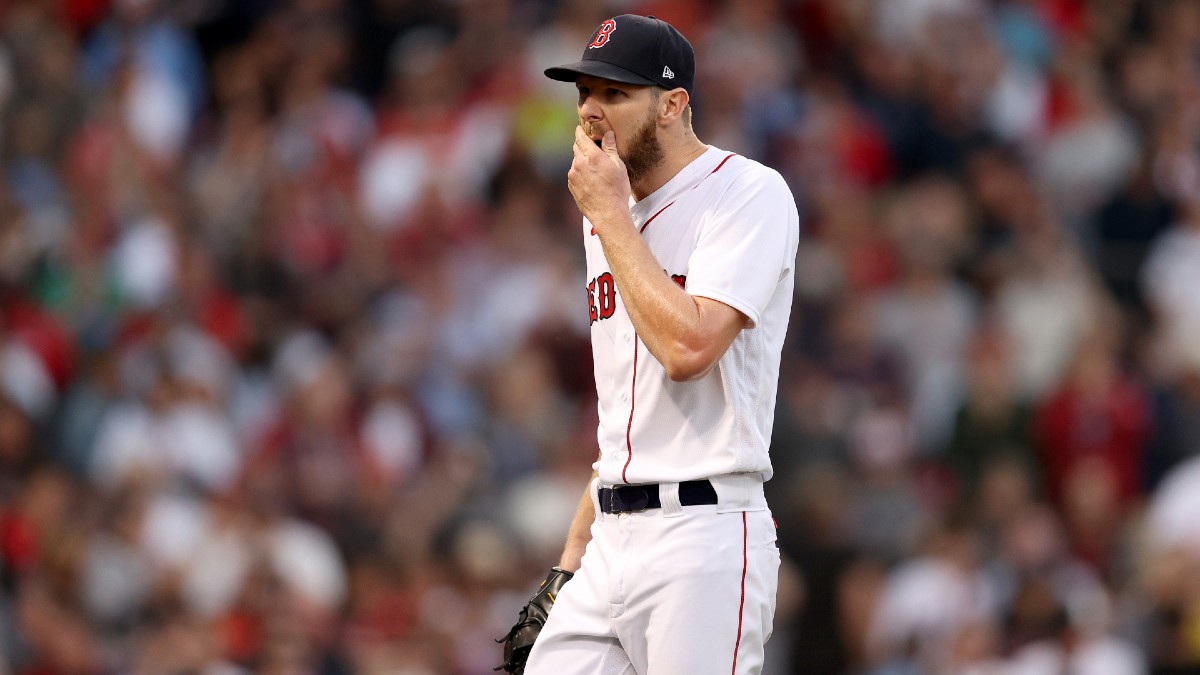 Tier 5
21. Charlie Morton, Atlanta Braves
22. Luis Castillo, Cincinnati Reds
23. Dylan Cease, Chicago White Sox
24. Max Fried, Atlanta Braves
25. Justin Verlander, Houston Astros
26. Alek Manoah, Toronto Blue Jays
27. Trevor Rogers, Miami Marlins
28. Shane McClanahan, Tampa Bay Rays
29. Chris Sale, Boston Red Sox
30. Frankie Montas, Oakland Athletics
We are now in one of my favorite spots in the draft: The place where you have players reaching for bats that are questionable, and you can scoop up some pitching value that starts to fall. 
In 2021, we saw Chris Sale back on the mound for the first time since 2019. Honestly, if you asked me how old Sale was, I would have guessed around 35, but he is still only 33. The lefty has always been a favorite of mine, mixing a funky arm angle with a devastating slider to produce a career K-rate of 30.6%.
Unfortunately, he has recently been hit with a rib injury which has caused him to dive down draft boards. However, I don't think the rib injury will cause a lingering issue, and if you can get a juicy discount on a potential 30% K-rate pitcher, I think you should take the opportunity if he falls outside the top-100.  
Tier 6
31. Blake Snell, San Diego Padres
32. Yu Darvish, San Diego Padres
33. Carlos Rodon, San Francisco Giants
34. Jack Flaherty, St. Louis Cardinals
35. Zac Gallen, Arizona Diamondbacks
36. Clayton Kershaw, Los Angeles Dodgers
I want to call this tier the walking injury tier because all of these guys have been prone to picking up injuries in the past, and without them, they would probably be landing a bit higher in the rankings. 
I like taking a shot on Blake Snell in this area. He saw some great results from August onward last year with a 13.25 K/9 and a 1.72 ERA while nearly completely shelving his changeup, with a usage rate of only 0.8%. He had thrown it almost 15% of the time before the change. He leaned more on his slider down the stretch, which has always been the best part of his repertoire.
I look forward to seeing if the league will adjust to this usage change, but at his cheap 112 ADP, I like taking a shot on him.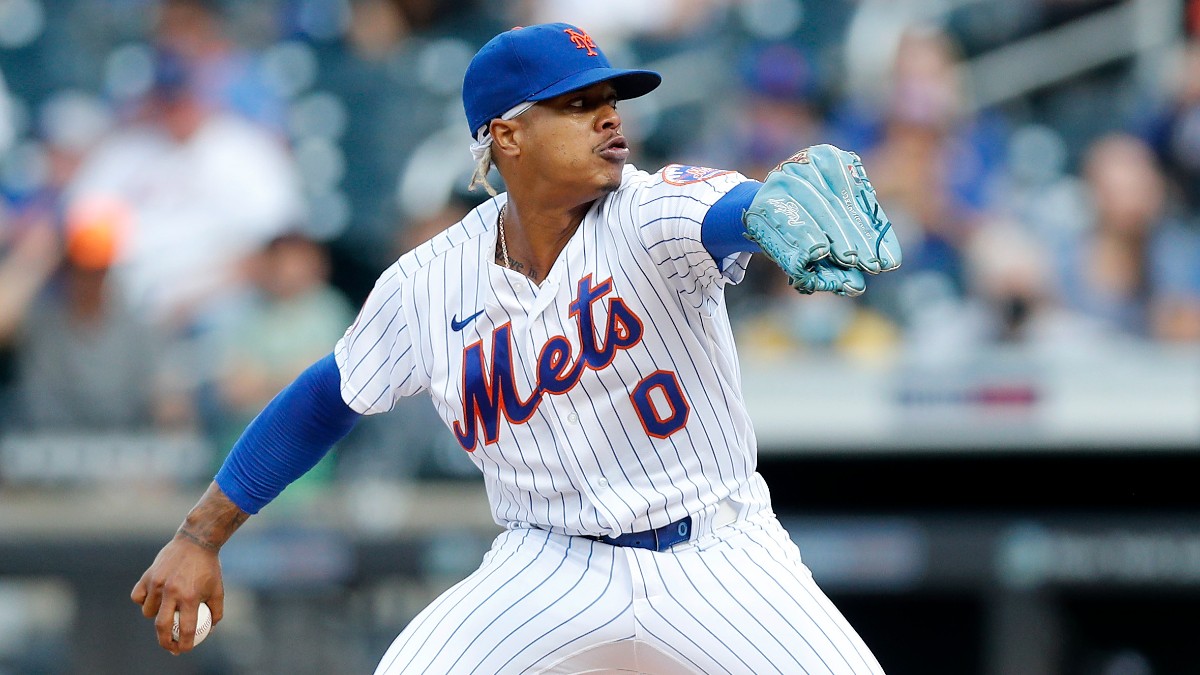 Tier 7
37. Tyler Mahle, Cincinnati Reds
38. Chris Bassitt, New York Mets
39. Marcus Stroman, Chicago Cubs
40. Nathan Eovaldi, Boston Red Sox
41. Shohei Ohtani, Los Angeles Angels
42. Michael Kopech, Chicago White Sox
43. Eduardo Rodriguez, Detroit Tigers
44. Luis Severino, New York Yankees
45. Lance McCullers Jr., Houston Astros
This is another tier to show how dang deep that starting pitching is this year. Stroman put up a 3 ERA and 1.15 WHIP last season with the Mets and is consistently outside the top-150 in ADP. He pairs well with a Sale; his ability to rack up innings will pair with a player with health concerns, but should be extremely valuable in the innings that he does pitch.
You may notice how low I have Ohtani, which is due to sheer lack of volume. He has thrown 180 innings since making his debut in 2018, and 130 of those innings were last season. When on the mound, he is incredible, but any sniff of injury and he will be shut down from pitching. However, his bat is too valuable for the Angels to miss. 
How would you rate this article?
This site contains commercial content. We may be compensated for the links provided on this page. The content on this page is for informational purposes only. Action Network makes no representation or warranty as to the accuracy of the information given or the outcome of any game or event.