Astros vs. Nationals World Series Game 3 Betting Picks, Odds & Predictions: Will Houston Avoid a 3-0 Hole?
Credit:
Noah K. Murray, USA Today sports. Pictured: Zack Greinke
Updated odds for World Series Game 3 have the Astros as -160 favorites and the Nationals +135 underdogs.
Sean Zerillo breaks down every facet of the game below, and offers his take as to which bets hold value.
Astros vs. Nationals Betting Odds, Picks & Predictions for World Series Game 3
Probable starters: Zack Greinke (18-5, 2.93 ERA) vs. Anibal Sanchez (11-8, 3.85 ERA)
Astros odds: -134
Nationals odds: +124
Over/Under: 8
First pitch: 8:07 p.m. ET on FOX
---
Odds as of Wednesday and via PointsBet, where Action Network users can access an exclusive promotion to get a 200% deposit match (deposit $50, bet with $150).
---
After coming within a few outs of elimination against Josh Hader and the Brewers in the NL Wild Card game, the Nationals are now two wins away from their first World Series championship.
They have already upset Gerrit Cole and Justin Verlander on the road and now have the chance to clinch, in front of a raucous home crowd, against Zack Greinke and the Astros bullpen in Games 3 and 4.
To keep their World Series hopes alive, the Astros need to win four out of five games in six days, including two out of three road games to send this series back to Houston.
Can Zack Greinke, who has allowed 15 hits and 10 runs over 14 postseason innings, right the ship for the Astros (and himself) in Game 3?
Or will Anibal Sanchez, who has allowed one run between his two postseason starts, continue to serve as an effective change of pace to the Nationals' power strikeout arms?
The Starters
The most significant benefit of the Astros using Zack Greinke in a road start for Game 3? Houston gets a de facto DH out of the No. 9 spot in their lineup, as Greinke led all pitchers with three homers and eight extra-base hits this season – despite playing in the AL for two months.
He now has nine career home runs.
Greinke has also recorded 16 strikeouts over 14 innings in these playoffs but didn't have his best command against the Yankees – permitting three first-inning walks for the first time since 2007.
For a pitcher who posted the third-best walk rate in MLB this season, it was a real shocker.
Conversely, Anibal Sanchez has looked almost unhittable in these playoffs after posting a 5.10 xFIP in the regular season – the seventh-worst mark amongst 61 qualified starters.
So why is Friday's total so low?
Sanchez is making his second World Series start, previously reaching the Fall Classic with the 2012 Tigers, and he gets the nod here in Game 3 after Patrick Corbin worked in relief in Game 1.
I highlighted Anibal before Game 3 against the Dodgers, and again before Game 1 against the Cardinals, nothing that Sanchez:
Limits hard contact, ranking in the 96th-98th percentile in hard-hit rate allowed over the past two seasons.
Began throwing his signature cutter in 2015
Relies on six different pitches, most of which are fastballs or off-speed
Has shown a declining strikeout to walk ratio, which is 3.59, 3.21, and 2.31 over the past three seasons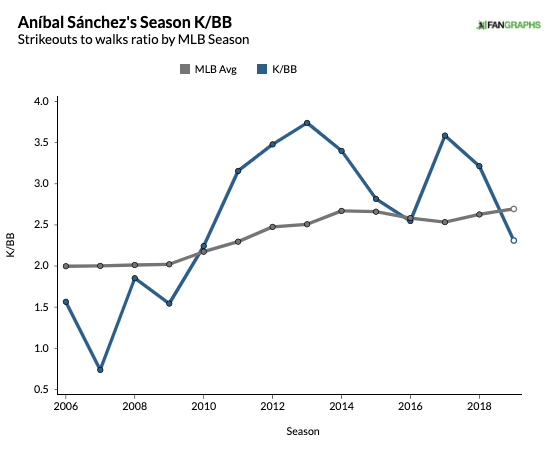 In that Game 1 start against the Cardinals, Sanchez allowed one hit and one walk over 7.2 innings:
He has recorded 23 swinging strikes on 190 postseason pitches, suitable for a 12% whiff rate, which is two percent above his season average.
But the variety of offerings used to generate those swinging strikes is most telling of his archetype:
Changeup: 8
Splitter: 6
Cutter: 4
Fastballs: 4
Curveball: 1
However, Sanchez still has the profile of a pitcher who is overdue for regression, with an ERA more than half a run better than his FIP, and a full run better than his xFIP.
The Astros league-leading offense (125 wRC+) seems ripe to exploit the one Nationals' starter that isn't named Corbin, Scherzer, or Strasburg.
Zack Greinke went 8-1 with a 3.02 ERA (3.28 FIP, 3.72 xFIP) in 10 starts with Houston after the trade deadline, carrying a no-hitter into the ninth inning against the Mariners in his final regular-season start.
I had the opportunity to preview Greinke before Game 3 against the Rays, and again before both Game 1 and Game 4 against the Yankees.
I have demonstrated the following things about the future Hall-of-Famer
Won four consecutive gold gloves, and remains the best fielding pitcher in MLB
Ranks in the 11th percentile in fastball velocity
Pounds the zone early (67% first-pitch strikes, seventh amongst qualified starters)
Limits walks (third amongst qualified starters).
Has the same career chase rate or outside swing rate (33%) as Stephen Strasburg – but Strasburg induces whiffs on those swings about 10% more frequently
Adds and subtracts from his offerings, making some pitches indistinguishable until they start to move
Loves to utilize a slow curveball to keep hitters off balance
Current Nationals hitters have a .267/.312/.364 (.676 OPS) triple-slash line against Greinke in 217 at-bats.
His whiff breakdown by pitch-type in these playoffs:
Slider: 11
Changeup: 10
Fourseam: 8
Curveball: 4
Even if you have below-average fastball velocity, you can continue to generate whiffs by correctly sequencing and accurately locating your pitches:
If Greinke can make the Nationals chase his pitches outside of the zone, which the Yankees mostly refused to do, he should be able to give Houston a productive outing: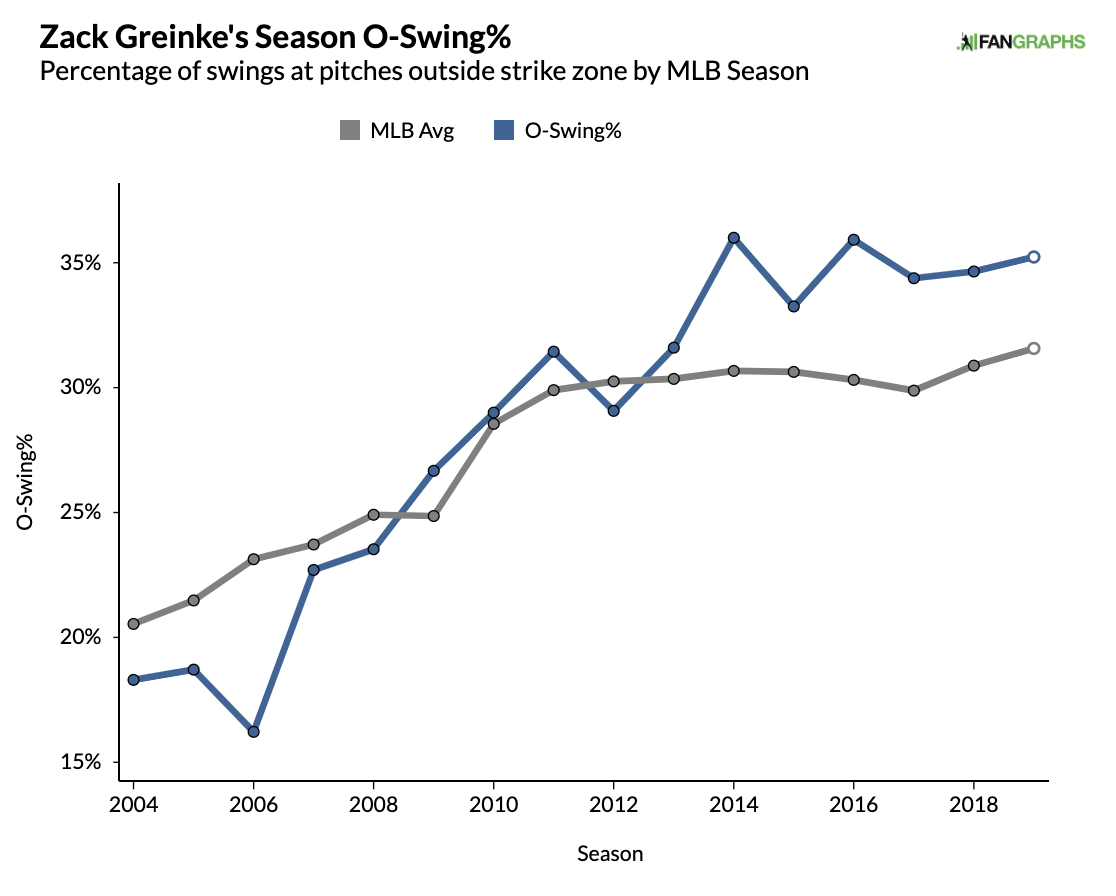 The Bullpens
On the season, the Astros bullpen ranks 11th in FIP, first in xFIP and first in K-BB%. By the same metrics, the Nationals rank 26th, 29th and 23rd.
Tanner Rainey was the only reliever from either team to pitch in both Game 1 and Game 2 – throwing a combined 31 pitches between the two outings.
Rainey should be available on Friday after the day of rest.
Below you will find the updated postseason stats for the two bullpens heading into Game 3 of the World Series:
Projected Lineups
Data per FantasyLabs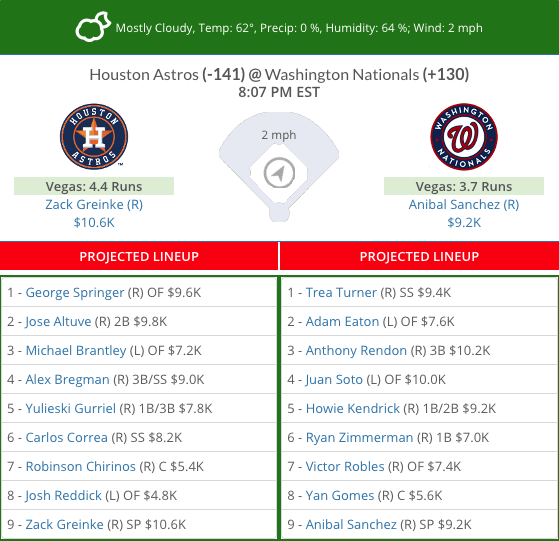 The Astros will have to decide whether to play regular DH Yordan Alvarez in the outfield (he played 10 MLB games in left field) under NL rules.
Considering that the rookie is in the midst of a 10-for-47 postseason slump, it may be an easy decision to sit him on Friday.
Umpire and Weather Report
Data per Sports Insights

Gary Cederstrom has been an MLB umpire since 1989 but has had a neutral history with regards to totals (50.7% lean to the under) since 2005.
Favorites have won at a 58.8% clip (285-200) with Cederstrom behind the dish.
This is Cederstrom's 10th playoff game working the plate over that period – unders and favorites are both 5-4.
At 482-453-47 (51.6%), Nationals Park is the sixth most profitable stadium for over bettors since 2008, though totals are 7-7-2 in postseason games.
Trends to Know
The American League owns a 66-48 head-to-head record against the National League in the World Series.
Since 2005, road teams are 7-7 in Game 3 of the World Series, and underdogs are 6-8 straight up. Overs are 20-19-1 under NL rules.
Visiting favorites are 12-9 (57.1%) in World Series games over the same period.
Zack Greinke is 157-79-41 (66.5%) as an F5 moneyline favorite, the most profitable F5 favorite (+$1,833 for a consistent $100 bettor) in our database.
However, Greinke is 54-40-18 (57.4%) as an F5 road favorite, generating a slightly negative return (-$216).
The Nationals are 11-16 (40.7%) as a home underdog over the past two seasons.
Series Moneyline Corner
With a 2-0 series lead, I project the Nationals to win this series 73% of the time, implied odds of -270.
Oddsmakers have re-listed the Nationals as a -260 series favorite (implied 72.2%) before Game 3, representing a value gap of 0.8% from my projection.
I would need to see a price of -245 (implied 71%) or better on Washington to bet their series price at a two percent edge.
Conversely, I would need to see a price north of +300 (implied 25%) to back the Astros, at a two percent edge, to win four out of five games to win the World Series.
Below, you will find my updated projection for purposes of betting the exact series result, including the actionable odds (all set at a two percent expected edge) that I would need to see to place a bet out that outcome:
Note that I would project the Nationals as a -900 favorite (implied 90%) with a 3-0 series lead, but I would move them to -144 (implied 59%) if the Astros take Game 3.
Model Projected Odds: World Series Game 3
Favorite Bets
I projected the Astros as a -124 favorite in this game, and I set the total at 9.69 runs. Therefore, I see substantial value on the over, but nothing on either side of the moneyline. 
I would play the Astros (either F5 or full game moneyline) at -110 (implied 52.4%), which represents a three percent gap in expected value from my projection.
Similarly, I would play the Nationals (either F5 or full game moneyline) at +140 (implied 41.6%) or better – a number that also represents a three percent edge compared to my projection.
I put two units on over 7.5 (+100), which represents a 12.5% edge in expected value from my projection. 
I would continue to play over 8 (-120), a five-percent edge, or 8.5 (-110), a four-percent edge, but that's about where I would set the cutoff on betting the over.
I also placed a half-unit wager on over 4.5 (+105) in the first five innings, a number which represents a  nine percent edge from my projection (5.45).
[In New Jersey? Bet Game 3 of the World Series at PointsBet]
How would you rate this article?