FanDuel Dinger Tuesday Picks | Home Run Props for Alec Bohm, Jordan Walker, More on April 11
Credit:
Larry Radloff/Icon Sportswire via Getty Images. Pictured: Jordan Walker
One of the most popular promotions in all of the sports betting community is back once again this week: Dinger Tuesday from FanDuel.
The promotion allows each user to bet $25 on one player in every MLB game played that day to hit a home run. Regardless of whether or not the player you bet on homered, you receive $5 in free bets back for each home run hit in the game, with a max return of $25 for the game.
Some users have been limited by FanDuel this season and are only allowed to receive a maximum $50 back in free bets — essentially 10 free homers back for the day in free bets. Last season, there were no limits on the promotion for any players.
Given the average number of home runs in an MLB game in 2022 was 2.14, you will receive an average of $10.07 in free bets back for each $25 home run bet you make, without accounting for the loss in expected value on the vig of the home run yes prop.
If you're not limited at all, you should play as many games as you're comfortable with because the promo is still +EV for most of the board.
If you are limited to the max return of $50, an average of five games will return your $50 maximum free bets. Note: It could be fewer than five games to reach the $50 ceiling if home runs increase again in 2023, which signs show they clearly are.
Here are my five favorite Dinger Tuesday picks for this week:
Astros at Pirates, 6:35 p.m. ET
Pick: Yordan Alvarez +360
The Astros' slugger may be the best pure hitter in all of baseball and his combination of power and discipline is at the level of all time great hitters. Alvarez has already barreled five balls in his first 29 batted ball events in 2023, good for a 17.3% barrel rate. When you combine that with his well above average chase rate and strikeout rate and you have a hitter with a very red Statcast profile to begin 2023.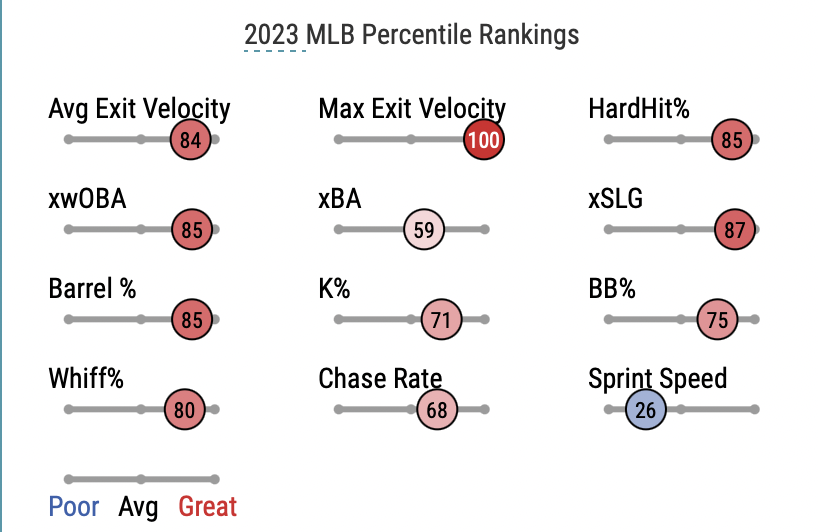 Anytime you're able to get Alvarez at that price against a right-handed pitcher, you have to take him. He's a generational talent and has the highest average launch angle of his career thus far this year. The weather is in the 70s in Pittsburgh with a wind out to center as well, so it should be a favorable hitting environment for mid-April.
---
Marlins at Phillies, 6:40 p.m. ET
Pick: Alec Bohm +600
There's a lot of market respect for Marlins lefty starter Jesus Luzardo after two dominant starts, but I think the market is undervaluing Citizens Bank Park on a southwest wind with temperatures in the 70s at first pitch.
My best bet is the over in this game despite a favorable view on both starting pitchers relative to the market usually. The wind blowing out to right field could help Alec Bohm, who likes to use the opposite field more than most hitters. He also has very large splits vs. LHP and RHP in his career. Bohm has a mediocre .262/.305/.355 against righties but his numbers jump considerably to .324/379/.509 when facing southpaws. That's a .889 OPS.
Bohm posted a six percent barrel rate in his first two full MLB seasons, but some added muscle and a focus on lifting the ball more has helped him turn all of those hard ground balls into more power this season. Bohm already has five barrels in 29 batted ball events and it's a clear next step in his development as a hitter that the market isn't pricing in yet.
---
Reds at Braves, 7:30 p.m. ET
Pick: Marcell Ozuna +430
It's hard to be worse than Marcell Ozuna has been thus far as a hitter for the Braves. But he's still barreling the ball and has hit homers on both of his barrels and that gives him some major upside for Dinger Tuesday.
He gets a friendly matchup with Luis Cessa (Career 1.4 HR/9 allowed) and one of the worst bullpens in baseball behind him. Ozuna is also a positive regression candidate in the sense that his xSLG is in the 60th percentile league wide and he is well above average in barrel rate the last four years, but has just a .286 actual SLG rate.
Atlanta is a friendly home run environment and no lineup in the NL hit more homers than Atlanta last season.
---
Mariners at Cubs, 7:40 p.m. ET
Pick: Patrick Wisdom +300
Seattle starter Chris Flexen is a flyball pitcher with a below average fastball by Stuff+ and now he travels to pitch at Wrigley Field with the wind blowing straight out to center.
Hayden Wesneski has had a bit of a home run problem since coming into the league too, so this should be a very friendly home run environment for both sides on Tuesday night.
The Cubs lineup doesn't have a ton of slug in it generally, but Patrick Wisdom is the best choice at +300 for this game. He's the ultimate boom or bust hitter with strikeout rates north of 32% each of the last three seasons.
Flexen isn't a strikeout pitcher at all — he has below average Stuff+ and more walks than strikeouts this season. When Wisdom does make contact, he's able to frequently barrel it. He's posted double digit barrel rates each of the last two seasons and three of his eight hits have left the ballpark already this season.
The matchup with Flexen in this park is as friendly as it gets for Wisdom.
---
Cardinals at Rockies, 7:40 p.m. ET
Pick: Jordan Walker +600
Rockies starter Kyle Freeland has massive handed splits as a pitcher. Freeland has a career K/BB vs. right handed bats of just 1.96, compared to 3.47 vs. lefties.
The Cardinals crush left-handed pitching and this is the highest total of the MLB season thus far. It's a must-play game for the promo and while there may be better sluggers in this game, there's no better value than Jordan Walker at +600 on Tuesday.
Walker has showcased elite bat speed and raw power as he's already hit a ball 113.9 mph in his first 30 batted ball events in MLB. He's had a bit of a groundball problem thus far, but he's also consistently hitting the ball hard and has two barrels and two home runs to date.
Walker's potential as a slugger is untapped and undervalued by the market with this price. He was in the column last week at +750 and he didn't homer, but hit one the next day on Wednesday.
That game last week was in St. Louis. Now Walker gets to hit at Coors Field, which could turn his line drives into homers easily.
---
How would you rate this article?
This site contains commercial content. We may be compensated for the links provided on this page. The content on this page is for informational purposes only. Action Network makes no representation or warranty as to the accuracy of the information given or the outcome of any game or event.