FanDuel Dinger Tuesday Picks Today | Vladimir Guerrero Jr, Mickey Moniak, More (June 27)
Credit:
Vaughn Ridley/Getty Images. Pictured: Vladimir Guerrero Jr.
One of the most popular promotions in the sports betting community is back again this week: Dinger Tuesday from FanDuel.
The promotion allows each user to bet $25 on one player in every MLB game played that day to hit a home run. Regardless of whether the player you bet on homers, you receive $5 in free bets back for each home run hit in the game, with a max return of $25 for the game.
Some users have been limited by FanDuel this season and are only allowed to receive a maximum $50 back in free bets — essentially 10 free homers back for the day in free bets. Last season, there were no limits on the promotion for any players.
Given the average number of home runs in an MLB game in 2022 was 2.14, you will receive an average of $10.07 in free bets back for each $25 home run bet you make, without accounting for the loss in expected value on the vig of the home run yes prop.
If you're not limited at all, you should play as many games as you're comfortable with because the promo is +EV for most of the board.
If you are limited to the max return of $50, an average of five games will return your $50 maximum free bets.
Here are my five favorite Dinger Tuesday picks for this week.
Pick: Vladimir Guerrero Jr. (+460)
It's rare to see Vladimir Guerrero Jr. this cheap, even though the power numbers haven't been as good this season as his past years. His xSLG numbers are more than 100 points higher than his actual slugging, though, and his barrel rate is right in line with seasons past when he had a lot more homers.
Guerrero didn't hit first homer at home all season until Friday, but his rolling ground ball rates suggest another power surge may be coming for the Blue Jays slugger. Guerrero sometimes loses out on power because of high ground ball rates, but the underlying power profile is as good as ever. Facing the Giants with a bullpen game, Guerrero at +460 feels like a discount.
---
Pick: Joey Wiemer (+540)
Wiemer hits ninth for Milwaukee and has maintained his lineup position because of elite defense in center field. He hasn't hit much, but he has shown plus raw power and an increasing barrel rate. Wiemer has a 29.1% strikeout rate, but his 12.4% barrel rate makes him a 25+ homer per season player. Even despite his poor SLG numbers (.410), Wiemer is on pace for 23 homers in 2023. His .197 ISO is above average power when he connects with the ball.
With a south wind forecasted at Citi Field on Tuesday night, it's a favorable hitting environment. Mets lefty starter David Peterson puts Wiemer in his best split, and Peterson has allowed 1.85 HR/9 in MLB this season.
---
Pick: Max Kepler (+500)
Atlanta and Minnesota are two of the best barreling offenses in all of baseball. Both will strike out, but both also feature five or more everyday players in the lineup with barrel rates above that 10% power threshold. As a result, you can expect a decent home run projection even if both starters project above average at limiting home runs.
There are a lot of lower odds on the board as a result, but Max Kepler is a nice combination of good price and good barrel rate. Kepler hasn't hit well at the plate this season overall with an OPS below .700, but the barrels are still there and Kepler has a heavy pull approach on his barrels.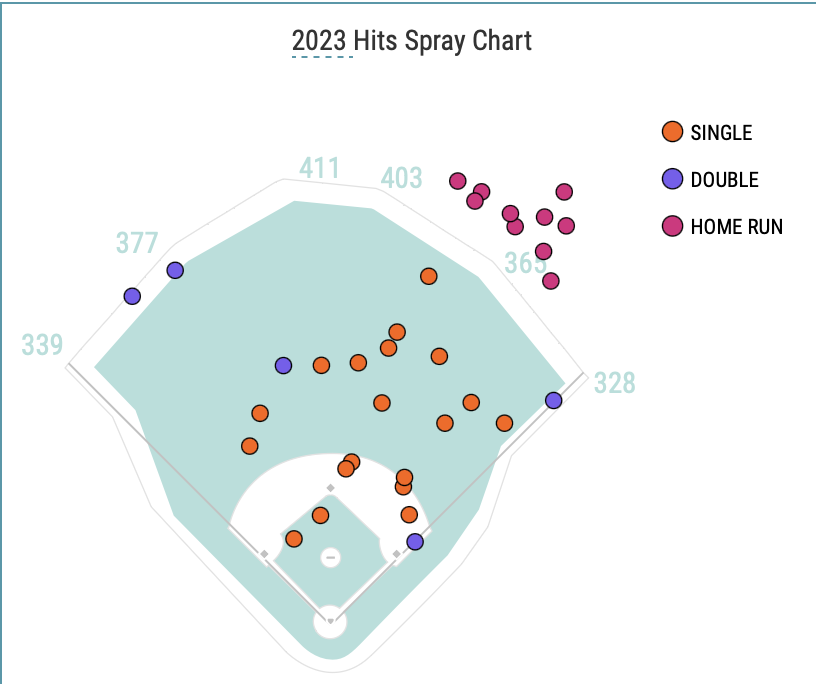 I'm always more inclined to expect heavy pull hitters to outperform their barrel rates more than spray hitters do. Kepler's hit map is a classic example of that, with the tight cluster of pulled balls in his power zone.
---
Picks: Corey Seager (+360) or Jake Rogers (+560)
At the time of writing, there are no lineups released yet for this game. If Jake Rogers is in the lineup, then I'm going to bet him +560. Rogers doesn't just have the best barrel rate on the entire roster, but he's hit 20 HRs in 361 career at-bats in MLB. That's nearly a 40 HR pace over a full MLB season.
This year, Rogers has 10 bombs in 136 at-bats. There's a ton of swing and miss with very high strikeout rates, but Rogers can pull a lot of fly balls for power and he's shown that consistently at the MLB level. If he's not in the lineup, I'm not sure why Corey Seager is priced so much lower than fellow Rangers Adolis Garcia and Marcus Semien.
Seager gets the platoon advantage and the Tigers' bullpen is very taxed. The main lefty they'd use is unavailable. Seager at +360 is my backup pick.
---
Pick: Mickey Moniak (+440)
Moniak is only taking at-bats against right-handed pitching, but he's seen favorable lineup positions when facing righties this season. The Angels outfielder has shown real power output, even though it's been accompanied by a lot of swing and miss.
Moniak's 16.9% barrel rate in 2023 is more than double his 2022 and career numbers. Even if you regress Moniak's 2023 barrel rate back toward his career average, that still makes him a double digit barrel rate guy priced against a pitcher that has shown a propensity to give up homers in his entire MLB career.
Mike Trout and Shohei Ohtani are priced very cheaply to homer tonight, but Moniak is likely to hit leadoff in Anaheim tonight. With Kopech allowing 1.39 HR/9 in his MLB career, Moniak is my pick. If Moniak is out of the lineup, I'll be interested to see where the market prices someone like Jo Adell.
---
How would you rate this article?
This site contains commercial content. We may be compensated for the links provided on this page. The content on this page is for informational purposes only. Action Network makes no representation or warranty as to the accuracy of the information given or the outcome of any game or event.