'Mattress Mack' Bets Another $1.05 Million on Astros
Jim McIngvale — aka "Mattress Mack," the famed Houston furniture store owner who's bet more than $10 million on the Astros to win the World Series — flew to New Jersey this morning to place another $1.05 million in bets on his hometown team.
Mattress Mack landed at Teterboro Airport on Friday, walked out of his private plane and into a lobby where officials for Unibet and William Hill were waiting for him.
When McIngvale landed, more than $1 million had been wired to the sportsbooks. Unibet went first, as Mattress Mack bet $100,000 at +210 odds on the Astros to win the World Series (would net $210,000 if they come back from being down 0-2). He also bet $150,000 at -152 odds on the Astros to win Game 3 tonight (would net $99,000).
Next up was William Hill. When Mack opened just app, his account read $800,005. On two bets he drained it down to $5.
He bet 300,000 at +210 on Astros win the World Series (would net $630,000) and $500,000 at -140 on tonight's game (to net $357,142).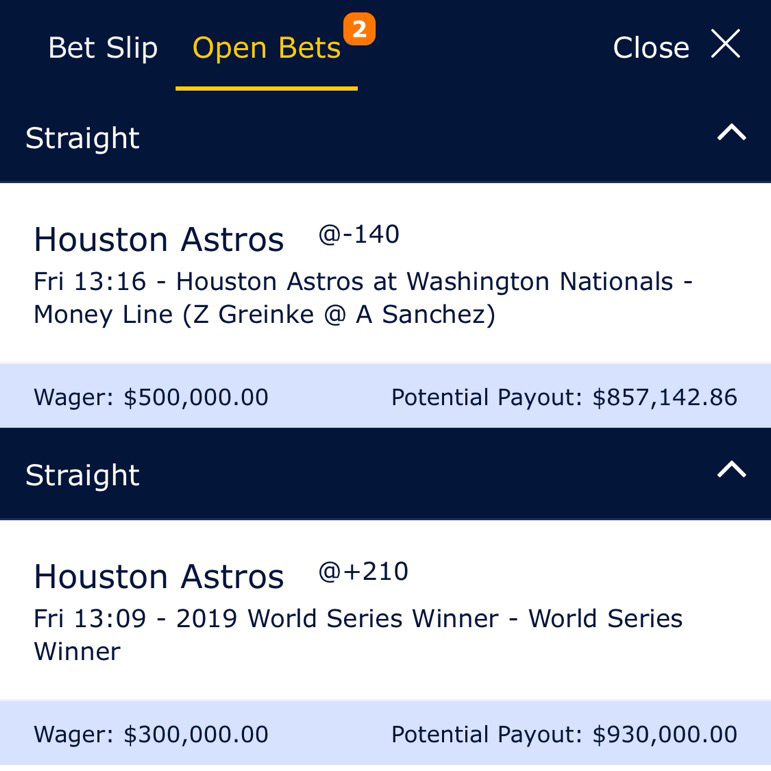 Here's a full breakdown of the wagers Mack placed on Friday:
Astros to win the World Series
$300,000 to win $630,000 (+210 odds, William Hill)
$100,000 to win $210,000 (+210 odds, Unibet)
Total: $400,000 to win $840,000
Astros to win Game 3
$500,000 to win $357,142.86 (-140 odds, William Hill)
$150,000 to win $99,000 (-152 odds, Unibet)
Total: $650,000 to win $456,142.86
And here's are all of Mack's bets (that we've been able to confirm) on the Astros to win World Series over the past three weeks.
McIngvale is making these bets as a partial hedge on promotions he's running at his Houston-based furniture stores, which will refund $20 million in purchases if the Astros win the title.
---
Check out PointsBet, where Action Network users can access an exclusive promotion to get a 200% deposit match (deposit $50, bet with $150).
---
From the sportsbooks' perspective, what goes into giving Mattress Mack more access to betting?
"It's a long term relationship," said Jonathan Aiwazian, vice president of sportsbook for Unibet. "We hope he's back tomorrow."
"We've had a lot of cases with big bets," said William Hill's Nick Bogdanovich. "We've now done a lot of business with him."
As for Mattress Mack, after an hour and a half of placing his bets and making sure they were processed correctly — the large-money wagers make it more complicated — he left for Washington D.C. to watch tonight's Game 3 in person.
"We're feeling good," he said.
How would you rate this article?