MLB Home Run Props Today | Alec Bohm, Anthony Santander, Triston Casas (Wednesday, August 9)
Credit:
Getty Images. Pictured: Alec Bohm, Triston Casas, Anthony Santander.
Baseball betting is one of a kind. Each day diving into a full slate is grueling and sometimes edges are nowhere to be found within a side or total. But opportunities to fade pitchers at a lesser degree remains a constant. One of the areas in which I've tapped into this season has been the player prop market. More specifically, looking at hitters and their total bases/home runsprops.
Whether it's a positive split or the wind blowing out in double-digit force, there's always opportunities to back some of MLB's best hitters to find the outfield seats. These bets are rarely not (+) money and home runprops can often reach the 6-700 mark, providing plenty of value at a small cost.
That leads us to my new regular feature here at Action Network: DiSturco's Triple 7s. In each article, I will give out my three favorite total bases props and pair that with the odds for those same players to hit a home run.
The idea of Triple 7s comes from the slot machines. That's the ultimate jackpot and it's important to note the rarity of notching that feat. Similar to slots, parlaying all three players below to hit a home run is nothing more than a lottery ticket.
It's important to bet responsibly, and while I do bet every player o1.5 TBs (.5u) and to hit a HR (.1u), you shouldn't overextend yourself with a parlay of all three. It's a long shot for a reason.
But if you're feeling confident or have no plans and want to try and hit Triple 7s, pull the lever and cross your fingers. Today's lottery ticket comes with +8972 odds.
Visit our MLB Props page for a full list of props and odds for every player on the MLB slate each and every day.

Alec Bohm, Philadelphia Phillies
Nationals vs. Phillies, 6:40 p.m. ET
Opposing starting pitcher: MacKenzie Gore (LHP)
When looking at MacKenzie Gore's year over year comparison, there hasn't been much change from the once highly-touted prospect. In his second year with the Nationals, Gore has seen a slight increase in strikeouts with less walks, but it's his barrel rate and jump in xSLG that's become a big concern. 
Gore ranks in the bottom 20% of all pitchers in hard-hit rate, xSLG and barrels. His HR/9 has jumped from 0.9 a season ago to 1.45 in 2023. He has been crushed and his walk rate of 10.2% forces him to attack hitters with more pitches inside the zone — which consequently leads to an increase in barrels. 
There are plenty of Phillies worth a look here but I'm targeting Alec Bohm. Both he and JT Realmuto have hit a home run off Gore in the past, but it's Bohm's recent stretch of games that gives me more confidence in the 27-year-old.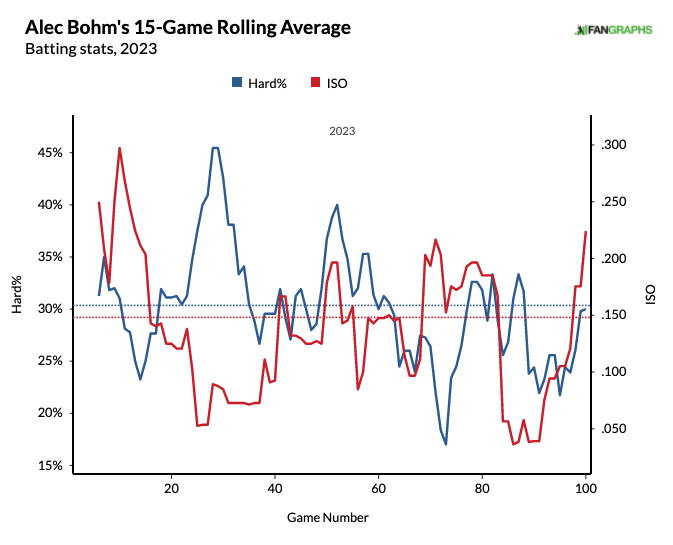 Bohm has seen a significant jump in isolated power over the last 15 games and his hard-hit rate has risen in correlation with it. In that span, he is hitting .385 with a 1.083 OPS and three home runs. 
Bohm is the most consistent Phillies batter against southpaws (160 wRC+) with arguably the most power (.272 ISO). He ranks in the top 10% of all hitters in xBA and has a career-best 16.5 strikeout rate. 
While Bohm isn't a free swinger like many Phillies in this offense, he is a lefty killer and has the pop to find the bleachers. His OPS jumps nearly 300 points against southpaws (.979) and has a 40% extra base hit rate. Against righties, that number drops to 24%. 
He is +440 to hit a HR at FanDuel. 
Alternate Options: Nick Castellanos, JT Realmuto

Anthony Santander, Baltimore Orioles
Astros vs. Orioles, 7:05 p.m. ET
Opposing starting pitcher: Cristian Javier (RHP)
It seemed as though Cristian Javier was on the cusp of a Cy Young-contending season after dominating the second half of last year through the playoffs. But his fastball has struggled to garner the same effectiveness and the end result has been a 3.5-percent jump in barrel rate. 
In 2022, Javier was elite at inducing soft contact and ranked in the top 6% of all pitchers in xBA, xSLG and strikeout rate. He did struggle with the occasional long ball but would mitigate any further damage. 
That hasn't been the case this year as Javier ranks in the bottom 13% in both xSLG and barrel rate. His strikeout rate has dropped from over 10%, too. That's a bad recipe for a fly-ball pitcher who uses strikeouts to find his groove. His ground ball rate is a career-low 25.2%. 
All this to say that Javier is always prone to giving up the long ball, more so now than ever. Anthony Santander is a perfect option here as we've seen a steady rise in both hard-hit rate and fly balls over the last couple of months. 
While he has struggled over the last couple of weeks at the plate, the rise in hard-hits should lead to more success. He's hitting just .191 over the last 15 days but does have three home runs and four doubles (.751 OPS). 
Santander remains in the top 25% of all hitters in hard-hit rate and has a double-digit barrel% for the second season in a row. He is second on the team in both wRC+ (118) and ISO (.232) against right-handed pitching and is always a threat to find the bleachers. 
For what it's worth, RotoGrinders' WeatherEdge projects a +17.9% increase in home runs with the wind blowing out 6 mph to right field. It's perfect game time temperatures, too. 
Santander's best available HR prop is +310 at FanDuel. 
Alternate Options: Gunnar Henderson, Yordan Alvarez

Triston Casas, Boston Red Sox
Royals vs. Red Sox, 7:10 p.m. ET
Opposing starting pitcher: Jordan Lyles (RHP)
The turnaround Triston Casas has experienced in the middle of the season has been quite impressive. 
This was a struggling lefty slugger that hit .225 before the All-Star break with nine home runs in 249 at-bats. Since that midway point, Casas has eight home runs in 69 at-bats and is crushing the ball to the tune of a .348 average and 1.192 OPS. 
I'm backing Casas to continue that success in a plus matchup for the slugger. While Casas has slowed down slightly over the last week, his fly ball and hard-hit rate continue to rise. That means he's still seeing the ball extremely well and getting it in the air — they're just being caught in the outfield.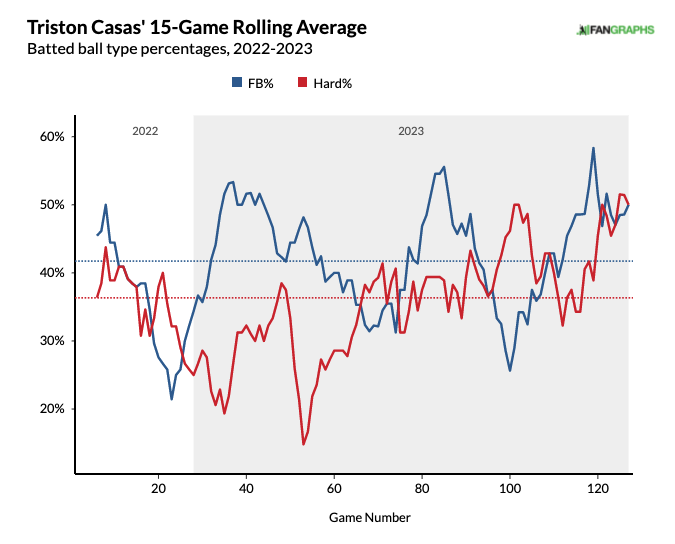 While Casas struggled production-wise early on, he never wavered with plate discipline. His walk rate is extremely impressive for a 23-year-old and he continues to shine across the board in underlying metrics. Casas is inside the top 8% of all batters in barrel and walk rate and the top 20% in hard-hit rate and xSLG. 
Jordan Lyles takes the mound on Wednesday night and it's no secret about his struggles. The 32-year-old has seen a dip in strikeout rate from last season and he ranks in the bottom 20% of all pitchers in barrel rate and xSLG. 
Lyles is no stranger to the long ball. His ground ball rate is a career-worst 32.9% and with his reduction in strikeout rate even further, he becomes a prime fade candidate. Lyles' HR/9 sits around 1.75 and he's among the league's worst in barrels per plate appearance. 
His plus command is also a huge positive when breaking down player props. He won't give many free passes, rather pitch to contact. That's what we want here from a player like Casas who is patient at the plate. 
Casas ranks third on the team in ISO (.238) and wRC+ (129) against right-handed pitching and with the wind blowing out near double-digits to right center, the lefty slugger is more than live for a HR. He is +350 at Caesars. 
Alternate Options: Rafael Devers, Jarren Duran
---
DiSturco's Triple 7s Home Run Bets for Wednesday, August 9
Alec Bohm (+440)
Anthony Santander (+310)
Triston Casas (+350)
If you like all three plays and want to try a spin at hitting triple 7s, a $10 parlay of these three home run props at FanDuel comes in at $897.20.
What is QuickSlip?

QuickSlip is an Action Network feature that allows users to automatically pre-load their bet slip at FanDuel Sportsbook.
---
How would you rate this article?
This site contains commercial content. We may be compensated for the links provided on this page. The content on this page is for informational purposes only. Action Network makes no representation or warranty as to the accuracy of the information given or the outcome of any game or event.