MLB Home Run Props | Back These 3 on Friday
Credit:
Credit: Getty Images. Pictured: Anthony Volpe, Sean Murphy and Patrick Bailey.
Baseball betting is one of a kind. Diving into a full slate each day is grueling, and sometimes edges are nowhere to be found within a side or total. But opportunities to fade pitchers at a lesser degree remains a constant. One of the areas in which I've tapped into this season has been the player prop market. More specifically, looking at hitters and their total bases/home runs props.
Whether it's a positive split or the wind blowing out in double-digit force, there are always opportunities to back some of MLB's best hitters to find the outfield seats. These bets are rarely not plus-money, and home run props can often reach the +600-700 mark, providing plenty of value at a small cost.
That leads us to my new regular feature here at Action Network: DiSturco's Triple 7s. In each article, I will give out my three favorite total-bases props and pair that with the odds for those same players to hit a home run.
The idea of Triple 7s comes from the slot machines. That's the ultimate jackpot, and it's important to note the rarity of notching that feat. Similar to slots, parlaying all three players below to hit a home run is nothing more than a lottery ticket.
It's important to bet responsibly, and while I do bet every player o1.5 Total Bases (.5u) and to hit a HR (.1u), you shouldn't overextend yourself with a parlay of all three. It's a long shot for a reason.
But if you're feeling confident or have no plans and want to try and hit Triple 7s, pull the lever and cross your fingers. Today's lottery ticket comes with +22613 odds.
Visit our MLB Props page for a full list of props and odds for every player on the MLB slate each and every day.

Patrick Bailey, San Francisco Giants
Giants vs. Pirates, 7:05 p.m. ET
Opposing starting pitcher: Rich Hill (LHP)
Once again, we're back on the fade Rich Hill train. It may not be a pretty one always, but the 43-year-old southpaw has continued his descent toward the retirement home. 
Across the board Hill is sporting career-worst numbers. His Barrel Rate has spiked to 11.1%, and he ranks in the bottom 10% of all pitchers in xBA (.282) and xSLG (.488). None of his pitches have been effective, and consequently, the lefty continues to get hit hard. 
Last time the Giants faced a lefty — Austin Gomber — I targeted Austin Slater, but there's actually a player better than Slater who isn't a candidate to leave the game early in pinch-hitting situations: Patrick Bailey. 
The switch-hitting catcher leads the Giants in both wRC+ (193) and Isolated Power (.282) against southpaws. He is more effective from the right side, where his OPS has jumped above 1.000. 
Bailey has a 50% Extra-Base Hit Rate against left-handed pitching, and he does have a double in three at-bats against Hill this season, so he should feel comfortable at the plate today. In general, his Barrel Rate is an impressive 12.6%, and he sports a .507 xSLG. 
Bailey is a free-swinging slugger who carries plenty of pop. He rarely walks, and his Strikeout Rate sits just north of 25%. Against a soft-throwing lefty like Hill, Bailey should find plenty of success here on the road. Though minimal, the wind is blowing out to left center ever so slightly. 
I'm throwing a half-unit on Bailey over 1.5 total bases (+110) at DraftKings and .1u on HR (+680) at FanDuel.
Pick: Patrick Bailey Home Run +680
---

Sean Murphy, Atlanta Braves
White Sox vs. Braves, 7:20 p.m. ET
Opposing starting pitcher: Michael Kopech (RHP)
Catcher Sean Murphy is a dangerous hitter who is often overlooked in the daunted Braves lineup.
His potential has always been sky high, but it's been incredible to watch him emerge this year. At the All-Star break, Murphy already has 17 home runs — one shy of his previous career best — and his average has skyrocketed from .250 to .306 in one season. 
It also doesn't look like he'll slow down anytime soon. Right before the All-Star break, his Hard-hit Rate and wOBA were the highest they had been all season: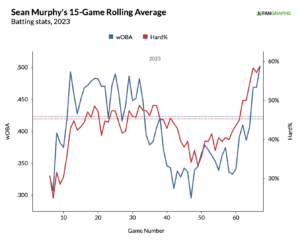 The top three Braves against right-handed pitching in wRC+ are as follows: Ronald Acuna (165), Matt Olson (163) and Sean Murphy (162). The next best is Travis d'Arnaud at 115!
Murphy is also second in Isolated Power (.305) and carries an eye-popping 19.4 Barrel Rate. He is in the top 5% of all hitters in Average Exit Velocity, xBA, xSLG and xwOBA and has taken significant strides with chasing fewer pitches out of the zone. Overall, he's become one of the better power threats in baseball — but it's not talked about enough. 
This is a favorable matchup for Murphy. He draws the fire-throwing Michael Kopech, who ranks in the bottom 1% of all pitchers in Barrel Rate. Kopech has been much better in May and June after a disastrous beginning to the season, but he's been a bit fortunate not to have been hit harder. 
In June, the right-hander threw 24 1/3 innings and gave up just eight runs (2.96 ERA) on 22 hits and 18 walks. It's only a matter of time before Kopech struggles against a disciplined offense with a ton of pop, and Atlanta is the perfect team to do so. 
I'm throwing .5u on Murphy over 1.5 total bases (+120) and .1u on HR (+400) at FanDuel.
Pick: Sean Murphy Over 1.5 Total Bases +120
---
Pick: Sean Murphy to Hit a Home Run +420
---
Anthony Volpe, New York Yankees
Yankees vs. Rockies, 8:40 p.m. ET
Opposing starting pitcher: Austin Gomber (LHP)
I have been impressed with Anthony Volpe's improvement over the last month. The rookie shortstop struggled to adjust to major-league pitching and sat well under the Mendoza Line for the majority of the first half this season. 
But since June, Volpe is hitting .257 with a 41% Extra-Base Hit Rate. His Chase Rate has improved, and he continues to boast under-the-radar power. Volpe ranks in the 72nd percentile of all hitters in Hard-hit Rate and is in the top half of all hitters in both Average Exit Velocity and Barrel Rate. 
While Volpe's spot in the batting order can change on a day-to-day basis, I believe he's undervalued here against Austin Gomber. Volpe is best against lefties (.776 OPS) and has the fourth-best ISO (.235) on the team in significantly more at-bats. 
The top three of Harrison Bader (.594), Josh Donaldson (.565) and Giancarlo Stanton (.400) have just nine more combined plate appearances than Volpe does this season against southpaws. 
Not only does playing at Coors Field boost Volpe's potential to do damage, but he draws a favorable matchup. Gomber ranks in the bottom 5% of all pitchers in xBA (.299) and xSLG (.535), and the bottom 15% in Hard-hit Rate (45.5%). 
Gomber is a borderline major-league pitcher. His Strikeout Rate has declined for the third straight season and now sits at 15.4, and his expected metrics remain in line with his actual performance — which is abysmal. 
Given Volpe's recent success at the plate and his ability to pack a punch, I am putting .5u on him to go 1.5 total bases (-110) at DraftKings and .1u on HR (+575) at Caesars.
---
DiSturco's Triple 7s Home Run Bets for Friday, July 14
Patrick Bailey (+680)
Sean Murphy (+400)
Anthony Volpe (+575)
If you like all three plays and want to try a spin at hitting triple 7s, a $10 parlay of these three home run props at FanDuel comes in at $2,261.23
How would you rate this article?
This site contains commercial content. We may be compensated for the links provided on this page. The content on this page is for informational purposes only. Action Network makes no representation or warranty as to the accuracy of the information given or the outcome of any game or event.