MLB Picks Today | Odds, Expert Projections for Tuesday, May 23
Credit:
Getty Images. Pictured: Eury Perez, Nathan Eovaldi, Shohei Ohtani
Welcome to Opening Pitch, my column that you'll find daily throughout the 2023 MLB season.
My goal for Opening Pitch is to highlight my top daily projection edges for MLB moneylines and totals, share my favorite bets and provide some betting notes and analysis, mainly as I react to opening and overnight lines while using my baseball betting model.
I will look to release a new version of Opening Pitch daily between midnight and 3 a.m. ET; after I enter my overnight bets in the Action Network App and update the MLB projections. Hopefully, you will use it as your morning betting guide to get ahead of the baseball markets.
You can find my projections for every MLB game in the Action App (on both the PRO Projections tab and the game pages) and our Projections Hub (which you can bookmark).
You can also shop for the best lines on our odds page.
Expert Picks for Tuesday, May 23
Chicago White Sox vs. Cleveland Guardians
Dylan Cease vs. Logan Allen
First Pitch: 6:10 p.m. ET
Before his last start, I noted Cease's declining strikeout rate (down 6.3% year over year) and waning effectiveness; his 4.55 expected ERA, or xERA, is nearly two runs higher than last season's mark (2.70).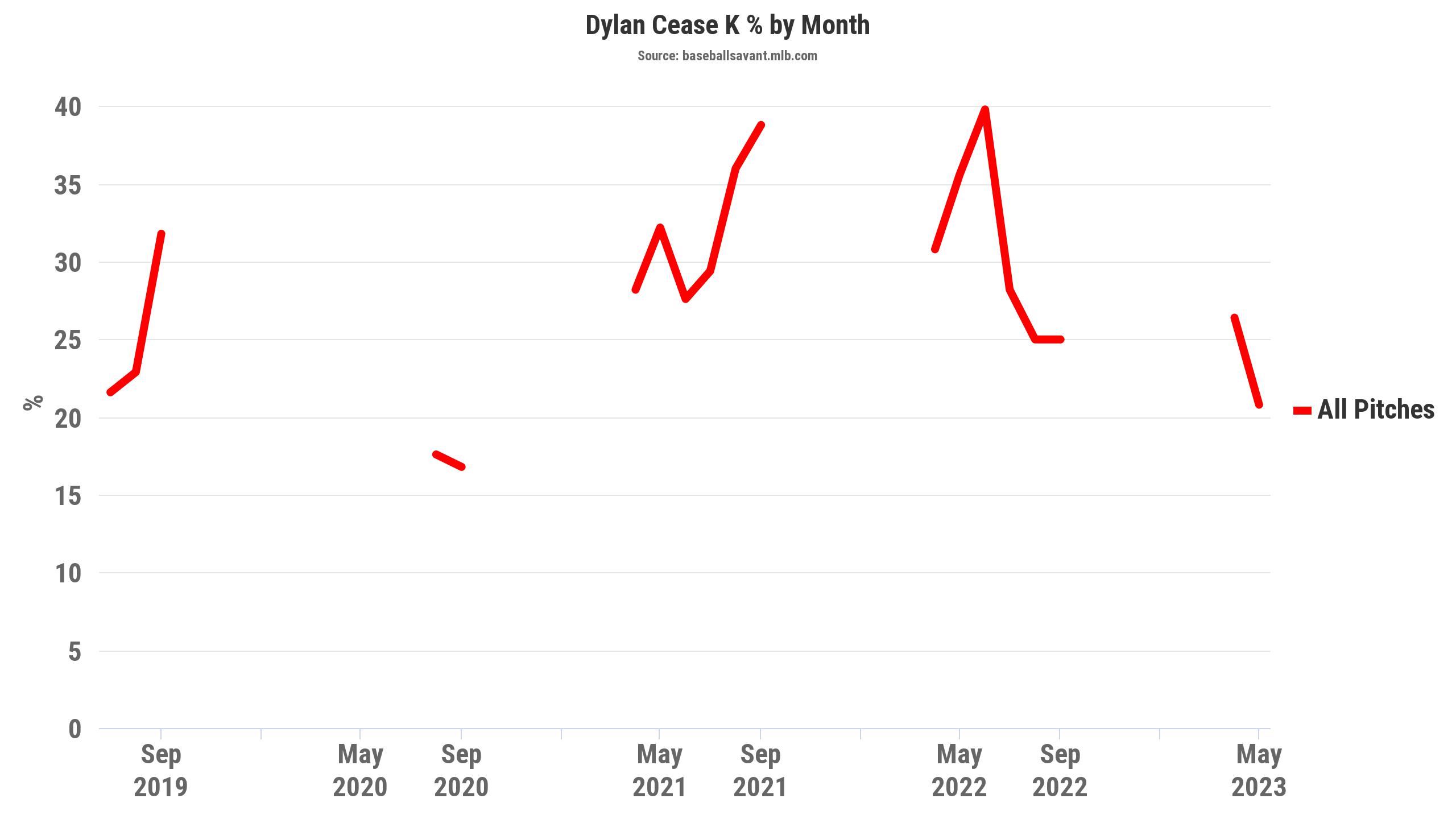 While the Guardians have struggled on offense (29th in wRC+ against both righties and lefties), they own the second-lowest strikeout rate in baseball and can force Cease to work, rack up his pitch count and get deep into Chicago's bullpen.
Offensively, the White Sox rank better against lefties (105 wRC+) than righties (87), and I like runs in this matchup.
I projected the total at 8.9; bet Over 8 to -125 or Over 8.5 to -106.
Texas Rangers vs. Pittsburgh Pirates
Nathan Eovaldi vs. Rich Hill
First Pitch: 6:35 p.m. ET
After signing with the Rangers this winter, Nathan Eovaldi is having the best season of his career (2.9 xERA).
Rich Hill is barely hanging on to a rotation spot, despite a seemingly deserving 3.80 ERA — alongside a .301 BABIP and a 75.8% stand rate — since his xERA (5.88) expects serious regression.
He is essentially a junkballer at this stage of his career, hoping to catch the corners of the zone or induce a swing and miss with his big sweeping curve. Still, Hill has allowed line drives at a higher rate this season than every pitcher except for Miles Mikolas (4.77 ERA, 5.37 xERA, .333 BABIP).
The Rangers have a top-three offense against both righties and lefties this season, and I see a substantial edge on their first-half moneyline for Tuesday.
Bet Texas in the first five innings (F5) up to -196 compared to my projection at -215. At current odds, it's my favorite bet on the board — but I would reduce my stake to regular sizing above -180. 

St. Louis Cardinals vs. Cincinnati Reds
Adam Wainwright vs. Graham Ashcraft
First Pitch: 6:40 p.m. ET
Adam Wainwright will turn 42 years old this season, and his early-season results (8.51 xERA, 4.2% strikeout minus walk rate) on top of a velocity dip are highly concerning.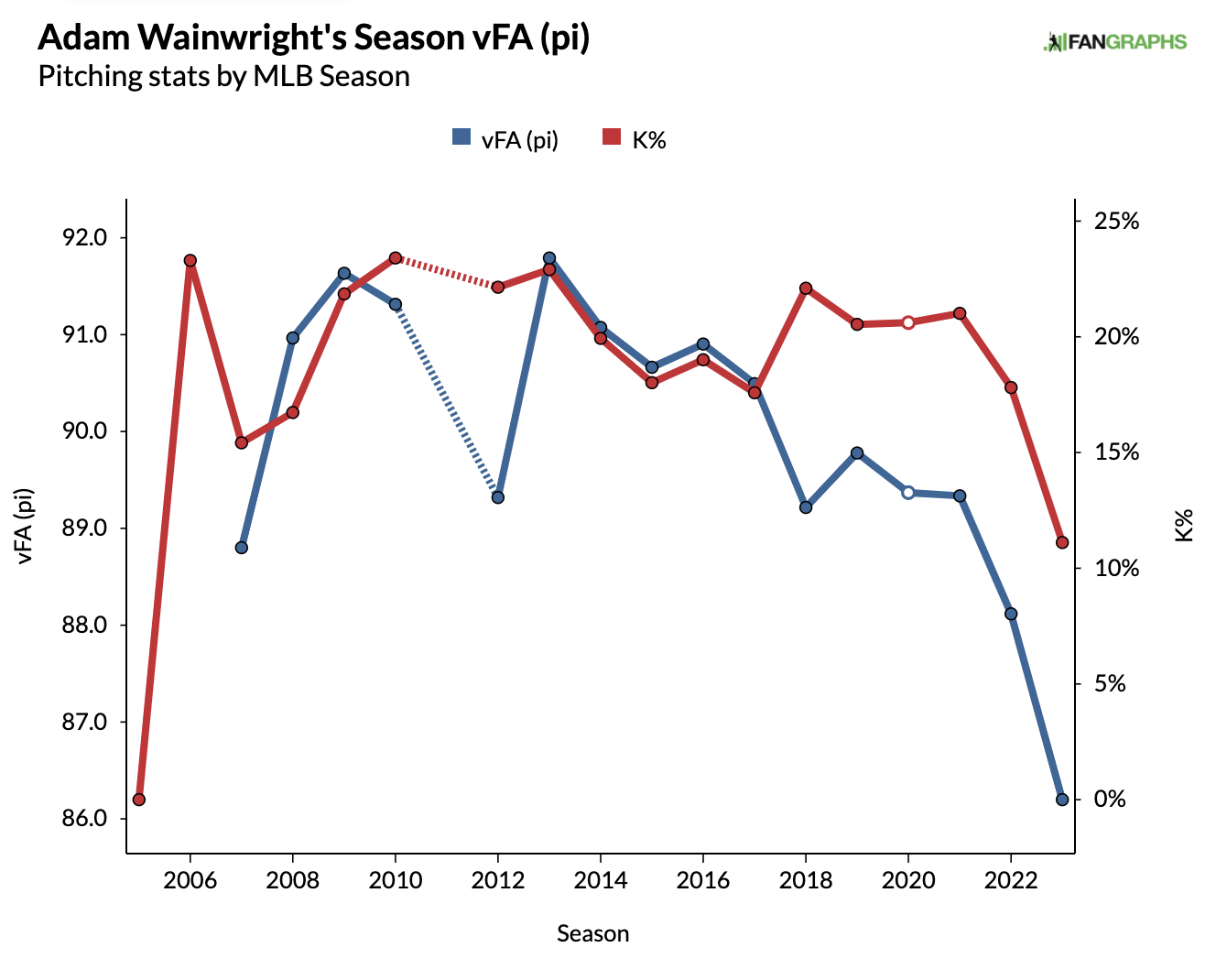 I have backed Graham Ashcraft in a high percentage of his MLB starts and suspect he's slightly undervalued — despite mediocre strikeout and walk rates — because he suppresses hard contact (52.9% groundball rate; 0.88 home runs per nine innings).
Ashcraft sticks the Cardinals into their inferior split, but this is more a wager against Wainwright in his late-career form.
I projected Cincinnati as slight underdogs in this matchup; bet the Reds +115.
Arizona Diamondbacks vs. Philadelphia Phillies
Ryne Nelson vs. Matt Strahm
First Pitch: 6:40 p.m. ET
Matt Strahm will serve as an opener on Tuesday after posting a dominant 2.64 xERA over 33 innings this season.
He has drastically outpitched Ryne Nelson (4.6 xERA) and the Phillies bullpen outranks Arizona's in several key metrics and project as the superior unit in my model.
Bet the Phillies up to -135 in either half; Strahm should give them a reasonably significant pitching advantage the first time through the order.
And play their First 3 Innings (F3) moneyline up to -140.
Toronto Blue Jays vs. Tampa Bay Rays
Jose Berrios vs. Taj Bradley
First Pitch: 6:40 p.m. ET
Berrios carries nearly identical 5.11 and 5.10 expected ERA marks in Toronto over the past two seasons. Still, as I mentioned last week, Berrios has shown fairly drastic home (3.74 xFIP) and road (4.58 xFIP) splits throughout his career, with a strikeout minus walk rate consistently five percent better at home.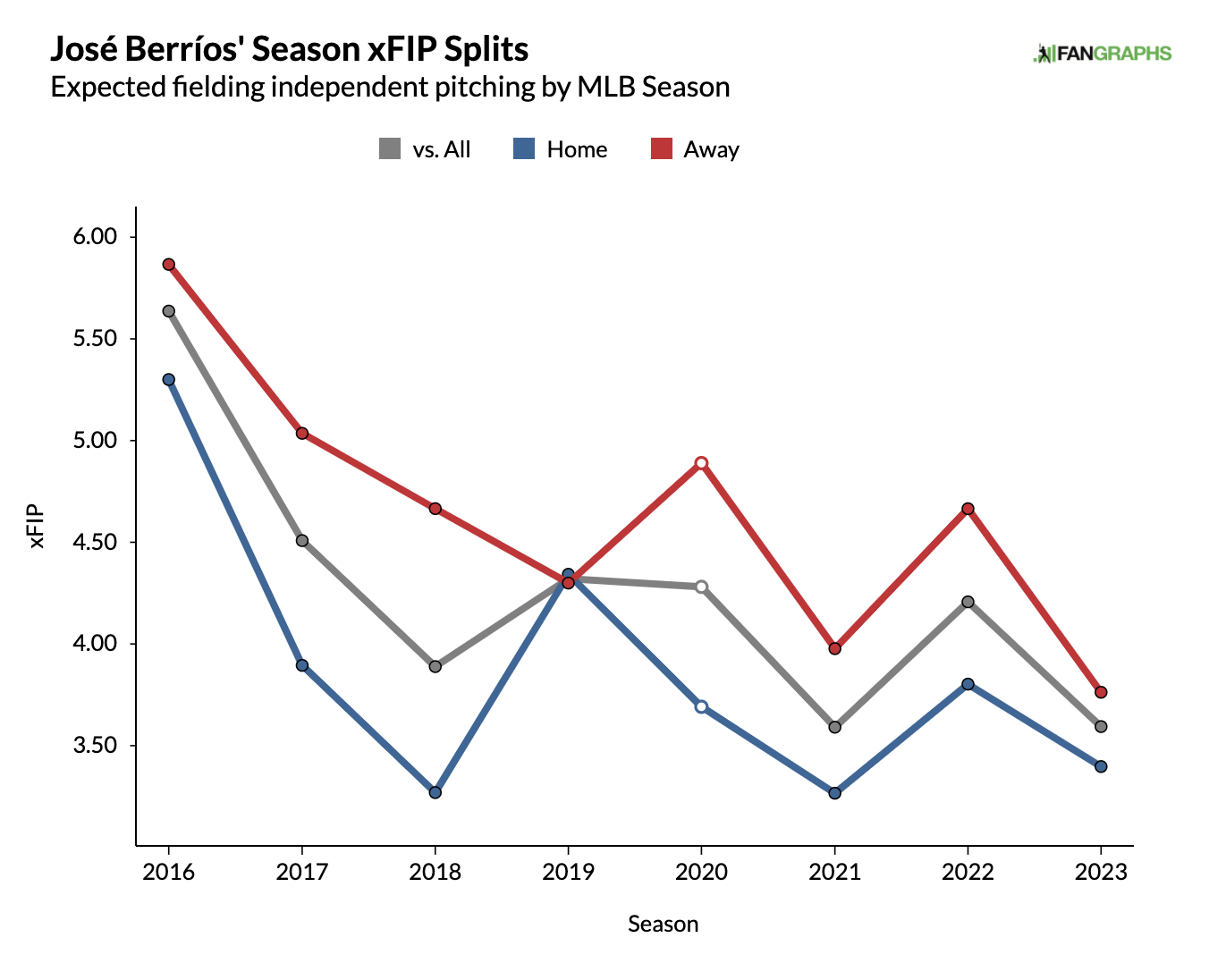 Taj Bradley has excelled in a limited major league sample (2.52 xRA), but he was shaky both in Triple-A after getting demoted and his first start back in the majors.
I like Bradley's F5 moneyline (up to -125) against Berrios, but I might prefer the Over 8.5 (to -115) in a matchup between two dominant offenses and high-variance hurlers.
Baltimore Orioles vs. New York Yankees
Kyle Bradish vs. Gerrit Cole
First Pitch: 7:05 p.m. ET
Yankee Stadium should see decent pitching weather on Tuesday: 63 degrees at first pitch, with 8-mph winds blowing in from right field.
Kyle Bradish — a pitcher we have bet on consistently since his debut last season — has encouraging results (4.16 xERA) paired up with above-average Stuff+ and Location+ figures.
Gerrit Cole (2.00 ERA, 3.61 xERA) should eventually regress towards underlying marks as his home run rate normalizes, but Tuesday's wind factor may benefit him.
I set the Orioles–Yankees total at 7.24; bet Under 8 to -120 or Under 7.5 to -102.
San Francisco Giants vs. Minnesota Twins
Alex Cobb vs. Sonny Gray
First Pitch: 7:40 p.m. ET
Target Field should see decent hitting weather on Tuesday (83 degrees at first pitch; 5-mph winds blowing out to left field), and I think the total is low.
I set the number at 8.34; bet Over 7.5 to -122 or 8, -103.
Both offenses are in their superior split, ranking above average against righties and in the bottom 10 against lefties.
And both Alex Cobb (1.99 ERA, 3.99 xERA) and Sonny Gray (1.64 ERA, 3.17 xERA) have overachieved this season, potentially creating value on the total.
New York Mets vs. Chicago Cubs
Kodai Senga vs. Drew Smyly
First Pitch: 7:40 p.m. ET
The southpaw Smyly is in the midst of his best season (2.86 ERA, 2.83 xERA) since his 2020 resurgence with the Giants. Usually, you would look at Smyly's 237 BABIP and assume he's due for regression; however, Statcast says the sparkling ERA is a deserved outcome.
He started using a sinker or curveball more than 90% of the time combined last season, and that new mix has helped him to blossom.
I'm generally against the Mets as they play through the most challenging part of their schedule over the next five to six weeks, and I'll consider adding more to their odds of missing the playoffs.
For Wednesday, bet the Cubs to -110.
Miami Marlins vs. Colorado Rockies
Eury Perez vs. Austin Gomber
First Pitch: 8:40 p.m. ET
Regarding overall potential, Eury Perez and Austin Gomber are worlds apart.
If Perez struggles at Coors, he won't be the first or last young pitcher to succumb to that environment. Slider-dominant pitchers (30% usage) can struggle to spin the ball correctly at elevation.
Still, I view Perez as a superior pitcher to Gomber, and I would bet the Marlins F5 line to -125.
Additionally, I set the total closer to 12; bet Over 11 (to -125) or 11.5 (to -106).
Boston Red Sox vs. Los Angeles Angels
Brayan Bello vs. Griffin Canning
First Pitch: 9:38 p.m. ET
Canning is throwing harder than ever before after missing the 2022 season with a stress fracture in his back. Surprisingly, his results (5.06 xERA) are dismal despite clearly improved stuff.
I'm still waiting for the breakout from Brayan Bello (5.37 xERA), but he remains highly enigmatic.
Still, assuming Mike Trout and Shohei Ohtani are in the lineup, bet the Angels to -105.
Oakland Athletics vs. Seattle Mariners
Luis Medina vs. Marco Gonzales
First Pitch: 9:40 p.m. ET
While I don't plan to bet on the A's much, Marco Gonzales (5.41 xERA) is a fade target with any team.
I will keep my stake modest and debate whether to add a full-game wager since I show value on Oakland in both halves.
For now, bet the A's F5 line to +170.
And play their F5 team total Over 1.5 to -125.
Zerillo's Bets for Tuesday, May 23
For additional bet notifications, follow me in the Action Network App. 
Baltimore Orioles / New York Yankees, Under 8 (-120, 0.5u) at WynnBet (bet to -120 or 7.5, -102)
Chicago Cubs F5 (-105, 0.5u) at WynnBet (bet to -108)
Chicago Cubs (-105, 0.5u) at WynnBet (bet to -110)
Cincinnati Reds F5 (+116, 0.5u) at FanDuel (bet to +114)
Cincinnati Reds (+130, 0.5u) at WynnBet (bet to +115)
Chicago White Sox / Cleveland Guardians, Over 8 (-115, 0.5u) at DraftKings (bet to -125 or 8.5, -106)
Detroit Tigers F5 (-150, 0.5u) at BetMGM (bet to -168)
Los Angeles Angels (+100, 0.5u) at WynnBet (bet to -105)
Milwaukee Brewers (+120, 0.5u) at WynnBet (bet to +113)
Miami Marlins F5 (-122, 0.5u) at FanDuel (bet to -125)
Oakland Athletics F5 Team Total, Over 1.5 (-125, Risk 0.5u) at DraftKings (need -125)
Parlay (+190, 0.25u): Chicago Cubs F5 (-115) & Texas Rangers F5 (-180)
Philadelphia Phillies First 3 Innings (-130, 0.5u) at Caesars (bet to -140)
Philadelphia Phillies (-132, 0.5u) at FanDuel (bet to -135)
Tampa Bay Rays F5 (-115, 0.5u) at FanDuel (bet to -125)
Tampa Bay Rays (-120, 0.5u) at WynnBet (bet to -121)
Tampa Bay Rays / Toronto Blue Jays, Over 8.5 (-110, 0.5u) at BetMGM (bet to -115)
Texas Rangers F5 (-168, 0.75u) at FanDuel (bet to -196; reduce risk at -180)
Texas Rangers / Pittsburgh Pirates, Over 8 (-105, 0.5u) at Caesars (bet to -105)
How would you rate this article?
This site contains commercial content. We may be compensated for the links provided on this page. The content on this page is for informational purposes only. Action Network makes no representation or warranty as to the accuracy of the information given or the outcome of any game or event.