Phillies vs Astros Odds, Picks, Predictions for World Series Game 2
Credit:
Sean M. Haffey/Getty Images. Pictured: Jean Segura and Jose Altuve.
Phillies vs. Astros Game 2 Odds
Throughout the Major League Baseball playoffs, I will provide a daily breakdown summarizing my thoughts on both futures and individual games for that day.
Below, I will address how to handle betting on these playoff series, whether on the series moneyline or a game-by-game basis, while using my daily MLB Model projections.
You can find my projections for every MLB game in the Action Network App (on both the PRO Projections tab and the game pages) and our Projections Hub (which you can bookmark).
You can also shop for the best lines on our odds page.
Using my projections, where can we find actionable value for Saturday?
Series Moneyline Corner
First, let's take a look at my updated projection for the 2022 World Series:
The Phillies flipped the series probability on its head with their game 1 win, moving from 40.1% underdogs to 58.5% favorites — an increase of 18.4%.
You can find prices as low as -120 (54.5% implied) on the Phillies after Game 2 at the same books where they closed around +200 (33.3% implied) before Game 1.
As a result, the edge has shrunk from nearly seven percent to four percent on the Phillies' series price — at the best available odds — after the opening game.
If you don't have a Phillies ticket, I still like their series price up to -130. And I would continue to bet my favorite pre-series angles: Phillies Win 4-2 (projected 18% or +455 implied) down to around +500, and Phillies -1.5 games (projected 44%, or +127) to about +133.
If you're looking to hedge any Phillies futures, I would prefer to wait until after Game 2 since Houston should have a drastic starting pitch edge in Games 3 and 4.
That said, if you're looking to lock in a profit, make sure to use our hedging calculator: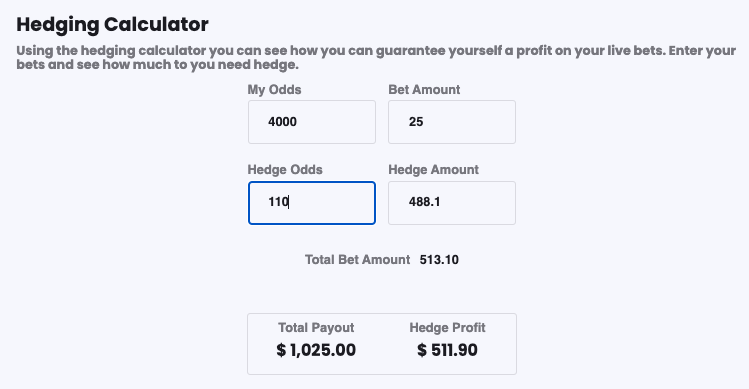 You could lock in more than 50% of any potential profits right now by hedging Phillies futures and betting on the Astros around +110.
If the Astros lose Game 2, I suspect you'll find around +275 to +300 for their series price in the market before Game 3; and you can hedge and lock in 75% of your ticket at that point if you desire; I think that's the best spot, especially considering my stance on Game 2.
If the Astros win Game 2, their series line should be around -150, a bit shorter than they were before Game 1, and still within range to hedge Phillies tickets.
Phillies vs. Astros, 8:03 p.m. ET
Zack Wheeler vs. Framber Valdez (full projections here)
Starting Pitching
The notable trend for this matchup is Zack Wheeler's fastball velocity.
The 2021 NL Cy Young runner-up sat at 95.8 mph with his fastball during the regular season, a tick down compared to previous levels (96.9 mph in 2020, 97.1 mph in 2021). His velocity returned during the playoffs, sitting at 96.9 mph against the Braves and Cardinals, and 97.2 mph in both starts against the Padres.
Wheeler keeps his four-seam curveball usage fairly consistent against righties and lefties but also uses a ton of sinkers against righties (32.5%) and hardly any against lefties (2.3%). The four-seam fastball (+11%) and slider (+14%) account for most of the usage swap against lefties in place of that sinker.
Houston's offense ranked far better against fastballs (3rd) than sliders (14th) or curveballs (11th) this season. Nola made his knucklecurve his most common offering in Game 1, something he did once this season.
While Wheeler dialed up a lot of four-seam fastballs against the Padres, I suspect he'll be pounding the Astros' righties in on the hands or trying to catch the outside corner with sinker while mixing in his breaking balls (potentially the slider) a bit more frequently at the expense of some four-seamers.
Wheeler has flashed the curveball more frequently against the Padres:
From what I understand, the sinker/slider and fastball/curveball pairings are complementary, so when the usage rate for one of those pitches is up, the corresponding pitch should be, too.
Framber Valdez generates fewer strikeouts — and permits more walks — than Wheeler, so his WHIP is a touch higher (1.05 to 1.16).
Still, Valdez eliminates baserunners with double plays and suppresses damage by keeping the ball in the infield (75.6% groundballs or popups; highest among starting pitchers).
Oddly, the Astros' outfield has been far better than their infield defensively (Jose Altuve, Alex Bregman and Yuli Gurriel all had down seasons), but Valdez still outperformed his expected ERA by half a run (2.82 actual ERA, 3.31 xERA); and proved an all-time great of consistency, recording an MLB record 25-consecutive quality starts in a single season.
Valdez offers a high floor for any outing.
He maintained a similar pitch mix against righties this season (50% sinker, 32% curve, 11% changeup) as in years past but added a cutter (39%) to the mix against lefties in place of his curveball (31.6% usage decrease vs. lefties since 2020).
Lineups and Defense
Below are my projected lineups for Game 2, alongside their 2022 splits and defensive props/runs-scored">runs saved per 9 innings:
It's possible that Aledmys Diaz (85 wRC+ vs. RHP), who pinch-hit for a struggling Trey Mancini on Friday, will start ahead of Mancini in Game 2, either at DH or in left field (with Yordan Alvarez at DH).
The Phillies have continued to platoon Bryson Stott with Edmundo Sosa at shortstop and Brandon Marsh with Matt Vierling in center field.
Both offer league-average bats against southpaw pitching, giving the Phillies a deep lineup against lefties. Sosa represents a defensive upgrade from Stott, while Vierling is a downgrade from Marsh.
From a splits standpoint, this (and Game 6, if necessary) is the best matchup in the series for the Phillies; but the Astros should have a similar advantage in Game 3.
Valdez is the one of only two left-handed pitchers on the Astros roster (little-used reliever Will Smith is the other). And the Phillies hit much better against lefties (6th) than righties (12th) this season, particularly after the trade deadline (123 wrC+, 3rd).
I'm curious to see how long the Phillies let Sosa and Vierling continue to play once Valdez exits. They no longer have the platoon advantage, but I would undoubtedly consider betting under on their player props; they may only get two plate appearances.
The Astros remain in their lesser offense split. Houston ranked as a league-average team against righties over the season's final two months but dominated left-handed pitching (146 wrC+, 1st) down the stretch.
I'm not interested in betting any lefty-on-lefty batter props against Valdez. Bryce Harper struggled against sinkers, while Kyle Schwarber had success — and vice versa against cutters. The three righties who performed well against curveballs (Alec Bohm, J.T. Realmuto, Jean Segura) struggled with sinkers.
Altuve can take advantage of Wheeler's right-on-right sinker usage. Kyle Tucker can hit everything Wheeler throws (particularly the four-seam, slider and curveball) and could continue his case for series MVP in Game 2.
Bullpens
The two teams combined to use 11 relief pitchers in Game 1. Their workload may have a cumulative impact throughout the series, but I don't think either team is in bad shape for Game 2.
Bryan Abreu (32 pitches) worked harder than any other reliever. He hasn't pitched on back-to-back days after tossing 30 pitches in an outing this season. I suspect Abreu may be held in reserve on Saturday.
David Robertson (25 pitches), Seranthony Dominguez (24), and Zach Eflin carried the Phillies bullpen, in addition to a relief appearance from presumed Game 3 starter Ranger Suarez.
I'd expect the Phillies to have all hands on deck again for Game 2, including Suarez.
It's possible they continue to use Suarez in relief throughout this series — against Yordan Alvarez and Kyle Tucker — and deploy Noah Syndergaard and Kyle Gibson as their Game 3 and 4 openers against this righty-heavy Astros lineup.
For Saturday, I view the Astros bullpen as roughly 12% better than the Phillies' bullpen, but in the playoffs — notably the World Series — projecting relief pitcher usage can be a fool's errand.
Venue and Umpire
Minute Maid Park is a slight pitcher's park and plays about four to five percent below the MLB average run-scoring environment (assuming the retractable roof is closed).
The park dimensions increase home runs to left field (into the Crawford Boxes) but severely reduce extra-base hits into the power alleys.
The Game 2 plate umpire is Pat Hoberg, who owns a career 54% record to the under, but consistently rates as one of the most accurate umpires in all of baseball.
The under has cashed at a 65.7% clip (48-25-2, +$2,023, 27% ROI), with Hoberg behind the dish the past three seasons. Those games only covered by an average margin of 0.19 runs.
Projection and Pick
I projected the Phillies as 52.4% favorites (-110 implied) for the first five innings (F5) on Saturday and as 48.9% underdogs (+105 implied) for Game 2
You can place either of those bets to -102 and +114, respectively, with either bet representing an edge of roughly two percent or more compared to my projection.
You can also bet their F5 spread (+0.5 runs) up to -159.
Concerning the total, I projected the F5 line at 3.46 and the full game number at 6.71. I doubt the total moves much, but a potential bet would come into range at Under 7 (-102) if there's a significant adjustment.
Bets for October 29
Philadelphia Phillies F5 (+118, 1.25u at FanDuel), bet to -102
Philadelphia Phillies F5 +0.5 (-122, Risk 0.5u at FanDuel), bet to -159
Philadelphia Phillies (+125, 0.75u at WynnBET), bet to +114
Add Phillies First 5 Moneyline To Your FanDuel Betting Slip Right Now Via QuickSlip!
Add Phillies First 5 +0.5 To Your FanDuel Betting Slip Right Now Via QuickSlip!
How would you rate this article?
This site contains commercial content. We may be compensated for the links provided on this page. The content on this page is for informational purposes only. Action Network makes no representation or warranty as to the accuracy of the information given or the outcome of any game or event.