Wednesday World Series Game 2 Odds, Picks & Predictions: Tampa Bay Rays vs. Los Angeles Dodgers (Oct. 21)
Credit:
Kelly Gavin/MLB Photos via Getty Images. Pictured: Joey Wendle and Mookie Betts
The Los Angeles Dodgers will take on the Tampa Bay Rays in Game 2 of the 2020 World Series on Wednesday.
The Dodgers took care of the Rays with ease in Game 1, but one of Sean Zerillo's two bets for Game 2 will go the other way.
Check out Zerillo's full betting analysis with updated odds below.
World Series Game 2 Odds
| | |
| --- | --- |
| Rays Odds | +115 [Bet Now] |
| Dodgers Odds | -136 [Bet Now] |
| Over/Under | 8 (-115/-105) [Bet Now] |
| Time | 8:08 p.m. ET |
| TV | FOX |
Odds as of Wednesday evening and via PointsBet, where you can get $250 FREE instantly after signing up AND your bets automatically sync to the Action app. Learn more about BetSync here.
---
Model Projection (full projections here)
Rays probability: 45.3% (Fair odds of +121)
Dodgers probability: 54.7% (-121)
Projected total: 8.23
---
The Dodgers blew open a tight Game 1 in the 5th inning on Tuesday, extending a 2-1 lead to 6-1 by the end of the frame, and destroying the F5 under, most of the full-game under, and the Rays' chances of winning Game 1 of the World Series in the process.
Rays' manager Kevin Cash decided to leave starter Tyler Glasnow in to face the Dodgers' lineup for the third time through the order. It was a curious omission.
And despite back to back leadoff walks to start the 5th inning, his 5th and 6th free passes of the evening — Glasnow remained against the middle of the LA order, and the Dodgers took a 1-0 series lead.
Tampa Bay's chances to win the series declined by 15% — down to 26% — as a result of their Game 1 loss. The series is far from over, but falling behind 2-0 would obviously be detrimental, and I would set the Dodgers as 86% favorites with a two-game lead to start this World Series.
After a shaky first inning on Tuesday, Clayton Kershaw dominated the Rays lineup in Game 1 (6 IP, 2 H, 1 R, 1 BB, 8 K) as a -159 (implied 61.4%) favorite, but the Dodgers are a far less significant favorite on Wednesday, listed around -140 (58.3% implied) in the betting market, and the Rays have a chance to jump right back into this series.
Down a game, will we continue to find value on the underdog in Game 2?
---
Advanced Stats Glossary
FIP or Fielding Independent Pitching measures what a pitcher's ERA would look like if the pitcher experienced league-average defense and luck. xFIP is a regressed version of FIP that adjusts or "normalizes' the home run component based on park factors.

wRC+ or Weighted Runs Created Plus takes the statistic Runs Created and adjusts that number to account for critical external factors — like ballpark or era. It's adjusted, so a wRC+ of 100 is league average, and 150 would be 50 percent above league average.
wOBA or Weighted On-Base Average is a catch-all hitting metric with more predictive value than on-base percentage. An average MLB hitter can be expected to post a .320 wOBA. xwOBA is a regressed version of wOBA that accounts for variables like park factors.
---
Projected Starters
Blake Snell (2-2, 3.20 ERA, 19 K) vs. Tony Gonsolin (0-1, 9.95 ERA, 8 K)
2018 Cy Young winner Blake Snell will make his first World Series start and his fifth start of the 2020 postseason on Wednesday.
Tony Gonsolin will make his third appearance of the postseason, and his second start, after facing the Braves in Game 7 on Sunday.
Snell should be good for at least 80, and up to 115 pitches.
The Gonsolin situation is a bit more unclear. He's starting on two days of rest after throwing 40 pitches and seems likely to give way to Dustin May, or another reliever, after turning over the Rays lineup once.
Blake Snell (Rays)
2020 Postseason Pitching Line: 19.2 IP, 16 H, 7 R, 10 BB, 19 K (4 HR allowed)
FIP (4.35) jumped in 2020, but not supported by his xFIP (3.06, three-year low) or SIERA (3.56 in 2019, 3.57 in 2020).
xERA (3.95) tells a different story, however, increasing by nearly a full run.
Allowed significantly more hard contact (+4.9%) year over year.
Strikeout-minus-walk rate declined by 10%, year over year.
Allowed more than 1.8 HR/9 over each of the past two seasons, and that issue has continued into the 2020 playoffs.
Fastball velocity down 1 mph since 2018, and got crushed in 2020 (.409 xwOBA, .326 xBA).
Each of his secondary pitches (changeup, curveball, slider) has returned a positive pitch value both in 2020 and for his career.
Tony Gonsolin (Dodgers)
2020 Postseason Pitching Line: 6.1 IP, 5 H, 7 R, 6 BB, 8 K (2 HR allowed).
Ranked amongst the top five starters in walk rate (4%) in 2020 (Kenta Maeda/Zack Greinke territory).
High-spin (92nd percentile), plus-velocity (81st percentile) fastball (47%, 95.1 mph) paired with a splitter (30%, 85.1 mph), slider (17%, 87.5 mph) and curveball (6%, 81.7 mph).
Fastball could absolutely dominate the Rays lineup — the pitch they have had the least amount of success against:
The Bullpens
In 2020, the Rays' bullpen ranked seventh in FIP (3.94), 3rd in xFIP (3.94), and 5th in K-BB% (17.4%). By the same metrics, the Dodgers ranked second (3.45), second (3.88) and fourth (17.2%).
The only key reliever that the Dodgers burned on Tuesday was Pedro Baez, who pitched for the fourth time in a week (11 pitches Tuesday, 55 total).
The Rays brought in Ryan Yarbrough (19 pitches) behind Glasnow. They could still use Yarbrough as a starter on three days' rest in Game 4, or attempt to bring Glasnow back after a 112-pitch effort.
Josh Fleming (2.2 IP, 40 pitches) is the only man on either roster who looks completely unavailable for Wednesday.
Dustin May, who started Game 7 of the NLCS (1 IP, 18 pitches) on short rest could come back again as a bulk man after a couple of days off.
The 23-year-old averaged 98 mph on his fastball in 2020, the hardest pitch by a starter other than Jacob deGrom (98.6 mph) — and the majority of those May fastballs are unhittable sinkers:
May also throws a cutter, curveball and changeup, with each pitch grading out as above-average.
In addition to the elite velocity, May gets elite spin on both the fastball (91st percentile) and curveball (93rd percentile).
Even though he has allowed runs in his past two appearances, May has 10 strikeouts in 7 innings, and has looked like the Dodgers' secret weapon at times in these playoffs:
---
Check out our new MLB PRO Report, where we highlight key factors that provide betting edges — like large wagers, historically profitable betting systems, model projections and expert picks — that when combined with sharp money can powerfully detail the smartest bets on a given slate.
---
Fielding
Over the past five years, both the Dodgers and Rays have finished in the top five for Defensive Runs Saved in each season, with either team leading the league once (2017 Rays, 2019 Dodgers). In 2020, the Dodgers recorded 29 DRS (second) and the Rays 22 (sixth).
There were a lot of good defensive displays on Tuesday. Mike Zunino was nearly flawless behind the plate for Glasnow with his pitch blocking, saving multiple base advancements for his pitcher.
Justin Turner (-4 DRS since 2019) made an excellent snare at third base to keep the Rays in check:
Cody Bellinger robbed another home run in the ninth inning.
The Dodgers, and particularly Mookie Betts, were also spectacular on the basepaths, becoming the first team to record three steals in one inning of a World Series game since the 1912 Giants.
I neglected to mention the presence of Austin Barnes as Kershaw's personal catcher on Tuesday. The Dodgers trade offense for defense by regularly inserting Will Smith into their catcher's spot.
Since 2019:
Barnes: +11 DRS in 769.2 innings
Smith: +2 DRS in 679.2 innings
Projected Lineups
Data via FantasyLabs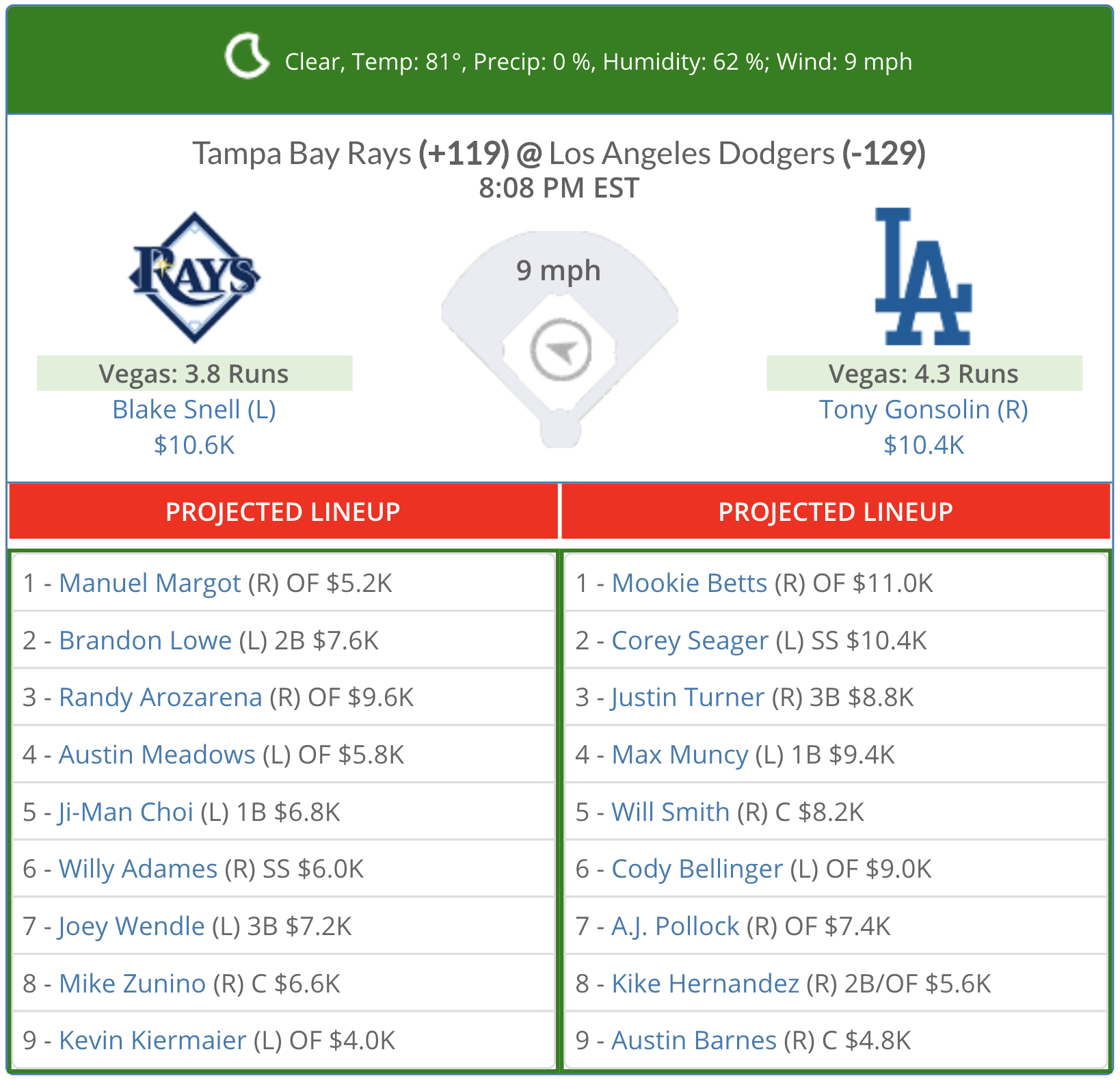 Stadium, Umpire, and Weather Report
Data via Sports Insights

The sample size remains small, but I'll continue to monitor the over/under split with the roof closed vs. open at Globe Life Field.
The Rangers played 30 regular-season games at Globe Life, and the roof was closed in 22 (73%) of those contests. Unders went 11-9-2 (55%) with the roof closed with an average margin of victory of 0.84 runs.
The over is now at 12-6-1 (66.7%), when the roof stays open in Arlington, covering by an average margin of 2.47 runs.
Umpire Todd Tichenor has shown relatively neutral trends, with a slight lean (52.3%) to the under in his career.
As of writing, more than 82% of the tickets are on the over following a high-scoring Game 1, but 48% of the cash is on the under, triggering the following Bet Labs system:
Series Moneyline Corner
After their Game 1 loss, the Rays' chances to win the series decreased by 15% to 26% — and if they do come back to win the series, it's 50% likely to occur in a winner-take-all Game 7.
I mentioned prior to Game 1 that, should the Rays lose, I would be willing to play their series price again at +350 or better.
My target price has not changed, but after re-opening around +345 (implied 22.5%), the line has adjusted closer to +325 (implied 23.5%), and I will continue to wait for a +350 to pop.
Projected Game 2 Odds & Favorite Bets
Click here to access our brand-new live-updating projections page, which easily reveals and grades the biggest edges on today's slate.
To download my traditional spreadsheet where you can plug in odds from your sportsbooks, click here.
The Rays opened as +136 (implied 42.4%) underdogs for Game 2 and took a quick peek above +140 (implied 41.6%) before the line declined to its current figure around +120 (implied 45.5%).
As a result, I no longer see value on the Rays' moneyline, but I would look to bet their moneyline at +137 (implied 42.3%) or better, a 3% edge relative to my projection. I don't see any present value on the F5 moneyline, and I don't anticipate that the bet will come back into range, either.
With regards to the total, the full-game number appears to be correct, but the F5 Over 4 (-120) looks actionable at a 3.8% edge — relative to my projection at 4.74. You could attempt to wait for Over 4 (-115), but I think that number closes at 4.5, juiced up to the under.
The Picks
F5 Over 4.5 (0.5 units, play to -120)
Rays Moneyline (1u, play to +137)
How would you rate this article?