UFC Fight Night 149 Betting Preview: Alistair Overeem and Aleksei Oleinik Rumble in Russia
Credit:
USA TODAY Sports. Pictured: Alistair Overeem (left), Aleksei Oleinik (right).
UFC Fight Night 149 betting odds: Alistair Overeem vs. Aleksei Oleinik
Alistair Overeem -245
Alexey Oleinik +200
Fight Time: Approx. 3:30 p.m. EST
Channel: ESPN+
On Saturday, April 20, the UFC's second event in Russia goes down in Saint Petersburg. Aleksei Oleinik submitted Mark Hunt in the main event of the UFC's inaugural Russian event in September.
Just over seven months later, Oleinik again finds himself in the main event. This time around, Oleinik (57-11-1) is facing off against MMA legend Alistair Overeem (44-17).
Oleinik is taking the fight on fewer than three weeks notice, as Overeem was initially slated to fight sixth-ranked contender Alexander Volkov, who dropped out of the fight on April 3 due to an undisclosed reason.
Let's take a deeper look into this latest version of the classic striker versus grappler matchup.
How Overeem can win
Coming off brutal back-to-back knockout losses, "The Demolition Man" Alistair Overeem got back in the win column last November with a win over UFC-newcomer Sergey Pavlovich. Against Pavlovich, Overeem was able to successfully land clinch strikes, secure the takedown, and finish with ground-and-pound.
Throughout his professional MMA career — which started in October 1999 — Overeem has undergone several transformations. The veteran grappler who showed up against Pavlovich is just the latest incarnation of the Dutch kickboxer.
Initially a light heavyweight, who was just as likely to submit his opponent as knock them out, Overeem put on massive size in the mid/late-2000's and moved up to heavyweight. "Ubereem" reinvented himself as a dominant kickboxer and even won the K-1 2010 World Grand Prix.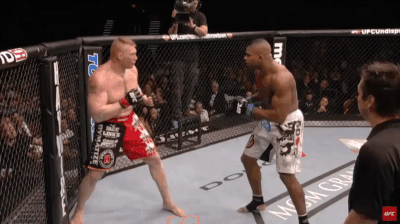 Since joining the UFC in 2011, Overeem's strength has been his striking. Six of Overeem's nine UFC wins have been via knockout. In the UFC, Overeem is ranked:
No. 1 in significant strike accuracy (73.1%) all-time regardless of weight class
No. 6 in strikes absorbed per minute (2.37) among active heavyweights
No. 7 in knockdowns (8) all-time among heavyweights
No. 8 in strike differential (+1.33) among active heavyweights
No. 10 in significant strikes landed (442) among active heavyweights
No. 10 in significant strikes landed per minute (3.70) among active heavyweights
Unsurprisingly, Overeem's key to victory is simply to keep the fight on the feet. He has the striking edge against Oleinik in every major statistic:
Fortunately for Overeem, there aren't many tactical adjustments needed for this matchup. He's one of the most active and accurate strikers in UFC heavyweight history, while his opponent has a negative strike differential and has never finished an opponent in the UFC via strikes.
Overeem is more than capable in the clinch and on the ground, but there's no reason for him to even test those waters. Any sort of grappling exchange provides Oleinik with an opening into the fight. Overeem's 73% takedown defense rate should bode well for the Dutchman here.
"Ubereem" just needs to stay at range and pick his shots until either the bell rings or his opponent falls.
How Oleinik can win
At 6-2 in the UFC and riding a two-fight win streak, "The Boa Constrictor" Alexey Oleinik has quietly put together one of the best runs in the UFC's heavyweight division.
Oleinik's latest win — a first-round submission via rear-naked choke — was the perfect microcosm of his UFC career. In the 4:26 that his fight against Mark Hunt lasted, Oleinik was out-landed 2:1 in significant strikes and was clearly hobbled by the powerful leg kicks his opponent was landing at an 80% success rate.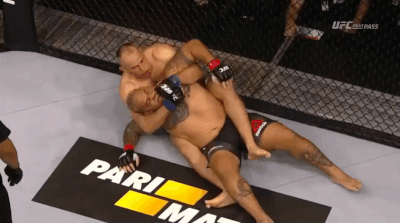 However, even though he was 11% (3/26) in total strikes landed, Oleinik knew what had to be done. "The Boa Constrictor" secured a takedown (his fifth attempt of the round) and summarily submitted Hunt via choke.
The opportunity to attempt submissions is predictive of Oleinik's ability to win in the UFC:
100% (6/6) of Oleinik's UFC wins have been via submission
79% (45/57) of Oleinik's career wins have been via submission
Oleinik is ranked No. 1 in submission attempts per 15 minutes (2.7) and No. 6 in submission attempts (8) all-time among UFC heavyweights
Oleinik's path to victory is simple: he must find a way to secure his vice-like grip around the neck of Overeem. Every second Oleinik is not in the process of securing a submission he will be losing the fight.
The X-Factor: The Ezekiel Choke
Oleinik's secret weapon is the Ezekiel choke. Oleinik secured the first win via Ezekiel choke — which involves squeezing the opponent's windpipe between your forearms — in UFC history and holds the world record for most Ezekiel chokes in professional MMA competition (12).
What is unique about this choke is that Oleinik does not need any specific position to secure it. While most chokes are either applied from dominant position (back control, front headlock, etc.) or from guard, Oleinik can secure the Ezekiel choke with zero control over his opponent's body. Oleinik's submission victory over Junior Albini – secured from bottom mount – is proof of this.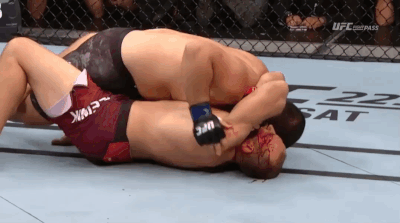 Overeem would do best to avoid engaging in any sort of clinch or grappling exchange with Oleinik for this very reason. Positions that are advantageous against most people can quickly turn into a submission defeat at the hands of Oleinik.
Past and Current Odds
As is usually the case at heavyweight, the odds are all over the place for both men.
Overeem is the favorite for just the third time in his past seven fights. At -245, this is the widest line on Overeem since is 2014 bout against Ben Rothwell. Overeem has won his last six in a row as a favorite.
Oleinik is the underdog for the fourth time in five fights. Oleinik is 2-1 as a dog of +200 or worse.
Prediction
There are two major caveats when betting this fight:
This is a heavyweight bout and the heavyweight division is notoriously the most unpredictable division in MMA
Overeem has lost as a significant favorite against Ben Rothwell (-360), Travis Browne (-180), and Antonio Silva (-450)
That being said, there is absolutely no reason to bet Oleinik in this fight unless you just feel like gambling on a heavyweight at plus-money.
Overeem has never been submitted in his near-20-year career and Oleinik has been finished via strikes eight times. Moreover, the level of competition Oleinik has been fighting (and has lost to) is well below the elite of the division where Overeem resides.
A freak submission is always possible and hey, it is heavyweight, but there is only one way I can confidently bet this fight.
The Pick: Alistair Overeem -245