The MMA Cheat Sheet: UFC 218 / The Ultimate Fighter Finale
MMA bettors will get more bang for their buck this weekend, with the UFC hosting two events on successive days in two different US cities. As usual, we've got you covered…
Following its successful debut in mainland China last weekend, the UFC isn't resting on its laurels. Far from it, in fact. That's because this weekend the action takes place in both Las Vegas AND Detroit, with two UFC events being held on consecutive nights.
On Friday night, a new world champion will be crowned at The Ultimate Fighter Finale in Las Vegas, and the action cranks up a few notches the following evening as the brand new Little Caesars Arena in Detroit plays host to a stacked card on pay-per-view for UFC 218: Holloway vs Aldo 2.
Here's our quickfire betting guide to everything you need to know ahead of this weekend's doubleheader.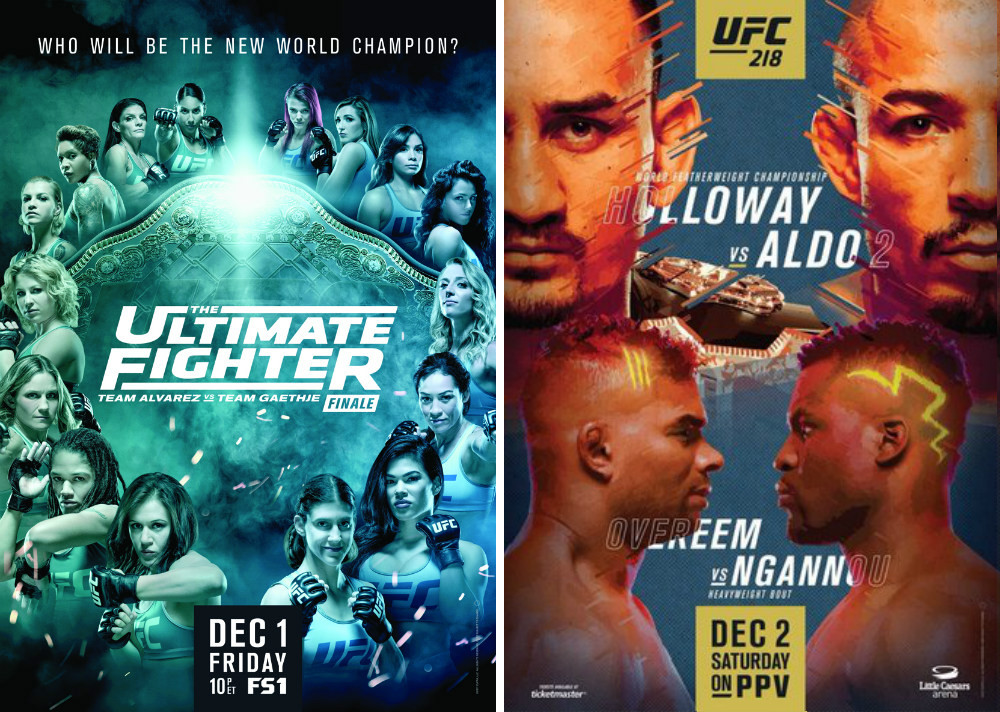 UFC 218: HOLLOWAY vs. ALDO 2
The Main Event: Max Holloway vs. Jose Aldo
Saturday night sees Holloway and Aldo meet for the second time in successive outings as they run back their UFC 212 title fight in June.
Holloway produced the performance of his career in that contest to not just defeat the Brazilian legend, but finish him with strikes in the third round of their championship bout in Rio de Janeiro as he claimed the undisputed world title
Holloway was originally set to face former lightweight world champ Frankie Edgar this weekend, but an injury to the American forced the challenger off the card, with Aldo jumping back in to try to reclaim his old title.
The Odds
Holloway vs Aldo 2
Win
Stoppage
TKO/KO
Submission
Decision
Max Holloway
-302
-115
+104
+700
+292
Jose Aldo
+263
+694
+1040
+1500
+402
Odds from SportBet via BestFightOdds.com
Holloway is the clear favorite to win the bout, and rightly so. When the younger man wins the first outing, the usual rule of thumb is he wins the second meeting every bit as convincingly. The chart above accurately reflects that view. But there are some odds worthy of note here.
Even if you concede Holloway is the likely winner, the comparative odds on the two men scoring a KO/TKO victory seem lopsided, at best.
The +104 on Holloway gives him an implied 49 percent chance of scoring a repeat win by KO/TKO which, given his performance in the first bout, seems reasonable. But pricing Aldo at +1040 – an implied probability of just 8.8 percent – seems off the mark. (Editor's note: Aldo by KO/TKO is now available as high as +1100 on William Hill.)
Aldo is a prodigious striker who has finished more than half his wins by KO/TKO. Admittedly, he's fought more conservatively in recent years, but now he's looking to avenge his defeat and regain his title, his pedigree certainly suggests the +1040 available for an Aldo KO/TKO finish represents real value as a side bet.
Here are some of Aldo's highlights from earlier in his career (video was released when Aldo was the UFC champion back in 2014):

Keys to victory
Holloway found the key to victory against Aldo in his first fight: overwhelm the Brazilian with volume and relentless pressure.
The Hawaiian put his pedal to the metal from the first round and didn't let up, forcing Aldo onto the back foot, where he was unable to mount any serious offense.
Aldo works best when he's controlling the pace and range of the bout, and Holloway denied him both luxuries in their first contest. Expect more of the same from him this time around.
As for Aldo, he'll have to start much faster than he did in the first encounter. The Brazilian is one of the most technically sound strikers in mixed martial arts, and he has the skills to be able to time Holloway's forward aggression.
If he's to be successful second time around, Aldo will not only have to time Holloway early, he'll also need to do damage early, too. His leg kicks have proved a hugely effective weapon in past fights, but he didn't go to them often enough in the first contest. Expect a lot more of those this time around as he looks to slow down the relentless pace of the defending champion.
OUR MAIN EVENT PICK
Iron-chinned, supremely conditioned and still getting better, it's impossible not to side with the defending champion here.
Holloway defeated Aldo first time around, and did it decisively, finishing the Brazilian in the third round. And a repeat performance seems the likely outcome on Saturday night.
If Aldo comes into the bout with renewed vigor and a better game plan, there's a chance he can take it all the way to the scorecards. But even over five rounds, I don't see the Brazilian being able to keep pace with the Hawaiian over the full championship distance in order to earn a decision victory.
And if you're looking for a sporting gamble, Aldo via KO/TKO is significantly underpriced at +1040 and may be worth a small interest.
The solid pick: Holloway via KO/TKO (+104)
The insurance pick: Holloway via decision (+292)
The sporting gamble: Aldo via KO/TKO (+1040)
THE FIGHT CARD
Early Prelims (Live on UFC Fight Pass)
Main Card (Live on pay per view)

Max Holloway
Jose Aldo
UFC featherweight title
Alistair Overeem
Francis Ngannou
Heavyweight bout
Henry Cejudo
Sergio Pettis
Flyweight bout
Eddie Alvarez
Justin Gaethje
Lightweight bout
Tecia Torres
Michelle Waterson
Strawweight bout

Preliminary Card (Live on FOX Sports 1)

Charles Oliveira
Paul Felder
Lightweight bout
Alex Oliveira
Yancy Medeiros
Welterweight bout
David Teymur
Drakkar Klose
Lightweight bout
Felice Herrig
Cortney Casey
Strawweight bout
Abdul Razak Alhassan
Sabah Homasi
Welterweight bout
Jeremy Kimball
Dominick Reyes
Light-heavyweight bout
Justin Willis
Allen Crowder
Heavyweight bout
Amanda Cooper
Angela Magana
Strawweight bout
The Fighter Most Likely…
…to terrify and excite us in equal measure: Francis Ngannou
The hulking Cameroon-born heavyweight is still young in his MMA career, but he already looks like a future world champion. He takes on multiple-time world champion Alistair Overeem in the co-main event with both men looking to book themselves into a title bout with UFC heavyweight champ Stipe Miocic next year.
Ngannou has terrifying power and the sort of swagger that comes with the knowledge that we haven't even scratched the surface of what he's capable of so far. He could be the talk of Detroit after Saturday night. He's -185 to finish Overeem inside the distance.
Considering the fact this is just his 12th pro MMA fight and it's Overeem's 60th, that's astonishing. It's a realistic price, too.
…to earn a Performance of the Night bonus: Eddie Alvarez and Justin Gaethje
UFC 218 may offer a stacked fight card, but there's one fight that has the media and fans more excited than the rest: the lightweight clash between former UFC champion Eddie Alvarez and former World Series of Fighting champ Justin Gaethje.
They're two of the most exciting lightweight fighters in the world, with Gaethje in particular a buzzsaw of a brawler, walking through his opponent's strikes to land his own. Alvarez is +310 to win inside the distance, while Gaethje is +140 to finish the fight early.
One of those will surely cash in what looks set to be a toe-to-toe barnburner of a match. Gaethje's UFC debut win over Michael Johnson is a candidate for 2017's Fight of the Year, but this matchup has all the tools to surpass it. Do not miss this one.
…to get their walking papers after the bout: Angela Magana
The controversial strawweight joined the UFC after an unsuccessful stint in The Ultimate Fighter, and she's made more headlines for her comments outside the octagon than her performances inside it.
Most recently, she clashed with women's featherweight world champion Cris Cyborg at the UFC Athlete Retreat over remarks she made about the Brazilian's appearance. Magana hasn't won a fight since 2011 and has lost both her bouts in the UFC so far.
If she loses to fellow TUF graduate Amanda Cooper on Saturday night – and we think she will – there's a better than average chance that she'll be cut from the UFC. And there's an even better chance she'll get little sympathy if she is.
---
THE ULTIMATE FIGHTER FINALE
Friday night's event at The Park Theater will feature many of the castmates from the recent season of The Ultimate Fighter, with the two tournament finalists set to face off in the main event for the inaugural UFC women's flyweight world title.
But we're going to look at some of the other bouts on the card as we pick out the most likely routes to profit on Friday night…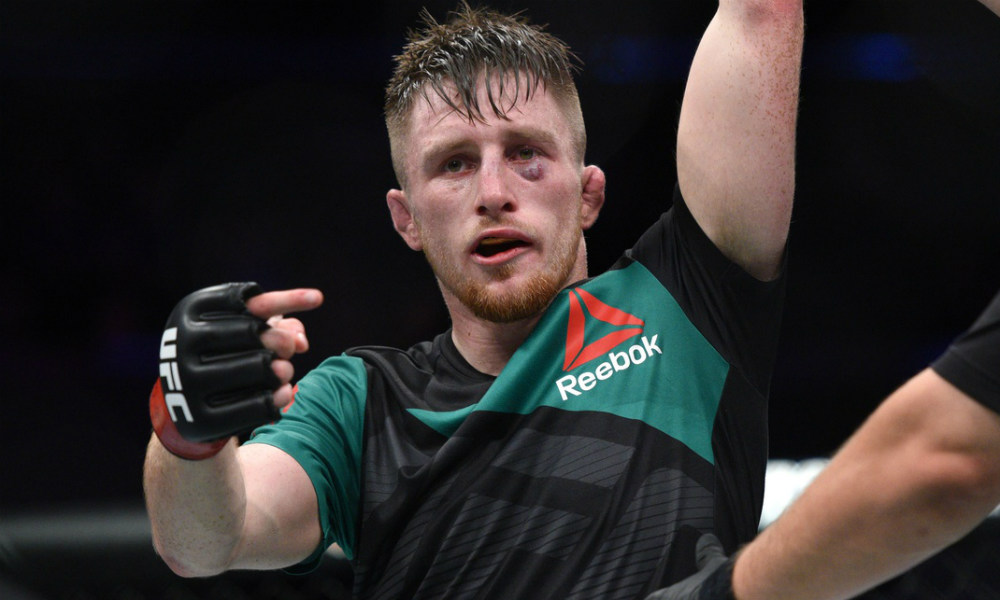 Welsh bantamweight Brett Johns is worth a look this weekend (© Per Haljestam-USA TODAY Sports)
Middleweight Andrew Sanchez isn't the most spectacular athlete on the UFC roster, but he's as tough as nails and is an outstanding grappler. At -425, he's a lock to overwhelm Canada's Ryan Janes.
Undefeated Welsh bantamweight Brett Johns (pictured) is a rising force in the UFC's 135lb division and has looked excellent in his two UFC bouts so far. At -186 (SportBet), he's a backable favorite against former title challenger Joe Soto.
"Sugar" Sean O'Malley is one of the most exciting talents to emerge from UFC president Dana White's Tuesday Night Contender Series events. He makes his official UFC debut against Terrion Ware, who has a huge experience advantage. But O'Malley looks like a natural, and he's worth backing at -235 (Pinnacle).
The middleweight battle between Eric Spicely and Gerald Meerschaert should deliver a fascinating clash between two well-matched grapplers. It's one to watch, but one to avoid from a betting perspective.
---
[Main image credit: © Jason Silva-USA TODAY Sports]
---
Be part of the Action
Come join our growing community by simply downloading the SportsAction App through the [App Store] or [Google Play].