Bellator London Betting Preview: Gegard Mousasi vs. Rafael Lovato Jr.
Credit:
Dave Mandel-USA TODAY Sports. Pictured: Gegard Mousasi (red gloves) at Mohegan Sun Arena.
Bellator Middleweight Champion "The Dreamcatcher" Gegard Mousasi (-530) is making the second defense of his championship reign.
The challenger Rafael Lovato Jr. (+380) is undefeated in MMA but inexperienced compared to the champion.
Bellator London Betting Odds:
Gegard "The Dreamcatcher" Mousasi odds: -530
Rafael Lovato Jr. odds: +380
Date: June 22, 2019
TV: MMA Junkie
Under the Bellator London banner, Bellator MMA will be hosting two events from the SSE Arena on Saturday, June 22: Bellator 223 and Bellator Europe 3.
The headliner of the night will be a middleweight championship contest between current champion Gegard "The Dreamcatcher" Mousasi and top-ranked contender Rafael Lovato Jr.
A perennial top-10 fighter, Mousasi's career has taken him from Pride and Dream in Japan through Strikeforce and eventually to the UFC. In 2017, Mousasi decided to join Bellator despite being on a five-fight winning streak in the UFC.
In Bellator, Mousasi is 3-0. He won the title from Rafael Carvalho in his second bout with the promotion and successfully defended against Rory MacDonald in a champion-versus-champion fight last September.
A fourth-degree black belt in Brazilian jiu-jitsu and multiple time world champion, Rafael Lovato Jr. made the transition to MMA in 2014. Lovato Jr. is undefeated during his MMA career, 5-0 in Bellator and has finished 89% (8/9) of his opponents.
Gegard Mousasi's Path to Victory
Mousasi (45-6-2) is looking to establish a championship legacy for himself in the Bellator middleweight division.
In a career spanning over 15 years and 50 fights,  Mousasi has won world championships in multiple organizations and at multiple weight classes, he's never defended a title more than once.
Against Lovato Jr., Mousasi looks to change that.
Fighting out of Team Jurojin in Leiden, Netherlands, "The Dreamcatcher" is one of the most well-rounded fighters in MMA. Of his 45 career wins:
58% (26/45) are via knockout.
27% (12/45) are via submission
16% (7/45) are via decision.
On the feet, Mousasi is a patient and defensively responsible fighter. His best weapon is his jab, which is one of the best in the sport. Against MacDonald, Mousasi peppered the champion with his jab so badly that MacDonald felt the need to force a takedown, which would eventually cost MacDonald the fight.
Despite only 23% (12/53) of his career fights taking place inside the UFC, "The Dreamcatcher" is still one of the most successful strikers in the history of the UFC's middleweight division. Among all middleweights (minimum five UFC fights), Mousasi ranks:
No. 3 in strikes absorbed per minute (1.42).
No. 4 in strike differential (+2.24).
No. 8 in significant strike defense (minimum 350 strike attempts by opponents) (63.7%).
Mousasi is a takedown threat and devastating finisher from top position. Both of Mousasi's championship bouts in Bellator were won with striking from dominant top position.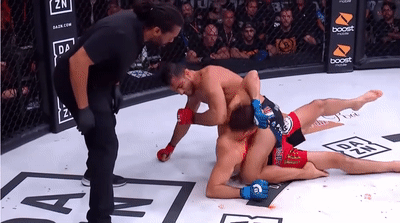 Aside from arguably Jacare Souza — the only man to submit Mousasi since 2006 — Lovato Jr. is by far the most accomplished grappler Mousasi will have ever faced.
Wrestling has been a safety valve for Mousasi when he runs into trouble on the feet, but he should't use it here. Like the MacDonald/Gracie fight last weekend, the champion may be able to hang with the grappler, but there's no reason for him to encourage grappling exchanges.
If "The Dreamcatcher" tries to force takedowns the way he did in his fight with Alexander Shlemenko, there's a sizable chance he gets submitted.
Mousasi should stay at range, jab away, and keep the fight on the feet at all costs. That's the recipe for an uneventful, but efficient, defense for the champion.
Rafael Lovato Jr.'s Path to Victory
As you'd expect based on his vaunted Brazilian jiu-jitsu background, Lovato Jr.'s (9-0) strategy is pretty straightforward. The American needs to initiate grappling exchanges – whether in the clinch or on the ground – at all costs.
In a fight like this, Lovato is better off on his back than standing at range.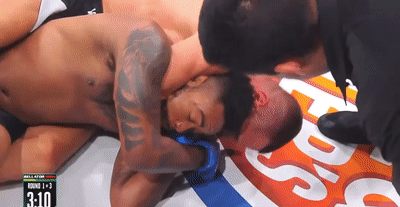 Possessing a one-inch height-advantage and 1.5-inch-reach-advantage, Lovato's bigger frame should help him in the grappling department. The challenger has shown great finishing instincts and needs to take advantage of the limited opportunities he'll be presented with.
When the fight does take place on the feet, Lovato Jr. is an improving but nascent striker. He's heavy on his feet and prefers single shots, particularly an overhand right and a rear body kick. The American has power in his right hand.
 The X-Factor: Experience
A quick look at the resumes of both men makes the experience differential pretty clear, but I'd like to explore some numbers to further support this.
Per Tapology, Mousasi is considered the No. 9 middleweight in the world. His last five opponents are currently ranked:
No. 27 at Welterweight: Rory MacDonald.
No. 23 at Middleweight: Rafael Carvalho.
No. 29 at Middleweight: Alexander Shlemenko.
No. 11 at Middleweight: Chris Weidman.
No. 15 at Middleweight: Uriah Hall.
On the other hand, Lovato Jr. is presently the No. 24 middleweight in the world.
His five Bellator opponents are currently ranked:
No. 35 at Middleweight: John Salter.
No. 116 at Middleweight: Gerald Harris.
No. 64 at Middleweight: Chris Honeycutt.
No. 146 at Light Heavyweight: Mike Rhodes.
N/A: Charles Hackman.
Current and Past Odds
Mousasi is the prohibitive favorite once again. The champion has been heavily favored in every bout of his Bellator career.
This is just the third bout of Lovato Jr.'s available odds and the first time he's the underdog.
Fight Prediction
Unfortunately, there isn't a great betting angle to this fight. All signs point to a Mousasi win but at -530 there's no value. In a situation like this I'd typically look to prop bets, but Bellator props come late (and sometimes not at all).
If you feel like punting on a large underdog, you could do much worse than Lovato Jr.
The Pick: Rafael Lovato Jr. (+380)
How would you rate this article?