Bettors Miss Out on Winnings From Legal Sportsbooks As Shops Handle Pre-Recorded PFL Fights
Credit:
Via Michael Owens/Getty Images. Pictured: Andre Harrison.
It is every sport's bettor's dream.
Betting on games where the outcome has already been determined.
That became a reality for bettors placing wagers on the Professional Fighters League Challenger Series on April 1.
This is not about point-shaving or throwing games.
The PFL had already pre-recorded the fights on March 25 and was set to show the fights on FuboTV on April 1.
Except there was one issue: They promoted the fights as if they were to be shown live.
Sportsbooks– including DraftKings, FanDuel and BetMGM— had lines posted on April 1 for the fights that had already taken place.  Rumors had been swirling in various MMA circles throughout the week on the outcome of the fights despite the efforts from the PFL to keep it a secret.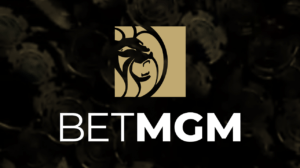 Bet $10, Win $200 if Tiger Makes a Birdie.
It was most commonly spread through a discord channel, according to some of the people who had bet on the fights.
Most shops kept the lines open until the start of the broadcast. DraftKings took the lines down in the mid-afternoon when they realized certain sides were being bet heavily. Other books continued to juice their lines, likely having no idea there was already a pre-determined outcome.
One bettor, who has chosen to remain anonymous, said he was tipped off by people in his MMA betting circle. Although there were still worries from people involved that the rumors could be false.
He was willing to take the chance.
The bettor proceeded to place bets on every outlet that he was allowed to including legal sportsbooks, offshore sportsbooks and local bookies. All in all, he had thousands wagered and was in line to make hundreds of thousands of dollars off of his various parlays.
All of them hit. Except he will likely never see that money.
He said the offshores, for the most part, paid out his winnings. Even his local bookies paid him out. However, he's been struggling to see his money through the legal sportsbooks.
In an ESPN report, they indicated that U.S. Integrity–a Las Vegas company that monitors betting markets–alerted sportsbooks. "As such, it's very possible that any potentially suspicious wagering activity is indicative of nefarious behavior," the alert wrote according to ESPN. Other state regulators are investigating the matter.
FanDuel paid the bettor out immediately following the fights, and he quickly withdrew his winnings. They appear to have handled the issue differently depending on the state and have attempted to recover the winnings they have paid out, according to sources involved.
BetMGM also paid out his winnings, although it was a much smaller sum. The biggest difficulty he had was with DraftKings, who was on the hook to pay him thousands of dollars, which informed him that his bets were under review and then later voided.
The most interesting part? DraftKings has an official partnership with the PFL as the "Official Sportsbook and Daily Fantasy Partner of the PFL."
"DraftKings offered odds for the April 1st PFL event in several states that were compiled in-house by our team of dedicated traders," DraftKings wrote in a statement. "At the time we believed the event in question was live. After noticing unusual activity on a number of fights, DraftKings removed the markets. We are working with regulatory bodies to determine the appropriate course of action."
PFL has denied the use of sports betting lines in the broadcast and said in a statement, "Any sportsbooks that took bets on the prerecorded program did so without the consent or knowledge of the PFL."
Whether bettors ever see their winnings will mostly depend on state regulators and their investigations. And some bettors have already begun to plan their appeals to gaming control boards.
But it's not likely that many of them will ever offer bets on the PFL again.
How would you rate this article?
This site contains commercial content. We may be compensated for the links provided on this page. The content on this page is for informational purposes only. Action Network makes no representation or warranty as to the accuracy of the information given or the outcome of any game or event.