Can 'Disrespected' Daniel Cormier Prove Oddsmakers, Stipe Miocic Wrong in UFC 226?
Credit:
Kevin Hoffman-USA TODAY Sports. Pictured: Daniel Cormier.
The Highlights
With the world heavyweight title on the line at UFC 226, light heavyweight champion Daniel Cormier has the chance to hold two titles simultaneously.
Cormier's odds (+195) are his longest outside of his 2017 rematch with Jon Jones. Naturally, he disagrees with oddsmakers.
Heavyweight champion Stipe Miocic has never quite faced a wrestler on Cormier's level.
---
The UFC heavyweight title is up for grabs Saturday night at UFC 226 in Las Vegas, where reigning heavyweight champion Stipe Miocic will make his fourth title defense against current light heavyweight champion Daniel Cormier. A victory for Miocic could help solidify his status as the all-time heavyweight G.O.A.T., while Cormier is attempting to join Conor McGregor as the only UFC fighters to ever simultaneously hold belts in two different weight classes.
Miocic is currently riding a six-fight win streak in which he avenged his most-recent loss to Junior Dos Santos. Meanwhile, Cormier rebounded from his brutal knockout loss to Jon Bones Jones by defeating Volkan Oezdemir in convincing fashion in January.
Heavyweight clashes are usually a toss-up, but let's break down some of the matchup's biggest questions and attempt to find some value with the odds.
Stipe Miocic -250 vs. Daniel Cormier +195 
---
Size
Cormier's move from light heavyweight (205-pound limit) to heavyweight (206 pounds and up) comes with questions about both his height and weight. The 6-foot-4 Miocic has an eight-inch reach advantage over Cormier, who stands 5-foot-11 with a 72-inch reach.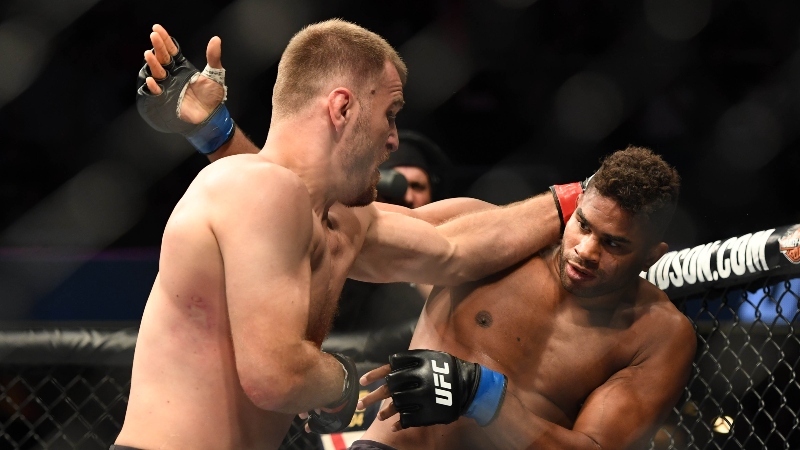 John David Mercer-USA TODAY Sports. Pictured: (Left) Stipe Miocic.
While this is significant, it isn't anything DC hasn't grown accustomed to facing as a light heavyweight:
Volkan Oezdemir: 6-foot-2 | 75-inch reach (TKO W)
Jon Jones: 6-foot-4 | 84-inch reach (UD-Loss, NC)
Anthony Johnson: 6-foot-2 | 78-inch reach (Submission W x 2)
Anderson Silva: 6-foot-2 | 77-inch reach (UD-W)
Alexander Gustafsson: 6-foot-5 | 79-inch reach (SD-W)
Overall, Cormier has given up at least three inches in height and reach in each of his past seven fights. Miocic is a different beast considering his larger heavyweight frame, but Cormier has faced fighters taller fighters (Gustafsson) and guys with a longer reach (Jones). There's also been a common rhetoric among MMA analysts such as Dan Hardy that Miocic doesn't utilize his reach as effectively as some of Cormier's past opponents.
DC isn't what some might call a thin light heavyweight. A self-pronounced lover of both cake and chicken, Cormier racked up a 13-0 record and won the Strikeforce Heavyweight Grand Prix before eventually moving down to 205 pounds in 2014. He's never missed weight, and while there have been some close calls (#TowelGate), it took the extended absence of Cormier's close friend/training partner Cain Velasquez, along with a pending suspension for Jones, to trigger this impending move to heavyweight.
Longtime MMA referee and current Bellator analyst 'Big' John McCarthy noted Cormier weighed 236 pounds the night of his rematch against Johnson. Chael Sonnen said Cormier weighed 248 pounds 'the last time they spoke' and had a goal of getting down to 235 pounds by Friday's weigh-in. Miocic has weighed 246 pounds in each of his last three fights, and hasn't dipped below 236 during his time in the UFC.
It would be surprising if Cormier ultimately weighs more than Miocic, but the difference won't be as stark as some might think between members of different weight classes. Miocic will have a large height and reach advantage that he hasn't typically been afforded, although DC is more than accustomed to battling against taller and longer fighters.
Wrestling
Miocic presents a problem that only two of 20 Cormier's professional challengers have been able to solve to this point, but he doesn't exactly bring a unique or diverse skill set to the table. Cormier has seen one-punch knockout power combined with a wrestling base twice in the form of Anthony Johnson, but Miocic has never faced a wrestler on DC's level.
A fourth-place finish in the 2004 Olympics marked the pinnacle of Cormier's wrestling career, and he translated this martial art into the UFC with devastating effectiveness. He's made a habit of throwing anyone he faces around the octagon.
Miocic was a Division I wrestler at Cleveland State and demonstrated his ability to execute takedowns while maintaining top control during his last fight against Francis Ngannou. Still, Cormier could be the most offensive-minded wrestler Miocic has seen in the UFC. Only one of Miocic's past 13 opponents inside the octagon has attempted to take him down more than once.
Of course Miocic's sturdy takedown defense, along with his habit of ending fights quickly with his fists, means plenty of opponents haven't had much time to test whatever ground-based game plan they could have had. He's largely kept fights on his feet except for encounters with marquee strikers such as Ngannou and Mark Hunt, but he won't have that same advantage on the ground against a wrestler such as DC, who has yet to be taken down at heavyweight. It's probably in Miocic's best interests to avoid going to the ground Saturday night.
Current and Past Odds
Cormier stated that he was "getting disrespected" by oddsmakers and offered his own assessment (per MMAFighting.com).
"There's odds for a reason, but know that those odds and all that money that they've bet on him, it's tied to one outcome. The only way he can win is to knock me out. There's no other way he beats me. If he didn't finish Ngannou on the ground, he is not finishing me on the ground. And if we fight for 25 minutes, there is no way he gets his hand raised. So all the money that people are betting, know that it's tied to one outcome, because that's the only way he wins the fight."
Cormier isn't wrong. Among the five method of victory props, Miocic to win inside the distance is the favorite at +140. Additionally, Cormier to win on points at +425 is the favorite among 13 different round betting props available.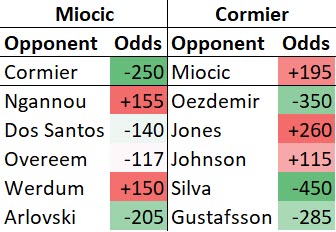 While Miocic has largely seen his odds hover between -140 and +155 during his time as a champion, Cormier has operated as at least a -285 favorite against everyone except Jones and Johnson since joining the UFC in 2013.
The only fighter to be this heavily favored over Cormier was Jones, the only man in the G.O.A.T. discussion who has never truly lost a fight in the octagon. Miocic has a strong claim as the heavyweight G.O.A.T. win or lose, but Cormier isn't that far behind either rival in that discussion, and seems to possess a more complete all-around game.
Cormier's own assessment of the fight makes sense and can be used to gain some value on whichever fighter you prefer. Miocic has been finished only once (in 2012 against Stefan Struve, with the heavy aid of an eye poke), while we've seen Cormier knocked out within the last calendar year. While anything can happen when two heavyweights slug it out, Miocic to win inside the distance — or Cormier to win by decision — seems to present the respective best odds for each fighter.
Prediction
Miocic has a shorter average fight time than Cormier, with a higher rate of strikes landed per minute. As DC indicated himself: It's looking like a knockout-or-bust kind of night for the baddest man on the planet. It's intriguing to receive plus odds on arguably the more-polished overall fighter who seemingly has more paths to victory.
The Pick: Cormier +195, likely by a decision.
UFC stats courtesy of FightMetric, betting odds courtesy of OddsShark.