Conor McGregor an Underdog vs. Khabib Nurmagomedov in UFC Return
Credit:
Credit: Adam Hunger-USA TODAY Sports. Pictured: Conor McGregor.
Conor McGregor is a +145 underdog in his return to the octagon against Khabib Nurmagomedov, who's a -175 favorite to win the UFC lightweight title.
The fight will happen at UFC 229 on Oct. 6 inside Las Vegas' T-Mobile Arena.
The long-rumored meeting between Khabib Nurmagomedov and Conor McGregor is now a reality. The two will fight for the UFC's undisputed 155-pound lightweight championship at UFC 229 on Oct. 6 in Las Vegas.
Early odds favor the undefeated Dagestani over the outspoken Irishman.
Khabib Nurmagomedov: -175
Conor McGregor: +145
---
>> Sign up for The Action Network's daily newsletter to get the smartest conversation delivered into your inbox each morning.
---
Odds opened with Nurmagomedov as a -200 favorite. The official announcement might be fresh, but this fight was all but confirmed once the former champion threw a dolly through a bus window transporting Nurmagomedov and other fighters during the lead up to UFC 223.
There has been little word from either fighter about the incident, or each other. Nurmagomedov has simply asked for McGregor to "send me location." McGregor's most-recent tweet is seemingly directed at the 26-0 lightweight champ.
Other than his dolly-filled adventure last April, McGregor hasn't been involved in a fight since losing his boxing debut against Floyd Mayweather Jr. last August.
McGregor's next step into the Octagon will be his first in 22 months, while Nurmagomedov won his title in April against 11th-ranked lightweight Al Iaquinta.
McGregor has faced a more decorated list of fighters during his career, but he's only fought outside of the UFC's 145-pound featherweight division three times. Meanwhile, Nurmagomedov has essentially destroyed everybody thrown in front of him with a consistent disregard for human life.
Of course, neither fighter is perfect. McGregor demonstrated conditioning issues in both of his fights against Nate Diaz, as well as in his loss to Mayweather inside the boxing ring. Nurmagomedov was at least briefly bothered by striker Michael Johnson, and his tendency to leave his chin up in the air has been mocked by many (including McGregor).
A look at each fighter's previous betting odds seems to validate the notion that neither man has ever faced a fighter of each other's caliber.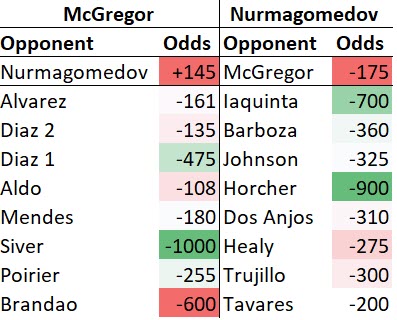 The last time McGregor was a (slight) underdog? Back in 2015 against then-featherweight champion Jose Aldo. For Nurmagomedov, UFC 229 will mark the first time ever he hasn't been at least a -200 favorite (assuming the current line holds).
Some fun facts about both fighters in the lead up to what could be the biggest fight in UFC history:
McGregor says he tore 80% of his ACL prior to his fight against featherweight Chad Mendes in July of 2015. This is significant because Mendes managed to take down McGregor on four separate occasions (per Fight Metric), something that Nurmagomedov has already said will be his focus.
There's a legitimate argument that Nurmagomedov has never lost a round during his 10 fights in the UFC. His coach claims that the 26-0 champion hasn't even lost a round in training.
McGregor didn't fight for 336 days between wins over current featherweight champion Max Holloway and later Diego Brandao. Oct. 6 will mark 693 days since McGregor has stepped into the Octagon, and 406 since he boxed Mayweather.
The lead up to the fight figures to be an entertaining McGregor-fueled circus, but it remains to be seen who will leave T-Mobile Arena victorious.
---
UFC stats courtesy of FightMetric, historical odds courtesy of OddsShark.