UFC 238 Preview: Is Henry Cejudo the UFC's next 'Champ Champ'?
Credit:
Noah K. Murray-USA TODAY Sports. Pictured: Henry Cejudo (red) during UFC Fight Night at Barclays Center.
Henry "The Messenger" Cejudo (+105) looks to capture the UFC Bantamweight Championship and become the next two-division champion in the UFC.
White-hot "Magic" Marlon Moraes (-125) is poised to capture gold in the first title opportunity of his UFC career.
UFC Betting Odds: Henry Cejudo vs. Marlon Moraes
Henry "The Messenger" Cejudo (+105)
"Magic" Marlon Moraes (-125)
Date: Saturday, June 8
Fight Time: 12:00 a.m. ET
TV: Pay-per-view via ESPN+
---
At UFC 218, Henry Cejudo shocked the world. Entering as a +365 underdog, Cejudo won the UFC Flyweight Championship via split decision. During his post-fight interview Cejudo called out the winner of that night's main event — a bout for the UFC Bantamweight Championship.
Cejudo got the fight he wanted, but not in the way he hoped for. T.J. Dillashaw defended his title at UFC 218 and it was announced he'd be dropping down to flyweight to go after Cejudo and the Mexican-American's new title.
Cejudo squared off with Dillashaw at the inaugural UFC on ESPN+ event back in January. Once again, Cejudo was the underdog (+190) and ultimately the victor. "The Messenger" out-landed Dillashaw 18-1 and won via first-round knockout.
With concerns abound of how the weight cut affected Dillashaw, and more gold still on Cejudo's mind, a rematch was penciled in at 135 pounds. Those plans came to a screeching halt when Dillashaw was suspended for two years by USADA for testing positive for EPO.
Enter Marlon Moraes. "Magic" joined the UFC in June 2016 with an 18-4-1 record and riding a 13-fight winning streak. He stumbled out of the gate, losing a controversial split decision to Rafael dos Anjos in his promotional debut. Since then Moraes is 4-0 (including a win over dos Anjos in the rematch).
With Dillashaw out, there was no question that Moraes was the man for the job.
Now, at UFC 238, Henry Cejudo and Marlon Moraes will square off for the vacant UFC Bantamweight Championship.
Henry Cejudo's Path to Victory
Henry "The Messenger" Cejudo's (14-2) UFC career is a tale of two fighters. In his initial 4-2 run, Cejudo was still figuring out his striking and was able to keep opponents at bay with his Olympic-caliber wrestling. This was enough to get Cejudo a title shot in 2016 but not enough for him to survive the first round.
Beginning with the Joseph Benavidez bout later that year, Cejudo has been a fighter reborn.
No longer a reticent striker, the years of work in the gym finally began to pay off at an elite level for Cejudo. Favoring a more open, karate-style stance, Cejudo showcased powerful striking that made full use of his world-class athleticism.
Over his next few fights Cejudo would score the first stoppage of his UFC career and become more adept at blending his striking and wrestling together. He put it all together in his victory over Demetrious "Mighty Mouse" Johnson and blitzed through Dillashaw his next time out.
Despite his Olympic wrestling pedigree, Cejudo's best weapon in the UFC has been his striking. Among all active UFC flyweights, Cejudo is ranked:
No. 3 in significant strike defense (64.1%).
No. 4 in total strikes landed (615).
No. 4 in significant strike accuracy (42.4%).
No. 6 in knockdowns landed (3).
No. 6 in significant strikes landed (368).
No. 6 in significant strikes landed per minute (3.38).
No. 6 in strike differential (+0.65).
No. 6 in strikes absorbed per minute (2.73).
In his most recent fights, Cejudo achieved the most success on the feet when swarming his opponents. Against Johnson, Cejudo was able to back Johnson in the fence and blitz forward with punches. Though not everything landed, this is where Cejudo achieved his most success on the feet and undoubtedly scored points with the judges.
Against Dillashaw, Cejudo dropped the then-champion early and refused to let Dillashaw recover.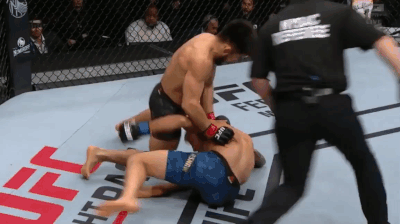 In this fight, Cejudo should look to hit stay patient and blitz Moraes when the opening arise. In both of Moraes's UFC fights that lasted more than a few minutes, the Brazilian was hurt and/or dropped by punches.
Cejudo should have a slight speed advantage in this fight and, if history is any indication, the move up to 135 pounds. will only help his power.
Wrestling should only be a secondary concern in Cejudo's gameplan. It's a useful tool to keep Moraes second-guessing on the feet and can be used to win rounds, but that's about it. The threat of Cejudo's wrestling may be a more effective tool for the former Olympian than wrestling itself.
Cejudo has never done much offensively from top position in the UFC.  He can use his wrestling to control large portions of the fight, but Cejudo is unlikely to do much damage on the ground.
Marlon Moraes's Path to Victory
No. 1 ranked bantamweight "Magic" Morlan Moraes (22-5-1) has had two types of fights in the UFC: first-round finishes and split decisions.
Among all active UFC bantamweights (minimum 5 UFC fights), Marlon Moraes has the shortest average fight time at 6:59.
"Moraes" is a powerhouse with knockout power in his hands and feet. He's rocked and or/finished opponents with punches, knees, and kicks. Once he smells blood in the water, Moraes swarms his opponent, constantly hunting for the finish. He's capable of finishing with both ground & pound and submissions.
Moraes is a highly-skilled boxer and has powerful kicks that can debilitate his opponents as the fight goes on. Demetrious Johnson landed 39 leg kicks (of 51 attempted) in the second Cejudo fight. Moraes is a much more powerful kicker than Johnson; Cejudo will be in big trouble if he lets the Brazilian land the same way Johnson did.
In the UFC, we've seen little of Moraes's ground game. "Magic" has only landed 25% (1/4) of his takedowns and averages 0.43 takedowns per 15 minutes.
Defensively, Moraes has a 60% takedown defense rate and has surrendered zero passes and a single ground strike in five UFC fights. The Brazilian also has a dangerous guillotine that should make Cejudo think twice about shooting for takedowns.
Moraes should look to finish Cejudo from the opening bell. Moraes has been at his most effective when pursuing opponents early in the fight; an early finish is the Brazilian's most likely path to victory.
The X-Factor: Going the Distance
Both men have are capable of finishing the other at any time. There's not much technical analysis to be done on that front. What is worth examining is what happens if this fight does go past the first few minutes.
For the current flyweight champion, let's take a look at his three decisions since the first Demetrious Johnson fight:
Cejudo has been in very close striking battles, but he's landed more volume and showcased better power. It's worth noting that Cejudo has never lost the wrestling battle.
Moraes has been to decision just twice in his young UFC career:
Like Cejudo, Moraes is in tight striking contests. Unlike Cejudo, Moraes has been knocked down and has lost the wrestling battle. It's worth pointing out that Assuncao hurt Moraes twice in their first fight despite not recording a knockdown.
Current and Past Odds
This is the closest fight in quite some time for Cejudo. He's been an underdog in his last three, though this fight is almost a pick em.
The odds have been close for Moraes's last five fights. He's won the previous four heading into this contest. Ironically, Moraes lost the lone time he's been a heavy favorite in the UFC.
Fight Prediction
The closer this fight gets to dead even, the more accurate the odds are as far as I'm concerned. Both men are violent finishers on incredible winning streaks. When the fight does go the distance, Cejudo and Moraes both have a penchant for split decisions.
The deciding factor for me is durability. Aside from the first Johnson fight over three years ago, Cejudo has never been hurt inside the Octagon. Moraes, on the other hands, has been hurt in both of his UFC fights that went more than a few minutes.
It's splitting hairs, but in a fight this close that's all we have.
The Pick: Henry Cejudo (+105)
How would you rate this article?