UFC on ESPN+ 9 Betting Preview: "Raging" Al Iaquinta vs. Donald "Cowboy" Cerrone
Credit:
Credit: Tom Szczerbowski-USA TODAY Sports. Pictured: Al Iaquinta (left) and Donald Cerrone (right).
UFC on ESPN+ 9 is headlined by a lightweight bout between No. 4 ranked "Raging" Al Iaquinta (-125) and No. 8 ranked Donald "Cowboy" Cerrone (+105).
In this extremely close fight, we look into a key trend that may be the difference maker on how to bet this fight.
UFC on ESPN+ 9 Betting Odds: Al Iaquinta vs. Cowboy Cerrone
Al Iaquinta (-125)
Donald Cerrone (+105)
Fight Time: 10:30 p.m. E.T
Channel: ESPN+
The UFC's lightweight division is as good as it's ever been. There's Khabib Nurmagomedov, who's 27-0 and the division's champion. Conor McGregor is arguably the biggest star in the history of the sport, Dustin Poirier just won the interim title in spectacular fashion, Tony Ferguson owns the longest winning streak in the history of the division (11 wins), and Justin Gaethje is a human highlight reel.
On Saturday night at UFC on ESPN+ 9 in Ottawa, two more top-ranked lightweights will look to stake their claim for prominence in this jam-packed division. No. 4 ranked "Raging" Al Iaquinta (-125) and No. 8 ranked Donald "Cowboy" Cerrone (+105) are set to square off in what is sure to be a barn burner of a main event.
Iaquinta's Path to Victory
After a 8-2 run to start his UFC career, it was ironically a loss that pushed Iaquinta (14-4-1) into the public consciousness. The debacle that was McGregor's dolly incident, led to Iaquinta getting the call to step up and face off against champion Khabib Nurmagomedov in the main event of UFC 214.
In a losing but inspiring effort, the brash New Yorker won over fans with his toughness and refusal to back down. Last December, Iaquinta rebounded nicely with a win over No. 6 ranked lightweight Kevin Lee via unanimous decision. Despite entering the bout as a +300 underdog, Iaquinta utilized his boxing skills and defensive wrestling and grappling to walk away with the victory.
On the feet, Iaquinta is primarily a boxer and a heavy-handed one at that.  The Serra-Longo fighter has won four UFC fights via knockout and has landed the fourth most knockdowns in the history of the UFC's lightweight division (7).
Favoring aggression over defense, Iaquinta is content to press forward and take one to give one. Despite an impressive 4.30 significant strikes landed per minute (SLpM), Iaquinta possesses a strike differential of only +0.25.
Iaquinta's favorite weapon is his right hand. He will mix in jabs, a nice left hook, and head kicks, but Iaquinta's striking is still designed to set up that right hand. Hooks, overhands, and uppercuts — Iaquinta throws everything with his right hand and he throws it with power.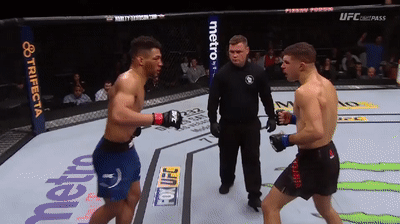 Iaquinta's grappling is predominately a defensive skill-set. Though he was submitted twice earlier in his UFC career, Iaquinta as demonstrated marked improvement in his defensive wrestling. In his two most recent bouts, "Raging" Al successfully defended eleven takedowns combined against Nurmagomedov and Lee.
Against Cerrone, Iaquinta's best chance to win will be on the feat. Cerrone is hittable and an extremely slow starter, so Iaquinta's best bet is to come forward immediately looking for the big right hand. Iaquinta is the more powerful and more durable fighter.
The longer the fight goes on, the more reads Cerrone will be able to make and the less likely Iaquinta can land a big right hand.
Iaquinta should look to keep this on the feet, because Cerrone should have the advantage on the ground regardless of who initiates the takedown.
Cerrone's Path to Victory
After a multi-year sojourn at welterweight, Donald "Cowboy" Cerrone (35-11) is back at 155 pounds and the recent father has his eyes firmly set on the title.
Cowboy is a living legend in the sport, and in this fight he'll look to add to his unparalleled resume. Cerrone is ranked:
No. 1 all-time in wins (22).
No. 1 all-time in finishes (16).
No. 1 all-time in post-fight bonus awards (16).
No. 1 all-time in knockdowns landed (18).
No. 2 all-time in total bouts (30).
No. 6 all-time in significant strikes landed (1312).
No. 3 among active lightweights in takedown defense (88.9%).
No. 7 among active welterweights in significant strike accuracy (50.9%).
No. 10 among active lightweights in SLpM (4.94).
There have been many iterations of Cowboy throughout his UFC career. The latest is a grizzled vet with a vicious mean streak. Cowboy has seemed to fully accept his slow starts and mental struggles heading into fights, which has only made him more dangerous. He's comfortable taking his opponents best shots, knowing things will only get better as the fight develops.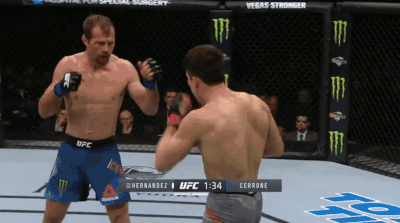 On the feet, Cowboy needs to make use of variety and combinations. Iaquinta has the superior single-shot power, but Cowboy has the better technique and more tools at his disposal. Iaquinta's right hand can get predictable, so if the fight goes long Cerrone should be able to work around it.
Iaquinta is very comfortable in the clinch and on the mat, but Cerrone should be the one initiating grappling exchanges. Cowboy is a submission threat from all positions and the more he gives Iaquinta to worry about, the more opportunities Cowboy will present himself with.
The X-Factor: Cowboy's Orthodox/Southpaw Splits
A great benefit of breaking down experienced fighters like Cowboy is that there is more data to mine for key trends. For Cerrone, there is a drastic split between his performances against orthodox fighters and those against southpaw fighters.
Regardless of his age, experience, or division, the best indicator of Cowboy's performance has been the stance of the opponent he's facing.
Current and Future Odds
Iaquinta will enter this fight as the favorite for the first time since April 2017. This is easily the closest Iaquinta fight since his pick'em bout against Jorge Masvidal in 2015.
Cerrone finds himself as the underdog for the fifth time in a row.
Prediction
This is a very close fight as both fighters have looked at the top of their game. Iaquinta has beaten higher-level opposition more recently and Cowboy has the better resume and more tools to finish the fight.
Overall, I'll take my gut feeling out of it and let the numbers do the talking. Considering Cerrone's splits against orthodox fighters and the fact that he's plus-money, I'll be backing the Cowboy in this fight.
The Pick: Donald "Cowboy" Cerrone (+105)