UFC Fight Night 150 Betting Preview: Jack Hermansson Steps Up Against Jacare Souza
Credit:
USA TODAY Sports. Pictured: (left) UFC fighter Jacare Souza, UFC figher Jack Hermansson.
UFC on ESPN+ 8 is headlined by a middleweight contest between No. 4 ranked Ronaldo "Jacare" Souza (-195) and No. 10 ranked Jack "The Joker" Hermansson (+160).
UFC Fight Night 150 Betting Odds: Jacare Souza vs. Jack Hermansson

Ronaldo "Jacare" Souza -195
Jack "The Joker" Hermansson +160
Fight Time: 11:30 p.m. EST
Channel: ESPN+
First, it was Yoel Romero vs. Paulo Costa. Then, it was Yoel Romero vs. Jacare Souza. After that, it was Souza vs. Costa. Now, just days away from UFC on ESPN+ 8, the main event is No. 4 ranked middleweight Souza vs. No. 10 ranked Jack Hermansson.
Stepping up on short notice, Hermansson will be fighting for the second time in just under 30 days. The Swede is coming off a first round submission victory over David Branch on March 30.
This match-up pits a surging contender against an established veteran looking to show he still has what it takes to compete at the highest levels of the sport.

How Jacare can win
Souza (26-6) entered MMA in 2003 with a world-class Brazilian jiu-jitsu background. Over time, the 2005 ADCC champion has supplemented his grappling with a pressure-oriented counter-striking game.
Now a 12-fight UFC veteran, Jacare is 4-2 in his last six. Those two losses came at the hands of UFC Middleweight Champion Robert Whittaker (via TKO) and recent interim title challenger Kelvin Gastelum (via split decision).
Heading into this bout, Jacare is looking to build off a spectacular third-round finish of Chris Weidman last November. In that fight, Jacare went toe-to-toe with the former champion for over 12 minutes prior to dropping him with an overhand right and finishing via ground strikes.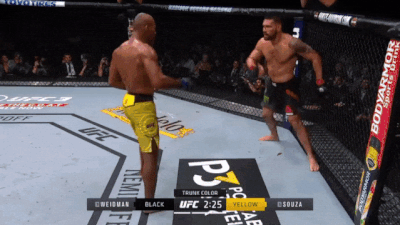 Souza likes to walk his opponent into the cage, eliciting strikes from his opponent and pushing forward with counter punches. Like his namesake (Jacare is Portuguese for alligator) Souza's strikes resemble a dangerous bite. His favorite combo goes high with a right overhand and low with a left hook to the body.
On the feet, Jacare prioritizes pressure over defense. He relies on his his head movement and toughness to endure whatever comes back at him, rather than retreating or otherwise avoiding his opponent's strikes.
Jacare is also very comfortable in the clinch. Here, he ups the volume by controlling his opponent with one hand and throwing punches with the other. Souza will attack both the head and body and will mix in knees for good measure.
Souza has power in both his hands and feet.  In the UFC, he's secured three knockouts via punch/es and two knockouts via kick.
Souza only has a 41% takedown success rate, but has taken down elite fighters such as Yoel Romero, Robert Whittaker, and Gegard Moussasi.
On the ground, Jacare is at his best. He's won fights in the UFC via arm triangle, guillotine, armbar, and kimura. Among all active UFC middleweights, Souza is ranked:
No. 7 in submission attempts (7)
No. 9 in submission average per 15 min. (9)
There have been concerns over Jacare's diminishing durability and cardio in recent years. However, the Gastelum & Weidman fights showed that Jacare is dangerous and undeterred even when running on empty.
Against Hermansson, Jacare has no reason to stray from his usual game plan. Jacare should look to walk Hermansson down on the feet and batter him with strikes. If the fight hits the ground, Jacare should be threaten from everywhere and will likely finish the fight.
How Hermansson can win
Jack Hermansson (19-4) is on a roll. "The Joker" is coming off his third consecutive win (and third connective finish) after submitting David Branch via guillotine in under a minute.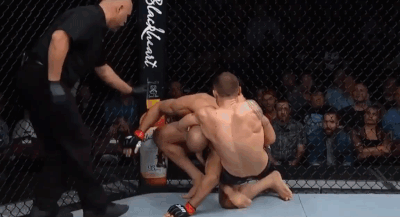 Hermansson's success is due to a high-output approach both on the feet and on the ground. The Swedish submission artist:
Lands 4.90 significant strikes per minute.
Lands +3.13 significant strikes per minute.
Attempts 1.69 takedowns per five minutes.
Attempts 0.9 submissions per 15 minutes.
Hermansson's high-volume striking attack creates opportunities for "The Joker" to secure takedowns and employ his potent top game. Since losing to Cezar Ferreira in 2016, Hermansson has:
Finished 100%  (5/5) of his wins.
Landed at least one takedown in all of his wins.
Averaged 3 passes per fight in his wins.
Hermansson will not have a strength or athleticism advantage, but will have youth – namely, cardio and durability – on his side.
Hermansson needs to tire Jacare out early. "The Joker" lands 1.88x significant strikes per minute as Jacare and has a significant strike differential that is 20.87x that of Jacare's. If he can put these advantages to use, Hermansson can crack the declining chin of Souza.
Hermansson is most comfortable on the ground, especially in top position, but there are serious questions about whether he'll be able to enforce his game against a grappler the caliber of Jacare. If Hermansson can tire Jacare out, he stands a much better chance of being able to work his top game against Souza.
The X-Factor: Levels
As the saying goes, there are levels to this. Using Fight Matrix, we can compare the recent resumes of both men.
In his last five fights, Jacare Souza has fought:
No. 8 ranked Chris Weidman (Jacare win via knockout).
No. 6 ranked Kelvin Gastelum (Jacare loss via split-decision).
No. 12 ranked Derek Brunson (Jacare win via knockout).
No. 1 ranked Robert Whittaker (Jacare loss via knockout).
No. 28 ranked Tim Boetsch (Jacare win via submission).
Hermansson has fought:
No. 19 ranked David Branch (Hermansson win via submission).
No. 46 ranked Gerald Meerschaert (Hermansson win via submission).
Un-ranked Thales Leites (Hermansson win via knockout).
No. 7 ranked (at light heavyweight) Thiago Santos (Hermansson loss via knockout).
No. 262 ranked (at welterweight) Brad Scott (Hermansson win via knockout).
Hermansson's resume simply doesn't compare to Jacare's. Jacare has been a perennial top-10 fighter for nearly a decade, while Hermansson was quickly finished in his only fight against a top-10 opponent.
Current and Future Odds
Jacare is the moderate betting favorite. Souza has been the favorite in ten of his 12 UFC fights, and is 7-3 as a favorite.
Hermansson is the underdog for the first time in his UFC career. Prior to this bout, Hermansson was the favorite in eight consecutive contests.
The Prediction
While there are significant caveats regarding Jacare's age and durability, this should be his fight to lose. He can finish the fight from anywhere and is dangerous even when hurt or tired.
More importantly, Hermansson keys to victory — pressure and top control – are unlikely to prove successful against Jacare. Souza has knocked out strikers more proven than Hermansson and is a much more accomplished grappler.
Hermansson's bread and butter has been his ground game, and it will be a shock if he can even threaten Jacare in the grappling department, let alone finish him.
The Pick: Jacare Souza -195
How would you rate this article?