Rafael Dos Anjos vs. Kevin Lee: Who Should You Back in UFC on ESPN+ 10 Main Event?
Credit:
USA Today Sports. Pictured: Kevin Lee, Rafael dos Anjos
UFC on ESPN+ 10 is headlined by a welterweight fight between Rafael dos Anjos (-120) and Kevin Lee (-105).
James Carlucci breaks down the main event bout and which fighter has the edge, complete with his betting pick.
UFC Betting Odds: Rafael dos Anjos vs. Kevin Lee
Rafael dos Anjos (-120)
Kevin Lee (-105)
Fight Time: 10:30 p.m. ET
TV: ESPN+
At UFC on ESPN+ 10 in Rochester, we'll see a main event between two former lightweights looking to find their place in the welterweight division.
A former UFC champion at 155 pounds, No. 3 ranked welterweight Rafael "RDA" dos Anjos moved up to his current division after two straight losses in 2016. RDA met early success at 170 pounds, reeling off three straight wins. Now he's looking to get back to those winning ways after dropping consecutive fights to the current champion Kamaru Usman and No. 1 contender Colby Covington.
Currently ranked No. 7 at lightweight, "The Motown Phenom" Kevin Lee is making his welterweight debut in this fight. Lee had title aspirations at 155 pounds, but a mix of disappointing performances and bad weight cuts have him looking for new life at 170 pounds.
Rafael dos Anjos's Path to Victory
A true veteran of the sport, dos Anjos (28-11) will be making his 27th trip to the Octagon on Saturday night. Though his UFC career started off with middling results — RDA went 4-4 in his first eight fights — he hit his stride in 2012.
Starting with his submission victory over Kamal Shalorus, RDA went on a 10-1 run that included a UFC title win and a successful title defense. In UFC lightweight history, dos Anjos is ranked:
No. 4 in total fight time (4:10:41)
No. 6 in total strikes landed (1,226)
No. 7 in takedowns landed (39)
No. 8 in significant strikes landed (813)
The Brazilian lost his title via upset knockout to Eddie Alvarez in 2016 and has gone 3-3 since.
Considering his experience and accolades, dos Anjos is one of the highest-level fighters who is very clearly style-dependent.
A product of Rafael Cordeiro and Kings MMA in his prime, RDA is a pressure fighter. His success is less dependent on employing any particular phase of his game (striking, wrestling, etc.) and is more reliant on his ability to dictate where the fight is taking place.
RDA is an all-terrain fighter and can succeed as long as he's dictating the terrain on which the fight is taking place. He's well-rounded, durable and is as disciplined as they come. You can always count on RDA to show up well-trained and well-conditioned.
Against Lee, RDA will need to focus on moving forward, making Lee uncomfortable with his striking and staying off his back.
RDA has proven to be a powerful pressure striker, and Lee's biggest weakness is his chin.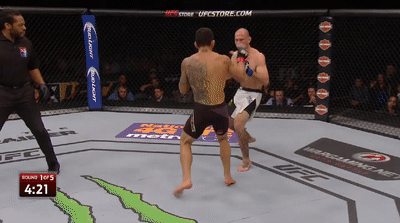 Moreover, Lee is uncomfortable striking, especially in prolonged exchanges. When things go awry on the feet, Lee's safety valve is his wrestling. Whenever RDA is able to have success on the feet, he needs to ensure he can keep it there and allow his success to build upon itself.
RDA can't count on finishing Lee, though, and needs to fight a round-winning style. If dos Anjos is able to keep the fight standing, he'll have the technical edge over Lee and should win those rounds.
As long as RDA can keep the fight on the feet for at least three rounds — and can avoid losing any 10-8 rounds — he will win the fight.
Kevin Lee's Path to Victory
At one time a top prospect at 155 pounds, Lee's (17-4) UFC tenure has been defined by streaks of success marred by an inability to cement himself among the truly elite fighters of the world. Still just 26 years old, Lee is looking to revitalize his career with a move up to 170 pounds.
The linchpin to Lee's game is his wrestling. The American comes from a high-level NCAA Division II wrestling background and trains at Xtreme Couture, the gym of UFC legend and USA Wrestling Olympian Randy Couture.
Lee's best weapons are his powerful takedowns. He favors explosive double leg shots and body lock takedowns. "The Motown Phenom" is remarkably strong and is able to muscle through takedowns that most fighters would be unable to finish.
In top position, Lee is lethal. He has strong ground-and-pound and his able to easily pass to superior positions. Lee's submission of choice is the rear naked choke; he's won four UFC fights with it.
While striking, Lee has a solid jab that makes use of his particularly long reach. He'll have a seven-inch reach-advantage against RDA on Saturday.
Unfortunately, Lee is also clearly uncomfortable on the feet and has serious durability issues. The American has only been finished via strikes once, but has been rocked in numerous fights. One would hope that Lee's move up to welterweight will alleviate some of these issues.
Lee's striking is at its best when he's using it to push forward and facilitate his wrestling.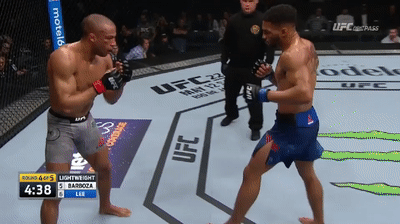 Against RDA, Lee will need to focus on pressuring the Brazilian relentlessly, as Lee's biggest strengths prey on RDA's biggest weaknesses. The American has shown the ability to keep up the pressure in the championship rounds, and the reduced weight cut should only improve his cardio.
There is a clear plan for Lee in this fight. If he pushes forward and wrestles, he'll win. If he keeps the fight on the feet,  Lee will lose a decision if he isn't finished in the process.
The X-Factor: RDA vs. Wrestlers
One of the oldest adages in the fight game is that styles make fights. RDA reinforces this idea about as well as anybody — his success is almost exclusively tied to whether he can stop his opponent's wrestling.
RDA is:
15-2 (88%) when landing the same or more takedowns as his opponent
2-7 (22%) when landing fewer takedowns than his opponent
1-5 (17%) when his opponent lands at least one takedown and he does not
RDA's most prominent losses have all been against wrestlers, and there's little to suggest he'll be able to win the wrestling battle against Lee.
Current and Future Odds
After moving to welterweight, RDA's odds got progressively less favorable. This fight is a return to form, as RDA is the very slight favorite.
Lee is minus money for the third time in a row. Prior to the Tony Ferguson fight, Lee had not been plus money since facing Jake Matthews in July 2016.
Rafael dos Anjos vs. Kevin Lee Prediction
The dynamic of this fight is very clear. Despite RDA improving his ability to strike off the back foot, wrestlers have been his weakness throughout his career.
Lee has his flaws as well — durability and striking defense — though they likely won't come into play here. RDA is more of a volume striker and Lee should be able to use his wrestling to minimize the amount of time spent on the feet.
"The Motown Phenom" is also reaping the benefits of moving up a weight class (improved durability & cardio) and will still be the bigger man in the cage.
The pick on this fight is clear and we're getting great value.
BEST BET: Kevin Lee (-105)