UFC 228 Betting Preview: Can Darren Till Dethrone Welterweight Champion Tyron Woodley?
Credit:
May 27, 2018; Liverpool, United Kingdom; Darren Till (blue gloves) reacts to the fight against Stephen Thompson (red gloves) during UFC Fight Night at Echo Arena. Mandatory Credit: Per Haljestam-USA TODAY Sports
Tyrone Woodley (+120) will take on Darren Till (-150) in the main event of Saturday's UFC 228 (10 p.m. ET) pay-per-view event.
We break down both fighters to determine how bettors should approach this fight.
Two men will enter the Octagon Saturday night in Dallas, one will leave with the undisputed welterweight title. Current champ Tyron Woodley is attempting to defend his title for the fourth consecutive time against undefeated Darren Till.
The Liverpool native earned the title shot after winning his first six UFC fights and recently dispatching top contenders Donald 'Cowboy' Cerrone and Stephen 'Wonderboy' Thompson.
Woodley is just the third 170-pounder to hold the championship belt since Georges St-Pierre vacated the title in 2013. Meanwhile, Till's only blemish on his perfect record is a draw that was heavily influenced by him dislocating his shoulder during the fight.
Let's break down some of the matchup's biggest questions and attempt to find some value with the odds.
---
>> Sign up for The Action Network's daily newsletter to get the smartest conversation delivered into your inbox each morning.
---
Betting Odds
Tyrone Woodley +120
Darren Till -150
Size
Both men are fairly massive for the weight class. Woodley has stated he walks around at 205 pounds, while Till reportedly required a hellacious 40-pound weight cut from 210 pounds.
Still, the spotlight is on Till, as he badly missed weight in two of his previous four fights. His latest mishap against Thompson was influenced by a family emergency, but it's clear the 25-year old will need to move up to the middleweight division sooner rather than later.
The UFC appeared to be so concerned about Till's ability to make weight that they allowed No. 6-ranked welterweight contender Kamaru Usman to train for the fight on the UFC's dime as a potential last-second replacement.
Till ultimately came in at 169 pounds, while Woodley weighed an even 170.
Surprisingly, the two men offer similar physical attributes other than their obvious height discrepancy.
Height: Woodley (5-foot-9) vs. Till (6-foot-0)
Reach: Woodley (74 inches) vs. Till (74 inches)
Leg reach: Woodley (42 inches) vs. Till (42 inches)
Till will likely be heavier when the two face off Saturday night, but there isn't a reach advantage to speak of for either competitor.
Wrestling
The biggest stylistic question entering Saturday's main event is what Woodley's offensive strategy will be.
The former two-time Division I All-American wrestler is easily the most-talented takedown technician Till has ever faced, but Woodley has largely left this tool in his hip pocket during his time in the UFC.
vs. Demian Maia: 0 takedown attempts
vs. Stephen Thompson 2: completed 1 of 2 attempts
vs. Thompson 1: completed only attempt
vs. Robbie Lawler: 0 attempts
vs. Kelvin Gastelum: 0 attempts
vs. Dong Hyun Kim: 0 attempts
vs. Rory MacDonald: completed 0 of 2 attempts
vs. Carlos Condit: completed 3 of 3 attempts
vs. Josh Koscheck: 0 attempts
vs. Jake Shields: 0 attempts
vs. Jay Hieron: 0 attempts
Meanwhile, Woodley averaged 4.8 takedown attempts while fighting for Strikeforce from 2009-2012. Only Condit managed to come close to drawing the wrestler out of Woodley, as the champ has largely been content to keep the fight standing and let his right hand do the talking.
This strategy has obviously been successful for Woodley. The reigning champ has racked up the third-most knockdowns in welterweight history (nine) during his 11-fight UFC career.
Still, the 36-year old hasn't exactly become a more-diverse or all-around fighter as his career has progressed.
---
>> Sign up for The Action Network's daily newsletter to get the smartest conversation delivered into your inbox each morning.
---
To what extent will Woodley attempt to engage Till on the feet? The division's self-pronounced best striker is armed with an array of dangerous elbows and kicks to complement his ring control and masterful striking technique.
Till backed up his bold proclamation with a unanimous decision victory over Thompson last May.
One factor that could benefit the current champ is his present familiarity with lefties. Four of Woodley's last five opponents have been southpaw-based fighters.
The lingering question is if he's fought one as good as Till.
Current and Past Odds
The odds have swung heavily in the challenger's favor during fight week.
Till has been the underdog in each of his past two fights, while Woodley has only been favored in one of his four title fights. Still, neither fighter has been positioned as a heavy favorite, or huge underdog, during their last five fights.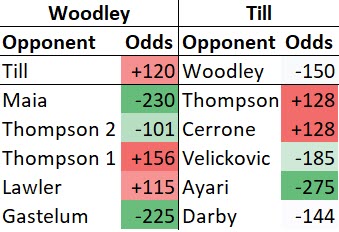 There's a bit more value on the champ than usual, but the same could be said for the challenger looking past his two most recent contests.
Prediction
Till himself confirmed that making weight was his biggest concern in capturing the title Saturday night. He passed the first test, although the next challenge features the No. 7-ranked pound-for-pound fighter in the UFC.
Ultimately, Till's ability to force Woodley into a faster pace via takedown attempts, or by simply making the champ routinely fend off the larger man, could be the difference maker.
Woodley has more career five-round fights, but I'll take the younger and seemingly more technically skilled fighter in this one.
The Pick: Till -150
---
UFC stats courtesy of FightMetric, betting odds courtesy of OddsShark.