UFC 236 Betting Preview: Can Kelvin Gastelum Steal Israel Adesanya's Spotlight?
Credit:
USA TODAY Sports. Pictured: UFC middleweights Kelvin Gastelum (left) Israel Adesanya.
Kelvin Gastelum (-175) is favored over Israel Adesanya (+145) in the co-main event of UFC 236.
Can Adesanya keep his unblemished UFC record intact against seasoned vet Gastelum?
UFC 236 betting odds: Kelvin Gastelum vs. Israel Adesanya
Kelvin Gastelum -175
Israel Adesanya +145
Fight Time: Approx. 11:30 p.m. ET
Channel: Pay-per-view available on ESPN+
At UFC 234, Kelvin Gastelum's misfortune turned out to be "The Last Stylebender" Israel Adesanya's windfall.
Mere hours from his UFC middleweight championship bout against Robert Whittaker, Gastelum saw his title hopes evaporate when Whittaker was forced to pull out due to a hernia. Despite showing up later that night with flyweight champion Henry Cejudo's championship belt, Gastelum did not, in fact, become a UFC champion.
With the last-minute cancellation of the main event, the fight between Adesanya and Anderson Silva was promoted to headliner. Adesanya was able to score the unanimous decision victory over the legendary Silva in a fight filled with memorable moments.
With Robert Whittaker out indefinitely, Adesanya (16-0) and Gastelum (15-3) are now squaring off to determine the interim UFC middleweight champion.

How Adesanya can win
The crux of Adesanya's style is his striking. The Nigerian-born fighter is 22-5-1 as a professional kickboxer and 5-1 as a professional boxer.
Adesanya can utilize all eight points of attack (both fists, elbows, knees, and legs) on the feet. "Izzy" possesses a combination of footwork and defensive technique that is unmatched in the middleweight division.
Among active UFC middleweights, Adesanya is ranked:
No. 1 in significant strike defense: 69.1%
No. 2 in strike differential: +2.40
No. 4 in significant strike accuracy: 53.9%
No. 6 in significant strikes landed per minute (SLpM): 4.47
Against Gastelum, Adesanya will have little reason to deviate from what has worked for him so far. "Izzy" is eight inches taller than Gastelum and has a nine inch-reach advantage. He's also the more active striker, accurate striker, and the better striker defensively.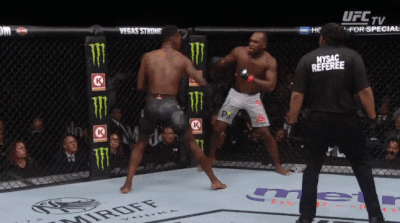 If Adesanya can maintain distance from Gastelum, he has the footwork to walk circles around him and pepper the smaller man with strikes from all angles.
Adesanya has already proven he can fight for five full rounds. While he's never landed a takedown in the UFC, "The Last Stylebender" has demonstrated improved grappling — particularly in scrambles — and has an 85% takedown defense rate.
How Gastelum can win
Gastelum's style is remarkable in its simplicity. He has refined his game to a core selection of techniques that feature subtle variations. On the feet, Gastelum is essentially a one-two (a jab with his lead hand followed by a cross with his rear/power hand) and pressure footwork.
What makes this common weapon so effective for Gastelum is his physical skill. The Yuma United MMA-fighter has incredibly fast hands and is able to manipulate his timing to land the same combination repeatedly.
Gastelum's pressure footwork is successful not because of how technical it is, but because of his durability. He's able to walk his opponents down with minimal cage cutting or head movement because his chin can handle whatever is coming his way. Gastelum has never been finished by strikes in his MMA career.
Gastelum is ostensibly a wrestler, but only averages 0.82 takedowns per 15 minutes and allows 38% of takedowns attempted against him to land successfully. Where Gastelum does excel on the ground is his ability to take the back in scrambles and finish with the rear-naked choke.
Against Adesanya, Gastelum will find himself forced to rely on his physical tools more than ever. His best path to victory is to walk Adesanya down with one-two's and keep "Izzy" against the cage.
For all of Adesanya's technical prowess, he is susceptible to the left cross and he's been knocked out in kickboxing. Moreover, Adesanya has not demonstrated single-shot power in the UFC; he relies on the threat of his strikes to keep his opponents at bay. This likely won't be enough to prevent Gastelum from marching forward.
If Gastelum refuses to be deterred and pressures Adesanya, he will have the opportunity to land his left hand. Moreover, Gastelum doesn't need to land takedowns to win grappling exchanges. All Gastelum needs is to create scrambles to pose a finishing threat.
The X-Factor: Unfavorable Style Matchups
An interesting aspect of this fight is that both men are up against tough style matchups. For Adesanya, he has performed much worse against southpaw fighters than orthodox ones:
For Gastelum, he is at his worst against taller and longer fighters, especially strikers:
When both men are pitted against the style matchup they'll face on Saturday night, they tend to have slower, less efficient fights that usually go to decision.
Current and Past Odds
"The Last Stylebender" has been a favorite in every one of his UFC bouts. This is the closest line on an Adesanya fight since he fought Brad Tavares.
Since making his middleweight debut, Gastelum has been an underdog half of the time. This is the widest underdog Gastelum has been at middleweight.
The odds have held steady throughout the week.
Prediction
There's not much value on these betting lines. Adesanya has the superior technique and a clear avenue to win the fight, but he's still relatively untested at an elite level and his flaws play right into Gastelum's strengths.
Adesanya's current line of -175 is too steep a price to pay for that many red flags. Gastelum is a more attractive bet at +145, but his paths to victory are too narrow for me to like that bet either.
Looking for value in this fight, the aspect I trust the most is that both men will react unfavorably to the style matchup and that we will see a slower fight from both men. Adesanya will look to maintain distance and land on Gastelum but won't have the power to finish him early. Gastelum will probably be hunting for the finish from the start, but it's unlikely he can catch a fresh Adesanya.
This fight is most likely going to decision, with a chance for a late finish.
The Pick: Over 3.5 Rounds (-130)
How would you rate this article?