UFC 238 Betting Odds: Tony Ferguson a Slight Favorite Over Donald Cerrone, Cejudo an Underdog vs. Moraes
Credit:
Stephen R. Sylvanie-USA TODAY. Pictured: Tony Ferguson
On Saturday night, fighting takes over the Windy City, with UFC 238 going down at the United Center in Chicago, Illinois.
Things will get started at 6:15 p.m. ET on UFC Fight Pass with a four-fight early preliminary card, then will shift over to ESPN at 8 p.m. ET for the event's four-fight prelim card before concluding with an action-packed five-fight main card available for purchase via pay-per-view on ESPN+.
The main event will feature a battle between undisputed flyweight champion Henry Cejudo and No. 1 bantamweight contender Marlon Moraes for the UFC's currently-vacant 135-pound championship.
Cejudo was last seen finishing former bantamweight champion T.J. Dillashaw in just 32 seconds at 125 pounds back in January.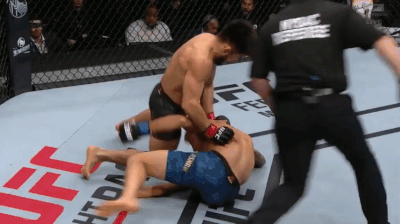 Moraes has ripped off four consecutive wins since losing his UFC debut, most recently avenging that loss against Raphael Assuncao with a submission victory (guillotine choke) in just three minutes and 32 seconds back in February.
The co-main event also pits a championship matchup, as undisputed women's flyweight champion Valentina Shevchenko will face off with Jessica Eye.
Of course, the most-anticipated matchup won't be a five-round affair. No. 2-ranked lightweight contender Tony Ferguson will attempt to push his win streak to 12 against Donald 'Cowboy' Cerrone, who is now the division's fourth-ranked fighter after brilliantly dispatching Al Iaquinta with a unanimous decision victory back in May.
You can find personal attributes and metrics for each fighter in the table below. All statistics are courtesy of UFC.com and UFCStats.com.
Each fighter's official weight is listed in pounds in parenthesis.
UFC 238
Championship Bantamweight Fight: Henry Cejudo (134) vs. Marlon Moraes (134)
Tuesday lines: Cejudo (-105); Moraes (-125)
Wednesday: Cejudo (-105); Moraes (-125)
Thursday: Cejudo (-105); Moraes (-125)
Friday: Cejudo (EVEN); Moraes (-130)
Championship Women's Flyweight Fight: Valentina Shevchenko (124) vs. Jessica Eye (125)
Tuesday lines: Shevchenko (-1500); Eye (+850)
Wednesday: Shevchenko (-1100); Eye (+650)
Thursday: Shevchenko (-1100); Eye (+650)
Friday: Shevchenko (-1100); Eye (+650)
Lightweight Fight: Tony Ferguson (155) vs. Donald Cerrone (155.5)
Tuesday lines: Ferguson (-155); Cerrone (+125)
Wednesday: Ferguson (-155); Cerrone (+125)
Thursday: Ferguson (-155); Cerrone (+125)
Friday: Ferguson (-155); Cerrone (+125)
Bantamweight Fight: Jimmie Rivera (136) vs. Petr Yan (136)
Tuesday lines: Rivera (+260); Yan (-330)
Wednesday: Rivera (+265); Yan (-350)
Thursday: Rivera (+265); Yan (-350)
Friday: Rivera (+260); Yan (-340)
Heavyweight Fight: Tai Tuivasa (259) vs. Blagoy Ivanov (251)
Tuesday lines: Tuivasa (-145); Ivanov (+125)
Wednesday: Tuivasa (-140); Ivanov (+110)
Thursday: Tuivasa (-140); Ivanov (+110)
Friday: Tuivasa (-140); Ivanov (+110)
Prelims
Women's Strawweight Fight: Tatiana Suarez (115) vs. Nina Ansaroff (115)
Tuesday lines: Suarez (-900); Ansaroff (+600)
Wednesday: Suarez (-850); Ansaroff (+525)
Thursday: Suarez (-850); Ansaroff (+525)
Friday: Suarez (-850); Ansaroff (+525)
Bantamweight Fight: Aljamain Sterling (134) vs. Pedro Munhoz (135.5)
Tuesday lines: Sterling (-135); Munhoz (+105)
Wednesday: Sterling (-135); Munhoz (+105)
Thursday: Sterling (-135); Munhoz (+105)
Friday: Sterling (-135); Munhoz (+105)
Women's Strawweight Fight: Karolina Kowalkiewicz (116) vs. Alexa Grasso (115)
Tuesday lines: Kowalkiewicz (-125); Grasso (-105)
Wednesday: Kowalkiewicz (-125); Grasso (-105)
Thursday: Kowalkiewicz (-125); Grasso (-105)
Friday: Kowalkiewicz (-125); Grasso (-105)
Featherweight Fight: Ricardo Lamas (145) vs. Calvin Kattar (146)
Tuesday lines: Lamas (+140); Kattar (-160)
Wednesday: Lamas (+125); Kattar (-155)
Thursday: Lamas (+125); Kattar (-155)
Friday: Lamas (+125); Kattar (-155)
Early Prelims
Women's Strawweight Fight: Yan Xiaonan (116) vs. Angela Hill (116)
Tuesday lines: Xiaonan (-210); Hill (+175)
Wednesday: Xiaonan (-170); Hill (+140)
Thursday: Xiaonan (-170); Hill (+140)
Friday: Xiaonan (-170); Hill (+140)
Middleweight Fight: Bevon Lewis (186) vs. Darren Stewart (185.5)
Tuesday lines: Lewis (-240); Stewart (+190)
Wednesday: Lewis (-205); Stewart (+165)
Thursday: Lewis (-205); Stewart (+165)
Friday: Lewis (-175); Stewart (+145)
Bantamweight Fight: Eddie Wineland (136) vs. Grigory Popov (136)
Tuesday lines: Wineland (-130); Popov (+110)
Wednesday: Wineland (-135); Popov (+105)
Thursday: Wineland (-135); Popov (+105)
Friday: Wineland (-145); Popov (+115)
Women's Strawweight Fight: Katlyn Chookagian (126) vs. Joanne Calderwood (125)
Tuesday lines: Chookagian (-115); Calderwood (-115)
Wednesday: Chookagian (-115); Calderwood (-115)
Thursday: Chookagian (-115); Calderwood (-115)
Friday: Chookagian (-120); Calderwood (-110)