UFC on ESPN+ 11 Betting Odds: Alexander Gustafsson Favored Over Anthony Smith, More
Credit:
Per Haljestam-USA TODAY Sports. Pictured: Alexander Gustafsson
See full betting odds for the UFC on ESPN+ 11 main card and prelims.
Alexander Gustafsson (-310) is favored over Anthony Smith in their main event light heavyweight bout.
There will be fights during the day for anyone in either North or South America this Saturday, as the UFC travels to Stockholm for its 11th fight card on ESPN+.
Things will get started at 10 a.m. ET on ESPN 2 with a seven-fight preliminary card, then will shift over to ESPN+ at 1 p.m. ET for the event's six-fight main card.
UFC on ESPN+ 11 is headlined by a top-ranked light heavyweight clash between the division's No. 2 contender Alexander Gustafsson and No. 4 contender Anthony Smith.
Both are fresh off losses to undisputed UFC light heavyweight champion Jon Jones. Gustafsson's loss was by way of a third-round TKO in December, while Smith was beaten via a lopsided unanimous decision last March at UFC 235.
Gustafsson looked like the best version of himself prior to his last loss, when he defeated Glover Teixeira thanks to textbook boxing that culminated in a devastating fifth-round knockout back in May 2017.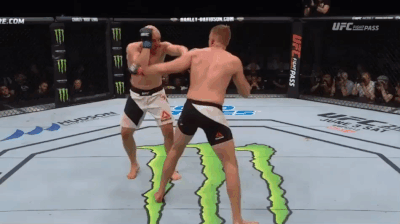 Smith reeled off three consecutive finishes over Rashad Evans (KO, knee), Mauricio Rua (KO, elbow and punches) and Volkan Oezdemir (submission, rear-naked choke) in fewer than six months in 2018 before his loss to Jones.
You can find personal attributes and metrics for each fighter in the table below. All statistics are courtesy of UFC.com and UFCStats.com.
Each fighter's official weight is listed in pounds in parenthesis.
UFC on ESPN+ 11
Light Heavyweight Fight: Alexander Gustafsson (205) vs. Anthony Smith (206)
Monday lines: Gustafsson (-310); Smith (+240)
Tuesday: Gustafsson (-305); Smith (+235)
Wednesday: Gustafsson (-305); Smith (+235)
Thursday: Gustafsson (-305); Smith (+235)
Friday: Gustafsson (-305); Smith (+235)
Light Heavyweight Fight: Jimi Manuwa (205) vs. Aleksandar Rakic (205)
Monday lines: Manuwa (+180); Rakic (-230)
Tuesday: Manuwa (+175); Rakic (-225)
Wednesday: Manuwa (+165); Rakic (-205)
Thursday: Manuwa (+160); Rakic (-200)
Friday: Manuwa (+160); Rakic (-200)
Featherweight Fight: Makwan Amirkhani (145) vs. Chris Fishgold (145)
Monday lines: Amirkhani (EVEN); Fishgold (-130)
Tuesday: Amirkhani (EVEN); Fishgold (-130)
Wednesday: Amirkhani (-105); Fishgold (-125)
Thursday: Amirkhani (-110); Fishgold (-120)
Friday: Amirkhani (-110); Fishgold (-120)
Lightweight Fight: Damir Hadzovic (155) vs. Christos Giagos (155)
Monday lines: Hadzovic (-185); Giagos (+150)
Tuesday: Hadzovic (-185); Giagos (+150)
Wednesday: Hadzovic (-185); Giagos (+150)
Thursday: Hadzovic (-175); Giagos (+145)
Friday: Hadzovic (-175); Giagos (+145)
Featherweight Fight: Daniel Teymur (145) vs. Sung Bin Jo (145)
Monday lines: Teymur (+130); Bin Jo (-160)
Tuesday: Teymur (+120); Bin Jo (-150)
Wednesday: Teymur (+115); Bin Jo (-145)
Thursday: Teymur (+120); Bin Jo (-150)
Friday: Teymur (+120); Bin Jo (-150)
Prelims
Welterweight Fight: Rostem Akman (170) vs. Sergey Khandozhko (170)
Monday lines: Akman (+140); Khandozhko (-170)
Tuesday: Akman (+140); Khandozhko (-170)
Wednesday: Akman (+145); Khandozhko (-175)
Thursday: Akman (+130); Khandozhko (-160)
Friday: Akman (+130); Khandozhko (-160)
Women's Bantamweight Fight: Tonya Evinger (135) vs. Lina Lansberg (135)
Monday lines: Evinger (-260); Lansberg (+200)
Tuesday: Evinger (-285); Lansberg (+225)
Wednesday: Evinger (-285); Lansberg (+225)
Thursday: Evinger (-285); Lansberg (+225)
Friday: Evinger (-285); Lansberg (+225)
Lightweight Fight: Stevie Ray (155) vs. Leonardo Santos (155)
Monday lines: Ray (+190); Santos (-240)
Tuesday: Ray (+170); Santos (-210)
Wednesday: Ray (+170); Santos (-210)
Thursday: Ray (+170); Santos (-210)
Friday: Ray (+170); Santos (-210)
Welterweight Fight: Nick Hein (155) vs. Frank Camacho (155)
Monday lines: Hein (-120); Camacho (-110)
Tuesday: Hein (-115); Camacho (-115)
Wednesday: Hein (-115); Camacho (-115)
Thursday: Hein (-115); Camacho (-115)
Friday: Hein (-115); Camacho (-115)
Women's Bantamweight Fight: Bea Malecki (136) vs. Duda Santana (135)
Monday lines: Malecki (-120); Santana (-110)
Tuesday: Malecki (-120); Santana (-110)
Wednesday: Malecki (-120); Santana (-110)
Thursday: Malecki (-105); Santana (-125)
Friday: Malecki (-105); Santana (-125)
Light heavyweight Fight: Darko Stosic (205) vs. Devin Clark (205)
Monday lines: Stosic (-145); Clark (+115)
Tuesday: Stosic (-120); Clark (-110)
Wednesday: Stosic (-110); Clark (-120)
Thursday: Stosic (-110); Clark (-120)
Friday: Stosic (-110); Clark (-120)
Lightweight Fight: Joel Alvarez (155) vs. Danilo Belluardo (155)
Monday lines: Alvarez (-120); Belluardo (-110)
Tuesday: Alvarez (-120); Belluardo (-110)
Wednesday: Alvarez (-120); Belluardo (-110)
Thursday: Alvarez (-115); Belluardo (-115)
Friday: Alvarez (-115); Belluardo (-115)