UFC Fight Night 145 Betting Guide: Will Thiago Santos Knock Out Jan Blachowicz?
Credit:
Tom Szczerbowski, USA TODAY Sports. Pictured: Thiago Santos
UFC Fight Night 145 betting odds: Thiago Santos vs. Jan Blachowicz
Thiago Santos -115
Jan Blachowicz -115
Time: Approx. 4:00 p.m. ET
Channel: ESPN+
---
>> Sign up for The Action Network's daily newsletter to get the smartest conversation delivered into your inbox each morning.
---
There will be fights during the day for anyone hanging out in North America on Saturday, as UFC Fight Night 145 will take place at the 02 arena in Prague, Czechia.
Light heavyweights Thiago Santos and Jan Blachowicz will headline the UFC's first ever fight card in Prague.
Santos has looked like a world-beater since moving up to light heavyweight last September, as the longtime middleweight has ripped off consecutive victories over Eryk Anders (TKO by referee stoppage) and Jimi Manuwa (KO by punch). He's currently the UFC's No. 6 ranked light heavyweight.
Meanwhile, Blachowicz has reclaimed some of the hype that accompanied him during his early mixed martial arts career by winning four straight fights since October, 2017.
The UFC's No. 4 ranked light heavyweight contender has never been finished in 10 fights inside the octagon.
Both fighters have won over 60% of their fights by way of finish and are similarly sized, although Blachowicz holds a slight arm and leg reach advantage.
Santos has been the more active fighter throughout his career, but will need to be wary of the division's most-accurate takedown practitioner.
Let's break down some of the matchup's biggest questions and attempt to find some value with the odds.
How Can Thiago Santos Win?
This fight will be over shortly after it begins if Santos has his way. Overall, his average fight time of six minutes and 24 seconds is nearly half of Blachowicz's 12:16 average.
These finishes have typically come via punches and/or kicks, as Santos hasn't finished a fight by way of submission since 2011 – and never in the UFC.
Still, both fighters hold black belts in jiu-jitsu and accordingly should never be underestimated on the ground.
This was evident during Santos' last fight in the octagon, when he was quick to latch on to Jimi Manuwa's neck after immediately knocking him in the first round.
This mindset of looking for finishes by any means necessary during every moment of every fight has helped lead to five career fight bonuses for the ever-dangerous Brazilian.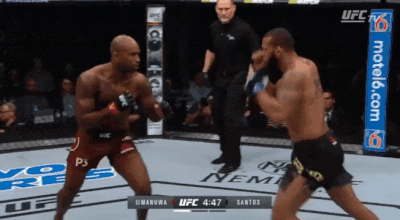 Of course, this chaotic style also has its negatives. Santos looks like a star when things go his way, but a well-timed counter has been his downfall on more than one occasion.
Specifically, Santos has been knocked out by David Branch as well as Gegard Mousasi in part because of his looping punches and willingness to trade shots.
Santos is a fireball of energy that is plenty capable of running over some of the world's most-skilled fighters.
However, we've never seen what happens when he's forced to conserve that energy for 25 minutes. Overall, only six of Santos' 26 career fights have even reached the end of the third round.
How Can Jan Blachowicz Win?
Blachowicz entered the UFC with a 17-3 record and capitalized on the hype with a TKO victory over Ilir Latifi during his octagon debut. He then proceeded to drop four of his next five fights by way of decision before embarking on his current four fight winning streak.
A closer look at Blachowicz's four-fight losing streak reveals that the ace muay thai artist's main problem has been the inability to keep the fight standing.
Patrick Cummins (three takedowns), Alexander Gustafsson (four) and Corey Anderson (four) largely controlled Blachowicz on the ground after each failed to find much success on their feet.
Blachowicz's only loss that wasn't defined by takedowns was against Manuwa back in April, 2015. He managed to avenge that loss last May with a dominant unanimous decision.
Santos certainly isn't adverse to attempting takedowns; he's averaged 2.4 attempts during his last five fights. Still, he's secured multiple takedowns just once in 17 fights inside the Octagon.
Overcoming Santos' aggressive blitzes and fight-altering kicks is a difficult task for any mortal to overcome, but Blachowicz possesses the type of technically-sound attack to take advantage of any potential openings.
One well-placed body kick from the Prince of Cieszyn is difficult for any 205-pounder to overcome.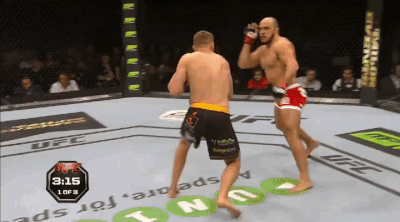 We've yet to see anybody out-strike Blachowicz for an extended period of time on the feet. A natural light heavyweight, it'd be surprising to see Santos possess the type of power and wrestling ability to control this fight on the ground, even if he wants to.
Santos specializes in checking his opponent's chin, and he'll have 25 minutes to try to track down Blachowicz inside the octagon.
Still, Blachowicz has never been even been knocked down during his UFC career, and his technically-sound style seems more likely to hold up over the course of five rounds compared to his opponent.
Current and Past Odds
Santos hasn't been listed at plus-odds since he faced current Bellator champion Gegard Mousasi back in July, 2016.
Meanwhile, Blachowicz seems to have finally earned a little more respect from oddsmakers after they made him the underdog during his entire four-fight win streak.
Blachowicz actually opened up the week as an underdog, but has since moved to -115 as of Thursday afternoon. These odds seem fairly spot on for both fighters, although Santos does offer a bit more value based on their last 10 fights.
---
Prediction
One x-factor we haven't touched on is activity.
Santos fought last December at UFC 231 and five times total since February, 2018, while Blachowicz has fought just twice during that span and most recently in September, 2018.
This extended rest could perhaps help Blachowicz's conditioning in a fight that has the potential to be the first time either man has gone five rounds.
Santos has been a freight train since moving up to light heavyweight, but he's still puzzle that's been solved by elite strikers in the past. Blachowicz has also been figured out on multiple occasions, although Santos doesn't seem to offer the best skill set to potentially cause those same issues.
I like Blachowicz to win this fight thanks to his superior technique, battle-tested chin and potential conditioning edge.
The Pick: Blachowicz -115