UFC Fight Night 146: Elizeu Zaleski dos Santos and Curtis Millender Meet in Wichita
Credit:
USA TODAY Sports. Pictured: Elizeu Zaleski dos Santos, left, Curtis Millender.
UFC Fight Night 146 betting odds: Elizeu Zaleski dos Santos vs. Curtis Millender
Curtis Millender -125
Elizeu Zaleski dos Santos +105
Time: Approx. 10:00 p.m. ET
Channel: ESPN+
---
>> Sign up for The Action Network's daily newsletter to get the smartest conversation delivered into your inbox each morning.
---
The UFC's fourth card on the ESPN+ streaming platform is low on name-value, but high on potential violence.
In the co-main event, welterweights "Curtious" Curtis Millender (17-3) and "Capoeira" Elizeu Zaleski dos Santos (20-5) meet in what is sure to be an exciting bout for however long it lasts.
How Millender can win
After losing three out of four fights in 2015, Curtis Millender found new life in his mixed martial arts career. The American has won nine straight with the last three taking place in the UFC.
Standing at 6-foot-2 with a 76-inch reach, Millender is among the tallest fighters in the welterweight division. Millender is primarily a striker and his style is built around his length.
"Curtious" uses the rear straight low kick the way most fighters use a jab. This technique allows Millender to maintain distance between himself and his opponent while scoring points and wearing down his opposition. Once he feels his opponent is expecting the low kick, Millender will intermittently switch things up and throw high.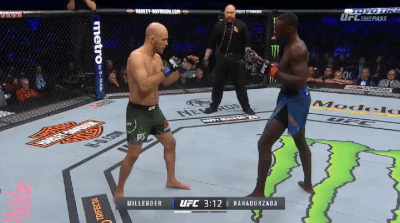 As the fight progresses and Millender becomes more comfortable on the feet, he starts to add more tools into his arsenal. Millender increasingly throws combinations as the fight goes on. His ability to mix punches with kicks and go high and low mid-combination is a highly-effective tactic.
The biggest hole in Millender's striking is his lack of movement on the feet. Like a lot of tall fighters, Millender rarely moves his head off the center line. He backs straight up with his arms outstretched, expecting his reach to keep him safe.
In the pocket, Millender's reach is a disadvantage as fighters with shorter arms can work inside and land punches. Again, Millender's lack of head movement makes him susceptible to big shots here. Millender is also heavy on his front leg, which makes him a target for heavy low kicks.
It's worth noting Millender makes great use of intercepting knees as an additional defensive tool.
Millender grappling exists purely to facilitate his striking. He is sold enough defensively — Millender has successfully defended 57% of takedowns — but he isn't much of a threat offensively. The American has only attempted a single takedown and has never attempted a submission in the UFC.
"Curtious" Millender's path to victory is clear. He needs to land early and often, establish a distance that takes advantage of his longer reach, and mind his defensive sensibilities. As long as he doesn't get hurt, Millender should land more volume than Zaleski and has the power to finish the fight at any time.
How Zaleski can win
Brazilian Elizeu Zaleski dos Santos made his unsuccessful UFC debut in 2015, losing to Danish fighter Nicolas Dalby via split decision. Since then dos Santos has won six straight fights — three via knockout and three via decision.
Zaleski's game is based on his powerful striking. He generally throws two types of strikes: non-committal and explosive. Zaleski's non-committal strikes – most notably a pawing jab – are thrown early in the fight. These strikes are designed to fill the space between the two men and for Zaleski to get a feel for his opponent. As evidenced by Zaleski's 40% significant strike accuracy, he is not worried about making every shot count.
When the Brazilian does decide to commit, he pursues his opponent with powerful bursts. These bursts consist of powerful combinations, mainly wild hooks. Zaleski also regularly throws wild strikes like spinning kicks and flying knees.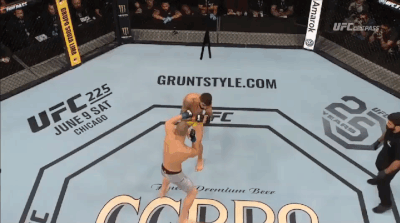 Zaleski will need to get inside of Millender's superior reach to win. Once there, Zaleski will have to make the most of his limited opportunities before Millender is able to reestablish his range.
Turning this fight into a brawl will favor the Brazilian. Zaleski has proven to be more than fine with taking punishment to reach his opponent. "Capoeira" has yet to pay for his lack of defense; he's never been knocked out in MMA. Still, Zaleski has been hurt multiple times inside the octagon. He keeps his chin up when attempting to close the distance and is there to be hit, especially when pursuing.
I don't expect the ground game to factor much into Zaleski's game plan. When he debuted, Zaleski's biggest weakness was his wrestling. Since then, the Brazilian has improved his grappling but still only lands 10% of his takedowns. Zaleski only defends 50% of takedowns successfully, but Millender has only attempted a single takedown in his UFC career.
Zaleski has show an increasing desire to grapple throughout his UFC career but has shown to be as sloppy defensively as he is aggressive offensively. It's not likely Millender will engage Zaleski on the ground.
To win this fight, "Capoeira" Zaleski should focus on pressuring Millender on the feet. Zaleski has finishing power in his hands and is most dangerous when coming forward, while Millender is most liable defensively when pressured.
The X-Factor: Big Moments
This fight will be decided by big moments on the feet. Both men are strikers and even though they have different styles – Millender throws constantly while Zaleski attacks in bursts – they land 4.23 and 4.33 significant strikes per minute respectively.
Both men have clear defensive shortcomings as well – Millender when being pressured and Zaleski when pressuring – but again, the stats are incredibly similar. Millender defends 63% of significant strikes and absorbs 2.93 significant strikes per minute, while Zaleski defends 62% of significant strikes and absorbs 2.95 significant strikes per minute.
Since the numbers are so close, it's up to each fighter to make their strikes count. The fighter who has the biggest moments will stand out in the eyes of the judges.
Current and Past Odds
As is often the case for both men, the odds on this fight are near even. Millender is currently the slight favorite at -125 and Zaleski the slight underdog at +105.
Prediction
The fight is incredibly hard to call. Both men have clear paths to victory and their respective styles play into each other; Millender's strengths target Zaleski's weaknesses and vice versa.
Forced to make a pick, I'm siding with Millender. His steady output is better-suited for winning rounds and Zaleski has been hurt more often in his recent bouts than Millender.
The Pick: Millender -125
---
Anthony Rocco Martin (-200) vs. Sergio Moraes (+170)
The recently-rebranded Anthony Rocco Martin is 3-0 in the UFC since moving up to welterweight in 2018. In his new weight class, Martin won a decision over veteran Keita Nakamura, followed by finishes of Ryan LaFlare and Jake Matthews.
Originally a lightweight, Martin has had mixed success in the UFC. The American was 4-4 at lightweight before moving up a division. At lightweight, Martin's style was focused on coming out strong and looking for the finish. He had a serviceable striking game combined with a powerful grappling game and was at his best in top position.
However, Martin's Achilles heel at lightweight was his cardio. He'd start off hot and look for the finish. When he was unable to finish his opponents, Martin would fade and either lose or hang on for a close decision.
Since moving up to welterweight, Martin has shored up the holes in his game. He's demonstrated improved cardio and striking. He's finished his last two opponents in the third round.
Sergio Moraes came into the UFC as a four-time world champion in Brazilian jiu-jitsu. Moraes is 8-2-1 in the UFC and riding a two-fight win streak.
Surprisingly, Moraes hasn't focused on his grappling pedigree in the octagon. He only lands 1.14 takedowns and attempts 0.6 submissions per 15 minutes of fight time. Moraes has only even landed a takedown in 45% (5/11) of his UFC fights.
The Brazilian has opted to utilize his rangy frame and awkward standup to win close striking bouts. Moraes is out-landed 3.26 to 2.61 in terms of significant strikes per minute but is still 4-1-1 in UFC decisions with most of these fights featuring minimal grappling. Fortunately for him, Moraes hasn't lost any of the three split decisions he's been involved him.
I expect the new-look Martin to take this fight. As is often the case when two grapplers meet, this should turn into a striking match. On the feet, the new-look Martin has the technique and cardio to win the fight over 15 minutes.
With a -200 moneyline, I think the best way to bet Martin is via decision. Both men tend to go to decision when getting opposition similar to their level, and the prop is a 2.2x increase in ROI versus the moneyline.
The Pick: Martin via decision (+210)