UFC on ESPN+ 9 Undercard Betting Preview: Derek Brunson vs. Elias Theodorou, More
Credit:
USA Today Sports. Pictured: Derek Brunson, Elias Theodorou
James Carlucci makes his pick for the UFC on ESPN+ 9 co-main event between No. 9 ranked middleweight Derek Brunson (-110) and No. 13 ranked Elias Theodorou (-110).
A heavyweight contest between Juan Adams (-120) and Arjan Bhullar (-105) offers the best betting opportunity of the night.
UFC on ESPN+ 9 Betting Preview
Early Preliminary Card: 5 p.m. ET on ESPN+
Main Card: 8 p.m. ET on ESPN+
Derek Brunson (-110) vs. Elias Theodorou (-110)
The co-main event features two unorthodox but effective middleweights.
Derek Brunson (18-7) is an all-or-nothing fighter who blitzes his opponent from the opening bell and is ready to either finish or be finished. He's 6-4 over his past 10 fights, with nine of those ending via first-round knockout.
Brunson is a powerful striker and wrestler who is at his best against slow starters that lack finishing power and/or are unable to compete with him athletically.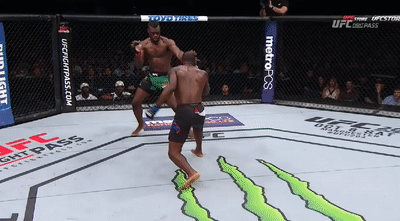 Brunson runs into issues when he cannot put his opponent away early. His striking is reckless and he often leads with his chin. Fighters who are tough enough to withstand Brunson's initial burst and/or technical enough to capitalize on Brunson's mistakes are the his worst matchups.
Among all active middleweights, Brunson is ranked:
No. 4 in shortest average fight time (5:56)
No. 5 in knockdowns landed (8)
On the other hand, Elias "The Spartan" Theodorou (16-2) is one of the most risk-averse fighters in the UFC. Inside the cage, he prefers to fight either all the way out or all the way in.
At range, Theodorou throws glancing strikes that score points and has a high output. He's not focused on hurting his opponent as much as winning rounds. As  Paul Felder put it, Theodorou's kick- and spinning backhand-heavy style is "strange but effective."
In close, Theodorou is comfortable in the clinch and prioritizes control over damage. "The Spartan" has been to decision seven times in a row. Eight of his 10 UFC fights have gone the distance.
Theodorou has run into trouble in the UFC when he can't compete athletically with his opponent. Unable to control where the fight took place against athletes like Thiago Santos and Eryk Anders, Theodorou became a much easier target to hit and was hurt badly by both men. It's worth noting that Theodorou is remarkably tough.
Theodorou's high-output style is historically effective.
Here's how he ranks among all active UFC middleweights:
No. 3 in longest average fight time (13:53)
No. 5 in significant strikes landed (579)
No. 5 in strike differential (+1.93)
No. 6 in strikes landed (888)
No. 8 in strikes landed per minute (4.17)
No. 8 in strikes absorbed per minute (2.24)
The distance props on this fight aren't worth exploring. Brunson has one of the shortest average fight times and Theodorou is among the longest.
These guys are polar opposites, and it's a coin flip when this fight ends.
Stylistically, this contest is a nightmare for Theodorou. Brunson has the athleticism and wrestling pedigree to give Theodorou more than he can handle.
Moreover, Brunson is an explosive fighter and a fast starter. Theodorou prefers a tentative fight fought at range and Brunson will not allow that.
It normally takes one of two things to stop Brunson. The first is finishing power. Brunson has technical flaws that a powerful striker can take advantage of, but Theodorou is not a powerful striker.
Over his UFC career, Theodorou averages 289.5 significant strikes per knockout. At his usual output, it would take Theodorou 69.4 minutes (or 13.9 rounds) to reach this mark.
Controversial scorecards aside, the only man to beat Brunson in the UFC without knocking him out is Anderson Silva. And Silva might be the best pure counter-striker of all time. There's no reason to suspect Theodorou will be able to stymie Brunson the way Silva did.
This is Brunson's fight to lose. While Brunson has plenty of holes in his game, Theodorou does not have the knockout power to capitalize on them. Theodorou also doesn't have the physical or technical tools to stop Brunson's pressure.
Brunson should pull ahead early and has more ways to win the fight. Theodorou needs Brunson to make mistakes to win the bout, while Brunson can win via his own volition.
PREDICTION: Derek Brunson
---
Juan Adams (-120) vs. Arjan Bhullar (-105)
This contest between two young heavyweights is a classic striker vs. grappler matchup. An alum of Dana White's Tuesday Night Contender Series, striker Juan "The Kraken" Adams (5-0) is 1-0 in the UFC.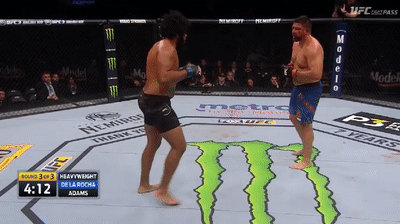 Arjan Bhullar (8-1), who represented Canada as a freestyle wrestler in the 2012 Olympic games, is 2-1 in the UFC. The combined opponents of both men have a cumulative UFC record of 6-11.
Physically, this is a mismatch.
Adams has the advantage in:
Weight: At least 20 pounds. Note that this doesn't include the weight Adams cuts to make the 265-pound heavyweight limit.
Height: Four inches.
Reach: Five inches.
Based on the very limited sample size we have, Adams has all the key striking advantages as well.
Adams has a strike differential of +6.30
Bhullar has a strike differential of -0.22
Statistically, Adams is predicted to land 6.52 strikes per minute more than Bhullar
Bhullar certainly has the superior wrestling pedigree, but that might not be enough. Bhullar averages fewer than one takedown per round and, as stated above, will be at a serious size advantage. Adams has also been improving his defensive wrestling between fights.
Of course, there's always the caveat that this is heavyweight, but "The Kraken" is my favorite bet of the undercard.
BEST BET: Juan Adams (-120)