UFC Fight Night Odds & Picks: Zerillo's Betting Breakdown & Projections for 13 Bouts, Including Edwards vs. Muhammad (March 13)
Credit:
Jeff Bottari/Getty Images. Pictured: Leon Edwards and Bulal Muhammad.
UFC Fight Night goes down Saturday at the APEX in Las Vegas takes with a 13-bout card.
The action is headlined by the welterweight matchup between Leon Edwards and Belal Muhammad.
Our senior betting analyst Sean Zerillo breaks down the full card below, including his picks and projections for every bout.
The UFC continues its run at the APEX in Las Vegas on Saturday, with a 13-fight card beginning at 5:00 p.m. ET on ESPN+. The main card, which starts at 8:00 p.m. ET, and will feature six fights, including a welterweight showdown between No. 3 contender Leon Edwards and No. 13 Belal Muhammad.
The cage at APEX (25-foot diameter) is about 30% smaller in square footage than a regular UFC octagon (30-foot diameter). Consequently, the finish rate at APEX was roughly 10% higher in 2020 than at other venues.
Over the three UFC shows to start the year on Fight Island (30-foot cage), 21 of the 35 fights (60%) went the distance. Since returning to APEX, just 23 of the 58 fights (39.6%) have gone the distance.
Based upon the listed odds for Saturday, seven of the 13 fights (54%) are expected to reach a decision.
If you are new to this piece, or this sport, note that in addition to moneylines and over/unders, there are numerous ways to bet on an MMA fight — including exact winning methods, winning round props, and whether or not the match will go to a decision or finish inside the distance.
As a result, after examining all of the betting options, your typical UFC card can offer a substantial amount of actionable value.
Check out the betting odds for Saturday's UFC card, with analysis and picks for each fight below.
Odds as of Friday evening and via DraftKings
UFC Fight Night Moneyline Projections
Below, you can find my fair odds moneyline projection for each of Saturday's 13 bouts. In the next section, you'll discover forecasts for those fights to finish inside the distance or for each fighter to win by decision, knockout, or submission.
UFC Fight Night Prop Projections
In addition to creating a crowdsourced projection for moneyline plays, I also collect data on each fighter to win by decision, knockout, or submission, which enables us to determine fair odds for each fight to go the distance or for each fighter to win inside of the distance.
UFC Fight Night Betting Picks
The Fights I'm Betting
Matthew Semelsberger vs. Jason Witt
I think the wrong fighter is favored in Saturday's first prelim, and I'm willing to take a shot on Witt, whose moneyline has trickled down from +125 over the past week, at any plus-money price.
"The Vanilla Gorilla" is part of the red-hot Glory MMA and Fitness team from Kansas City, led by James Krause, which has seen solid performances from Darrick Minner and Tim Elliott in recent weeks.
If you cashed on either of those underdogs, you might be interested in playing Witt. who will follow a similar gameplan as his teammates and look to control his opponent with his grappling.
Semelsberger is a bigger man (5-inch reach advantage) and both the more powerful and technical striker. If the former college football safety keeps the fight standing, he could certainly score a relatively quick knockout. Witt hasn't looked very durable and could fall into trouble hanging out in open space.
However, Witt's ability to slow fights down, get into the clinch and dominate with top control could make the less-experienced Semelsberger, who is the big fish in a small pond at his own gym, look like a fish out of water.
Based upon his regional-scene fights, Semelsberger may have significant holes in his grappling game that Witt should be able to expose.
While I show value on Witt to win by decision (projected +204, listed +250), I actually think a finish from either man is a bit more likely than the projections suggest, given the stylistic contrast of this matchup.
J.J. Aldrich vs. Cortney Casey
We have a fair amount of data on both of these Flyweights. It sets up as a solid striker vs. striker matchup for Casey, who has generally struggled against grapplers (37% takedown defense) but is willing to move forward and trade in the pocket at high volume.
Aldrich is the more mobile athlete and will look to use space to pick away at her opponent, whereas Casey has the forward pressure and power edge to lead the dance (+0.09 to -0.80 in per minute strike differential).
This should be a very close fight, and I show value on this bout to go the full 15 minutes, but I prefer Casey's underdog decision prop down to +200 (projected +174) in what will likely end up as a split decision. 
Rafa Garcia vs. Nasrat Haqparast
This is a difficult introduction to the UFC for Garcia who's an undefeated grappler out of Mexico and is taking the fight on short notice against a UFC veteran.
The German-born fighter has made consistent improvements in his six UFC bouts and showed enough defensive grappling chops in his last fight (denied 7 of 8 takedowns) against Alex Munoz, the wrestling coach for Team Alpha Male to justify his status as a significant favorite here against an inferior wrestler.
On the feet, Garcia winds up for power shots, but Haqparast is the larger man (three inches taller, with two inches of reach) and a much more technically-refined striker who is likely to win on output alone (5.63 strikes landed per minute, +2.45 strike differential) if he doesn't overwhelm Garcia and find a finish.
Nasrat is also much more responsible on the defensive end (74% striking defense) than he gets credit for, resulting from his knockout loss to Drew Dober.
The Haqparast side offers value up to -400 (and I laid two units to win a half unit), or if you prefer to parlay that down, I would pair it with one or both of the "Overs" for the final two fights in this section.
Ray Rodriguez vs. Rani Yahya
I won't have a pre-fight wager on this bout, but if I were to place a bet beforehand, I would likely take Yaha by submission (projected -105, listed -105), or more specifically, by Round 1 submission (+225).
The former ADCC Gold Medalist has racked up 10 submission victories between his time in the WEC and UFC but is going up against a fellow BJJ black belt in Rodriguez , who is 1) a better striker, and 2) coming off a first-minute submission loss in his UFC debut, where he fell into a guillotine.
There are certainly levels to jiu-jitsu, and Yahya has a proven gameplan: secure the early takedown (2.86 per 15 minutes, 32% accuracy) and get to work quickly because he's not a particularly good athlete. His cardio isn't going to improve at age 36 suddenly.
I could see Rodriguez, who is 0-2 under the UFC banner, including a knockout loss on Contender Series, either tapping early or surviving the first five minutes and completely turning the tide of this bout as the fresher fighter in the final two rounds.
As a result, I'll skip any pre-fight wagering and look to target Rodriguez in the live market after Round 1. You may get a boost to his underdog number if he spends most of the first round successfully defending submission attempts.
Angela Hill vs. Ashley Yoder
This bout was scheduled to take place just a couple of weeks ago but was postponed due to COVID-19 protocols.
It is a rematch from a 2017 bout which Hill won by unanimous decision, 30-27, on all three scorecards. All 15 media members scored the bout for Hill, though five of the 15 scored the bout 29-28 instead of 30-27.
Yoder needs to secure takedowns and maintain top control to win this rematch. The first time around, she did secure three of her six attempts, which were the most takedowns she has scored in a UFC fight,  but she only maintained 3:20 of control time (compared to 2:50 for Hill) while losing the striking battle 65-54 (47-26 in significant strikes).
The longer this fight stays on the feet, the more significant of a favorite Hill should become. Yoder cannot keep up with her output (5.7 to 2.81 strikes landed per minute; +0.54 to -0.52 in strike differential), and the time between their last fight would seemingly help Hill's defense (77% takedown defense) more than Yoder's offense (1.25 takedowns landed per 15 minutes, 38% accuracy).
At a substantial moneyline figure, Hill is a clear pass. Too many of her fights end in controversial decisions — 7-7 on the scorecards, including four split decisions. But I have Hill's decision prop projected at -212 (implied 68%), and I'm happy to bet that up to -200.
A finish in this bout does seem unlikely, but I'm going to avoid double-dipping on the distance prop (projected -498, listed -375) in the small cage at a substantial figure and solely rely upon Hill to get our decision ticket home.
Eryk Anders vs. Darren Stewart
Stewart recorded one of the more impressive losses of 2020, as the man who came closest to disrupting Kevin Holland's 5-0 year, losing a competitive split decision where one of three judges, three of 19 media members, and 30% of fans scored the bout 29-28 for the Englishman.
After going 0-3-1 to begin his UFC run, Stewart has made noticeable improvements and won five of his past seven bouts, with both losses coming by split decision.
In the Holland matchup, he showed off his improved grappling (secured three of eight takedowns, with 4:09 of control time) and demonstrated a clinch game that can match Anders's preferred style.
At kickboxing distance, the former Alabama linebacker has been far too patient in his recent encounters, and I favor Stewart to win the majority of minutes in this fight. However, Anders still possesses the power to put the lights out at any moment.
Both men have proven durable on the feet, and as a sheer result of superior output, I expect "The Dentist" to score more points with the judges. I projected Stewart's decision prop at +113 and would bet that down to +125.
Manel Kape vs. Matheus Nicolau
I faded Kape in his UFC debut against Alexandre Pantoja, a high-level blackbelt who decided to stay on the feet and pick apart (72-49 on significant strikes) the surprisingly gunshy "Starboy."
I'm happy to fade Kape again with another well-rounded fighter in Matheus Nicolau, who is even more likely to mix in takedowns to make Kape uncomfortable.
Low output is typically an issue for Kape. He relies on his power to put opponents away, rather than clearly winning minutes, and Nicolau's wrestling could pose some major problems for the Portuguese prospect.
My only concern on the Nicolau side is the layoff (first fight since August 2019) and potential ring rust, otherwise, I think he should be the clear favorite in this spot. His grappling upside could have Kape in some vulnerable positions in a hurry.
On the feet, Kape's counter-striking style is far too reliant on knockdowns and knockouts to meet his win condition.
I would bet Nicolau on the moneyline down to +105, at a 2.5% edge against my projection.
Davey Grant vs. Jonathan Martinez
I was on the wrong side of Martinez's win over Thomas Almeida in October. It was a serious jump in competition for the Texas native relative to his prior schedule of opponents, but he passed with flying colors( won 73-65 on significant strikes and denied all five takedown attempts.)
He'll face a sterner grappling matchup here against British wrestler Davy Grant (3.67 takedowns per 15 minutes, 47% accuracy). Martinez will need to show that his takedown defense and scramble game is on point to avoid spending time on his back.
Martinez will be the much faster man in the cage. He should have the far flashier skillset of striking tools, but Grant is a veteran grinder who will keep this close, and I typically avoid going immediately all-in on fighters that I recently bet against.
As a result, despite an actionable moneyline projection on Martinez (technically, a value play up to -335), I prefer a small play on his decision prop (projected -105) down to +105.
Dan Ige vs. Gavin Tucker
Speaking of fighters I have been on the wrong side of recently, I lost money both backing Ige against Calvin Kattar and fading Tucker against Billy Quarantillo.
As a result, I'm a little hesitant to pick a side in this fight, but I do show value on Ige to win by decision, and I would play the American's decision prop down to +125. If I thought Ige had a shot to hang with Calvin Kattar's striking as an underdog, then I should expect Ige to bank rounds against Tucker. 
This is a step up in competition for Tucker. While he looked sharper than ever in victory last time, and this bout has Fight of the Night potential, I'm expecting a three-round war where Ige is the more likely minute winner.
I'm more confident about taking a position on this fight to go the distance. Neither man has been finished in more than 30 combined professional fights, and I have this bout going to the judges 78% of the time, implied odds of -345. You can bet the distance prop up to -300, at a three percent edge.
Leon Edwards vs. Belal Muhammad
Belal Muhammad is stepping in as a late replacement for Khamzat Chimaev, who is currently recovering from COVID-19 and may not continue his MMA career.
Belal competed one month ago at UFC 258, scoring a decision win over Dhiego Lima despite absorbing 26 of 28 leg strikes, which were beginning to take a major toll late in the fight.
He abandoned his own kicking game in that bout but racked up a personal best 129 significant strikes (on 264 attempts) over three rounds, 109 of which were head strikes. I expect Belal to fire his kicks more often against Edwards to slow down his movement and close their respective athleticism gap.
Belal might be the more effective fighter in the opening round if Edwards needs to shake off some ring rust. "Rocky" is returning from a long layoff following multiple canceled fights and is making his first trip to the octagon since July of 2019.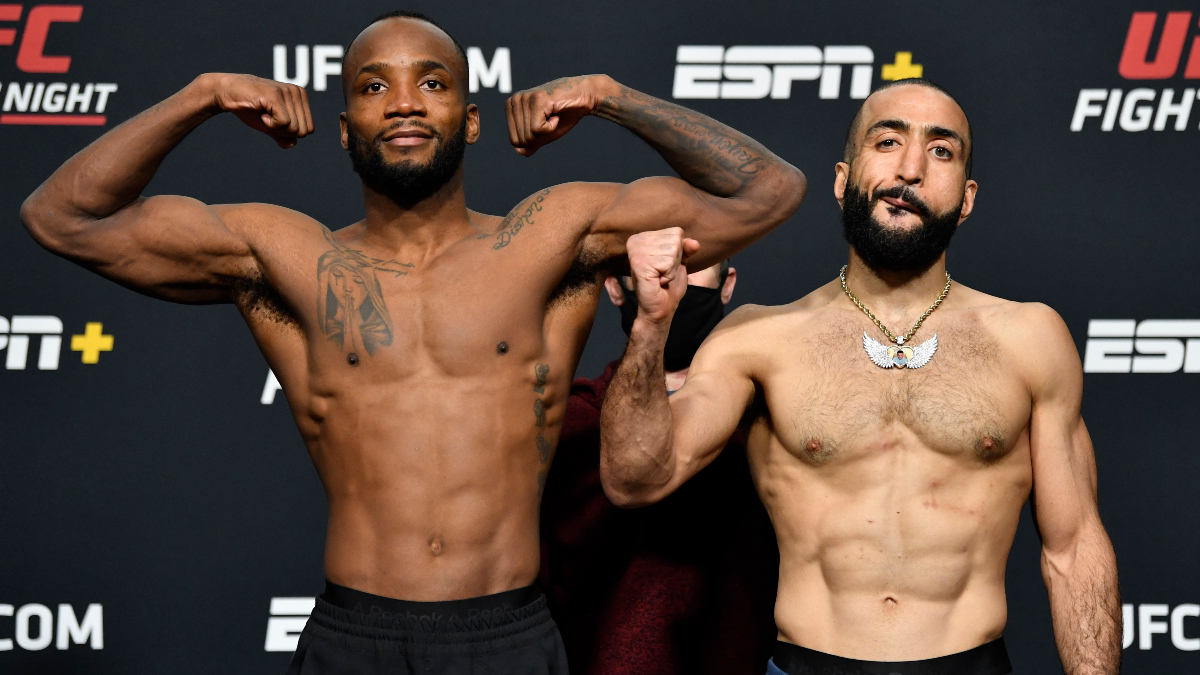 The Englishman is looking to extend his eight-fight winning streak, and per Dana White, will secure the next title shot and a rematch against Kamaru Usman with "an impressive win."
On paper, Belal seemingly has the edge in terms of volume (4.86 to 2.53 strikes landed per minute), but Edwards' uses a grinding style mostly involving the clinch and cage control to slow down and tire out his opponents. He won't allow Belal to stand in front of him and apply forward pressure without eventually grabbing on and forcing his opponent's back up against the cage.
While Edwards' style is effective, it can also lead to narrow decisions since he's vulnerable to getting outpointed by Muhammad and other high-output pressure strikers if he cannot effectively slow down the pace of his fights.
Both of these fighters are well-rounded, but neither possesses a single exceptional tool. Unless the cumulative damage to Belal's legs, which started a month ago, impacts his wear and tear early in this fight, I do expect to watch the clock ticking down and for these men to force another main event decision.
I project this bout to go all 25 minutes 71% of the time, and I would bet the distance prop up to -212.
There's not enough value for me to bet either fighter to win by decision (projected +105 and +360; listed +115 and +325), however.
---
The Fights I'm Passing On Betting
Jinh Yu Frey vs. Gloria de Paula
I don't see projected betting value on this fight from any angle.
Gloria de Paula makes her official UFC debut (42% win rate vs. octagon veterans) after a relatively impressive showing on Contender Series. Frey is significantly more experienced and represents a step up in competition for the Brazilian.
De Paula is both the taller and longer fighter, and she is likely to attempt nearly double the number of strikes as her opponent over the course of 15 minutes, but her best work also comes in the clinch where she may eat a few big left hands to get there:
Charles Jourdain vs. Marcelo Rojo
Jourdain often fights like he's playing a video game and doesn't seem to have a gameplan, or appear to set up his strikes. He throws whatever flying and spinning attacks he wants to whenever he feels like it while constantly searching for a highlight-reel finish.
That style tends to self-destruct when his opponents wear those shots well (a winless 0-3-1 record on the scorecards). I would like to see Jourdain take a more measured approach to both win minutes and conserve his energy for later rounds before I'm willing to back him with my money again.
In a generally fade-worthy spot as a late notice debutant, Rojo is an action fighter who will be happy to brawl with the Canadian. This should be a fun, high variance battle, but I don't see any angle that's worth investing in financially.
Ryan Spann vs. Misha Cirkunov
This is the most likely fight to end in a finish on Saturday, and based upon the track record of these two men, the Under 1.5 rounds is an enticing bet.
Because my projected odds align with the listed odds on the inside the distance prop, I'll avoid playing this total, however. I might have considered a play on the under 1.5, at nearer to even money than -150.
Furthermore, while I show slight value on both Cirkunov to win by submission or Spann to win via knockout, there's not enough of an edge to make either one an actionable bet.
---
Zerillo's UFC Fight Night Bets
Distance or Decision Props and Overs
Cortney Casey wins by Decision (+200, 0.5 units)
Angela Hill wins by Decision (-180, 0.5u)
Darren Stewart wins by Decision (+130, 0.5u)
Jonathan Martinez wins by Decision (+115, 0.5u)
Dan Ige wins by Decision (+150, 0.5u)
Gavin Tucker / Dan Ige, Fight Goes the Distance (-240, 0.5u)
Leon Edwards / Belal Muhammad, Fight Goes the Distance (-185, 0.5u)
Inside the Distance Props and Unders
Moneylines
Jason Witt (+103, 1u)
Nasrat Haqparast (-400, 0.5u)
Matheus Nicolau (+110, 1u)
Live Betting Opportunities
Ray Rodriguez, Live after Round 1
Don't forget to follow my picks in the Action Network App.
How would you rate this article?
This site contains commercial content. We may be compensated for the links provided on this page. The content on this page is for informational purposes only. Action Network makes no representation or warranty as to the accuracy of the information given or the outcome of any game or event.