UFC on ESPN+ 10 Undercard Betting Preview: Charles Oliveira vs. Nik Lentz, More
Credit:
Jerry Lai-USA TODAY Sports. Pictured: Charles Oliveira (blue gloves) during UFC Fight Night at Fiserv Forum.
Of the 13 fights taking place at UFC on ESPN+ 10, only 33% are considered close by oddsmakers.
Bantamweights Aspen Ladd (-295) and Sijara Eubanks (+235) meet in the featured preliminary bout.
The third match-up between Charles "do Bronx" Oliveira (-360) and "The Carny" Nik Lentz (+280) is a highlight of the main card.
UFC on ESPN+ 10 Undercard Betting Preview
Preliminary Card: 5 p.m. ET on ESPN+
Main Card: 8 p.m. ET on ESPN+
UFC on ESPN+ 10 is a card of mismatches. Of the twelve announced undercard fights:
20% (3/15) have favorites of -150 or closer
33% (5/15) have favorites of -200 or closer
For a card like this it can be especially hard to find betting value. The fights are relatively easy to predict (or so we'd like to think), but the odds are adjusted accordingly.
We'll have to find less typical ways to bet this card, but I'm confident we can find out edge.
---
Aspen Ladd (-295) vs. Sijara "Sarj" Eubanks (+235)
This women's bantamweight bout is a rematch from Invicta FC 21 in 2017. Ladd won that fight via unanimous decision.
Aspen Ladd (7-0) is one of the most promising prospects in the women's 135-pound division. Currently ranked No. 6 in the division, Ladd is 2-0 in the UFC. Her wins have come over:
No. 12 ranked Tonya Evinger via first-round TKO
No. 13 ranked Linda Lansberg via second-round TKO
Ladd's best skill set is her pocket boxing. She's likes to pressure opponents and throw combinations with her hands. Ladd's tendency to exchange in the pocket lends to her eating shots, but her composure allows her to absorb them and keep moving forward.
Since coming to the UFC, Ladd has developed more power in her striking – particularly from top position.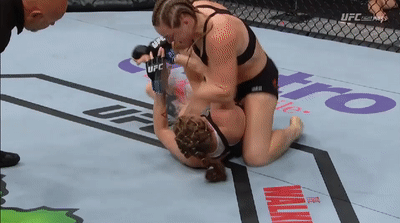 Still just 24 years old, the Californian is improving her skills and getting closer to her athletic prime with every fight.
Brazilian jiu-jitsu black belt Sijara Eubanks (4-2) joined the UFC as a flyweight via The Ultimate Fighter 26. Eubanks won all three of her bouts on the show and has gone 2-0 in the UFC. Her UFC wins have been against:
No. 5 ranked flyweight Roxanne Modafferi via unanimous decision
No. 8 ranked flyweight Lauren Murphy via unanimous decision
Eubanks entered the UFC with a strong grappling background, and it's been the foundation of her game.  In her UFC wins, she has averaged:

2.50 takedowns landed per 15 minutes
2.00 passes completed per 15 minutes
Sarj is also a high-volume striker. Though she's only successful on 34% of attempted significant strikes, Eubanks still lands 4.40 significant strikes per minute and possesses a +1.83 strike differential.
In the first fight, Ladd out-boxed Eubanks on the feet. She landed more shots and landed the better ones as well. Ladd was also able to nullify most of Eubanks's grappling and even secured top position in the third round. This could prove disastrous for Eubanks, as Ladd finished has both of her UFC fights via ground & pound.
There's little reason to expect this fight will go differently. The first fight was close, but Ladd has improved more since that bout than Eubanks has. It's also worth noting that Eubanks has been fighting at flyweight in the UFC, so this will be her first UFC bout against a 135-pound. fighter.
Parlay Leg #1: Aspen Ladd (-295)
---
Charles "do Bronx" Oliveira (-360) vs. "The Carny" Nik Lentz (+280)
This lightweight contest is another rematch and is actually the third UFC fight between Oliveria and Lentz. The first fight in 2011 was ruled a no contest due to an illegal knee. Oliveira won the 2015 rematch via third-round guillotine.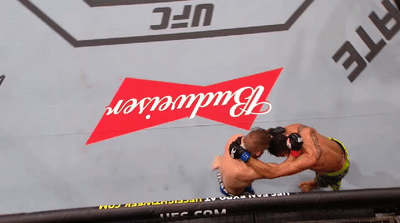 No. 15 ranked lightweight Charles Oliveira (26-8) is one of the most dangerous grapplers in UFC history. Among all active lightweights, Oliveira is ranked:
No. 1 in shortest average fight time (4:56)
No. 1 in submission average per 15 min. (3.6)
No. 8 in takedown accuracy (47.8%)
No. 9 in submission attempts (13)
Since moving back up to lightweight in 2017, Oliveira is 5-1 and has won his last four in a row. All five victories have been via submission.
The biggest improvement in "do Bronx's" game at 155 pounds. has been his wrestling; the Brazilian has become an elite takedown threat. Oliveira's newfound confidence on the feet has also seemed to alleviate some of the durability concerns that plagued him at 145 pounds.
"The Carny" Nik Lentz (30-9-2), a longtime UFC vet, moved up to lightweight following the second Oliveira fight. At 155 pounds, Lentz is 5-2 and has won his last two in a row.
Lentz's game is based on activity, top control, and guillotine attempts. Among active UFC lightweights, Lentz is ranked:
No. 3 in submission attempts (23)
No. 4 in takedowns landed (42)
No. 8 in total strikes landed (1186)
No. 8 in submission average per 15 minutes (1.7)
No. 9 in significant strike accuracy (49.5%)
Oliveira has been the favorite in each fight with Lentz, with the odds widening every time. Based on how the first two bouts went, this makes sense:
Oliveira out-performed Lentz in virtually every category that measures damage. Lentz had more takedowns and they were tied in passes. Lentz's only advantage from their previous fights figures to disappear, as Oliveira is a far better wrestler than he was in those first two bouts.
Oliveira is looking the best he ever as, while Lentz figures to be on the tail end of his career. This fight should go even better for Oliveira than the previous two match-ups.
Parlay Leg #2: Charles Oliveira (-360)
---
The Pick: Parlay Aspen Ladd & Charles Oliveira (-140)