UFC on ESPN+ 12 Betting Preview: Renato Moicano vs. The Korean Zombie
Credit:
Mark J. Rebilas-USA TODAY Sports. Pictured: Chan Sung Jung (blue gloves) during UFC Fight Night at Toyota Center.
In the main event of UFC on ESPN+ 12, featherweights Renato Moicano (-200) and "The Korean Zombie" Chan Sung Jung (+165) are each looking to get back in the win column.
Both men are considered action fighters, but the striking statistics clearly favor one man.
UFC on ESPN+ 12 betting odds: Renato Moicano vs. Chan Sung Jung
Renato Moicano betting odds: -200
"The Korean Zombie" Chan Sung Jung:  +165
Time: 9:30 p.m. ET
Channel: ESPN+
When the UFC touches down at the Bon Secours Wellness Arena in Greenville, South Carolina, it'll be bringing with it a card lacking in name value, but filled with potential for memorable fights.
No. 5 meets No. 12 in the featherweight division, as Renato Moicano and "The Korean Zombie" Chan Sung Jung will square off in the main event of the evening.
Moicano is coming off a loss to the legendary Jose Aldo. When the two Brazilians fought back in May, Aldo put Moicano away early in the second round with a vicious flurry of punches.
Jung is returning from a knockout loss of his own, though his was much more heartbreaking. In a fight Jung was literally a second away from winning via five-round decision, he rushed in against Yair Rodriguez and was knocked out cold with the most improbable elbow in UFC history.
With some rest under their respective belts, both men are hungry to get back to their winning ways.
Renato Moicano's Path to Victory
After making his way through the Brazil's Jungle Fight promotion as a slick submission artist, Moicano (13-2-1) made his UFC debut in December 2014.
Though his promotional debut was a submission victory, Moicano has established himself as an elite volume striker in his 5-2 run with the UFC. Among all featherweights in UFC history (minimum five UFC fights), Moicano is ranked:

No. 4 in strikes landed per minute (5.60).
No. 4 in significant strike defense (minimum 350 strike attempts by opponents) (67.5%).
No. 5 in strike differential (2.07).
The Brazilian embodies the phrase 'death by a thousand cuts.' Despite being such a prolific striker, Moicano has zero knockout wins to his name. Preferring to fight at range, the Muay Thai-stylist tends to start slow and take over fights with a growing collection of damage.
Moicano's weapon of choice is the jab. He has a highly educated jab that both scores points and keeps Moicano's opponents at range.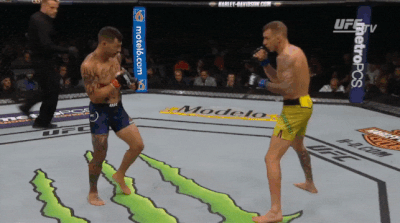 The Brazilian also utilizes leg kicks to hobble his opponents. The more damaged the legs of his opponents, the better Moicano is able to keep them at range and pepper them with shots.
Essentially, Moicano's style hinges on volume. In the UFC, the Brazilian is:
4-1 when out-landing his opponent.
1-1 when being out-landed by his opponent.
Against the Korean Zombie, the striking statistics portray an extremely favorable style-matchup for Moicano.
Moicano lands more and gets hit less than Jung. Over the course of a five-round fight, Moicano should be able to consistently out-land Zombie.
Though Moicano has been overcome by pressure striking, Jung does not have great footwork and is not a defensively elusive fighter. Jung will try and walk Moicano down, but he's there to be hit in the process.
If Moicano can constantly pump the jab and land leg kicks, he should score points early and chip away at Zombie. As the fight progresses, things should only get easier for Moicano if he's able to stay at range and pour on consistent volume.
The Korean Zombie's Path to Victory
Never has a nickname been so appropriate as Jung's (14-5) moniker of "The Korean Zombie." In the early days of the WEC/UFC featherweight division, Jung made a name for himself by engaging in thrilling contests.
Zombie demonstrated an ability take an incredible amount of damage and keep on coming. After a 3-1 UFC run that culminated in a failed title shot against Jose Aldo, Jung had to step away from the sport to fulfill his mandatory military service commitment to his native South Korea.
Jung returned in February 2017, knocking out veteran featherweight Dennis Bermudez with a first round uppercut. That was followed by the aforementioned five-round war against Yair Rodriguez in November, 2018.
Now, Zombie looks to get back on track against a top five featherweight and make his way back to a title shot.
Like his nickname suggests, Zombie prefers to walk forward and pressure his opponents regardless of what's coming back at him. When he decides it is time to pressure, Jung is relentless, and with knockout power in his hands, Jung is content to take one to give one. 
In the Rodriguez fight, Jung showed a more measured approach that was still rooted in his pressure striking. I think this is the right approach for Zombie moving forward as it won him 24:59 of the 25:00 fight against Rodriguez. It was only a last second charge — reminiscent of earlier incarnations of Zombie — that cost Jung the fight.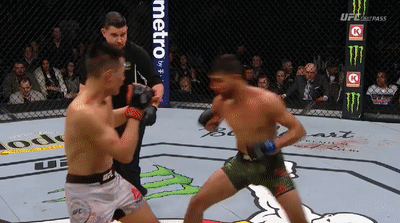 Against Moicano, Zombie needs to pressure Moicano early while Jung is still fresh. The Brazilian is most susceptible to being hurt when his opponent can threaten him in the pocket, especially early.
If Zombie can get inside against Moicano, the South Korean has a chance to finish the fight early or at least severely hurt his opponent. Jung will have a much better chance of utilizing his pressure game against a compromised Moicano.
If Moicano is able to establish his striking range early, it'll be a rough day at the office for the Korean Zombie.
The X-Factor: Going the Distance
As mentioned above, Moicano has never recorded a knockout win in his MMA career. In Moicano's career:
54% (7/13) of his career wins have been via decision.
46% (6/13) of his career wins have been via submission.
60% (3/5) of his UFC wins have been via decision.
40% (2/5) of his UFC wins have been via submission.
Looking at the other side of things, Jung has never been submitted in his career. Of Zombie's five professional losses:
60% (3/5) have been via knockout.
40% (2/5) have been via decision.
Moicano either submits his opponent or wins by decision, and Jung has never been submitted. In a style-matchup that favors Moicano, and with Zombie displaying a more measured approach recently, this fight is likely to go long.
Current and Past Betting Odds
Moicano enters the bout as a moderate favorite. The Brazilian is favored for the fifth time in a row.
Despite fighting at a consistently high level, Zombie has routinely been counted out. The South Korean fighter is the underdog for his sixth consecutive bout.
Fight Prediction
I expect Moicano to take this one. Zombie is only getting older and another knockout loss certainly doesn't help. Jung's style isn't built to win rounds against a patient striker like Moicano, and I don't believe it will. The Brazilian should be able to weather any early storms while constantly chipping away at Jung.
Look for Moicano to establish his jab early and mix in a healthy dose of leg kicks. This will cause Zombie to slow down, making him an easier target as the fight develops.
The odds on Moicano seem about right, but considering he isn't a huge knockout threat and Zombie has never been submitted, I think the props on this fight have the most value. The Brazilian takes a clear decision.
The Pick: Fight goes to decision (+170)