With all of your brackets absolutely busted (don't lie, yours definitely is), there's no reason not to focus on the NBA for now. The Tuesday and Wednesday stretch of no tourney games will feature 15 NBA games in total, offering plenty of opportunity to make cash.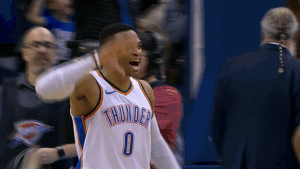 There are seven games tonight, three of which we really like. But don't worry…if you're interested in Pistons vs. Suns, we have info for you, too. — Mark Gallant
All info as of Tuesday morning. Check back during the day and keep an eye on our Twitter handle for any updates.
If there's a specific matchup you want to jump to, click the quick links below. For live spreads and bet percentages, check out this page. Follow the latest injury info on our industry-leading news feed. To get access to our premium betting tools, subscribe here.
OKC-BOS | LAC-MIN | HOU-POR | Quick Hits
---
OKLAHOMA CITY THUNDER (-4.5) AT BOSTON CELTICS | O/U: 208.5
8 p.m. ET | TNT
What I'm watching for: Russell Westbrook is on one right now. He's averaging 25 points, 11 rebounds, and 12 assists in his past five games, shooting 50 percent from the field and 50 percent from 3-point range. The Celtics are without Marcus Smart, which means Marcus Morris, Jaylen Brown and Jayson Tatum are going to have a splendid time trying to contain Russ.
Given the Celtics' injury issues, the best approach might be to try and win with offense vs. OKC; after all, without Andre Roberson, the Thunder are a fundamentally different team defensively. That said, the remaining Celtics players don't have the scoring punch without Kyrie Irving.
The best way for Boston to find success is to muck this game up, and that's going to require a lot of players with size or skill disadvantages to pull off some impressive feats.
Keep an eye on Marcus Morris vs. Paul George. The defense has been awful with Morris on the floor this season, and George may be due for a breakout. — Matt Moore
START MY FREE TRIAL
model helps you find edges when betting moneylines and over/unders for the full game