NBA Coach of the Year Betting Odds: Can a Longshot Overtake Favorite Monty Williams?
Credit:
NBAE via Getty Images. Pictured (L-R): Boston Celtics head coach Ime Udoka, Phoenix Suns head coach Monty Williams, Memphis Grizzlies head coach Taylor Jenkins.
It's time to check in on the other NBA awards races with one month to go. We'll look at Defensive Player of the Year and Most Improved Player later this week, but today we'll start with Coach of the Year.
For months, this award has felt like a foregone conclusion. With the Phoenix Suns far ahead of the rest of the NBA, Monty Williams has been a heavy betting favorite since before the All-Star Break. He's beloved by the media and ready for his come-up after leading the Suns to the NBA Finals last summer.
But are we sure Williams is a lock to win Coach of the Year? A lot can change over the final month, and perception is not always reality in awards circles. Just because bettors have leaned heavily in Williams's direction for so long doesn't mean the voters will feel the same way.
So will Williams win it — and if not, then who?
Let's start by reviewing the Coach of the Year trends we spotted when we looked at this race in the preseason:
They typically win 55-plus games. Before Tom Thibodeau last year, the past 10 COY winners each won at least 55 and averaged a 59.6-win pace.
They improve on the previous season's record by a large margin. Each of the last 11 COYs improved on their previous win rate, by an average of 11.2 wins year over year.
They need to outperform expectations. All 11 COYs beat their season win total over/under by at least 6.5 games. They went over by an average of 12.1 wins, and all but two won at least 10 games more than Vegas expectation.
History says we're looking for a team on pace to win 55-plus that improved on last year's total and exceeded this year's expectations, likely by at least 10 wins in each case. Voters seem to want coaches who did the most with the least, coaches who surprised us. Will that end up being Williams?
The Favorite: Monty Williams
On the surface, he seems like an obvious Coach of the Year winner. As of this writing, the Suns are eight wins ahead of every other team at the top of the standings even without an MVP candidate, ranked top five in both offense and defense.
But remember, Quin Snyder didn't win COY last season even after an awesome Jazz season that looked eerily similar to these Suns. Utah finished top five in both offense and defense, and the Jazz even beat their preseason over/under by 10.5 wins. They also saw injuries to both guards and sputtered a bit at the finish line as they got healthy for the playoffs.
The Suns are 52-13 and already have more wins than they had last season. But remember, last season was missing 10 games, so that 51-21 record was a 58-win pace. Phoenix still has a few more wins to beat last year's team, and they have virtually no chance of beating last year's pace by 10-plus wins.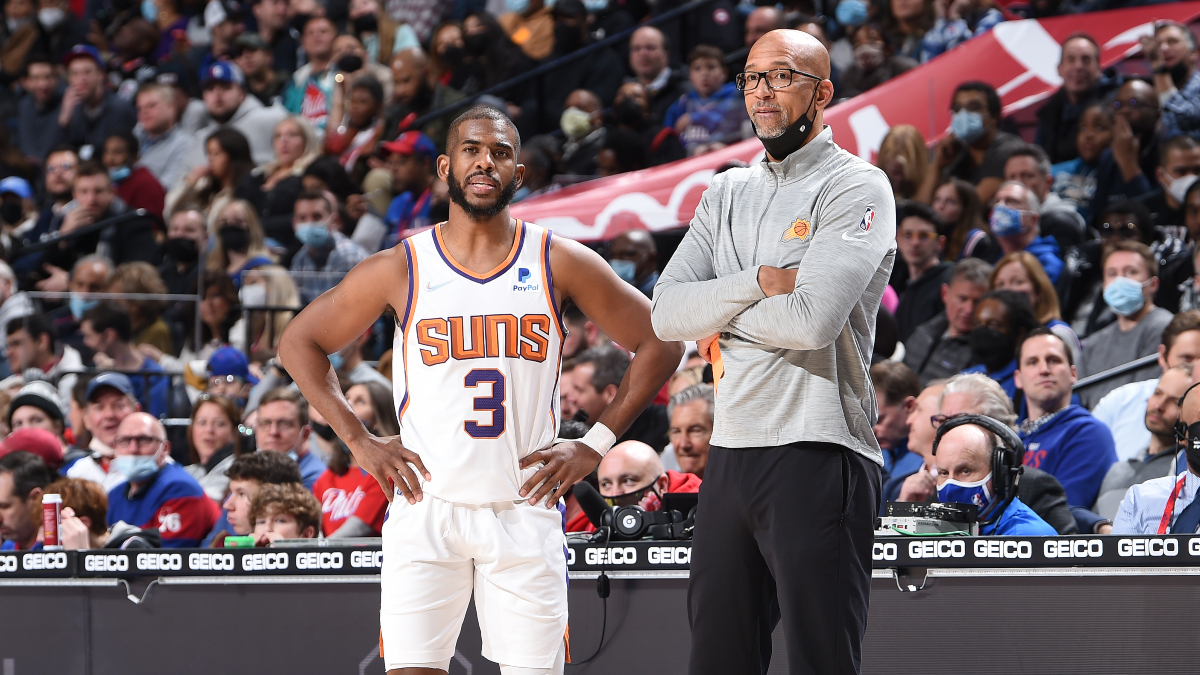 They've already clinched the over for their wins, making them the third team this season to hit their over. The Suns still need at least 58 wins to hit that 6.5-wins-better mark. They'll surely get there but would need to get to 62 or 63 wins to truly fit the improvement pattern from the past decade. It's doable.
With 17 games left, 11-6 gets Phoenix to 63. That's certainly in range, but remember that Chris Paul will miss most or all of these games. Phoenix has six games left against current top-six teams out West. But the Suns should clinch the NBA's best record with around 55-to-58 wins, and this is a team with its eyes set on finishing the job and getting back to the Finals.
Williams is -227 to win Coach of the Year at FOX Bet. That implies a 69% chance of victory. I'm not sure this race is that much of a done deal yet, and unless the Suns clear 60 wins and finish well ahead of the pack, this award appears to be live.
---
Five Coaches Who Can Still Win
Erik Spoelstra +800
If it's not Williams, maybe it'll be the coach of the league's other conference leader. It's pretty remarkable that the Heat are 44-22, on pace for a 55-win season, even after all the injuries this team has faced. Miami lost 20 games from Jimmy Butler, 25 from Bam Adebayo, and 17 from Kyle Lowry. And yet, the Heat are leading the East.
Would you believe Spoelstra has never won Coach of the Year? That's pretty surprising for a guy that was just named among the top 15 coaches in league history. Could this be the perfect time to give Spo a career award?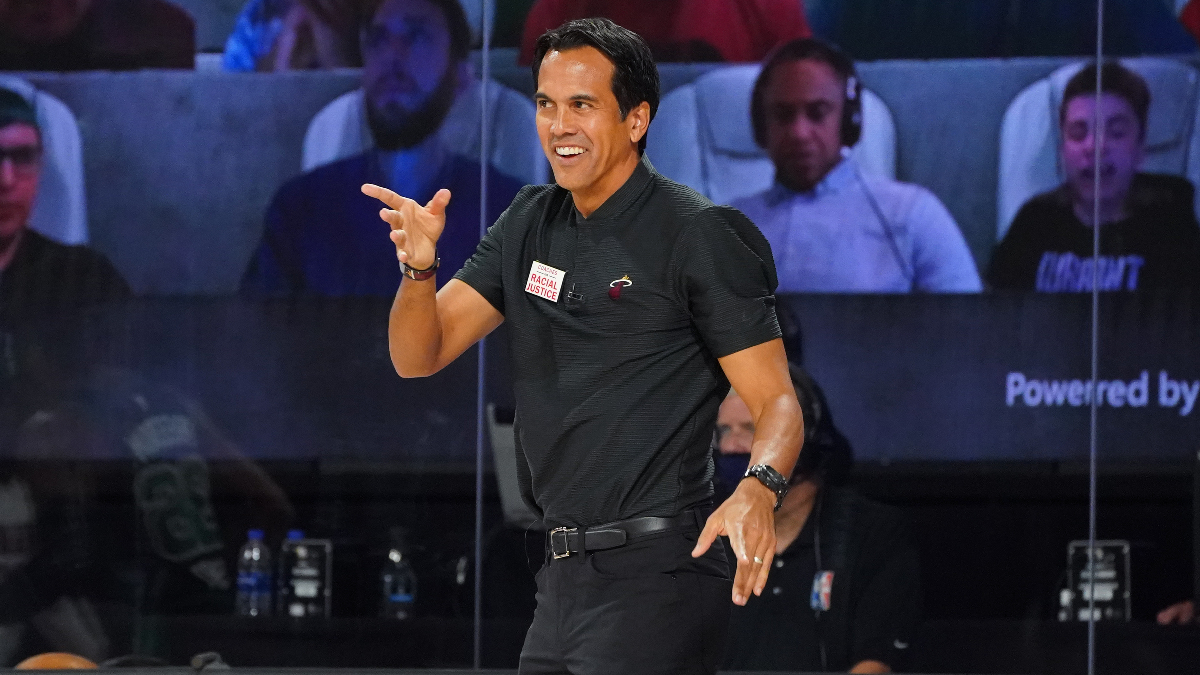 It might. But you should know that Spoelstra doesn't fit the patterns above. The Heat should pass their 48.5-win over/under but could struggle to beat that total by 6.5 wins (55-27), let alone by double digits. Miami also went 40-32 last year, a 46-win pace.
The Heat would need to get to something like 58-24 to fit the usual COY pattern, and that would mean a 14-2 finish. That's asking a lot, especially for a team that can probably coast to the No. 1 seed and badly needs rest to get healthy before the playoffs.
Spoelstra is +800 at FOX Bet, an intriguing long shot who is well liked among voters, but he doesn't fit the typical overachievement pattern.
Billy Donovan +1400
Donovan looked like a strong COY candidate for much of the season. The Bulls were 26-10 in early January, but that's when the injuries started mounting. Chicago is just 13-16 since, including five straight losses as of writing.
Zach LaVine is back, but it could still be a few weeks for Lonzo Ball and Alex Caruso, and it already feels like the Bulls are overachieving with DeMar DeRozan stealing wins late. It doesn't help that Chicago ranks in the bottom 10 in Defensive Rating.
Donovan does fit the pattern, though. The Bulls are on pace to win 49 games, well ahead of their 42.5-win over/under and far ahead of last year's 31-41 record. If Chicago closes with a flourish and gets back into the top two spots in the East, Donovan could be in play. He's at +1400 at PointsBet.
Ime Udoka +5000
If you're looking for a long shot, maybe you go back to the well on the guy we bet on before the season. It took the Celtics a while to hit their stride, but no team in the league is as hot as Boston right now.
The Celtics have won 14 of their last 16 and sport the best defense in the league, thanks in part to an Udoka move, shifting Robert Williams out of the paint as a devastating help defender. Boston should finish the season as the league's top defense, and Udoka is already getting credit for that. Boston could have a shot at the No. 2 seed after spending the first half of the season in the play-in spots.
Unfortunately, that first half might have buried Udoka. Even a strong 11-5 finish still gets Boston to only 50 wins and likely leaves them outside the division race. Repeat this 14-2 stretch and Boston gets to 53 wins. That's well above their 45.5 over/under and last year's 36-36, and it probably gets them the No. 2 seed and makes Boston the team to beat heading into the Eastern playoffs.
Three of the last five COY winners were first-year coaches, so that favors Udoka too. Finish 14-2 and Boston would have won 28 of its final 32 games. The Celtics would be the talk of the league at that point, and Udoka would have a great shot at Coach of the Year. But do you really want to bet on Boston staying this red-hot for another month? Udoka's +5000 at FOX Bet.
J.B. Bickerstaff +400
No team in the NBA has surprised more than the Cleveland Cavaliers. The Cavs are 38-27, on pace for 48 wins. Cleveland was the first team to cash its over — and the Cavs did that back on January 17. Heck, there's still a chance the Cavs could double their 26.5 total.
Nobody saw this coming from the Cavs. Improvement, maybe, but not this, from a team starting two young guards and three seven-footers. Remember, Bickerstaff got only 11 games from Collin Sexton and lost Ricky Rubio for the year. He also lost Evan Mobley for an early stretch and could now be without Jarrett Allen, nursing a fractured finger.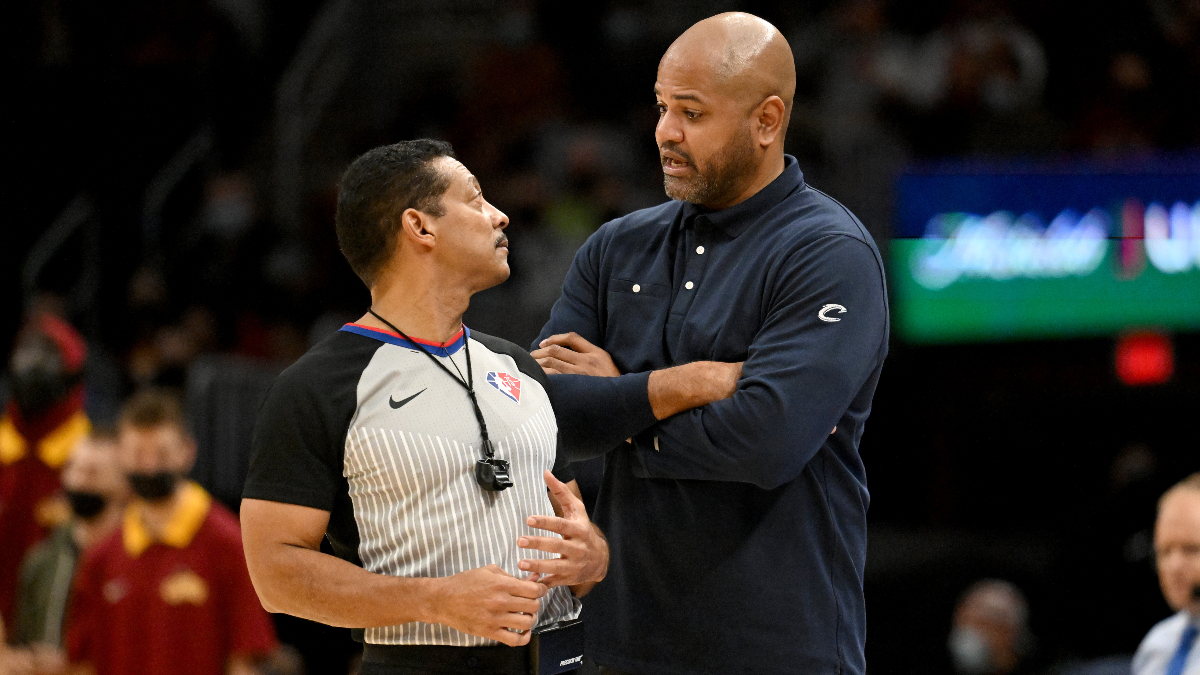 The injuries are piling up. The Cavs have lost six of eight and they have a rough closing stretch. Eight of their final 18 are against top-six teams, and that doesn't even count games against the Nets, Lakers, and Clippers. The Cavs are sixth in the East as of this writing, though they're still just 2.5 games back from the No. 2 spot. And don't forget, this was supposed to be a bottom-five team this season.
This could be a brutal closing stretch with this schedule and injury report. Then again, if Bickerstaff's guys pull through and beat the Bulls and Bucks for the division, he'd be a slam dunk COY candidate. Bickerstaff is +400 at PointsBet, but it won't be easy. You can get nearly double that price on the Cavs to win the division at +750, so that might be the better bet if you expect a big finish.
Taylor Jenkins +650
Is it possible we've been eyeing the wrong favorite all along? Taylor Jenkins and the Grizzlies check all the boxes.
Memphis wasn't even supposed to be a playoff team last year won two play-in games, including a shocker over the Warriors. The Grizzlies finished the year 38-34, but that turned out to be just the beginning. This year's Grizz improved to 45-22 with a huge national TV win last night, good for second best in the entire NBA.
Ja Morant is a heavy favorite to win Most Improved Player, while both Jaren Jackson Jr. and Desmond Bane and have been serious MIP candidates too. The Grizzlies improved their defense from bottom of the league early to top 10, and they've survived and thrived in stretches without Morant and then JJJ.
The Grizzlies are on pace for 55 wins. They've already smashed their 41.5 over/under and should beat it by double digits with ease, and they'll pace that far ahead of last year's team too. Memphis ranks top 10 on both offense and defense. This is the NBA's breakout young team, and all that for a team that was considered a play-in contender coming into the season.
With the Warriors reeling without Draymond Green, the Grizzlies have grabbed the No. 2 spot and might not let it go. They have a real chance to finish with the league's second best record, a feat even the most optimistic fans could never have imagined. For an award all about improvement and beating expectations, no one has done that like Taylor Jenkins.
Jenkins is +650 at DraftKings and BetMGM. His Grizzlies have overachieved three straight seasons. Is this the year Jenkins finally gets his due?
How would you rate this article?
This site contains commercial content. We may be compensated for the links provided on this page. The content on this page is for informational purposes only. Action Network makes no representation or warranty as to the accuracy of the information given or the outcome of any game or event.