NBA Finals MVP Odds: Do Jimmy Butler, Bam Adebayo Have Value?
Credit:
Nathaniel S. Butler/NBAE via Getty Images. Pictured: Bam Adebayo #13 looks on with Jimmy Butler #22 of the Miami Heat.
Jimmy Butler barely won Eastern Conference Finals MVP last series, and it almost destroyed many wagers nationwide.
So far, he's not off to a great start to win NBA Finals MVP. Instead, his teammates Bam Adebayo and Gabe Vincent have been driving the Miami Heat bus in many ways so far against the Denver Nuggets.
The Nuggets are still the favorites in the series, but being favored hasn't mattered for teams facing the Heat in the playoffs, who are 10-6 straight up as underdogs in the postseason. They also got the split in Denver and have a shot at leaving Miami with a 3-1 lead against the Nuggets, who are 4-3 in road playoff games and whose home-court advantage matters more than Miami.
If the Heat win the series, they'll have the Finals MVP, which begs the question: Who would that be?!
The Case for Bam Adebayo 
Best Odds: +700 (PointsBet)
Adebayo is the obvious choice for the Heat so far and will be if all holds.
I always say, if the Eastern Conference Finals MVP was awarded when the Heat were in the Bubble, Adebayo would've won it in 2020, and his public perception would resonate differently.
He's been the engine on both ends of the floor, and while he hasn't stopped Nikola Jokic — no one truly does — he anchored a win in Denver, which no other team in these playoffs could claim, only the alleged fraudulent Heat.
Pardon the forthcoming statistical oversimplifications, but let's remember that these awards are voted on, and history tells us excessively sophisticated metrics won't factor in too large here — it's debatable how much they'd need to in the first place.
Adebayo's at 23.5 points, 11.0 rebounds, 4.5 assists and 1 block per game this series, and has had the biggest two-way impact of anyone in the series so far. He had a 26-13-5 in Game 1, 21-9-4-2 in Game 2, shot well above 50% from the field in both games, and he made two clutch free throws to put Miami up five as with 48 seconds remaining in their Game 2 win.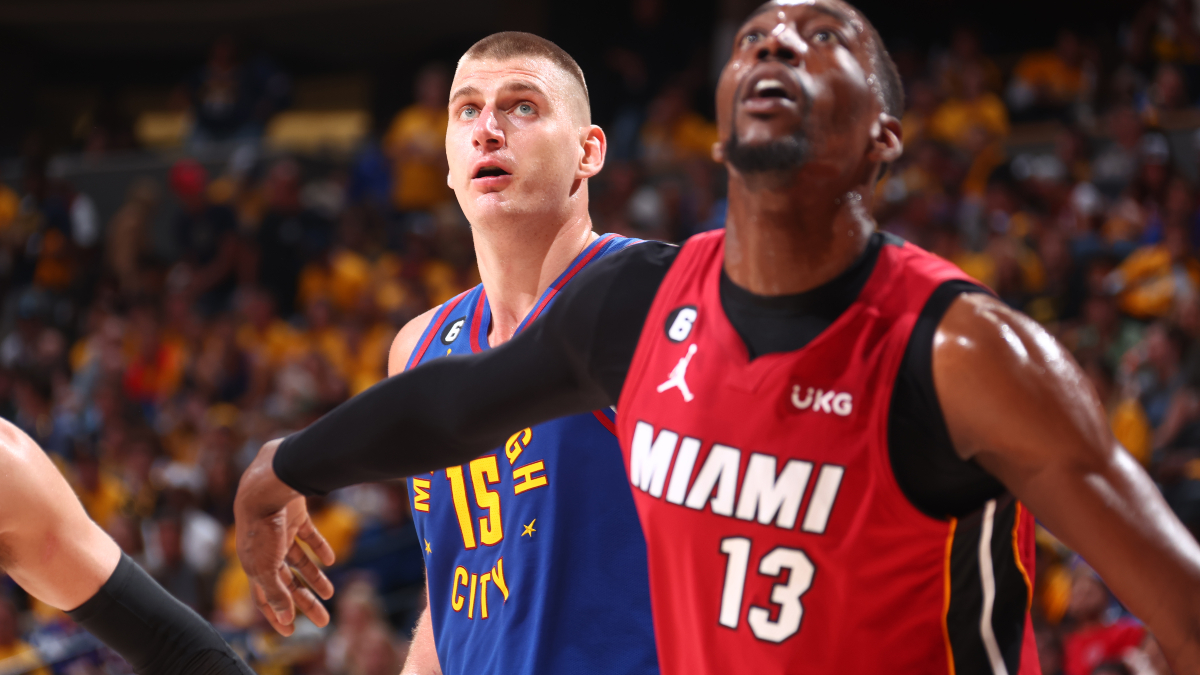 Because they won, people will remember stuff like that, and the counting stats are near MVP-worthy historically.
Adebayo's priced in a reasonable territory. Even though his scoring has been more potent than his detractors would acknowledge, it has come and gone in the playoffs to some extent.
Adebayo isn't just a scorer, he activates shooters, screens for ball-handlers and cutters, defends every position as well as anyone alive, anchors the defense, occasionally runs point guard, help leads the team, and plays 40-plus minutes because it's June.
Irregular Heat observers are beginning to recognize that. So as long as he maintains the requisite scoring — and the two-game sample suggests he can — his chance at Finals MVP is a realistic one, especially if he could visibly contain Jokic over the course of a victory or two in a way unlike anyone has yet.
The Case for Gabe Vincent 
Best Odds: +5000 (SuperBook)
Vincent is the longshot.
Some people might pick him today: He has 42 points in two games on 15-of-26 shooting on largely timely buckets. He is also 9-of-16 from deep with eight assists and two steals through the first two games of the Finals. Vincent would have to maintain a historic scoring display to get this award. Guys in his position typically don't win.
Voters would look to the otherwise alpha in Butler, as they did in the Conference final over Caleb Martin (though, I would contest that Butler was the rightful winner) or Adebayo, who stuffs the stat sheet and has been the Heat's best overall player in the series so far, with a clearer pathway than Vincent to maintain this level of play.
Unlike Adebayo, Vincent probably can't hold off our next guy, no matter how much he gets it going from the field.
The Case for Jimmy Butler 
Best Odds: +475 (DraftKings)
The face of the team historically gets it if he's been good enough. Butler hasn't been yet, and there's no telling if he will be based on what he admits is a bum ankle. At the moment, he's as low as +400, a slightly shorter number than Adebayo for the time being, with DraftKings offering the best line.
He did step up in Game 2, though. He had jumped from 13 points, seven rebounds and seven assists to 21 points, nine assists and four rebounds. He also took (and made) five free throws compared to the zero attempts he had in Game 1. He shot 7-of-19 in Game 2, but made 2-of-5 3-pointers and had eight points in the final seven minutes.
"Nobody cares. You don't, either. I'm still expected to do my job at a high level if I take the floor, which I will. We're going to be okay. We're going to get the job done, bum ankle or not."

Jimmy Butler is not using his injury as an excuse 😤pic.twitter.com/hT8IbhNkFc

— ClutchPoints (@ClutchPointsApp) June 1, 2023
Is "Playoff Jimmy" gone for 2023?
He looked cooked in last year's Eastern Conference finals and explode for 47-9-8-4 and 35-9 to end the series. He looked cooked in this year's ECF, but mustered a 24-11-8 in Game 6 despite a 5-of-21 shooting night — but 15 of those points came in the fourth quarter. He also had 28-7-6-3 in Game 7 against the Celtics on 12-of-28 shooting and 3-of-7 from deep. And for all the talk about Martin, Butler had a game-high 17 second-half points.
He is playing as if he knows he can only summon his peak form in spurts. It's usually late in games, and meanwhile, Butler is trying to run point and get the most out of his teammates, almost like spending the first 6-to-8 rounds of each fight jabbing and finding his range before piling on pressure.
Is now the time to buy into Butler as Finals MVP? If his fourth-quarter trends continue, and if he can lead in two of their remaining three victories (assuming they get them, obviously), it may be all he need.
The route to overtaking Vincent — if he even needs to — is obvious and would more than likely play out. Adebayo is really the guy you'd worry about, but historically, Jimmy will Jimmy at some point, and if you want to hedge, now would be the time to do it, especially if you think they'll win Game 3.
All awards are narrative-driven because they're voted on, and Butler would be the narrative favorite if he's just good enough in comparison to Adebayo. One subpar offensive Adebayo showing where Butler has 25 points and another big fourth quarter in a victory would tilt the scales Butler's his favor.
How would you rate this article?
This site contains commercial content. We may be compensated for the links provided on this page. The content on this page is for informational purposes only. Action Network makes no representation or warranty as to the accuracy of the information given or the outcome of any game or event.